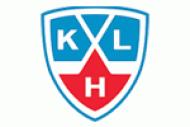 The KHL Entry Draft 2013 will be held in Donetsk in Ukraine, the home of KHL member Donbass, for the first time outside Russia. The Entry Draft will also feature new teams, Medveščak and Vladivostok. Read more»
23 May 2013 | Hannover Scorpions sells their DEL licence to Schwenningen from 2.Bundesliga Read more»

23 May 2013 | On the 22nd of May the KHL staged the Closing Ceremony for 2012-13 season. During this celebration the heroes of the fifth Kontinental Hockey League season were presented with awards covering 23 different categories. Read more»

22 May 2013 | According to Companion Kyiv President, the project of a new multi-national league is already aborted Read more»
Znojmo denied financial problems
Znojmo Manager Stefan Kulhanek denied today the rumor about a possible exit of team from EBEL due to economic difficulties: "It is not true that our main sponsor left us, as reported by Austrian media and therefore it is also not true that Znojmo not participate in the EBEL. We already startede to sell season tickets for 2013/14 and our first sign, forward Zdenek Blatny, has been recently presented." said Kulhanek
(23 May 2013)
Kazzinc Torpedo has a new coach
Kazzinc Torpedo Ust-Kamenogorsk announces the appointment of 58-years-old Russian Vladimir Plyuschev as new coach. Plyuschev coached MHL Kapitan Stupino last season and Russia U20 and U18 teams in the past
(22 May 2013)
New coaches in Slovakia
Three clubs from Extraliga announces new coaches in last day: champion Kosice appointed Anton Tomko from 1 Liga champion Bardejov as new coach. Same Bardejov announced Tomko's replacement, the former GKS Tychy coach Jan Vodila.
Silver medalist Zvolen signed former Kometa Brno assistant coach Lubomir Oslizlo. Finally Skalica will have Josef Turek on its bench. Turek coached Trinec last season
(22 May 2013)
Companion Kyiv can partecipate in Belarus Cup
According to Companion Kyiv President Stanislav Vernikov, club can take part in next Belarus Cup and maybe in Belarus Open League
"It's just an idea: the situation of PHL is not very clear and at moment we neither know which teams will participate in the tournament. But in any case the priority for us is our domestic championship. If it will have an acceptable level, we'll stay here.
When things become clearer? I do not know. A meeting with all club is scheduled for 28 May.
We talked more about the Belarus Cup. Two years have tried to hold it, but nothing came of it. You have to play in the summer to train and this competition would be really interesting" said Vernakov
(22 May 2013)
Asian Challenge Cup U20 in Khabarovsk
The asian U20 Challenge will be held in Khabarovsk from June 06 to 10. The tournament will be attended by national teams of the Republic of Korea, Japan, and the MHL all-star team "Red Star". This event is aimed at promoting hockey in the Far East. Also last season, "Red Stars" participated in the Asian Challenge Cup, where they met the teams of the Republic of Korea, Japan, China and Taiwan. This year the tournament´s format will be a single round robin.
(21 May 2013)
Mark Dekanich joins Medvescak
Canadian goalie of Croatian origin, Mark Dekanich is set to join Medvescak Zagreb, who recently joined the top European league, the KHL. Behind him are three top seasons spent in the AHL and he decided to write history of Croatian hockey from the ground up.
(20 May 2013)
2014 WC Groups
IIHF has announced the groups for the 2014 World Championship in Belarus.
Group A: Sweden, Czech Republic, Canada, Slovakia, Norway, Denmark, France, Italy.
Group B: Finland, Russia, USA, Switzerland, Germany, Latvia, Belarus, Kazakhstan.
(19 May 2013)
Rochester Americans and Barys Astana at Spengler Cup 2013
For the second time the AHL's Rochester Americans have accepted an invitation to participate in the Spengler Cup tournament
The Rochester Americans also competed in the 1996 event, finishing third. They remain the only professional hockey club from North America ever to take part in the tournament.
"The Rochester Americans are extremely honored to have been selected to play in the 2013 Spengler Cup and represent the American Hockey League," said Americans President Ted Black. "This is a truly unique opportunity that will provide an incredibly valuable experience for our players. In addition, the chance for the Amerks to participate in the Spengler Cup for the second time will add another chapter to the great history of this storied franchise."
In addition, Kazakh media announces KHL's Barys Astana will compete in spengler Cup for the first time
(17 May 2013)
Player of the month
Antti Raanta was named European Player of the Month for February 2013.
Champions 2013
See a list of all 2013 champions here
Staff wanted
A large group of hockey fans from around world has helped build this site. We are always looking for more people that want to help out. It doesn't matter if you want to write articles, work with player stats or just want to help out with something else. If you're interested in helping us making this site even better, please contact us at
info@eurohockey.com.
Forums are great

Discuss your favourite team or player with other fans on one of our discussion boards!
Current events
Looking for advertising?
If you are looking for advertising space please check out our profile sponsors
here
. For more info or other requests, please
contact us
.

Czech Rep.: Tipsport extraliga | 1.liga | 2.liga

Germany: DEL | 2.Bundesliga

Russia: KHL | Vysshaya liga

Slovakia: Tipsport Extraliga | 1.liga

Sweden: Elitserien | Allsvenskan
Other: NHL | AHL | EBEL | Serie A (ITA) | Magnus (FRA) | GET (NOR) | AL-B (DEN) | Belarus
League standings
Game fixtures
League leaders