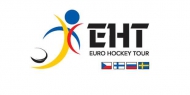 Czech Republic beats Russia to win Euro Hockey Tour
Czech Republic wins Euro Hockey Tour for the first time since 1998.
The last game of KAJOTbet Hockey Games in Brno was not very interesting tor the final standings of the tournament as Finland had already secured the win after 4-1 against Sweden earlier in the day. But there was more at stake - The winner of the game Czech Republic-Russia would finish on top of the total EHT standings.
It turned out that the Czech home team was the stronger tonight and thanks to a 2-1 win they are unofficial European Champions 2012, winning the competition for the first time since 1998. "We are happy to win the trophy, but our focus is now already on World Championships," said Czech head coach Alois Hadamczik.
Both Czech goals came in the final minutes of the second period. First Jakub Petruzalek tied it at 37:37 and then the oldest player of this year's Euro Hockey Tour, Petr Nedved, scored the winner at 38:54 on the powerplay. Yevgeny Ketov had scored Russia's goal at 23:11. "Russians were on top for long periods of the game, but the unexpected pause helped us," said Czech forward Jakub Petruzalek, reflecting on an early second intermission that was called early due to problems with ice surface in Brno. "We turned the game around and managed to win it. It was incredibly hot, 30 degrees outside and more than 7000 fans in the stands."
With 6:17 remaining the Czech's got a 2-man advantage for a minute but failed to kill the game. Russia never got the opportunity to pull their goalie Konstantin Barulin as Sergey Shirokov got a high-sticking penalty at 58:25.
This years Euro Hockey Tour was extremely close. The winner Czech Republic finished only 4 points ahead of Sweden that finished last of the four teams. Strangely enough Czech Republic didn't win any of the four tournaments while last placed Sweden won two in Russia and Sweden. Russia won the Karjala Tournament that opened the EHT season in Finland while Finland won this weekend's KAJOTbet Hockey Game in Czech Republic.
Current events
Looking for advertising?
If you are looking for advertising space please check out our profile sponsors
here
. For more info or other requests, please
contact us
.

Czech Rep.: Tipsport extraliga | 1.liga | 2.liga

Germany: DEL | 2.Bundesliga

Russia: KHL | Vysshaya liga

Slovakia: Tipsport Extraliga | 1.liga

Sweden: Elitserien | Allsvenskan
Other: NHL | AHL | EBEL | Serie A (ITA) | Magnus (FRA) | GET (NOR) | AL-B (DEN) | Belarus
League standings
Game fixtures
League leaders
According to Companion Kyiv President, the project of a new multi-national league is already aborted Read more»
IIHF allocated 28 tournaments for 2014, from Iceland to Korea. First ever participation for Hong Kong, Mexico's women and Polish women's U18. Read more»