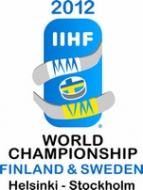 Too many countries in World Championships? - No!
All the way from year 1992 since World Championships group A games grew from eight teams to a twelve team tournament there has been discussions if there are too many countries participating in the World Championships group A. At the very beginning I would answer to the question saying no, there are not too many countries participating and I think this year's tournament has proved it.
If we think about countries who have a realistic chance to win the title of course the group is only five or six, max seven teams but isn't it so in every team sports. Group of potential champions is not too big. Let us think about for example the biggest game on earth - football, how many countries in World Cup has a realistic shot for the gold? I think that number also is not bigger than 7-8 teams. So is 32 teams too much in the World Cup, no it is not.
Ok, maybe there should be only couple of more countries on top of the "big" hockey countries? But if we think this years tournament, there has been a lot of good and exciting games between "big countries" and "middle class" countries. Think about games like Czech-Denmark, Finland-Switzerland, Czech-Norway etc. Those games have been exceptionally tight ones and entertaining to watch. Then there are also interesting games between "middle class" and "bottom class". Look at games like Switzerland-Belarus, Belarus-Kazakhstan, Switzerland-France etc. So there are many other interesting games others also than the games between top teams. Of course big audience is not so interested in these games but that is then a totally different topic to discuss if there is not enough crowd in the stadium.
Furthermore IIHF tries to improve and spread the sport of icehockey and their World Championships are the best possible forum. If these games would be kept as a closed happening of a small group of selected countries what would that do for icehockey? Certainly not positive things. World Cup could be a forum for that kind of happening. Smaller countries must also have a chance to play with big hockey countries and measure where are they standing in the icehockey world and in World Championships they can do that. Also there has been criticism about the quality of the games but isn't it natural that games between "smaller" countries can't be like Canada vs. Russia games. In every sport top teams play top games.
This is an endless topic and there are as many opinions as there are sayers. But this is my opinion and I am more or less happy with the current system in World Champs.
Current events
Looking for advertising?
If you are looking for advertising space please check out our profile sponsors
here
. For more info or other requests, please
contact us
.

Czech Rep.: Tipsport extraliga | 1.liga | 2.liga

Germany: DEL | 2.Bundesliga

Russia: KHL | Vysshaya liga

Slovakia: Tipsport Extraliga | 1.liga

Sweden: Elitserien | Allsvenskan
Other: NHL | AHL | EBEL | Serie A (ITA) | Magnus (FRA) | GET (NOR) | AL-B (DEN) | Belarus
League standings
Game fixtures
League leaders
According to Companion Kyiv President, the project of a new multi-national league is already aborted Read more»
IIHF allocated 28 tournaments for 2014, from Iceland to Korea. First ever participation for Hong Kong, Mexico's women and Polish women's U18. Read more»