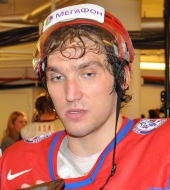 Russia moves on to the semi finals
Norway shook Russia for two periods having a 2-2 tie but Russia shakes them off and wins 5-2 after three goals in the third period.
As expected Russia pushed forward from the start but Norway played smart and defended well and Lars Haugen put up some nice saves to keep the score at 0-0, thus it was hard for Norway to see Aleksandr Ovechkin score 1-0 from behind the goal. Ovechkin who played his first game here just threw to puck in front and it bounced in off Haugen's leg.
But Norway got the luck back. It took Norway eleven minutes to get their first chance of the game and shortly after Per-Åge Skrøder tied the game when a shot by Patrick Thoresen bounced off the boards leaving Skrøder with a lot to score on on the other side of the net. But Russia quickly retook the lead when the Norwegian defence left the centre of the ice wide open and Aleksei Yemelin found Aleksandr Popov who raced clear and made it 2-1 with a controlled shot.
Russia got a late penalty in the first period and in the begining of the second period it only took Patrick Thoresen 28 seconds to tie the game, scoring his seventh goal and eighteenth point of the tournament. Ask setting up a soft pass that Thoresen changed direction on.
"I had a bad start to the tournament but then I went in to a zone of luck and then it was just to keep on shooting", Patrick Thoresen said about his fantastic tournament.
After Norway's tying goal Russia had two shots in the post. Norway had three straight penalties but despite Nikulin's shot in the post Norway killed the penalties quite easily doing a good work of keeping the Russians outside.
"It was the first game of the playoff and our guys were a bit nervous, especially at the start of the game", Russia's coach Bilyaletdinov said after the game and added "But it was better at the end and it was a good result for us".
In the third period it only took 55 seconds for the not very popular Aleksei Yemelin to give Russia the lead with an easy shot from the blue line. A shot that Lars Haugen should have done better on. Too bad for Haugen who made a great game and a great tournament.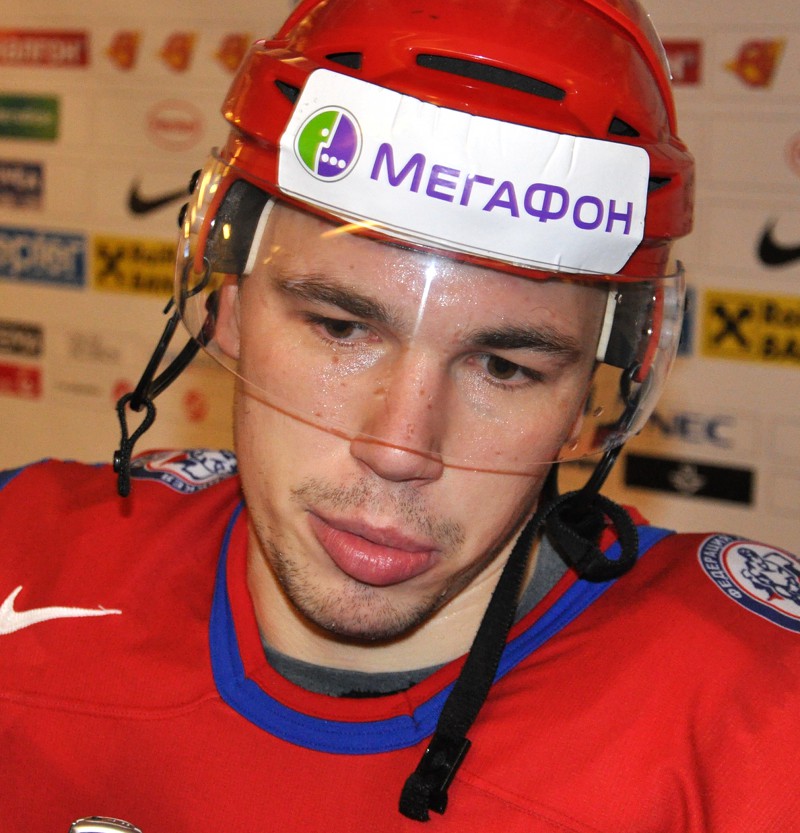 Yemelin scored 3-2. Photo: Roman Kucera
"We had a really bad start to the third. They can lower their shoulders and play out after that goal", Lars Haugen said after the game being disappointed with the first and third goal.
Norway tried to come back but instead it was Nikolai Zherdev who made it 4-2 for Russia with a nice goal when he put his stick to a shot from the blue line. A goal that made the Norwegian's crazy because they believed the referee whistled the play off just before the goal.
"He doesn't stand for that he blew his whistle. That's cowardly. It shouldn't have been a goal. He said he whistled for goal but he didn't", Norway's Mads Hansen said about the 4-2 goal.
Ilya Nikulin killed all Norwegian hope making it 5-2 with a low shot from the blue line on a power play. At the end it showed that the Russians are better hockey players than the Norwegians but Norway should have a lot of praise for making a great tournament putting up a superb working effort.
Despite the loss the Norwegians weren't too disappointed. "We knew it was going to be hard. They were quite much better than us", Jonas Holøs said while Thoresen said "You have to look at the bigger picture and then we have done it really well here". And you have to agree with Thoresen that Norway has done great performance here.
While the tournament is over for Norway, Russia will now travel to Helsinki where they will play Finland or USA in the semi finals.
Current events
Looking for advertising?
If you are looking for advertising space please check out our profile sponsors
here
. For more info or other requests, please
contact us
.

Czech Rep.: Tipsport extraliga | 1.liga | 2.liga

Germany: DEL | 2.Bundesliga

Russia: KHL | Vysshaya liga

Slovakia: Tipsport Extraliga | 1.liga

Sweden: Elitserien | Allsvenskan
Other: NHL | AHL | EBEL | Serie A (ITA) | Magnus (FRA) | GET (NOR) | AL-B (DEN) | Belarus
League standings
Game fixtures
League leaders
According to Companion Kyiv President, the project of a new multi-national league is already aborted Read more»
IIHF allocated 28 tournaments for 2014, from Iceland to Korea. First ever participation for Hong Kong, Mexico's women and Polish women's U18. Read more»