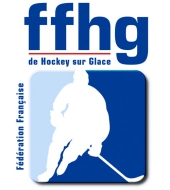 Strasbourg creates sensation, advances to Ligue Magnus final against Rouen
11th seed Strasbourg has created a big surprise in Ligue Magnus semi-finals, eliminating 2nd seed and last season runner-up Angers in 4 games. Rouen sweeps Amiens and stays undefeated in play-offs.
A black star shines these days on French hockey. Strasbourg team, "L'Etoile noire", is still alive in Ligue Magnus play-offs. After a 11th ranking in regular season standings, Strasbourg first eliminated Epinal (6th) 2 games to 1 in the first round, then got the better of Gap (3rd) after 5 games in quarter finals (rallying from a 0-2 deficit) and finally eliminated last year runner-up Angers (2nd) in 4 games to advance to the first ever final for this team promoted in Ligue Magnus only in 2006.
Strasbourg has built success against Angers with a strong defense and a great goaltending from Vladimir Hiadlovsky. The first game in Angers was a perfect steal for Strasbourg : both teams were tied at 1 goal each at the end of the regulation. Strasbourg was awarded a penalty shot during overtime and Paul Bradley converted it, allowing Strasbourg to take the home ice advantage.
Strasbourg tried to repeat in the 2nd game as the score was 1-1 at the end of second period. But this time Angers offense got the better, scoring five unanswered goals in the third period. With the series tied at 1-1 and moving to Strasbourg, pressure was on Angers who needed absolutely a win in Alsace to stay alive. And Angers was close to get it in the third game with an early goal from Pierre-Luc Laprise but David Cayer managed to tie the game less than three minutes before the end of regulation. The game went to the shoot-out after a scoreless overtime and Bradley scored the game winning penalty shot.
The 4th and last game was perfectly managed by Strasbourg with a 2-0 lead after two goals scored by Cayer. Angers could score only one goal and Bradley sealed the victory and qualification with an empty net goal. Strasbourg is still undefeated on home ice in the play-offs with 5 wins in 5 games.
In the other semi-finals, Rouen was the clear favorite and got the better in the first two games played on home ice as Marc-André Thinel was decisive with 3 goals scored in these 2 games. That wasn't easy though as Amiens showed strong resistance and was defeated only 1-2 and 1-3 before coming back home for the 3rd game.
A crazy 3rd game, probably the most entertaining one of the season as Amiens took an early 4-0 lead at the beginning of the second period, chasing Team France goalie Fabrice Lhenry from the net. With youngster Sebastian Ylönen in Rouen net, the momentum changed in Rouen favor with 3 goals scored in 2 minutes. 10 minutes later Rouen was leading 7-5 ! When the 11 goals second period came to an end, Rouen still had a one goal lead (7-6). But in the third period, Amiens tied the game 7-7 and Anthony Mortas scored what seemed to be the game winner 2 minutes before the end of regulation. But Rouen coach Rodolphe Garnier pulled his goalie in the final minute and Mathieu Brunelle managed to force an overtime with 21 seconds to go. The overtime was scoreless and Rouen clinched the berth for the final with a win in the shoot-out.
Will Strasbourg players be physically ready to compete against Rouen in the finals ? Strasbourg has played so far 12 play-offs games, twice as many as Rouen (6) and that could be a big factor. Daniel Bourdages team will surely benefit from the week of rest before the final starts. Rouen however is in a great position to win back to back Ligue Magnus titles which would be the first time since Brest did it in 1996 and 1997.
Strasbourg forward David Cayer is leading the play-offs in scoring with 20 pts and 14 goals in 12 games, just before teammate Jan Cibula (13 assists and 17 pts in 12 games).
Current events
Looking for advertising?
If you are looking for advertising space please check out our profile sponsors
here
. For more info or other requests, please
contact us
.

Czech Rep.: Tipsport extraliga | 1.liga | 2.liga

Germany: DEL | 2.Bundesliga

Russia: KHL | Vysshaya liga

Slovakia: Tipsport Extraliga | 1.liga

Sweden: Elitserien | Allsvenskan
Other: NHL | AHL | EBEL | Serie A (ITA) | Magnus (FRA) | GET (NOR) | AL-B (DEN) | Belarus
League standings
Game fixtures
League leaders
According to Companion Kyiv President, the project of a new multi-national league is already aborted Read more»
IIHF allocated 28 tournaments for 2014, from Iceland to Korea. First ever participation for Hong Kong, Mexico's women and Polish women's U18. Read more»