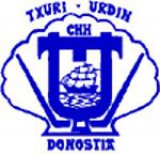 CHH Txuri Urdin
Name in original language: C.H.H.Txuri Urdin Donostia - San Sebastian
Year of foundation: 1972
Colours: Light Blue,white
Club status: active
Address: Paseo Anoeta, 24 - C.P
20014 - San Sebastian

Phone: +34 943 444 586
Fax: +34 943 444 586
Email: presidencia@txuri-urdin.com, prensa@txuri-urdin.com (Press Office)
WWW: CHH Txuri Urdin
Did you find any incorrect or incomplete information? Please, let us know.
Season 2005-2006
Current roster
season 2005-2006
* no longer in the club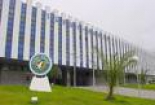 Adress: Paseo Anoeta, 24 - C.P. 20014
San Sebastian
Phone: +34 943.464.404
Email: eltxuri@eltxuri.com
Capacity: 650
Opened in: 1971
from 1972 to 1975: Real Sociedad C.F.
from 1975 to present: CHH Txuri Urdin
Spanish Hockey League : 1976, 1980, 1985, 1990, 1992, 1993, 1995, 1999, 2000
Copa del Rey: 1979, 1980, 1990, 1991, 1994, 2000
Basque Cup: 1993
League winners:
from 1972 to 1972: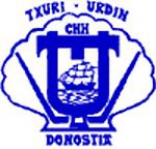 from 2009 to present: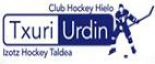 Vitoria and Puigcerdà battle for title in Spain
Regular season winner Bipolo Vitoria and CG Puigcerdà are the finalists for Spanish League. Both teams needed just two games to advance to final: Vitoria eliminated Txuri Urdin San Sebastian, while Puigcerdà knocked off reigning champion CH Jaca.
Finals are best-of-five and will start on February 16
Follow Spanish League and review complete boxscores for all games on Eurohockey.com!
(03 Feb 2013)
Txuri Urdin fired coach for lack of money
In a deep economic crisis, Spanish club Txuri Urdin decided to fire French coach Jean-Michel Lutaud to save on the budget and replace him with former player Alain Iturralde, currently working in junior teams. Club will also release some imports in next days
(28 Oct 2012)
CH Jaca lost for the first time
After 18 rounds of Liga Nacional, champion CH Jaca lost saturday its first game. Txuri Urdin from San Sebastian was the first team to earn points from Jaca, winning 4-1 at Pabellon de Hielo in Jaca. American forward Adrian Sosa was the man of the match scoring an hattrick. CG Puigcerdà won the game between runner ups clashing FC Barcelona 8-0.

(29 Jan 2012)
Historic rosters:
Historic statistics:
Past results:
League standings:
Fast facts
season 2005-2006
According to Companion Kyiv President, the project of a new multi-national league is already aborted Read more»
IIHF allocated 28 tournaments for 2014, from Iceland to Korea. First ever participation for Hong Kong, Mexico's women and Polish women's U18. Read more»