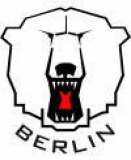 Eisbären Berlin
Short name: Eisbären
Nickname: Eisbären
Year of foundation: 1992
Colours: red,white,blue
Club status: active
Address: EHC Eisbären Management GmbH
Q207, Friedrichstrasse 76
10117 Berlin
Phone: +49 030 971 840 0
Fax: +49 030 971 84050
Email: info@eisbaeren.de
WWW: Eisbären Berlin
Did you find any incorrect or incomplete information? Please, let us know.
Season 2001-2002
This club in 2001-2002: DEL
* no longer in the club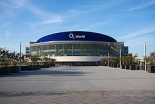 Adress: O2 World Adresse
Anschutz Entertainment Group Operations GmbH
O2 Platz 1
10243 Berlin-Friedrichshain
Phone: +49 (0)30-20 60 70 80
Email: info@o2world.de
Capacity: 14200
Opened in: 2008
Deutsche Eishockey Liga Champions: 2005, 2006, 2008, 2009
Deutsch Cup Winner: 2008
IIHF Continental-Cup Tournament in Berlin 1999/00: 2nd place
European Hockey League (EHL) 1998/99: 3rd place
IIHF Continental-Cup Tournament in Tampere 1997/98: 2nd place
East German Ice Hockey Champions: 1966, 1967, 1968, 1976, 1977, 1978, 1979, 1980, 1982, 1983 ,1984 ,1985 ,1986 ,1987 ,1988
League winners:
from 1900 to present: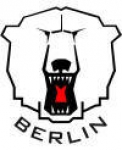 Cologne tie final series
In this year's DEL playoff final series Kölner Haie were able to tie the best-of-five series against Eisbären Berlin 1-1 with a 3-1 (2-1, 0-0, 1-0) win on the road. The series will continue with match #3 in Cologne on Friday.
(17 Apr 2013)
Nürnberg almost qualified for playoffs
Nürnberg Ice Tigers made a jump to the 7th spot in the DEL table with a surprising 5-2 away win against current champions Eisbären Berlin. They now have six points more than the non-playoff spots with two games left to play. In the other match of the day Krefeld Pinguine beat Hamburg Freezers 3-2 SO on the road to become 3rd.
(06 Mar 2013)
Nürnberg wins record-breaking DEL outdoor game
Home side Nürnberg Ice Tigers defeated DEL record champions Eisbären Berlin in front of 50,000 spectators in the sold-out football stadium of the city, which is otherwise used by Bundesliga club 1. FC Nürnberg, with the score of 4-3 (0-0, 1-1, 3-2). The number of spectators set several new records in European ice hockey. It was not only the outdoor game with most fans in Europe - until now it was the match between HIFK and Jokerit on 5 February 2011 with 36,444 spectators - but also a new DEL record - before it was the game between Cologne and Mannheim on 19 April 2002 with 18,700 - but also the league game in Europe with most spectators in a hockey game.
(06 Jan 2013)
First Winter Game already gets new DEL attendance record
DEL today announced that the first ever outdoor event in the league's history, which is going to be a match between home side Nürnberg Ice Tigers and Eisbären Berlin on 5 January 2013, already set a new attendance record. With 20,000 tickets sold in the first two weaks of advanced sales the old record of 18,700 spectators in the match Kölner Haie vs Adler Mannheim on 19 April 2002 has been surpassed with almost 4 months left till the match is scheduled.
(12 Sep 2012)
DEL Winter Game
DEL announces today that Eisbären Berlin v. Thomas Sabo Ice Tigers will be played outdoors in easyCredit-Stadion on 5.Janurary,2013. The 50,000 seat stadium is home to 1. FC Nürnberg in Bundesliga.
(26 Apr 2012)
European Trophy schedules
European Trophy announced today the schedule for the 2012/13 season. Find the complete fixture list here.
(12 Apr 2012)
No Super-Six in St. Petersburg?
According to Swiss newspaper Südostschweiz, Super-Six tournament, scheduled in January was cancelled due to decline of HIFK Helsinki and Färjestad BK to partecipate. The tournament should replace Champions' League and former Super-Six but isn't organized by IIHF. Besides Scandinavian teams, also Swiss HC Davos, Czech Trinec, German Eisbären Berlin and Russian Salavat Ufa were invited
(16 Sep 2011)
Historic rosters:
Historic statistics:
Past results:
League standings:
Eisbären Berlin parcitipates in season 2001-2002: DEL
According to Companion Kyiv President, the project of a new multi-national league is already aborted Read more»
IIHF allocated 28 tournaments for 2014, from Iceland to Korea. First ever participation for Hong Kong, Mexico's women and Polish women's U18. Read more»