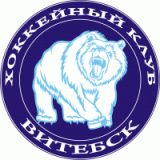 HC Vitebsk
Year of foundation: 1959
Colours: blue,white
Club status: active
Address: prospekt Chernyakhovskogo, 12.18
Phone: +375 21 88 06
Fax: +375 26 06 92
Email: dima@hcvitebsk.by
WWW: HC Vitebsk
Did you find any incorrect or incomplete information? Please, let us know.
Season 2012-2013
Current roster
season 2012-2013
* no longer in the club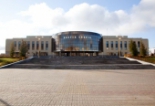 Adress: pr. Budaunikou, 23
210605 Vitebsk
Phone: +375 22 08 03
Capacity: 1900
from 1959 to 1959: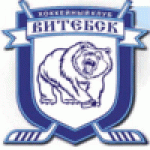 from 2009 to present: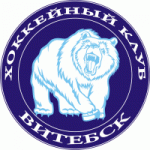 Dmitri Dudik named new coach at Vitebsk
Former national team player Dmitri Dudik, 36, was named new Vitebsk Head Coach. Dudik was in Vitebsk staff this season. Former headcoach Yuri Ivashin will remain in Vitebsk coaching staff
(14 Mar 2013)
Vitebsk suffered the biggest defeat of its history
Loosing 16-1 against Gomel in Belarus Open League last round, Vitebsk suffered the worst defeat of its history, while the result wasn't Gomel's best victory: Andrei Skabelka team won 17-1 against Yunost Sdyushor in 2001
(30 Nov 2012)
Vitebsk Kirill Sachivko takes 10 games suspension
Vitebsk defender Kirill Sachivko was punished with 10 games suspension because he deliberately knocked to the ice linesman Jezierski during last 21 October game against Shakhtar Soligorsk while trying to fight with Shakhtar Evgeny Dadonov
(16 Nov 2012)
A loss that hurts
Vitebsk was down 7-3 to Metalurgs Liepaja a few minutes into the third period of the Belarus league game, but still was able to score 4 goals and tie the game at 7 seven minutes before the end. The heroic effort was still in vain as Juris Upitis scored to restore Liepaja's lead at 57:24 and the game was lost 8-7.
(28 Sep 2011)
Historic rosters:
Historic statistics:
Past results:
League standings:
Fast facts
season 2012-2013
According to Companion Kyiv President, the project of a new multi-national league is already aborted Read more»
IIHF allocated 28 tournaments for 2014, from Iceland to Korea. First ever participation for Hong Kong, Mexico's women and Polish women's U18. Read more»