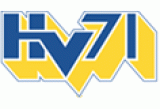 HV71
Year of foundation: 1971
Club status: active
Address: HV71
Kinnarps Arena
554 54 JÖNKÖPING
Phone: +46 36-299 71 00
Fax: +46 36-71 03 71
Email: info@hv71.se
WWW: HV71
Did you find any incorrect or incomplete information? Please, let us know.
Season 2011-2012
Current roster
season 2011-2012
* no longer in the club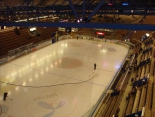 Adress: Kinnarps Arena
Isbanan
554 54 Jönköping
Phone: +46 36 - 2997100
Capacity: 7000
Opened in: 2000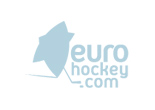 HV71 was amerger between Husqvarna IF:s and Vätterstads IF May 24 1971.
1979 the club promoted to Elitserien for the first time.
Swedish champions 1995, 2004, 2008, 2010
League winners:
from 1971 to present:
Gustaf Wesslau wins Honken Trophy
Honken Trophy, named after the goalie legend Leif "Honken" Holmqvist, has been awarded to the best goalie in Elitserien since 2002. The winner this year is HV71's Gustaf Wesslau, the third goalie of HV71 to win the award after Stefan Liv and Erik Ersberg. 28 year old Wesslau is playing his first season in HV71 and was the goalie that won most games (29) during the regular season with an impressive 92.77 save percentage.
(12 Mar 2013)
Away wins for the Elitserien top duo
Two games were played in Elitserien tonight. The league leader Skellefteå beat AIK 4-1. Two goals and an assist by Petter Emanuelsson.
Second placed HV71 played 0-0 against Färjestad but won the shootout with goals by Jason Krog and Marcus Nilson.
(04 Jan 2013)
JYP beats HV71's youngsters
One game was played in the European Trophy today. Unbeaten HV71 decided to rest their team for more important games and almost only dressed junior players for the game against JYP. Despite that JYP played with their best team the game was very close and JYP "only" won 3-2.
(20 Oct 2012)
Sundh injured
Oscar Sundh of HV71 suffered a head injury and was taken to hospital unconscious during the third period of the Elitserien game Luleå-HV71. The referee Sören Persson decided to abandon the game at the score 1-1.
(09 Oct 2012)
European Trophy schedules
European Trophy announced today the schedule for the 2012/13 season. Find the complete fixture list here.
(12 Apr 2012)
HV71 retires Liv's jersey #1
January 10, before the game against Timrå IK, HV71 will retire Stefan Liv's jersey #1.
Liv was one of the victims of the Lokomotiv tragedy.
He played 569 Elitserien games for HV71 and 140 games for Team Sweden.
(16 Dec 2011)
Davidsson retires from Tre Kronor
HV71's Johan Davidsson has announced that he has played his last game in Team Sweden. After 129 national game he now says that his body isn't fit enough to play more than with his club.
(26 Oct 2011)
Kristiansen to HV71
HV71 of Elitserien loans Sparta Sarpsborg's forward Tommy Kristiansen until the national team break (November 8).
(21 Oct 2011)
Historic rosters:
Historic statistics:
Past results:
League standings:
Fast facts
season 2011-2012
According to Companion Kyiv President, the project of a new multi-national league is already aborted Read more»
IIHF allocated 28 tournaments for 2014, from Iceland to Korea. First ever participation for Hong Kong, Mexico's women and Polish women's U18. Read more»