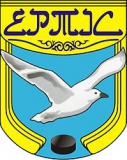 Ertis Pavlodar
Name in original language: СК Ертiс Павлодар
Year of foundation: 2001
Colours: white,green
Club status: active
Address: ul. Kairbaeva 87
140000, Pavlodar
Phone: +7 (77182) 55-43-70
Fax: +7 (77182) 55-43-70
WWW: Ertis Pavlodar, Ertis Pavlodar
Did you find any incorrect or incomplete information? Please, let us know.
Season 2012-2013
Current roster
season 2012-2013
* no longer in the club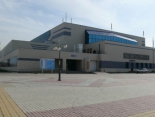 Club was founded in 2001 as Irtysh but played just one season before to ceased activities for lack of an Ice Palace. With the building of Astana Ice Palace team was recreated in 2003 and played in Kazakhstan Championship and Russian Pervaya League, where was silver medalist in 2004.
In 2008-09 financial troubles affected team playing as "Team of Pavlodar Region" and finishing last in domestic league. In 2009, with the support of Pavlodar Region, team was recreated under the name Ertis
Notable players:
from 2001 to 2008: Irtysh Pavlodar
from 2008 to 2009: Sbornaya Pavlodarski Region
from 2009 to present: Ertis Pavlodar
from 2001 to 2001: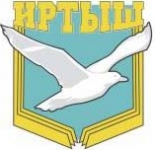 from 2009 to present: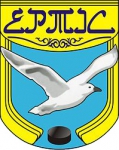 Beybarys win game #5 of the finals
Latvian forward Vitalijs Pavlovs was the key player in Beybarys Atyrau capital 4-1 victory against Ertis Pavlodar in Kazakhstan League Finals. With league top scorer Mikhail Panshin runs short, the former Metalurgs Liepaja was decisive with one goals and two assists. Now Beybarys leads the series 3-2 and have the first match-point next Thursday in Pavlodar
(23 Apr 2012)
Ertis Pavlodar joins Beybarys in Kazakhstan League finals
Ertis completes today an amazing comeback winning 3-0 game six of semifinals against Sary Arka Karaganda, closing the series 4-2 (recovering from 0-2) and reaching Kazakhstan League finals for the first time in its history. Ertis decided game in the first period, scoring two goals - with Vadim Rifel and Ilya Solarev - in less then two minutes.
Team from North Kazakhstan will face current champion Beybarys Atyrau, having swept Arystan Temirtau in four games, without two key players: captain Evgeny Ushkov and Andrei Troshchinsky, both injured. Game #1 of the finals will be on April 13
(04 Apr 2012)
Playoffs semifinals started in Kazakhstan
Champion Beybarys suffers but get an important victory 3-2 against Arystan Temirtau in Kazakhstan League playoffs semifinals game one. Andrei Zakharov scored decisive goal at 51:12. Arystan, the underdog team in these semifinals, showed it can be competitive in the series.
The most battled series between Sary Arka and Ertis Pavlodar keeps he expectations: Ertis was 1-3 until 57 minutes but Sary Arka managed to equal game and after 17 minutes of overtime Slovak forward Tomas Jasko scored the 4-3 winning goal giving Sary Arka the third victory of the season in the seven matches played between the two teams.
(23 Mar 2012)
5th consecutive shutout
Dmitri Malgin, goalie of Ertis-Pavlodar in the Kazakhstan league, earned his fifth shutout in a row yesterday. Between October 13 and 25 he played 5 league games without allowing one single goal.
(27 Oct 2011)
Historic rosters:
Historic statistics:
Past results:
League standings:
Fast facts
season 2012-2013
According to Companion Kyiv President, the project of a new multi-national league is already aborted Read more»
IIHF allocated 28 tournaments for 2014, from Iceland to Korea. First ever participation for Hong Kong, Mexico's women and Polish women's U18. Read more»