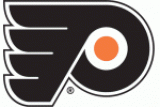 Philadelphia Flyers
Year of foundation: 1967
Colours: orange, black, white
Club status: active
Address: Philadelphia Flyers
Wachovia Center
3601 S. Broad St.
Philadelphia, PA 19148-5297
Phone: +1 215 465 4500
Fax: +1 215 389 9403
Did you find any incorrect or incomplete information? Please, let us know.
Season 2011-2012
This club in 2011-2012: NHL
Current roster
season 2011-2012
* no longer in the club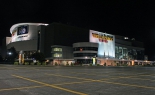 Adress: 3601 S Broad St,
Philadelphia, PA 19148
Capacity: 19537
Opened in: 1996
Joined NHL in 1967 and became a first non-Original Six team to win Stanley Cup in 1974. Currently hold a second best all-time points percentage. Moved to their current arena in 1996.
Notable players:
Two Stanley Cups, most conference semifinals & finals appearances out of expansion teams.
League winners:
from 1967 to present: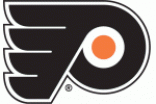 Another sign at Gotteron for Spengler Cup
After forwards Patric Hörnqvist and Maxime Talbot, Fribourg Gotteron announces the sign of Philadelphia Flyers´ 28-years-old Canadian defender Bruno Gervais for the next Spengler Cup. Gervais currently playing with a lock out contract for Heilbronner Falken, in German Bundesliga
(13 Dec 2012)
Maxime Talbot will play Spengler with Gotteron
Philadelphia Flyers forward Maxime Talbot, currently at Ilves Tampere with a lock-out contract, will play Spengler Cup with Swiss Fribourg Gotteron
(11 Dec 2012)
Russia adds Yevgeny Biryukov and officially ask Ilya Brizgalov to join team
To replace Alexei Emelin, who suffered a shoulder injury during the game against Germany, Russian coach Zinetula Bilyaletdinov calls Metallurg Magnitogorsk defender Yevgeny Biryukov. Bilyaletdinov also confirms he talked last night with Philadelphia Flyers goalie Ilya Brizgalov, after his team was eliminated in NHL playoffs. Brizgalov didn't confirm his partecipation but Bilyaletdinov comments: "I still need to talk with him"
(09 May 2012)
Erat strengthens the Czechs. Jágr doesn't, Voráček doesn't know
Defender Martin Erat announced he will join the Team Czech Republic for rest of the 2012 IIHF World Championship in Finland and Sweden. The 2011-12 NHL season is over for his home-club, the Nashville Predators, since Monday. The Predators has been eliminated by the Phoenix Coyotes, but Erat decided to extend his season. The season is over also for the Philadelphia Flyers, knocked out by the New Jersey Devils. But one of Philadelphia's key forwards Jaromír Jágr told he won't strengthen the Czechs. Another Philadelphia's Czech player, forward Jakub Voráček has not made the decision yet.
(09 May 2012)
Flyers retire Mark Howe's number
Before Tuesday night's 3-2 victory against the Detroit Red Wings, Philadelphia Flyers have retired former defenseman Mark Howe's number 2. Howe, a three-time Norris Trophy finalist, played for the Flyers from 1982-92, and is still the Flyers leader in goals, assists and points for a defenseman. Howe is the fifth Flyer to have his number retired, joining Bernie Parent, Barry Ashbee, Bill Barber and Bobby Clarke.
(07 Mar 2012)
Two more NHL milestones for Jágr
Jaromír Jágr, 40, scored a goal during yesterday's NHL game of his Philadelphia Flyers in Winnipeg. With point no. 1641 he ties Joe Sakic in the NHL all-time career scoring leaders. In 7th place sits Mario Lemieux with 1723 points. Both Sakic and Lemieux have retired and cannot add any more points. At the same time, the goal mentioned above is Jágr's 16th overtime game-winner. No one has scored more.
(22 Feb 2012)
Rangers wins the NHL Winter Classic
The New York Rangers won the NHL Winter Classic outdoor game against the Philadelphia Flyers 3-2. The game was played in front of 46,967 spectators at the Citizens Bank Park in Phildelphia. The Flyers had a 2-0 lead but Rangers came back by two goals by Mike Rupp and a game winning goal by Brad Richards. Henrik Lundqvist did a great game in the Rangers\\\' goal and saved a penalty shot with 20 seconds left to play.
(03 Jan 2012)
Paul Holmgren hospitalized for a bike crash
Philadelphia Flyers general manager Paul Holmgren has been hospitalized with multiple fractures and cuts following a bike crash while riding in Avalon, New Jersey. He was declared in stable conditions
(07 Sep 2011)
Jaromir Jagr to Philadelphia Flyers
When Jaromir Jagr left the New York Rangers in 2008, not many thought that he would return to NHL. But after three seasons with Avangard Omsk in the KHL, the Philadelphia Flyers today announced on Twitter that they have signed a contract with one of the greatest Czech players in history.
(01 Jul 2011)
Historic rosters:
Historic statistics:
Past results:
League standings:
Fast facts
season 2011-2012
Philadelphia Flyers parcitipates in season 2011-2012: NHL
According to Companion Kyiv President, the project of a new multi-national league is already aborted Read more»
IIHF allocated 28 tournaments for 2014, from Iceland to Korea. First ever participation for Hong Kong, Mexico's women and Polish women's U18. Read more»