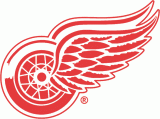 Detroit Red Wings
Year of foundation: 1926
Colours: red, white
Club status: active
Address: Detroit Red Wings
Joe Louis Arena
600 Civic Center Drive
Detroit, MI 48226
Phone: +1 313 983 6606
Did you find any incorrect or incomplete information? Please, let us know.
Season 2009-2010
This club in 2009-2010: NHL
Current roster
season 2009-2010
* no longer in the club

Adress: 600 Civic Center Drive,
Detroit, Michigan 48226
Capacity: 20066
Opened in: 1979
Founded in 1926, Red Wings are members of the Original Six founding teams of the NHL. Currently the most succesful US-based NHL franchise in Stanley Cup wins (11), third overall behind Montreal and Toronto. The popularity of the club has given the city of Detroit a nickname "Hockeytown".
Notable players:
from 1926 to 1930: Detroit Cougars
from 1930 to 1932: Detroit Falcons
from 1932 to present: Detroit Red Wings
League winners:

from 1900 to present: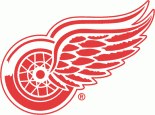 Detroit Red Wings prospect is arrested for drunk driving
20-year-old Detroit Red Wings prospect Riley Sheahan was arrested October 29 in Grand Rapids and charged with driving with a high blood-alcohol level content, above .17, and giving false information.
The amount of alcohol in his blood is more than two times higher than the rate and Sheahan can get up to 180 days in prison.
At the trial, which took place on November 6, hockey player pleaded not guilty. The forward, who was chosen by Detroit in the first-round draft pick in 2010, was arrested for public intoxication during his freshman season at Notre Dame in 2010.
"I'm aware that Riley was charged with a DUI," Detroit general manager Ken Holland said. "We're handling it internally. He sat out a game. We've talked to him. We're aware of what's happened."
(14 Nov 2012)
Jonathan Ericsson to the Swedish third tier league
Jonathan Ericsson of Detroit Red Wings is the first NHL lock-out player to sign with a team in Division 1, the Swedish third league. He will join Vita Hästen, the club he represented as a junior, October 17.
(07 Oct 2012)
Nicklas Lidstrom hired as Red Wings scout
Former Detroit Red Wings defenseman Nicklas Lidstrom, retired in last May, will operate as team scout. The Red Wings announces that Lidstrom would likely be based in Europe.
(09 Jul 2012)
Tom Renney moves to Detroit
Tom Renney signed a two-years contract as assistant coach for the Detroit Red Wings. In the last two seasons Renney was Edmonton Oilers' Headcoach
(06 Jul 2012)
Defender Bryan Rufenach died
Defenseman Bryan Rufenach, a seventh-round draft pick of the Detroit Red Wings in the 2007 NHL entry draft, currently at Toledo Walleye of ECHL, died this week while traveling in Switzerland. He was 23.
Details of Rufenach's death have not been released, but The Lindsay Post has learned he suffered a fatal electrocution.
Walleye coach Nick Vitucci said in statement: "The entire team's thoughts and prayers are with Bryan's family as they get through this difficult time. Bryan was a great teammate and would play any role asked of him."
(07 Jun 2012)
Kronwall in, Sedin brothers out
Detroit Red Wings defender Niklas Kronvall will play for Sweden at the World Championship. Previously the player refused the invitation to the team because he is busy in building his new home. But then changed his mind and decided to postpone the construction after the end of the world championship. Vancouver Canucks' forwards Daniel and Henrik Sedin and defender Alexander Edler defender will not play for Sweden.
(27 Apr 2012)
Red Wings players at the IHWC
Besides Swedish Henrik Zetterberg, Johan Franzen and Jonathan Ericsson, Detroit Red Wings will send to World Championship Russian star Pavel Datsyuk, Finnish Valtteri Filppula, Czech defender Jakub Kindl, Slovak forward Tomas Tatar. In addition, forward Justin Abdelkader and goaltender Jimmy Howard will play for Team USA.
(25 Apr 2012)
Jannik Hansen joins Denmark, Zetterberg is expected to play with Sweden
After the Canucks premature end of season, Danish forward Jannik Hansen will join Denmark to partecipate in next IHWC.
Detroit Red Wings Henrik Zetterberg declared his desire to play for Sweden in home Championship
"I'll be very glad to come home and play at the world championship. But first I need to undergo a medical examination which takes place each time after the completion of the season, and get permission from the club. If all goes well, and I'm sure, I'll play on World Cup" said Zetterberg to newspaper Expressen.se.
Two other Swedish Red Wings', defenders Jonathan Ericsson and Niklas Kronwall, expressed the desire to help Tre Kronor. Forward Tomas Holmstrom, instead, declined his partecipation citing his age.
(23 Apr 2012)
Red Wings extend AHL affiliation
The Detroit Red Wings announced a five-year extension of their affiliation agreement with Grand Rapids Griffins until 2016-17 season.
The new agreement transfers responsibility for all players and hockey operations staff - including coaches, equipment managers and trainers - to the Red Wings.
(07 Mar 2012)
New record for Nicklas Lidström
In the night Detroit Red Wings, beating the Philadelphia Flyers 4-3, equaled an NHL mark with its 20th straight win at home, captain Nicklas Lidström celebrates another personal record playing his 1,550th game, the most by an NHL player who spent his entire career with one team surpassing previous record, set by Red Wings' Alex Delvecchio, 1549 games with Detroit from 1950-51 season to 1973-74.
(13 Feb 2012)
Historic rosters:
Historic statistics:
Past results:
League standings:
Fast facts
season 2009-2010
Detroit Red Wings parcitipates in season 2009-2010: NHL
According to Companion Kyiv President, the project of a new multi-national league is already aborted Read more»
IIHF allocated 28 tournaments for 2014, from Iceland to Korea. First ever participation for Hong Kong, Mexico's women and Polish women's U18. Read more»