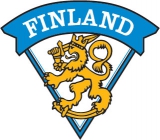 Finland
Year of foundation: 1928
Colours: blue, white, black
Club status: active
Address: Finnish Ice Hockey Association
Mäkelänkatu 91
00610 Helsinki
Finland
Phone: +358 9 756 750
Fax: +358 9 756 755 75
Email: office@finhockey.fi
Did you find any incorrect or incomplete information? Please, let us know.
Season 2011-2012
Current roster
season 2011-2012
* no longer in the club
from 1899 to present: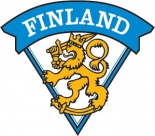 Russia wins U19 tournament
The Russian U19 team won a 4-nations tournament in Trnava, Slovakia this week. They beat Czech Republic 3-1, Finland 5-3 and Slovakia 5-1.
(13 Apr 2013)
WJC: changes on Finland and Switzerland rosters
Finnish forward Miro Aaltonen suffered a serious injury in the opening match of the WJC against Latvia and will miss the rest of the tournament
In this match Aaltonen scored two goals and was named the best player of the game. "His tournament is over because his ankle is very bad," said Finnish coach Harri Rindell, who said the 19-year-old Espoo Blues forward may require surgery. "He was so depressed because he really wanted to play and he is in great shape. That's hockey, unfortunately."
Also Switzerland made roster adjustments due to injuries: defender Isacco Dotti (Ambrì-Piotta) and forward Vincent Praplan (Kloten Flyers) are out and will be replaced by Phil Baltisberger and Martin Ness, both from GCK Lions
(27 Dec 2012)
Finnish U16 success
Finland beat Sweden 3-2 to win the U16 Nordic Cup in Denmark.
(16 Dec 2012)
Sweden-Finland U17 games
Sweden U17 and Finland U17 played three games in Åmål Aug. 31-Sept. 2. Sweden won all three; 6-3, 4-3 (SO) and 3-2.
(02 Sep 2012)
Lake Placid update
Sweden U20 beat Finland U20 8-2 at the U.S. National Junior Evaluation Camp in Lake Placid. William Karlsson scored 3 goals and Viktor Arvidsson 2.
(08 Aug 2012)
World Championship ended for Lehtonen
Finnish goalkeeper Kari Lehtonen, injured in the third period of the match with USA, will no longer play at home World Championship
Due to a knee injury Lehtonen will miss up to three weeks. The recovery will take place in Finland, then he'll fly to America for further exams.
(17 May 2012)
Set for WC quarter finals
The quarter finals of the 2012 World Championship will all four be played on Thursday. Canada-Slovakia and USA-Finland in Helsinki and Russia-Norway and Sweden-Czech Republic in Stockholm.
(15 May 2012)
Anssi Salmela suspended
Finland's defenseman Anssi Salmela has been suspended for three games by the IIHF Disciplinary Panel. Salmela was suspended for a boarding hit on team USA defenseman Alex Goligoski.
(14 May 2012)
Kari Lehtonen injured
Finland's goalie Kari Lehtonen sustained a lower body injury. Lehtonen is out of Team Finland's line-up until further notice.
(14 May 2012)
Team Finland will pay tribute to the late hockey legend Pekka Marjamäki
In today's game against France Team Finland will pay tribute to the late Finnish hockey legend Pekka Marjamäki who passed away last night.
Before the game a moment of silence will take place and the Finnish national team will wear black armbands in the memory of Marjamäki.
Pekka Marjamäki represented Finland in 251 international games and was chosen to International Ice Hockey Federation's Hall of Fame in 1998.
(10 May 2012)
Historic rosters:
Historic statistics:
Past results:
League standings:
Fast facts
season 2011-2012
According to Companion Kyiv President, the project of a new multi-national league is already aborted Read more»
IIHF allocated 28 tournaments for 2014, from Iceland to Korea. First ever participation for Hong Kong, Mexico's women and Polish women's U18. Read more»