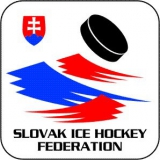 Slovakia
Year of foundation: 1993
Colours: blue, white, red
Club status: active
Address: Slovak Ice Hockey Federation
Junácka 6
832 80 Bratislava
Slovakia
Phone: +421 2 49 24 9237
Fax: +421 2 44 25 8344
Email: szlh@szlh.sk
WWW: http://www.szlh.sk/
Did you find any incorrect or incomplete information? Please, let us know.
Season 2011-2012
* no longer in the club
from 1992 to present: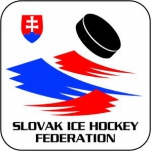 Russia wins U19 tournament
The Russian U19 team won a 4-nations tournament in Trnava, Slovakia this week. They beat Czech Republic 3-1, Finland 5-3 and Slovakia 5-1.
(13 Apr 2013)
Belarus announces national team games
Belarus Hockey Federation announces the National Team games in preparation for World Championship: Andrei Skabelka troop will face Germany on 05 and 06 April in Minsk and Molodechno, Slovakia on 12 and 13 April in Minsk and Soligorsk (venue not yet confirmed) and then will play twice against Latvia on still unknown dates. Finally Belarus will compete in Skoda Cup
(20 Feb 2013)
Norway wins in Stavanger
Norway, Slovakia and Switzerland played a 3-nation tournament in Stavanger this weekend. Norway beat Slovakia 4-2 and Switzerland 4-1 to win the tournament. The game Switzerland-Slovakia ended 1-2. Top scorer of the tournament was Slovakia's Kristian Kudroc who got a goal and two assists.
(10 Feb 2013)
USA finalize WJC roster, Slovakia lost Luza
USA finalized its WJC roster by selecting a defenceman for the 23rd roster position, announcing that Windsor Spitfires blueliner Patrick Sieloff was chosen for the seventh spot on the American blue line.
Slovakia defender Patrik Luza was injured during the match against Canada. He was hospitalized with a diagnosis of brain injury. His WJC is over.
(28 Dec 2012)
Slovak women win tournament in Poprad
The Slovak women's national team won a tournament in Poprad ahead of Czech Republic, Austria and France. Results and game stats here.
(16 Dec 2012)
Slovakia and France promoted
Slovakia and France are promoted to the 2013 IIHF Ice Hockey U18 Women's World Championship Division I after finnishing first and second in the qualification.
(02 Nov 2012)
U18 teams preparing for Memorial of Ivan Hlinka
Four U18 teams played games today preparing for the prestigious Memorial of Ivan Hlinka tournament that starts on Monday. USA beat Slovakia 6-0 and Czech Republic beat Canada 6-3.
(11 Aug 2012)
U17 results
Czech Republic U17 beat Germany 7-0 and Slovakia beat Switzerland 3-2 (shootout) on the first day of an 5-nations U17 tournament in Czech Republic. USA will enter the tournament tomorrow.
(07 Aug 2012)
Vladimir Vujtek extends his contract
After the brillian campaign at World Championship, Slovakian Federation extended coach Vladimir Vujtek contract until Sochi 2014 Olympic Games. Original contract was signed until 2013 with a clause of automatic extension if Slovakia automatically qualified for Sochi
(05 Jun 2012)
Set for WC quarter finals
The quarter finals of the 2012 World Championship will all four be played on Thursday. Canada-Slovakia and USA-Finland in Helsinki and Russia-Norway and Sweden-Czech Republic in Stockholm.
(15 May 2012)
Historic rosters:
Historic statistics:
Past results:
League standings:
According to Companion Kyiv President, the project of a new multi-national league is already aborted Read more»
IIHF allocated 28 tournaments for 2014, from Iceland to Korea. First ever participation for Hong Kong, Mexico's women and Polish women's U18. Read more»