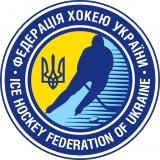 Ukraine
Year of foundation: 1992
Colours: yellow, blue
Club status: active
Address: Ice Hockey Federation of Ukraine
46, Mel'nykova Street
04119, Kyiv
Ukraine
Phone: +38 044 484 6807
Fax: +38 044 484 0273
Email: office@fhu.com.ua
Did you find any incorrect or incomplete information? Please, let us know.
Season 2011-2012
* no longer in the club
from 1990 to present: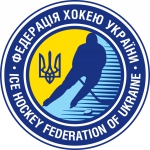 Ukraine lost key players for Olympic Qualifications
Despite a brilliant campaign in previous round, Ukraine will travel to Vojens, Denmark without almost all its best players: besides Ruslan Fedotenko and Alexei Ponikarovsky, back in NHL, also Dynamo Moscow Konstantin Kasyanchuk - personal reasons - Companion Kyiv defender Ruslan Borisenko - fractured rib - and Donbas Donets'k forward Sergei Varlamov - reason still unknown - won't travel to Denmark

(03 Feb 2013)
Belarus and Ukraine tied second match
Recovering twice, Belarus tied second friendly match against Ukraine in Kyiv
Ukraine - Belarus 2:2 (1:0, 1:2, 0:0)
1:0 Gnidenko (Navarenko, Kvitchenko, 4:07)
1:1 Antonov (Mikhailov, Musienko, 29:45)PP
2:1 Kvitchenko (Navarenko, Gnidenko, 35:25)
2:2 Kislyi (Musienko, Mikhailov, 36:12)
(05 Nov 2012)
Belarus won against Ukraine
With temporary coach Andrei Skabelka, Belarus won the first test match against Ukraine in Kyiv Ice Palace in front of 3.500 spectators.
Ukraine - Belarus - 1:2 (1:0, 0:2, 0:0)
1:0 Pastukh (Lyutkevich, 15:02)
1:1 Kisliy (S. Kolosov, Musienko, 21:48)
1:2 Pavlovich (Efimenko, 34:48)
Tomorrow the second match
(03 Nov 2012)
Brezvin re-elected Ukraine Hockey Federation President
During the General Congress of Ukraine Hockey Federation delegates unanimously re-elected Anatoli Brezvin as President. Brezvin heads the federation from 2006.
(26 Oct 2012)
Historic rosters:
Historic statistics:
Past results:
League standings:
According to Companion Kyiv President, the project of a new multi-national league is already aborted Read more»
IIHF allocated 28 tournaments for 2014, from Iceland to Korea. First ever participation for Hong Kong, Mexico's women and Polish women's U18. Read more»