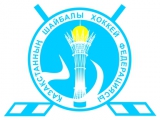 Kazakhstan
Year of foundation: 1992
Colours: blue, yellow, white
Club status: active
Address: Kazakhstan Ice Hockey Federation
12/1 D. Konayeva Str., office 508
010000 Astana
Republic of Kazakhstan
Phone: +7 7172 605 041
Fax: +7 7172 605 044
Email: office@icehockey.kz
Did you find any incorrect or incomplete information? Please, let us know.
Season 2010-2011
Current roster
season 2010-2011
* no longer in the club
from 1990 to present: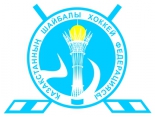 Kazakhstan GM quits
Kazakhstan GM Shumi Babaev quits his job despite the victory at IHWC Division I and the return of Kazakhstan in the Elite Division.
"I resigned, I can'tforgive that we did not come to the Olympics. I think it's my fault. It was necessary to include more influence to defend their point of view and to get results. I think it is wrong to stay and occupy this position. Perhaps there are more worthy people who can perform all the tasks further, because to remain in the elite will be even harder. For this to work, we need support, and then everything will be done as scheduled" said Babaev
(30 Apr 2013)
SKA St. Petersburg and Toros Neftekamsk win pre-season tournaments
The President of Kazakhstan Cup came at the right time for KHL participants SKA St. Petersburg. With four wins in four games they dominated the tournament. Other KHL teams that played in the cup were Barys Astana and Yugra Khanty-Mansiysk along with the most traditional Kazakh team Kazzinc-Torpedo Ust-Kamenogorsk and a "B" version of the Kazakh national team.

Already yesterday the Lada Cup ended. In a tournament of four VHL teams Toros Neftekamsk won the final 2-1 against HC Sarov. The other two participants were Lada Togliatti and Dizel Penza. Lada won the game for the 3rd place 3-0 against Dizel. A detailed overview you can find here.
(13 Aug 2012)
Andrei Shayanov resigned from Kazakhstan National team
The Kazakhstan Hockey Federation Executive Committee currently helding in Astana accepted the resignation of National team General Manager Nurlan Orazbayev and head coach Andrei Shayanov after the relegation of Kazakhstan at IHWC in Sweden/Finland
(04 Jun 2012)
IHWC: Kazakhstan lost forward
During the match France-Kazakhstan forward Roman Starchenko was injured after a collision with a French player. The player lying on the ice without movement for some minutes, then was carried out from the ice and hospitalized.
In the post-match press conference the head coach of Kazakhstan's Andrei Shayan said that Starchenko World Championship is ended
(06 May 2012)
Kazakhstan lost first exibithion
In the first of three consecutive games between the two teams, Italy, despite many absences - goalie Bellissimo, defenders Borgatello, Helfer, Plastino and De Marchi and forwards Tessari, Gander, N. Fontanive, M. De Toni, Egger and Iannone - wins clearly against Kazakhstan in Asiago. Before the game Kazakhstan annnounces Dmitri Upper will serve as captain at the upcoming IHWC. Talgat Zhaylauov and Vitaly Novopashin will be assistant
Italy - Kazakhstan 5:2 (2:1, 2:0, 1:1)
1:0 - Bowman (Sirianni, Rocco)PP - 02:15
2:0 - Lutz - 14:55
2:1 - Bumagin PP - 16:56
3:1 - Ansoldi (Bowman, Insam) - 20:20
4:1 - Benetti (Ambrosi) - 36:01
5:1 - Bowman (Ansoldi, Scandella) - 40:25
5-2 - Dudarev (Krasnoslobodtsev) - 52:32
(24 Apr 2012)
Changes in Belarus and Kazakhstan rosters for World Championship
Belarusian Yugra Khanty Mansiysk forward Sergei Demagin will miss World Championships in Sweden and Finland. Doctors not allowed to start training because of a shoulder injury.
Also Kazakh defender Aleksei Vasilchenko (Traktor Chelyabinsk) won't travel to Sweden due to injury
(18 Apr 2012)
Historic rosters:
Historic statistics:
Past results:
League standings:
Fast facts
season 2010-2011
Hockey Archives annual top 250 club ranking is dominated by KHL teams with six KHL clubs in the top 10. Read more»
One of the greatest Latvian hockey players, Aleksandrs Nizivijs retires at the age of 37 and becomes assistant coach of Dinamo Riga Read more»