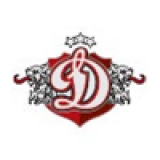 Dinamo Riga
Name in original language: Dinamo Rīga
Year of foundation: 2008
Colours: white,silver,garnet red
Club status: active
Address: Skanstes iela 13 / 5, 2. stāvs
Rīga, LV-1013, Latvija
Phone: +371 67695555
Fax: +371 67695556
Email: info@dinamoriga.eu
WWW: Dinamo Riga
Dinamo Riga is major league affiliate of:
HK Riga
Did you find any incorrect or incomplete information? Please, let us know.
Season 2012-2013
This club in 2012-2013: KHL
Current roster
season 2012-2013
* no longer in the club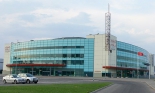 Adress: 21 Skanstes Street
Riga LV 1013, Latvia
Phone: +371 6 7388200
Email: info@arenariga.com
Capacity: 10300
Opened in: 2006
The club was re-founded on 7 April 2008 as a successor of a former hockey team (also named "Dinamo Riga"), which was founded in 1946, but ceased to exist in 1995.
from 1949 to 1995: Daugava Riga
from 1995 to present: Dinamo Riga
from 1946 to present: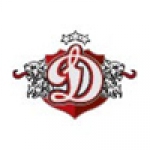 Amur force game #4
The Nadezhda Cup finals will see a fourth and last game after Amur Khabarovsk beat Dinamo Riga 2-1 (1-1, 0-0, 1-0) today and avoided a sweep for the Latvian guests. The final match is going to be played tomorrow in Khabarovsk and to win the Cup the hosts need to tie the series first before a shootout could give them the title afterwards.
(19 Mar 2013)
Minsk wins battle of the Dinamos
Home team Dinamo Minsk defeated their namesakes from Riga with the score of 2-1 (1-1, 1-0, 0-0) to stay in touch with the playoff spots. This was also the last KHL match before an international break that lasts until 19 December 2012. Minsk is now at 41 points while Riga stays at just 32.
(09 Dec 2012)
Dinamo Riga fires Pekka Rautakallio
After the 0-2 defeat with Dinamo Minsk, leaving the team last in Bobrov Division, Dinamo Riga fired Finnish coach Pekka Rautakallio. Artis Ābols will act as temporary coach
(05 Nov 2012)
Dinamo Riga wins LDZ Kauss
In the final of LDZ Kauss on Wedneseday the Latvian hosts Dinamo Riga won against their KHL rivals Lokomotiv Yaroslavl with 3-1 in Arena Riga. Just one day earlier Lokomotiv had won the last group match between the two teams with 4-1. Finnish SM-liiga side Espoo Blues took the third place after defeating Atlant Mytischy 3:2 in the shootout. The following awards were given to the best players of LDZ Kauss.

Tournament MVP: Karsums (Riga); Best Goalie: Jučers (Riga), Best Defender: Vishnevsky (Atlant), Best Forward: Kalyuzhny (Lokomotiv)
(30 Aug 2012)
Dinamo Riga signs cooperation with Jokipojat
Dinamo Riga has signed a cooperation agreement with Finnish club Jokipojat Joensuu, playing in Mestis League.Under the terms of this cooperation, Dinamo players can play for Jokipojat with the possibility at any moment to be called back to Riga. The first players going to Finland were defender Martins Jakovlevs and forward Vitaljs Pavlovs.
(16 Aug 2012)
Juris Opulskis new GM at Dinamo Riga
Juris Opulskis was appointed as new Dinamo Riga GM during the Management Board meeting on July 17. A former player, Opulskis, 43, had previously served a similar function at Juniors Riga and HK Riga, Dinamo's farm clubs.
He replaced Normunds Sejejs who has left the club last April after four years to became the general manager of new Lev Prague.
(18 Jul 2012)
Metalurgs Liepaja 2 confirmed title in Latvia but club can terminate cooperation with Dinamo Riga
By hammering 8-2 regular season winner Ozolnieki/Monarch in game #5 of finals, Liepaja Metalurgs 2 confirmed its title in Latvian League. Mārtiņš Gipters scored an hattrick. This is the fourth title in last five years for Metalurgs, two as senior team and the last two as "B" team.
During the celebrations for the title Metalurgs' Director Mikhail Vasilenok said is still unsure if club will continue to serve as Dinamo Riga farm club: ""Co-operation in this season was not as favorable as in the first season, so do not know whether we will continue to cooperate and will remain a farm club Dinamo. We had the impression Dinamo prioritised HK Riga in the MHL, assigning to them some key players when we are also fighting for access to the playoffs in Belarus League"
(16 Apr 2012)
Normunds Sējējs left Dinamo Riga
Dinamo Riga General Manager Normunds Sējējs resigned from his charge today during the Board meeting. "After four years in the club I decided to accept new proposals" said Sējējs
The Board accepted the resignation and decided to temporarily delegate as GM the Chairman of the Board Aigars Kalvitis.
(10 Apr 2012)
Estonia will play against Dinamo Riga
Estonian Federation announces preparation games for IHWC Div. II in Iceland. National team will play against Dinamo Riga on April 6 and then will face teams from Finalnd and Sweden, still unknown, on April 8 and 9.
All matches will take place in Tallinn
(17 Mar 2012)
Dinamo Riga - Metallurg Magnitogorsk in Liepaja
Kontinental Hockey League announced that regular season match between Dinamo Riga and Metallurg Magnitogorsk will be played at Liepaja's SIA Ledus Halle on November 2
(30 Sep 2011)
Historic rosters:
Historic statistics:
Past results:
League standings:
Fast facts
season 2012-2013
Dinamo Riga parcitipates in season 2012-2013: KHL
According to Companion Kyiv President, the project of a new multi-national league is already aborted Read more»
IIHF allocated 28 tournaments for 2014, from Iceland to Korea. First ever participation for Hong Kong, Mexico's women and Polish women's U18. Read more»