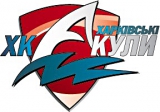 Kharkivs'ki Akuly Kharkiv
Short name: Kharkivs'ki Akuly
Name in original language: Харківські Акули Харків
Year of foundation: 2011
Colours: red, blue, white
Club status: ceased (Played during 2011-12 season in Ukranian Professional League then folded)
Address: ul. Heroes of Labour, 9 (SEC Duffy, Ice Hall)
Kharkiv
Phone: +380 (057) 728-24-64
Fax: +380 (057) 731 6043
Email: info@akuly.com
Did you find any incorrect or incomplete information? Please, let us know.
Season 2011-2012
Current roster
season 2011-2012
* no longer in the club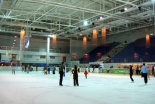 Adress: vul. Heroyiv Pratsi, 9
Ice Arena "Ice Hall"
TEC Dafi
Kharkiv
Ukraine
Phone: +380 57 7 282 464
Email: ice-hall@dafi.com.ua
Capacity: 1500
Opened in: 2008
from 2011 to present: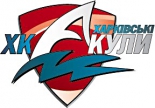 Dmitri Yakushin is the new Kharkiv coach
33-year-old Dmitri Yakushin is the new Kharkivs'ki Akuly head coach. A native of Kharkiv, Yakushin closed his active career last season in Belarussian Metallurg Zhlobin. In 1999-2000 season he played two games in NHL with Toronto Maple Leafs.
Yakushin assistant will be former defunct HK Kharkiv coach Aleksandr Kobikov
(28 Nov 2011)
Vladimir Migulev leaves Kharkiv
Russian coach Vladimir Migulev resigned from Kharkivs'ki Akuly Kharkiv of Ukranian Professional League for family reasons. The club did not decide yet who will be the new coach.
(15 Nov 2011)
New League, old habits
After just two rounds of new Ukranian Professional League, two teams fired coach: champion Donbas Donets'k replaced Sergei Petrov and his assistant Nicholas Maiko with former Dinamo Minsk and Belarus U20 coach Oleg Mikulchik and Igor Andryushchenko as assistant, while Kharkivs'ki Akuly Kharkiv sacked Oleg Panasenko, temporarly replaced by Evgeny Gladchenko. "Analyzing the begin of the season, we understand young coach hasn't the qualification to lead the team at such high level as Ukraine League. Club managment set ambitious goals and we can't rely on young, inexperienced coach." was the comment of Kharkiv president Valery Seredenko
(20 Sep 2011)
Historic rosters:
Historic statistics:
Past results:
League standings:
Fast facts
season 2011-2012
Kharkivs'ki Akuly Kharkiv parcitipates in season 2011-2012: PHL (UKR)
According to Companion Kyiv President, the project of a new multi-national league is already aborted Read more»
IIHF allocated 28 tournaments for 2014, from Iceland to Korea. First ever participation for Hong Kong, Mexico's women and Polish women's U18. Read more»