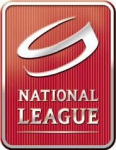 NLA
League status: Active
English name: Swiss National League A
Administered by: Schweizerische Eishockey Nationalliga GmbH
Year of start: 1938
Did you find any incorrect or incomplete information? Please, let us know.
Last updated: 12 Mar 2014, 23:35
NHL-approved Referee for Swiss NLA
According to tagesanzeiger.ch, swedish Head Referee Marcus Vinnerberg has signed a multi-year contract in the Swiss NLA. He will join a Team of 5 Pro-Referees and is widely looked as a great addition. In 2010 Vinnerberg transferred from the Swedish Elite League to the NHL and AHL where he refereed for two seasons as the first european Referee to do so. In the past, Vinnerberg has been voted best Referee in Sweden by the Players and has officiated World Championship Finals.
(02 Jul 2014)
Spengler Cup participants unveiled
Cup holder Genève-Servette, Team Canada, Salavat Yulaev Ufa, Jokerit Helsinki, Medvescak Zagreb and Davos are the teams that will compete in next Spengler Cup, as announced by tournament organization. Croatia will debut in Spengler Cup, while Jokerit Helsinki will return in Switzerland after 11 years.
(08 May 2014)
No more Shootouts in NLA Playoffs?
According to blick.ch the National League Clubs and the Swiss Ice Hockey League want to get rid of the Shootout during future Playoffs. Team Managers from SC Bern, ZCS Lions or the Kloten Flyers have made statements all pointing in the same direction. André Rötheli, Team Manager for the Flyers mentioned that "maybe the Shootout would have to be limited to decisive games during the Playofffs".
The League and the Clubs will come together in June at their regular Assembly and discuss further. The League would require a 2/3 majority to introduce a new format which would see Playoff games being played in an overtime until the first goal is scored, similar to how the NHL plays now.
A few questions remain though. Concerns were raised as to how the Swiss Television (SRF) would react to this decision and if they might take any steps to intervene with the Swiss Ice Hockey League due to time constraints on TV-Time that may occur.
There are many points to be discussed but it's going in the right direction. From many athletes point of view, a decision by Shootout isn't justified and they would rather have a game winning goal scored during an overtime. Same goes for the Club owners and Managers.
It remains to be seen if the fans and TV viewers will embrace the idea should it get a majority of the votes.
(24 Apr 2014)
Harold Kreis new coach of EV Zug
EV Zug announces German Harold Kreis as new head coach for two next seasons. Fired by Adler Mannheim in December, Kreis, 55, is back in Switzerland where he won two titles, with Lugano (2005-06) and ZSC Lions (2007-08).
(24 Mar 2014)
Taticek suspended after attacking linesman in game 2 of 1/4 final series against Kloten
According to the Swiss Ice Hockey Federation, Reto Steinmann, judge for the National League decided to hand out a 7 game suspension and a fine of CHF 1'500 to HC Davos player Petr Taticek after his attack on the linesman before starting a brawl with Micki Dupont of the Kloten Flyers. He points
out that Taticeks behaviour saw the linesman as an object in his way and pushed him away. As a consequence, the linesman fell to the ice but wasn't injured.


As attacks on officials are recognised as a crass offence, the judge saw his decision justified. Taticek will be available to
play for his team in the semifinals at the earliest.

Both teams meet again on Saturday in Kloten for the 3rd game, Davos leads 2:0.
(14 Mar 2014)
Switzerland replaces Furrer
Switzerland coach waited until the last second before to announce the replacement for injured Philippe Furrer: it's Kloten Flyers defender Patrick von Gunten, who will play his second Olympics
(09 Feb 2014)
Philippe Furrer won't travel to Sochi
SC Bern defender Philippe Furrer, named in Switzerland roster for Sochi Olympics, won't travel to Russia due his recurring head and neck pains resulting from a concussion suffered in early September. Back from a medical exam in a clinic in Atlanta, USA, specialists have diagnosed malfunctions in the brain. This implies that Furrer may return to training when symptoms have completely disappeared.
Possible replacements are Goran Bezina (Genève-Servette) and Luca Sbisa (Anaheim Ducks).
(30 Jan 2014)
Guy Boucher new coach at Bern
SC Bern, currently 9th in Swiss NLA, decided to change coach again: Lars Leuenberger, promoted as headcoach after the firing of Antti Tormanen in November, will return to work as assitant coach and Canadian Guy Boucher will be the new headcoach. Boucher, 42, was headcoach of Tampa Bay Lightning from 2010 to 2013. As Canada coach won 3 World Championships with U18 team and one title with U20.
(27 Jan 2014)
Fribourg will have a new arena in 2017
In agreement with the city, HC Fribourg-Gotteron discarded the project of a renovation of Saint-Léonard Arena and have decided in favor of building a new facility.
From several years the arena requires renovation. Built in 1982, it has no longer sufficient safety standards and does not offer enough seats (6800 seats/standing)
According to studies, the construction of a new venue will cost 10-20% more than a renovation. That is why club and the city have decided to build a new arena.
Currently, two projects are being developed. The club hopes to move into its new home for the season 2017/2018.
(21 Jan 2014)
Servette and Vitkovice add players for Spengler
Geneve Servette announces the addition of goalie Robert Mayer (Hamilton Bulldogs), Finnish defenceman Markus Nordlund and forward Inti Pestoni - both from Ambrì-Piotta - for the upcoming Spengler Cup. Also, Czech club Vitkovice will have a Swiss player for the tournament, Kloten Flyers' defenceman Gian-Andrea Randegger.
(20 Dec 2013)
Past league results:
League standings:
Historic statistic:
Individuals records:
Fast facts
season 2012-2013
Youngest player: Ludovic Waeber (17 years)
Oldest player: Paul Di Pietro (43 years)
Shortest player: Lino Martschini (167 cm)
Tallest player: Philipp Wetzel (198 cm)
Nationalities: Austria (3), Canada (54), Czech Republic (12), Denmark (1), Finland (7), France (5), Italy (1), Latvia (3), Russia (1), Switzerland (315), Slovakia (2), Sweden (5), USA (16)
Highest win: Kloten Flyers - Rapperswil-Jona Lakers 12-0
Season average attendance: 6621
EHC Visp beat HC Davos in 2nd round of Cup and advance to quarterfinals. Read more»
Today Swedish head coach Pär Mårts named the preliminary roster for Karjala Tournament November 6-9. Read more»