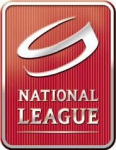 Nationalliga B (NLB)
League status: Active
Administered by: Schweizerische Eishockey Nationalliga
Year of start: 1943
Did you find any incorrect or incomplete information? Please, let us know.
Sierre bankrupt
HC Sierre appeal for bankruptcy has been rejected by Regional Court, the club was unable to provide a long term future for club stability and with that verdict, HC Sierre will be removed from the NLB and the league will drop back down to 10 clubs.
All players and people under contract with the club are now free and able to sign in any place they wish. The future of the club play in the regio leagues will be decided in the next future
(01 May 2013)
New coaches at Martigny and La Chaux-de-Fonds
Two NLB teams announces new coach for next season: Red Ice Martigny added a new Russian staff member besides former coach and now Sports Director Albert Malgin and Assistant Coach Igor Fedulov: new head coach is 53 years-old Petr Malkov, until January coach of Kuban Krasnodar in VHL.
La Chaux-de-Fonds hires Canadian Kevin Primeau as new Headcoach. He was fired in last October from Sapa Fehervar of EBEL
(15 Apr 2013)
LNB- Ronny Keller receives a violent check
While there were only three minutes to play in overtime, Ronny Keller(Olten) was victim of a very violent check from Stefan Schnyder(Langenthal). The defense remained several minutes lying on the ice. As he said, no longer feeling his legs, and the doctors present at Kleinholz Stadium called REGA helicopter. Ronny Keller, who spent the night at the center for paraplegics in Nottwil, has already had a chirurgy. The Blick website reveals that, according to doctors, the chances that the 33 years-old defense walk again one day are "50-50". Stefan Schnyder received a game misconduct penalty and last night have been questioned by police. Eurohockey wish Ronny Keller to get well very soon.
(06 Mar 2013)
NLB All-Star team
The first NLB All-Star Team was elected this week.
The players were initially selected by an online vote, then the Sports Directors, the head coaches, the captain and a media determined by the club could choose their favorite players except players from their own club.
The winners in the five categories are:
Best goalkeeper: Marc Eichmann, SC Langenthal
Best Defender: Sami El Assaoui, HC La Chaux-de-Fonds
Best Forward: Marco Truttmann, HC Olten
Best coach: January Tlacil, HC Ajoie
MVP: James Desmarais, HC Ajoie
(12 Feb 2013)
Nando Wüthrich suspended for seven games
Basel Sharks defender Nando Wüthrich received seven games suspension and 700 Sweiss francs fee for his check from behind on Lausanne forward Eliot Berthon during 1st February NLB game NLB du 1er février 2013.
(09 Feb 2013)
Basel retires Voegele number
Four days after announcing his retirement due to injury, Basel Sharks decide to retire Stefan Voegele number 19. Voegele starts career and played more then 400 games for Sharks
(18 Dec 2012)
Gerd Zenhäusern confirmed as Lausanne coach
Former player and assistant coach Gerd Zenhäusern was confirmed as new Lausanne headcoach until the end of season. He will be assisted by Mike McNamara, coming from HC Lugano coaching staff.
Zenhäusern was Lausanne interim coach after the dismissal of John Van Boxmeer. "Gerd showed in these last games that he has all the qualities to occupy this charge" said GM Jan Alston
(09 Nov 2012)
Three Swiss clubs fired their coaches
In LNA 12 defeats in 14 games were enough to Ambri president. American coach Kevin Constantine was hired in October 2010 and had a contract until 2014. To replace Constantine, Ambri hired former Fribourg (and Ambri) coach, the Canadian Serge Pelletier. His first match will be tomorow against Biel.
LNB favorites HC Lausane fired former hockey legend John Van Boxmeer.  The 60-year-old Coach was in the club since 2009. The name of the future Coach will be announced in a few days. Colin Müller, former Zürich coach seems to have the bets in is favor. Also HC Thurgau fired its coach, Swiss-Canadian Alex Stein, in charge from November 2011, following poor results. Temporary coach will be former Stein´s assistant Emanuel Marbach
(22 Oct 2012)
Swiss Cup proposed to SIHF
During the up-coming General Assembly in November, a Swiss Cup project will be submitted to the SIHF, a tournament similar to the Coupe de France. The tournament will include clubs from the National Leagues and amateur Regio League in a knock-out format. Swiss Cup will be presented by Infrontringier who will do the marketing and television as well provide prize money to the winner. The goal is to generate even more interest in ice hockey, allow clubs to capture both a League title and National title as well as give clubs from lower levels a chance at a higher league club.
(24 Sep 2012)
NLB, no more play-off à la carte
With eight votes in favour and two against, the Swiss NLB clubs decided to change the playoffs system for the upcoming season. The right for the best teams to choose the opponent was canceled and the new system will be the most common: first vs eighth, second vs seventh etc.
It will be created also a NLA/NLB commission to introduce a new system of promotion/relegation between the two leagues. Many clubs are in favour of NLB champion´s direct promotion without the current playouts against the last team of NLA
(06 Sep 2012)
Past league results:
League standings:
Historic statistic:
Individuals records:
Fast facts
season 1997-1998
According to Companion Kyiv President, the project of a new multi-national league is already aborted Read more»
IIHF allocated 28 tournaments for 2014, from Iceland to Korea. First ever participation for Hong Kong, Mexico's women and Polish women's U18. Read more»