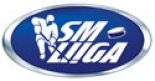 SM-liiga
League status: Active
Administered by: Jääkiekon SM-liiga Oy
Head manager: Jukka-Pekka Vuorinen
Year of start: 1975
Did you find any incorrect or incomplete information? Please, let us know.
#
Club
G
W
D
L
Score
P
1
Jokerit
50
30
11
8
190:91
73
2
TPS Turku
50
33
5
12
216:141
71
3
Lukko Rauma
50
25
9
16
205:177
59
4
Tappara Tampere
50
24
7
19
172:161
55
5
HPK Hämeenlinna
50
23
7
20
160:151
53
6
HIFK Helsinki
50
21
10
19
142:158
52
7
Porin Ässät
50
22
5
23
140:160
49
8
Ilves Tampere
50
18
7
25
153:183
43
9
K-Espoo
50
18
6
26
131:164
42
10
JYP Jyväskylä
50
13
11
26
132:155
37
11
KalPa Kuopio
50
13
10
27
126:162
36
12
TuTo Turku
50
12
6
32
140:204
30

Playoffs:

Quarterfinals:

Jokerit-Ilves 3-0 (11-2,7-2,3-1)

TPS-Ässät 3-0 (4-0,4-2,6-3)

Lukko-HIFK 3-0 (2-1OT,6-4,4-1)

Tappara-HPK 1-3 (1-3,3-5,7-2,1-7)

Semifinals:

Jokerit-HPK 3-1 (2-3,3-0,4-1,6-0)

TPS-Lukko 3-1 (2-3,3-1,4-2,4-2)

Finals:

Jokerit-TPS 3-1 (0-1,6-1,5-1,4-1)

Bronze medal game:

Lukko-HPK 1-0 (2-1)

Relegation, 1st round:

TuTo-FoPS 3-1 (5-4,3-5,7-2,7-3)

Hermes-SaiPa 1-3 (4-3,1-3,5-6,0-4)

Relegation, 2nd round:

TuTo-SaiPa 0-3 (2-7,1-2,1-2)

 
Last updated: 05 Jul 2011, 10:24
Regular season: all teams play 60 matches, a quadruple round robin with extra local double rounds (every team plays four matches against every other team, plus two or four extra matches against defined local opponents). Each match consists of 60 minutes regulation time, and in the event of a tie, winner is decided by a four-on-four sudden death, 5-minute overtime. Ties after overtime are decided by a shootout, where each team has three shooters in the beginning. If the game is tied after three shooters, the shootout will be decided by individual shooters against one another until one scores and the other does not.

For the 2010-11 a new addition was introduced. In January 2011, each team will play 2 games (1 home, 1 away) against the same opponent. The match-ups will be decided by a system where the bottom (14th) placed team at that time chooses its opponent 1st, followed by the 13, 12th and so on. The 7th placed team is the last one to choose an opponent. The system has been criticized by many, for reasons such as "awarding" a bad position in the table and the way the match-ups are decided, since there are worries that teams will choose their opponents from the higher profile teams and their biggest rivals to achieve maximum attendance and more income through ticket sales.

Scoring: A win in regulation time is worth three points, a win by sudden death overtime two points and loss by sudden death overtime one point. Teams will be ranked by points, and teams tied by points are ranked by goal differential. Teams tied by goal differential as well are ranked by number of goals scored.

Play-offs: The six best teams at the conclusion of regular season proceed directly to quarter-finals. Teams placing between seventh and tenth (inclusive) will play preliminary play-offs best-out-of-three - the two winners take the last two slots to quarter-finals. Starting from the season 2007-2008 all series since then are best-of-seven. Losers of the semi-finals play a bronze medal match. Teams are paired up for each round according to regular season results, so that the highest-ranking team will play against the lowest-ranking, second highest against the second lowest, and so on. Higher-ranking teams play the first match at home, then by turns away, home, away, etc. Each play-off match consists of a 60-minute regulation time which in the event of a tie is followed by extra 20-minute periods of sudden death overtime, in which the first team to score wins.
from 1927 to 1975: SM-sarja
from 1975 to present: SM-liiga
The SM-liiga is the top professional ice hockey league in Finland.
It was created in 1975 to replace the SM-sarja, which was fundamentally an amateur league. The SM-liiga is not directly overseen by the Finnish Ice Hockey Association, but the league and association have an agreement of cooperation.
The SM-liiga formerly had a system of automatic promotion and relegation in place between itself and the Mestis, the second highest level of competition in Finland, but the automatic system was ended in 2000. The league was opened in 2005 and allowed KalPa to get a promotion. In 2009 a new system was introduced and it includes the last placed SM-liiga team facing the Mestis champion in a best of seven playout series.
HIFK fires Pasi Sormunen
HIFK in Finnish SM-Liiga fired head coach Pasi Sormunen and assistant coach Antti Pennanen. They will be replaced with Raimo Summanen and the junior coach Joonas Tanska as his assistant. Jan Lundell will continue as goalie coach.
(21 Jan 2013)
Maxime Talbot will play Spengler with Gotteron
Philadelphia Flyers forward Maxime Talbot, currently at Ilves Tampere with a lock-out contract, will play Spengler Cup with Swiss Fribourg Gotteron
(11 Dec 2012)
Bergenheim returns to USA
HIFK's NHL lockout player Sean Bergenheim returns to USA after only two games (one goal) in SM-Liiga. He is injured and goes home to USA för rehabilitation. It is still not clear if he will return to HIFK.
(05 Oct 2012)
Petri Matikainen is new Avangard Omsk coach
As rumoured in last week, Finnish Petri Matikainen, 45, is the new Avangard Omsk headcoach. He signed a three-years contract and replacing countryman Raimo Summanen, resigned some weeks ago. Matikainen coached Pelicans Lahti and Espoo Blues in the past, and HIFK Helsinki last season. He was also Finland national team assistant coach in last two World Championships
(20 Jul 2012)
Jan Latvala makes Finnish ice hockey history
Jan Latvala, Pelicans Lahti, will play his 1000th SM-liiga game on Saturday, Feb 4th at home against TPS. Latvala, 39, is only the 2nd player in Finnish SM-liiga who reaches this milestone. Current record holder is Rauma native Erik Hämäläinen who played 1001 games for Lukko, KalPa and Jokerit during seasons 1982-2008. Latvala is going to break also this record couple of games later. Besides Pelicans Latvala has played for JYP and Jokerit.

When Latvala some day retires his record will most likely stand for years. At the moment next active player with most played games is HPK's Marko Tuulola, soon 41 years, with 826 games (by the 24th of Jan).
(25 Jan 2012)
SM-liiga club HPK fires coach
Finnish SM-liiga's team HPK from Hämeenlinna has fired coach Harri Rindell on Sunday. HPK has played the whole season very poor and it is currently at the last place of the table (14th) and is fighting against the relegation games which the last team will face at the end of the season. Rindell is replaced by Timo Lehkonen who has earlier been assistant coach for HPK but was currently working with the juniors of the team.
(23 Jan 2012)
New record of penalties set in SM-Liiga
A 465 penalties minutes record was set in SM-Liiga's Pelicans Lahti - HIFK Helsinki game last saturday. After an initial fight between HIFK's Siim Liivik and Pelicans' Arttu Luttinen, another big brawl resulted in 14 players and the two coaches sent off. The news had a notable repercussion all over the country and even Finnish president Tarja Halonen made a statement about it blaming the event
The SM-Liiga disciplinary board has not yet decided about suspensions.
(28 Nov 2011)
25 out of 26 penalty shots saved
When Lukko beat Blues 5-4 in SM-Liiga yesterday, the game was decided in the 13th round of the shootout when one of the goalies finally was beaten after 12 scoreless rounds. Kris Beech got the winner when he beat Lars Volden in the Blues net. Mika Noronen guarded the net for the winners.
(25 Nov 2011)
Finnish traditional club Ilves fires coach
Finnish elite league club Ilves has fired its coach Juha Pajuoja. Ilves is the third club in this years SM-liiga to change coach (after JYP and Tappara). New coach is Seppo Hiitelä, 57 years, who worked as a sport manager of Ilves. Hiitelä has trained Ilves also during seasons 1982-86 and 1990-91 and he was a trainer when Ilves won it's last Finnish championship 1985. Assistant coaches Raimo Helminen and Pekka Kangasalusta remain at their jobs.
There were also speculations that Finnish hockey legend Raimo Helminen will replace Pajuoja but since Helminen is also coach of the Finnish U20 national team Hiitelä took the job.
(31 Oct 2011)
JYP sacks coach after two games
Finnish SM-Liiga side JYP Jyväskylä suprisingly sacked their coach Risto Dufva after losing the first two games of the season. Assistant coach Jyrki Aho will temporarily replace Dufva as head coach.
(20 Sep 2011)
Past league results:
League standings:
Historic statistic:
Individuals records:
Fast facts
season 1995-1996
According to Companion Kyiv President, the project of a new multi-national league is already aborted Read more»
On the 22nd of May the KHL staged the Closing Ceremony for 2012-13 season. During this celebration the heroes of the fifth Kontinental Hockey League season were presented with awards covering 23 different categories. ... Read more»