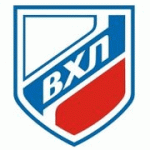 Did you find any incorrect or incomplete information? Please, let us know.
Last updated: 01 May 2013, 07:26
from 1992 to 2010: Vysshaya Liga (RUS-2)
from 2010 to present: VHL
Kazzinc Torpedo has a new coach
Kazzinc Torpedo Ust-Kamenogorsk announces the appointment of 58-years-old Russian Vladimir Plyuschev as new coach. Plyuschev coached MHL Kapitan Stupino last season and Russia U20 and U18 teams in the past
(22 May 2013)
Sary Arka announces new coach
VHL silver medallist Sary Arka Karaganda announces the appointment of Evgeny Zinoviev as new head-coach.
Zinoviev, 47, worked at Yuzhny Ural Orsk in past years
(15 May 2013)
Yaroslavl abandon VHL
Lokomotiv Yaroslavl announces club won´t allign a team in next VHL, even if retains its membership in the League. "We express our sincere thanks to all the staff of the VHL for giving our club the opportunity to participate in the Leaqgue after the tragedy. Your support was a significant contribution to the formation of young players - said in a letter Lokomotiv management
(25 Apr 2013)
New coach at Yuzhny Ural Orsk
Yuzhny Ural Orsk announces former Avtomobilist Yekaterinburg assistant coach Anatoly Chistyakov as new headcoach.
"Orsk provides excellent conditions for the coach and players. My first main task for the off-season is to get acquainted with his new team and to strengthen the composition. I want to work for the benefit of the Orsk hockey and develop myself as a coach." said Chistyakov in the first press-conference
(21 Apr 2013)
New coaches at THK Tver
Alexei Zhdakhin is the new coach of VHL THK Tver. Vladimir Koltsov and Kiril Pafifov will be the assistants. Zhdakhin coached Yermak Angarsk in last 3 seasons. Koltsov was Tver head coach until last February when he was fired
(12 Apr 2013)
Sokol Krasnoyarsk changes coach for next season
Slovakian coach Dusan Gregor, leaves Sokol Krasnoyarsk by mutual agreement after a disappointing season, where Sokol finished 24 in the standing missing playoffs.
Next season Sokol will be led by Andrei Martemiyanov, in 2011-12 season head coach of Avtomobilist Ekaterinburg
(25 Mar 2013)
Oleg Kurin back on Ryazan bench
After a season as club GM, Oleg Kurin will be back on HK Ryazan bench for 2013-14. Kurin coached Ryazan from 2005 to last season before to switch for an administrative position. Ryazan began current season with Anatoly Fedotov but he left the club for health reasons, and Oleg Barsukov was named coach. Ryazan finished last in VHL
(23 Mar 2013)
Togliatti Arena ready in May
Finally Togliatti Arena should be inaugurated in late May: "the major works has been completed, it is expected that the facility will be completed by the end of May this year", said Director General of Stroykontrol Renal Myazitov. "We have adopted a hard schedule of works"
The project "Lada-Arena" is included in the comprehensive investment Togliatti modernization plan for 2010-2020.
Early last year, the contractor - the company "Avtozavodstroy" which began its work in February 2011 - stated that the facility will be put into operation in December 2012. However, in June, the date was postponed to March 2013.
(20 Feb 2013)
THK Tver fires coach
THK Tver fires coach Vladimir Koltsov with the team in 21th place after 17 victories and 27 defeats in its first season in VHL. GM Yuri Rychkov, former women youth national team coach, will act as new headcoach.
"A series of defeats a bad game against Izhevsk influenced management's decision to fire the coach. We are trying to rectify the situation and lift the team" said Rychkov
(05 Feb 2013)
Yunost Minsk switches coaches and players
Out from post season in VHL, Yunost Minsk decides to focus energies on Belarus Open League farm team Junior Minsk. According to Junior head coach Oleg Khmyl, Yunost coach Mikhail Zakharov will finish the season as Junior coach while Khmyl and assistant Aleksei Scheblanov will lead Yunost. In addition, VHL team sent down 20 players from VHL roster to compete in Belarus League
(02 Feb 2013)
Past league results:
League standings:
Historic statistic:
Individuals records:
Fast facts
season 2012-2013
According to Companion Kyiv President, the project of a new multi-national league is already aborted Read more»
IIHF allocated 28 tournaments for 2014, from Iceland to Korea. First ever participation for Hong Kong, Mexico's women and Polish women's U18. Read more»