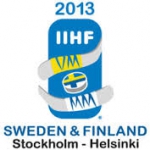 Did you find any incorrect or incomplete information? Please, let us know.
GROUP: Stockholm
GROUP: Helsinki
#
Club
G
W
W-OT
L-OT
L
Score
P
1
Russia
7
5
0
0
2
29:14
15
2
USA
7
5
0
0
2
24:16
15
3
Slovakia
7
3
0
1
3
18:17
10
4
Germany
7
2
1
1
3
13:16
9
5
France
7
2
0
1
4
13:21
7
6
Latvia
7
2
0
1
4
14:25
7
7
Finland
7
4
2
0
1
23:14
6
8
Austria
7
1
1
0
5
18:29
5

Slovenia and Austria are relegated to the 2014 IIHF ICE HOCKEY WORLD CHAMPIONSHIP DIV I Group A

Quarter Finals

Russia - USA 3-8
Switzerland - Czech Republic 2-1
Finland - Slovakia 4-3
Canada - Sweden 2-3 SO

Semi Finals

Finland - Sweden 0-3
Switzerland - USA 3-0

Bronze Medal Game

Finland - USA 2-3 SO

Final

Switzerland - Sweden 1-5
Last updated: 16 May 2013, 14:41
From 2012 a new championship format is introduced and 16 teams will play in two preliminary round groups with eight teams in each. The top four teams in each preliminary round group will advance to the quarterfinals.
The teams that finish last in each group will be relegated to Division I. Teams placed 5-8 will have no more games.
from 2010 to 2011: World Championship
from 2011 to present: World Championship
2014 WC Groups
IIHF has announced the groups for the 2014 World Championship in Belarus.
Group A: Sweden, Czech Republic, Canada, Slovakia, Norway, Denmark, France, Italy.
Group B: Finland, Russia, USA, Switzerland, Germany, Latvia, Belarus, Kazakhstan.
(19 May 2013)
WC ended for Alexander Edler
The IIHF Disciplinary Panel has suspended Swedish defenceman Alexander Edler for a knee-on-knee hit against Canadian forward Eric Staal. Edler will miss the remainder of the 2013 IIHF Ice Hockey World Championship.
(17 May 2013)
PK Subban to join Canada
After the Montereal Canadiens were eliminated from the NHL playoffs, their leading D-man PK Subban will join team Canada in Stockholm. He is set to arrive on Tuesday afternoon.
(13 May 2013)
Hamhuis to Stockholm
Canada will add Vancouver Canucks defenceman Dan Hamhuis to their roster at the World Championship. He will be the fifth Canuck to join the WC after Sweden's Sedin, Sedin and Edler and Denmark's Jensen.
(11 May 2013)
Girgensons suspended
Latvia's Zimgus Girgensons has been suspended one game at the WC after a butt-ending on Slovakia's Branislav Mezei.
(10 May 2013)
WC: Four teams add players
Czech Republic: Ondrej Pavelec, goalkeeper, Winnipeg Jets (NHL), Petr Koukal, forward, Neftekhimik Nizhnekamsk (RUS)
Denmark: Thor Dresler, forward, Herlev Eagles (DEN)
Slovakia: Marko Dano, forward, Slovan Bratislava (SVK/KHL)
Slovenia: Luka Tosic, defenceman, Alleghe Hockey (ITA) Gal Koren, forward, Medvescak Zagreb (CRO)
(09 May 2013)
Sedin twins and Edler joining team Sweden
After the elimination of the Vancouver Canucks from the Stanley Cup playoff Team Sweden will get three strong reinforcements for their team at the World Championship. Henrik Sedin, Daniel Sedin and Alexander Edler will all join the roster.
(08 May 2013)
Larsen, Pietta added
Denmark has added Dallas Stars defender Philip Larsen while Germany added Krefeld forward Daniel Pietta to their WC rosters.
(05 May 2013)
WC Competition
Who do you think will be top scorer at the World Championship? Mail name and number of points you think he will score to quiz@eurohockey.com. Deadline Sunday.
(03 May 2013)
Latvia confirmed bid for IHWC-2017
Prime Minister Valdis Dombrovskis announces the National Council for Sport approved the bid to host the World Championship in 2017, together with Denmark.
According to Dombrovskis, Latvia's chances are quite high.
"Out first desire is to host IHWC in 2017, but did not rule out the possibility to organize the championship in 2018 - said Dombrovskis.
(07 Mar 2013)
Past league results:
League standings:
Historic statistic:
Individuals records:
Fast facts
season 2012-2013
Youngest player: Marko Dano (18 years)
Oldest player: Fabrice Lhenry (40 years)
Shortest player: Stephen Gionta (170 cm)
Tallest player: Vladimir Mihalik (202 cm)
Nationalities: Austria (25), Belarus (25), Canada (24), Czech Republic (25), Denmark (25), Finland (25), France (25), Germany (25), Latvia (25), Norway (25), Russia (25), Slovenia (25), Switzerland (24), Slovakia (25), Sweden (25), USA (25)
Highest win: Czech Republic - Norway 7-0
Season average attendance: 6685
According to Companion Kyiv President, the project of a new multi-national league is already aborted Read more»
IIHF allocated 28 tournaments for 2014, from Iceland to Korea. First ever participation for Hong Kong, Mexico's women and Polish women's U18. Read more»