News archive
21 May 2013, 15:19 | Asian Challenge Cup U20 in Khabarovsk
The asian U20 Challenge will be held in Khabarovsk from June 06 to 10. The tournament will be attended by national teams of the Republic of Korea, Japan, and the MHL all-star team "Red Star". This event is aimed at promoting hockey in the Far East. Also last season, "Red Stars" participated in the Asian Challenge Cup, where they met the teams of the Republic of Korea, Japan, China and Taiwan. This year the tournament´s format will be a single round robin.
19 May 2013, 22:06 | 2014 WC Groups
IIHF has announced the groups for the 2014 World Championship in Belarus.
Group A: Sweden, Czech Republic, Canada, Slovakia, Norway, Denmark, France, Italy.
Group B: Finland, Russia, USA, Switzerland, Germany, Latvia, Belarus, Kazakhstan.
17 May 2013, 17:46 | Rochester Americans and Barys Astana at Spengler Cup 2013
For the second time the AHL's Rochester Americans have accepted an invitation to participate in the Spengler Cup tournament
The Rochester Americans also competed in the 1996 event, finishing third. They remain the only professional hockey club from North America ever to take part in the tournament.
"The Rochester Americans are extremely honored to have been selected to play in the 2013 Spengler Cup and represent the American Hockey League," said Americans President Ted Black. "This is a truly unique opportunity that will provide an incredibly valuable experience for our players. In addition, the chance for the Amerks to participate in the Spengler Cup for the second time will add another chapter to the great history of this storied franchise."
In addition, Kazakh media announces KHL's Barys Astana will compete in spengler Cup for the first time
17 May 2013, 17:36 | WC ended for Alexander Edler
The IIHF Disciplinary Panel has suspended Swedish defenceman Alexander Edler for a knee-on-knee hit against Canadian forward Eric Staal. Edler will miss the remainder of the 2013 IIHF Ice Hockey World Championship.
17 May 2013, 00:43 | Bloomington, Peoria join SPHL for 2013-2014 Season
The Southern Professional Hockey League (SPHL) announced its Board of Governors has unanimously approved the Bloomington Blaze and Peoria Rivermen to join the league for the 2013-2014 season.
"We are excited to welcome Bloomington and Peoria into the league," added SPHL President Jim Combs. "The addition of two teams in the Midwest opens up a new range of opportunities for the SPHL."
The Rivermen were purchased at the end of March by the Vancouver Canucks, who intend to move the franchise to Abbotsford, B.C. and last week confirmed with Peoria Civic Center officials that they will not bring back the Rivermen franchise.
15 May 2013, 15:47 | Sary Arka announces new coach
VHL silver medallist Sary Arka Karaganda announces the appointment of Evgeny Zinoviev as new head-coach.
Zinoviev, 47, worked at Yuzhny Ural Orsk in past years
15 May 2013, 01:18 | Zakharov remains at Yunost
After having announced his retirement as coach in March, today Mikhail Zakharov confirmed he will remain at Yunost Minsk most likely as Sports Director
15 May 2013, 01:03 | Wenatchee Wild relocate to Hidalgo, Texas to revive Rio Grande Valley Killer Bees
The North American Hockey League announced that the Wenatchee Wild are moving from Washington to Texas. The team, coach and staff will relocate to Hidalgo, Texas, and become the Rio Grande Valley Killer Bees.
"We are excited about the move to the Rio Grande Valley and our mission to field a championship-caliber team every season remains the same," team President Bill Stewart said "The area has a great hockey tradition and we believe that the region and the surrounding community will embrace and support the NAHL."
The announcement comes a day after the Wild lost in the Robertson Cup championship game and just one day before the team's current five-year contract to use the Town Toyota Center in Wenatchee expires.
Rio Grande Valley had a team called Killer Bees from 2003 to 2012 in CHL
15 May 2013, 00:30 | Kevin Lindskoug named USHL Goaltender of the Year
Swedish Kevin Lindskoug was named USHL Goaltender of the Year.
With Muskegon Lumberjacks, Lindskoug posted a 23-18-6 record with a 2.49 goals-against-average and .923 save percentage with an impressive number of eight shutouts.
Lindskoug signed to play with Rogle of Allsvenskan next season
14 May 2013, 23:54 | Augusta RiverHawks suspend operation due to lack of rink
The Southern Professional Hockey League (SPHL) announced the Augusta RiverHawks will be suspending play for the 2013-2014 season, due to the uncertainty surrounding repair of the ice system at the James Brown Arena.
The RiverHawks were forced to play their final eight home games at their practice facility after the system that cools the ice failed.
"We are disappointed that Augusta has been forced to make this decision," stated league President Jim Combs. "We will continue to work with (owner) Bob Kerzner and the arena to resolve the situation as soon as possible."
13 May 2013, 20:35 | PK Subban to join Canada
After the Montereal Canadiens were eliminated from the NHL playoffs, their leading D-man PK Subban will join team Canada in Stockholm. He is set to arrive on Tuesday afternoon.
13 May 2013, 15:58 | Fust new assistant coach at Lausanne
Swiss-Canadian John Fust will be the assistant of coach Heinz Ehlers on Lausanne bench. He signed a two-years contract with newly promoted club after two seasons at Langnau Tigers
11 May 2013, 12:45 | Hamhuis to Stockholm
Canada will add Vancouver Canucks defenceman Dan Hamhuis to their roster at the World Championship. He will be the fifth Canuck to join the WC after Sweden's Sedin, Sedin and Edler and Denmark's Jensen.
10 May 2013, 16:29 | Girgensons suspended
Latvia's Zimgus Girgensons has been suspended one game at the WC after a butt-ending on Slovakia's Branislav Mezei.
10 May 2013, 00:16 | Miroslav Ihnačák new coach at Polonia Bytom
Newly promoted Polonia Bytom announces Slovak-Canadian Miroslav Ihnačák as new head coach. Ihnačák, 51, signed a three-years contract.
"We want to build a team in perspective, so the coach must know that is part of a long-term project" said club President Marek Stebnicki.
Current coach Andrzej Secemski will remain as assistant coach
09 May 2013, 17:02 | WC: Four teams add players
Czech Republic: Ondrej Pavelec, goalkeeper, Winnipeg Jets (NHL), Petr Koukal, forward, Neftekhimik Nizhnekamsk (RUS)
Denmark: Thor Dresler, forward, Herlev Eagles (DEN)
Slovakia: Marko Dano, forward, Slovan Bratislava (SVK/KHL)
Slovenia: Luka Tosic, defenceman, Alleghe Hockey (ITA) Gal Koren, forward, Medvescak Zagreb (CRO)
08 May 2013, 21:51 | Sedin twins and Edler joining team Sweden
After the elimination of the Vancouver Canucks from the Stanley Cup playoff Team Sweden will get three strong reinforcements for their team at the World Championship. Henrik Sedin, Daniel Sedin and Alexander Edler will all join the roster.
08 May 2013, 01:55 | Lithuania will apply for 2014 IHWC
Lithuania Federation announces country will apply to host IHWC Division I Group B in 2014. The bid will be present at IIHF Congress in Stockholm, May 16-19. Lithuania is at the moment the only applicant.
06 May 2013, 20:11 | LEV Prague announces assistant coaches
Former Sparta Praha assistant coach Jan Votruba and Italo-Canadian Ivano Zanatta are the new assistant coach in LEV Praha staff, along with head coach Vaclav Sykora. American Brandon Bovee will be the fitness coach
06 May 2013, 08:27 | Facebook and Twitter
Don't forget to follow us on Facebook and Twitter.
05 May 2013, 13:46 | Larsen, Pietta added
Denmark has added Dallas Stars defender Philip Larsen while Germany added Krefeld forward Daniel Pietta to their WC rosters.
03 May 2013, 18:00 | WC Competition
Who do you think will be top scorer at the World Championship? Mail name and number of points you think he will score to quiz@eurohockey.com. Deadline Sunday.
01 May 2013, 01:58 | Sierre bankrupt
HC Sierre appeal for bankruptcy has been rejected by Regional Court, the club was unable to provide a long term future for club stability and with that verdict, HC Sierre will be removed from the NLB and the league will drop back down to 10 clubs.
All players and people under contract with the club are now free and able to sign in any place they wish. The future of the club play in the regio leagues will be decided in the next future
01 May 2013, 01:25 | Lugano announces new coach staff
HC Lugano announces today the new coach staff for next season: headcoach will be former player and assistant coach Patrick Fischer, while another former player, Swedish Peter Andersson will serve as assistant coach. After the end of season HC Lugano fired coach Larry Huras
30 Apr 2013, 05:37 | Kazakhstan GM quits
Kazakhstan GM Shumi Babaev quits his job despite the victory at IHWC Division I and the return of Kazakhstan in the Elite Division.
"I resigned, I can'tforgive that we did not come to the Olympics. I think it's my fault. It was necessary to include more influence to defend their point of view and to get results. I think it is wrong to stay and occupy this position. Perhaps there are more worthy people who can perform all the tasks further, because to remain in the elite will be even harder. For this to work, we need support, and then everything will be done as scheduled" said Babaev
29 Apr 2013, 22:07 | Vladivostok appoints Hannu Jortikka as coach
The new team estabilished in Vladivostok to play in KHL next season appointed Hannu Jortikka as coach. Finnish signed a two-years contract. Jortikka coached Amur Khabarovsk last season before to be fired in December
28 Apr 2013, 15:30 | Gomel announces new coach
Belarusian Valeri Voronin will be the new coach at Gomel after the departure of Andrei Skabelka. Voronin was on Metalurgs Liepaja bench in last three seasons
25 Apr 2013, 15:21 | Ryan Finnerty to coach Braehead Clan
Canadian Ryan Finnerty is the new coach of Braehead Clan. The former Sheffield Steelers coach signed a two-years contract.
"Glasgow is a blue collared hard working city and we want a team that will emulate that on the ice. We will have a good mixture of skill and toughness." said Finnerty
25 Apr 2013, 14:52 | Yaroslavl abandon VHL
Lokomotiv Yaroslavl announces club won´t allign a team in next VHL, even if retains its membership in the League. "We express our sincere thanks to all the staff of the VHL for giving our club the opportunity to participate in the Leaqgue after the tragedy. Your support was a significant contribution to the formation of young players - said in a letter Lokomotiv management
24 Apr 2013, 16:06 | Barry Smith at MODO
Former Tilburg Trapper and Netherlands coach Barry Smith was announced as new MODO assistant coach along with Jan-Axel Alavaara. Smith signs one-year contract and will work with headcoach Anders Forsberg

24 Apr 2013, 00:24 | Awards in Belarus
Belarus Federation announces the winners of awards after the last season:
Best Goalkeeper - Dmitri Milchakov (Metalurg Zhlobin)
Best Defender - Andrei Antonov (Neman Grodno)
Best Forward - Andrei Makrov (Neman Grodno)
Best Defensive Forward - Artem Senkevich (Gomel)
Best Young Player - Evgeny Lisovets (Neman Grodno)
23 Apr 2013, 21:56 | Trenton Titans ceases operations
The ECHL announced on that the Trenton Titans Membership has ceased operations and the team will not compete in the 2013-14 season.
21 Apr 2013, 22:40 | New coach at Yuzhny Ural Orsk
Yuzhny Ural Orsk announces former Avtomobilist Yekaterinburg assistant coach Anatoly Chistyakov as new headcoach.
"Orsk provides excellent conditions for the coach and players. My first main task for the off-season is to get acquainted with his new team and to strengthen the composition. I want to work for the benefit of the Orsk hockey and develop myself as a coach." said Chistyakov in the first press-conference
21 Apr 2013, 19:36 | Revenge for Germany
After losing 0-8 yesterday, Germany made a remarkable come back and won 5-2 against Sweden today.
21 Apr 2013, 02:28 | Belarus Cup renamed
Belarus Federation announces National Cup will be renamed "Ruslan Salei Cup" to honour former national team died in Yaroslav plane crash. The 2013 final will be played in brand new Chizhovka Arena, built in Minsk for 2014 World Championship
20 Apr 2013, 18:15 | Sweden won big in Germany
Sweden defeated Germany 8-0 in a friendly game in Krefeld. Sweden had 6-0 already after the first period and had eight different goal scorers. DEL top scorer Calle Ridderwall scored a goal in his first international game for Sweden.
17 Apr 2013, 10:45 | Cologne tie final series
In this year's DEL playoff final series Kölner Haie were able to tie the best-of-five series against Eisbären Berlin 1-1 with a 3-1 (2-1, 0-0, 1-0) win on the road. The series will continue with match #3 in Cologne on Friday.
16 Apr 2013, 15:47 | Vladimir Tsyplakov new Sports Director of Dinamo
Former player Vladimir Tsyplakov was named new Sports Director of Dinamo Minsk. After his player career, Tsyplakov leadled Belarus Junior team at the Universiade (silver medal in 2011). He worked as assistant coach in the national and youth team
16 Apr 2013, 15:31 | Martin Lacroix new coach at Bordeaux
Boredeaux Boxers announces the appointment of Canadian Martin Lacroix as new headcoach. Lacroix worked in last two seasons at Cergy.
15 Apr 2013, 15:29 | New coaches at Martigny and La Chaux-de-Fonds
Two NLB teams announces new coach for next season: Red Ice Martigny added a new Russian staff member besides former coach and now Sports Director Albert Malgin and Assistant Coach Igor Fedulov: new head coach is 53 years-old Petr Malkov, until January coach of Kuban Krasnodar in VHL.
La Chaux-de-Fonds hires Canadian Kevin Primeau as new Headcoach. He was fired in last October from Sapa Fehervar of EBEL
13 Apr 2013, 22:43 | Russia wins U19 tournament
The Russian U19 team won a 4-nations tournament in Trnava, Slovakia this week. They beat Czech Republic 3-1, Finland 5-3 and Slovakia 5-1.
12 Apr 2013, 17:59 | Mexican Federation has new Secretary
The Mexican Ice Hockey Federation has announced the appointment of Jorge Perez Alfaro as General Secretary, replacing Luis Olivares Torres. Alfaro was part of the Mexican Horse Riding Federation for many years and represented Mexico in international horse riding competitions. He owns a construction company and is part of a group that is building new ice hockey rinks in the country.
12 Apr 2013, 17:31 | Peteris Skudra is new Torpedo Nizhny Novgorod coach
Torpedo Nizhny Novgorod announces the appointment of Latvian Peteris Skudra as new head coach. Skudra was assistant coach last season at Sibir Novosibirsk
12 Apr 2013, 17:23 | New coaches at THK Tver
Alexei Zhdakhin is the new coach of VHL THK Tver. Vladimir Koltsov and Kiril Pafifov will be the assistants. Zhdakhin coached Yermak Angarsk in last 3 seasons. Koltsov was Tver head coach until last February when he was fired
11 Apr 2013, 16:09 | New leadership at the Ice Tigers
Nurnberg Ice Tigers will have a new management duo in the upcoming DEL season. Martin Jiranek is new sports director, while Christoph Sandner will assume the position of CEO.
As a Ice Tigers player, Jiranek still have the record of most games(493), goals (178) and assists (252) of the club where he played from 1996 to 2004 and in the 2006/07 season. Jiranek number 12 shirt was retired by Ice Tigers.
Christoph Sandner recently worked as Communication Manager for sports sponsoring company Thomas Sabo
10 Apr 2013, 17:31 | Baskent Yildizlari is Turkish League champion
Baskent Yildizlari from Ankara wins its third consecutive Turkish League title taking advantage of a strange play-offs format
For the playoffs, the top 4 teams in the league (Baskent, Izmir, Kocaeli, and Erzurum) keep the regular season points from the games between themselves. So Baskent had 18 points, Izmir had 12 points, and Kocaeli and Erzurum had 3 points each. Then every team plays each other twice, total of 6 games.
So Baskent only needed to win any 2 games and beat Izmir in one of the two games against them. If Baskent did and lost everything else, would be tied with Izmir, but win on the tie breaker of head to head total wins.
So on March 30th, Baskent played and beat Izmir 6-3 in Kocaeli. After that, none of the games actually mattered, including the last one, a kind of playoffs final, when Izmir beats Baskent 8-6
Baskent Slovakian forward Dennis Legersky was the League top scorer with 75 points (42 goals, 33 assists)
10 Apr 2013, 17:23 | Olimpija Ljubljana wins Slovenian title
By beating 4-1 and 3-2 Slavija, Olimpija Ljubljana wins its second consecutive Slovenian title.
check all Slovenian League stats here
10 Apr 2013, 14:45 | Langnau Tigers changes coaches
Down 2-1 in the promotion/relegation series against Lausanne, Langnau Tigers try a desperate move "freezing" coach Alex Reinhard and sending back to junior team assistant Konstantin Kurashev. Sport Director and former coach Jacob "Köbi" Kölliker will lead team in last games, assisted by Alfred Bohren.
10 Apr 2013, 14:41 | Aleksandr Godynyuk appointed Donbas junior team coach
Former Ukraine national team coach Aleksandr Godynyuk signed three-year contract with Donbas Donets'k to lead the new junior team that will compete in MHL next season. In last two seasons Godynyuk was on Sokil Kyiv bench.
10 Apr 2013, 14:25 | In May will open a new arena in Orsha
After five years of construction and some delays due to financial problems, finally the new Nasha Niva Ice Palace will open at the end of May. Belarusian Railway company allocated an additional 20 million dollars to complete the works. Arena will host 3.500 spectators and will be the third bigger ice palace of the country
10 Apr 2013, 14:05 | Avangard Omsk hires two assistant coaches
After Eduard Zankovets and Santeri Heiskanen left the club, Avangard Omsk announces the appointment of two new assistant coaches: Yevgeny Kornoukhov and Vladimir Chebaturkin. Both were head coach in MHL last season: Kornoukhov coached Omsk Hawks, while Chebaturkin was on Atlant Mytischi bench
10 Apr 2013, 01:57 | Teemu Kesä suspended for six games
Next season will start later for Rapperswil Finnish defender Teemu Kesä: he takes six-games suspension for his checking to the head against Langnau forward Claudio Moggi, during March 30 playouts game. Kesa received also 1500 Swiss francs fee
08 Apr 2013, 21:43 | Hungary wins WJC18 Div II A
Hungary won all five games and won the IIHF U18 World Championship Division 2 A and promoted to Division 1 B. See results and stats on our Tournament page.
07 Apr 2013, 00:05 | SC Miercurea Ciuc wins title in Romania
With an amazing comeback from 0-3, SC Miercurea Ciuc wins 6-4 game #5 in playoffs finals against Corona Brasov, closing the series 4-1 and capturing the seventh consecutive title in Romania, for a total of 15 titles. This season SC Miercurea Ciuc was also silver medalist of MOL Liga
06 Apr 2013, 23:46 | Bronze for Rødovre in Denmark
Rødovre won bronze in the Danish playoff after winning the bronze series against Odense. Both games ended with a draw and Rødovre won after penaly shootout
06 Apr 2013, 15:56 | New arena opened in Yuzhno-Sakhalinsk
With the presence of Federation President Vladislav Tretiak, a new 15.000 places arena named "Kristall" was opened in Yuzhno-Sakhalinsk. The Ice Palace was built as part of the regional program of development of physical culture and sports. Construction began in 2010. Kristall arena will host ice shows, concerts, and games of hockey and volleyball
06 Apr 2013, 15:15 | New coach and new farm-team for Donbas
Donbas Donets'k officially announces the appointment of Andrei Nazarov as new head coach for next season. In last season Nazarov lead Severstal Cherepovets until semifinals where team lost against SKA St. Petersburg.
Team also announced that, due to creation of a junior team for competing in MHL, next season Bilyy Bars Bila Tserkva will be the Donbas farm team in Ukraine League
05 Apr 2013, 23:18 | Leuven Chiefs wins Belgian National League
By beating 5-2 White Caps Turnhout in decisive game #3, Leuven Chiefs wins Belgian National League. Chiefs was also Regular Season winner.
The awards of the season were assigned:
Most talented: Frank Neven (IHC Leuven)
Best coach: Jan van Beveren (Antwerp Phantoms)
Best goalie: Arthur Legrand (Antwerp Phantoms)
Best Defender: Pieter-Jan Wouters (IHC Leuven)
Best Forward: Kevin De Winter (Olympia Heist)
Best referee: Maarten van den Acker
03 Apr 2013, 20:19 | Jamie Lundmark wins MVP
Journalists in Austria have decided. Jamie Lundmark of KAC is named "Ron Kennedy Trophy" winner, trophy awarded for MVP of EBEL. Jamie won the award with 56 total points, 27 more than second placed Derek Ryan of Villach and 28 more than Vienna goalie Matthew Zaba. This season Lundmark played 63 games for KAC and recorded 65 points (33 goals, 32 assists, +21 plus/minus).
03 Apr 2013, 17:31 | Carolina lost Pitkanen for rest of the season
Carolina Hurricanes defenseman Joni Pitkanen will miss the rest of the season with a broken heel.
Pitkanen was hurt with 1:57 left in the second period of a 5-3 loss to Washington. He raced down the ice while trying to beat an icing call and went hard into the boards
01 Apr 2013, 16:20 | Jaca wins Copa del Rey
CH Jaca win its third consecutive Copa del Rey beating 9-5 league champion Bipolo Vitoria in the final played in Puigcerdà. American forward Charles Strauss was the star of the game with 3 goals and 3 assists
29 Mar 2013, 02:03 | SAPA Fehervar wins Hungarian Cup
SAPA Fehervar wins 4-0 against Miskolc in the final of Hungarian Cup and captures the last trophy of season. In the semifinal SAPA crushed 7-2 MOL Liga champion Dunaújváros Acélbikák, while Miskolc won 3-0 over Ferencvaros.
Dunaújváros wins bronze beating 2-0 Ferencvaros in third place final
Individual awards were assigned to:
Krisztián Budai (Miskolc) as best goalie
Victor Lindgren (Dunaújváros) as best defender
Frank Banham (SAPA Fehervar) as best forward
28 Mar 2013, 22:39 | SA Vikingar champion of Iceland
With an hattrick by league top scorer, Danish forward Lars Foder, SA Vikingar Akureyri wins 4-0 champion Bjornin in playoffs final game #5 and becomes 2012-13 Icelandic League champion. It's the first title for Skautafelag Akureyrar second team
27 Mar 2013, 18:47 | Pierre Page's era as Salzburg coach over
Pierre Page will cease to be the head coach of Red Bull Salzburg. It was officially announced after they lost in the semifinal series to Vienna Capitals 4-2. Nevertheless he will stay with Red Bull as Sports Director of Red Bull Salzburg and Red Bull Munich.
25 Mar 2013, 21:24 | SMS Credit wins first ever title in Latvia
By beating 1-0 HK Juniors Riga in playoffs final game #3, SMS Credit Riga closes the series 3-0 and captures its first title in Latvian League. After two consecutive victories by Liepaja Metalurgs, title is back in the capital
25 Mar 2013, 20:19 | Berkut Kyiv asked to join Belarusian League
Berkut Kyiv has asked at Belarusian Fedration to allow them into the BOL, after Ukranian Federation disqualified the club from Professional Hockey League (PHL) for financial non-fullfilments.
"We were approached by Berkut Kyiv with a request to allow them to participate in Belarus Open League. Team has to solve issues with their federation, but if Berkut will be able to join us, will be great to have another foreign team, " said Federation President Evgeny Vorsin
25 Mar 2013, 18:32 | Don Hay to coach Canada U18 at WJC
Hockey Canada announces that Don Hay, head coach of the WHL's Vancouver Giants, will be the head coach of Canada's National Men's Under-18 Team for the 2013 IIHF Ice Hockey U18 World Championship, April 18-28 in Sochi, Russia.
Hockey Canada also announced that Jody Hull, head coach of the OHL's Peterborough Petes, and Yves Sarault have been named assistant coaches.
25 Mar 2013, 16:10 | Sokol Krasnoyarsk changes coach for next season
Slovakian coach Dusan Gregor, leaves Sokol Krasnoyarsk by mutual agreement after a disappointing season, where Sokol finished 24 in the standing missing playoffs.
Next season Sokol will be led by Andrei Martemiyanov, in 2011-12 season head coach of Avtomobilist Ekaterinburg
25 Mar 2013, 14:37 | Avangard Omsk President and GM resign
Avangard Omsk President Alexander Sterlyagov and General Manager Vladimir Kapulovsky resigned, as announced by Chairman of the Board Alexander Dybalya
"The Board of Directors of the club assesses the results of the regular season as satisfactory, but we find unacceptable the performance in the play-off. Avangard starts a process of renovation, affecting most aspects of the business"


25 Mar 2013, 14:17 | New coach at Gomel
After the resignation of coach Andrei Skabelka, HK Gomel announces the new coach for the next season: the former player Oleg Romanov, this season acting as assistant coach
24 Mar 2013, 23:50 | Tampa Bay Lightning fired coach Guy Boucher
The Tampa Bay Lightning fired coach Guy Boucher, with the team in next to last place in the Eastern Conference and on its way to missing the playoffs for a second straight year.
Assistants Martin Raymond and Dan Lacroix are to share the coaching temporarly
23 Mar 2013, 15:05 | Barry Smith leaves Tilburg Trappers
Barry Smith leaves Tilburg Trappers. The American coach has decided to not accept an offer for contract extension
In his only season at Tilburg, Smith won the Cup, but lost the national championship in final. Tilburg is looking for a successor to Smith.
The American is still the head coach of the Dutch team.
23 Mar 2013, 14:45 | Oleg Kurin back on Ryazan bench
After a season as club GM, Oleg Kurin will be back on HK Ryazan bench for 2013-14. Kurin coached Ryazan from 2005 to last season before to switch for an administrative position. Ryazan began current season with Anatoly Fedotov but he left the club for health reasons, and Oleg Barsukov was named coach. Ryazan finished last in VHL
21 Mar 2013, 10:26 | MOL Liga Playoffs: HSC Csikszereda defeats DAB Docler in Game 5
HSC Csikszereda scored a sudden death goal 17 minutes into overtime to stun DAB Docler in front of their home crowd.  The Acelbikak had the opportunity to win their second straight MOL Liga championship Wednesday night in front of their home crowd, but they squandered 51 shots on goal and several opportunities on the power play.  Instead HSC Csikszereda seized the moment and are sending the series back to Romania for Game 6.
In his second straight strong appearance, Jan Fadrny scored the game winner and assisted on the tying goal for Csikszereda in the second period.  Fadrny's two points in Game 5 gives him six points in two playoff series (3 goals, 3 assists) and a +5 rating.  Stanislav Kozuch had possibly his best outing of the season for Csikszereda, stopping 50 of 51 shots through 77 minutes of play.  He has kept pace all series with the league's best goalkeeper, Peter Sevela with DAB Docler, who saved 36 of 38 shots.
Artyom Vaszjunyin scored the only goal of the game for DAB Docler int eh first period--it was his second goal of the playoffs.
Game 6 will be played Friday in Csikszereda where DAB Docler has another opportunity to end Csikszereda's season and take home their second straight championship.  With a Csikszereda win, Game 7 will return to Dunaujvaros, Hungary, on Monday night where the MOL Liga Champion will be crowned.
20 Mar 2013, 23:17 | Angers and Rouen to the French finals
Angers and Rouen have qualified for the French finals. Angers beat Epinal in the semi finals. Rouen eliminated Briancon. The first final is played on the 26th.
19 Mar 2013, 12:46 | Amur force game #4
The Nadezhda Cup finals will see a fourth and last game after Amur Khabarovsk beat Dinamo Riga 2-1 (1-1, 0-0, 1-0) today and avoided a sweep for the Latvian guests. The final match is going to be played tomorrow in Khabarovsk and to win the Cup the hosts need to tie the series first before a shootout could give them the title afterwards.
18 Mar 2013, 22:41 | Set for finals in Belarus
Neman Grodno and Metallurg Zhlobin have qualified for the finals of the Belarus league. Neman beat Shakhtar Soligorsk in the semis while Zhlobin knocked out Junior Minsk.
18 Mar 2013, 22:37 | Slavia to semis
HC Slavia Praha was the first team to clinch a semi final spot in the Czech Extraliga. Slavia beat Kladno 4-0 today to win the series 4-1.
17 Mar 2013, 17:05 | Semi finals in GET Ligaen
Semi finals in Norway's top league start tomorrow. Lørenskog-Stavanger Oilers and Sparta Sarpsborg-Vålerenga.
17 Mar 2013, 01:20 | Companion - Donbas-2 will be the final in Ukraine
Companion Naftogaz Kyiv advances for the first time to PHL finals after beating 2-1 SO Sokil Kyiv in a dramatic semifinal game #5. Companion will face champion Donbas-2 that eliminated 3-0 in the series Dynamo Kharkiv.
Regular season dominator Berkut Kyiv was disqualified for financial irregularities and didn't competed in playoffs
17 Mar 2013, 01:09 | Valpellice reach an historic final
By beating Cortina 4-2 in semifinals game #5, Valpellice Bulldogs reach the first final in its history in Italian Serie A. Valpellice will face Asiago that knocked out champion Bolzano in quarter finals and favourite Val Pusteria in semifinals. For the first time since 2001-2002 season a team not finished in the master round reach finals. Asiago finished 6th in the regular season and first in the relegation round.
15 Mar 2013, 15:39 | Sergei Nikoleav passed away
After a long illness former coach Sergei Nikolaev died at 68. Nikolaev was the coach of Torpedo Yaroslavl (former Lokomotiv name) when the team was promoted in Russian Super League for the first time in 1983-84 season. Nikolaev coached Yaroslavl from 1980/81 to 1989/90 and from 1992/93 to 1995/97.
He worked also at Severstal (1996-1997), Metallurg Novokuznetsk (1998-2000, 2006-2007), Kristall Saratov(2000), Salavat Yulaev (2000-2003) and Sibir(2004-2005)
15 Mar 2013, 15:25 | Normunds Sejejs leaves LEV Prague
With a brief statement on team website, LEV Prague announced GM Normunds Sejejs left his position after one season:
"Sports Holding Prague is going to change the control system, making it more centralized. This decision caused the abolition of the position of General Manager of the club
The holding was satisfied with the results shown by LEV during the season, praising the work done by Normunds Sejejs. Largely due to his efforts, LEV was able to achieve its goals in the first season in the League. So we wanted to Normunds Sejejs remained in our organization and offered him the post of consultant management. Unfortunately, Mr. Sejejs rejected our proposal because he wants to continue to act as General Manager, but in our organization is now impossible."
14 Mar 2013, 11:06 | Örebro last team to Kvalserien
Örebro is the last team to qualify for the qualification round to Elitserien, Kvalserien. Örebro won the pre-qual by beating Djurgården in the last round last night when BIK Karlskoga surprisingly lost on home ice to Oskarshamn. Kvalserien starts already today with Timrå-Örebro, Rögle-Västerås & Leksand-Södertälje.
14 Mar 2013, 02:22 | Dmitri Dudik named new coach at Vitebsk
Former national team player Dmitri Dudik, 36, was named new Vitebsk Head Coach. Dudik was in Vitebsk staff this season. Former headcoach Yuri Ivashin will remain in Vitebsk coaching staff
14 Mar 2013, 01:13 | Energija Elektrenai wins regular season with perfect record
With a perfect record of 15 victories in 15 games, Energija Elektrenai wins Lithuanian League regular season. Renovated Elektrenai Arena will host medal round on March 23-24
These are the semifinals:
15.00 Kėdainiai LRK vs Delovaja Rus Kaliningrad
19.00 Energija Elektrėnai vs Vilniaus Vanvita
14 Mar 2013, 00:50 | Ozolnieki Monarch and Metalurgs 2 advance to semifinals
Ozolnieki/Monarch and champion Metalurgs Liepaja 2 need just two games to knock out Prizma Riga and Zemgale and advance to Latvian League semifinals. Ozolnieki won two games 9-3 and 4-0, while Metalurgs, alligning players from main team, crushed Zemgale 7-2 and 3-0.
Semifinals will see regular season champion SMS Credit against Metalurgs and Ozolnieki - HK Juniors Riga
12 Mar 2013, 21:00 | DAB Docler goes up 1-0 in MOL Liga finals
DAB Docler received some unexpected help in their 2-0 win over HSC Csikszereda in tonight's first MOL Liga final matchup from Dunaujvaros.  Both goals came from role players.  Richard Nagy and Artyom Vaszjunyin scored only three times each during the regular season, but each scored when it mattered most.  Tamas Groschl assisted on both even strength goals to give DAB Docler the 1-0 lead.  HSC Csikszereda played strong, keeping up offensively with DAB Docler (shots were 37-31 in favor of DAB Docler) and holding their opponent scoreless into the 28th minute.  However, with many games this season, DAB Docler's defense held the other team at bay when under attack with tonight's effort leading to a shutout victory for goaltender Peter Sevela.
The next matchup is Wednesday, 13 March at 17:30 in Dunaujvaros.  Then the series will shift Romania for the next mandated games Saturday and Sunday.
12 Mar 2013, 19:05 | Gustaf Wesslau wins Honken Trophy
Honken Trophy, named after the goalie legend Leif "Honken" Holmqvist, has been awarded to the best goalie in Elitserien since 2002. The winner this year is HV71's Gustaf Wesslau, the third goalie of HV71 to win the award after Stefan Liv and Erik Ersberg. 28 year old Wesslau is playing his first season in HV71 and was the goalie that won most games (29) during the regular season with an impressive 92.77 save percentage.
11 Mar 2013, 16:37 | Debreceni wins Hungarian Second League title
By beating Tisza Volan 6-4 in last playoffs round game, HK Debreceni won Hungarian Second League title. Debreceni forward László Jonkl finished as League top scorer with 19 points (9+10), one more then teammate and Debreceni player-coach Joszef Gyorgy.
This is the team's third consecutive title.
Review Hungarian Second League stats and scores here
11 Mar 2013, 14:26 | Avtomobilist signs new headcoach and GM for next season
Anatoli Yemelin will coach Avtomobilist Yekaterinburg next season as announced by Governor of Sverdlovsk region Evgeny Kuyvash. "It is necessary to have the most ambitious goals for our team for next season - said Kuywash - "For this, we invited one of the most authoritative experts in hockey, along with new GM Leonid Weissfeld. We hope that this team of professionals will be able to bring our club to the playoffs next season."
Yemelin coached Lada Togliatti, Amur Khabarovsk amd from 2009 Metallurg Novokuznetsk. Also Leonid Weissfeld worked as GM at Metallurg from 2010
11 Mar 2013, 01:37 | Dmitri Yakushin resigns as Dynamo Kharkiv coach
After the 3-4 loss at overtime in first semi-final match against Donbas Donets'k, Kharkiv head coach Dmytri Yakushin steps down as coach of the club.
"I would like to thank the fans and the team for this game. Our team is made by real men and excellent professionals. It's very hard to set up the team when don't receive salary Today before the game our goalie Vitali Trus didn't have the stick. I can't complain the dedication of my guys, this was one of our best games.
In the second game, lost by Dynamo 1-6, Yakushin was allligned as defender.by new coach Aleksandr Kobikov, former Yakushin assistant coach
10 Mar 2013, 22:17 | Amur take lead in Nadezhda Cup series
In the only KHL game on Sunday Amur Khabarovsk beat Avtomobilist Yekaterinburg with 3-0 (0-0, 2-0, 1-0) at home to turn the Nadezhda Cup semi final series between the two teams into Amur's favour - they have a 2-1 lead now.
10 Mar 2013, 21:13 | Ridderwall top scorer of DEL
Carl Ridderwall was today the first Swedish player ever to win the German DEL top scoring title. In 51 games Ridderwall, who plays for last placed Düsseldorfer EG, scored 22 goals and 36 assists.
09 Mar 2013, 09:38 | Vålerenga first team to advance in Norway
Vålerenga was the first team to advance to the semi finals in GET Ligaen after eliminating Stjernen in four straight games. The three other quarter finals continue on Sunday, Stavanger has a 3-1 lead while the other two series are tied 2-2.
09 Mar 2013, 00:22 | Matrin Stloukal leaves Znojmo
HC Orli Znojmo and their head coach Martin Stloukal have decided to go separate ways. Team announced that in the upcoming season Stloukal will no longer be on the Czechs' bench. Club president Ohera said: "Our views and philosophy parted, so we'll continue our struggle with a new head coach."
08 Mar 2013, 22:54 | CHL will have a new team in Brampton, Ontario
The Central Hockey League announced that all the necessary paperwork and documentation with the new franchise in Brampton, Ontario, the City of Brampton and the Powerade Centre have been finalized. All parties entered into a Letter of Intent in late January. The new franchise will compete in the 2013-14 season and will be the first League franchise in Canada.
08 Mar 2013, 21:13 | Chiasso withdraws team from Swiss third league
HC Chiasso has decided to withdraw from the Swiss first league (the third level of Swiss hockey) to focus on his junior movement. Financial and logistical reasons are invoked.
08 Mar 2013, 21:02 | Andrei Skabelka resigns as Gomel coach
After the 2-0 loss against Junior Minsk and the elimination of Gomel from Belarus Open League playoffs, coach Andrei Skabelka announces his resignation
"Our opponent today played with heart. I fully take the blame, I could not prepare the team for the playoffs. I want to apologize the fans of Gomel. In this situation, I make the decision to resign. I did not cope with the task. It is sad, but true"
Skabelka is also National team coach
08 Mar 2013, 19:52 | Dunaújvárosi Acélbikák crowned Hungarian champion
By winning 2-1 at overtime against Miskolci in MOL Liga semifinals, Dunaújvárosi Acélbikák not only advanced to finals but it was also crowned Hungarian Champion for 2012-13. This season Hungarian League wasn't played and the results of MOL games between Hungarian teams counted as domestic championship
07 Mar 2013, 15:21 | Latvia confirmed bid for IHWC-2017
Prime Minister Valdis Dombrovskis announces the National Council for Sport approved the bid to host the World Championship in 2017, together with Denmark.
According to Dombrovskis, Latvia's chances are quite high.
"Out first desire is to host IHWC in 2017, but did not rule out the possibility to organize the championship in 2018 - said Dombrovskis.
06 Mar 2013, 22:23 | Kristan suspended for a game
Medvescak's goalie, Slovene Robert Kristan, got suspended today by his team, as he came to practice intoxicated. Kristan denies drinking at all, but it is certain he won't travel with his team to Salzburg for game 6 of the EBEL quartefinal series.
06 Mar 2013, 20:44 | MOL Liga: Csikszereda advances, Miskolc on ropes
Wednesday night saw HSC Csikszerda advance to the MOL Liga finals after a 4-1 victory over HC Nove Zamky.  Csikszereda won the semifinal round three games to zero.  Lubomir Hurtaj scored twice and Vaclav Novak had two assists.  Besides the first match of this playoff, Csikszereda completely dominated their Slovakian counterpart.  They will now await the winner of the other semifinal match between DAB Docler and Miskolc.
After Miskolc played dominantly against Dunajuvaros Sunday evening, they earned two games at home to try and beat their higher seeded opponent.  They held the game close until the fourth minute of the third period Wednesday evening when DAB Docler scored three unassisted goals in three minutes.  Nikandrosz Galanisz scored two of the three third period goals to put DAB Docler one game away from being in the finals for the second year in a row.  Miskolc will need to win two straight to advance, starting Thursday, 7 March and again Saturday, 9 March (if necessary).
MOL Liga finals are slated to start 12 March in the arena of the winner of the Dunaujvaros/Miskolc semifinal.
06 Mar 2013, 12:28 | LNB- Ronny Keller receives a violent check
While there were only three minutes to play in overtime, Ronny Keller(Olten) was victim of a very violent check from Stefan Schnyder(Langenthal). The defense remained several minutes lying on the ice. As he said, no longer feeling his legs, and the doctors present at Kleinholz Stadium called REGA helicopter. Ronny Keller, who spent the night at the center for paraplegics in Nottwil, has already had a chirurgy. The Blick website reveals that, according to doctors, the chances that the 33 years-old defense walk again one day are "50-50". Stefan Schnyder received a game misconduct penalty and last night have been questioned by police. Eurohockey wish Ronny Keller to get well very soon.
06 Mar 2013, 08:17 | Nürnberg almost qualified for playoffs
Nürnberg Ice Tigers made a jump to the 7th spot in the DEL table with a surprising 5-2 away win against current champions Eisbären Berlin. They now have six points more than the non-playoff spots with two games left to play. In the other match of the day Krefeld Pinguine beat Hamburg Freezers 3-2 SO on the road to become 3rd.
05 Mar 2013, 23:54 | Ivo Rüthemann celebrates 1000 NLA games
SC Bern forward Ivo Rüthemann played his NLA game number 1.000 in 5-2 defeat in playoffs quarter finals game #2 against Servette on March 05.
Rüthemann has 269 caps for Switzerland and played for Bern since 1999. He is the third player to reach this milestone after Gil Montandon (2008)and Martin Steinegger (2011)
04 Mar 2013, 21:28 | Bolzano fires coach Brian McCutcheon
After the elimination in playoffs quarterfinals against Asiago, Bolzano Foxes announces today the club fired coach Brian McCutcheon.
04 Mar 2013, 18:30 | Olympics in 2022 will not take place in Switzerland
The citizens of Swiss Grisons vote down the project for the application to host the 2022 Winter Olympic Games by 52.7% of the vote Sunday. The cantonal turnout reached 59.1%, the highest in decades.
The two municipalities directly affected, Davos and St Moritz have yet approved the project and provided funding for the application by respectively 56.2% and 61% in their municipal elections also held on Sunday.
04 Mar 2013, 15:23 | Sander Dijkstra positive for doping
Heerenveen Flyers and Netherlands national team Sander Dijkstra tested positive in a doping test in last October. He must now answer to the Disciplinary Committee of the Dutch hockey federation.
The Dutch hockey league usually does not comment on doping. Reports of the Dutch Doping Authority show that in 2010 and 2011 a total of two players tested positive. The report for 2012 is not yet online. Flyers Chairman Henk Hoekstra is optimist about the verdict: "Sander has tested positive for a substance in a dietary supplement that is accepted in controls during training, but not in games doping tests. We expect a positive decision". Heerenveen begins next Friday the playoffs series against Tilburg.
04 Mar 2013, 14:26 | Trans-Tasman Champions League Postponed
The AIHL and NZIHL have decided to postpone the Trans-Tasman Champions League (TTCL) series until 2014.
This is solely a financial decision. The AIHL requires more time to raise funds for the two teams travelling to New Zealand.
04 Mar 2013, 08:50 | EBEL YoungStar for February
EBEL comittee has anounced the competition for the best young player of the month February. Six candidates are: Christoph Hörtnagl (Innsbruck), Maxmilian Isopp (KAC), Konstantin Komarek (Salzburg), Jan Müller (Znojmo) and Zintis Nauris Zusevic (Graz). The vote is open until March 7th, and you can vote here: VOTE
In January the winner was Patrick Peter of the Vienna Capitals.
03 Mar 2013, 00:51 | Bipolo Vitoria wins first title in Spain
By beating 7-6 CG Puigcerdà in playoffs finals game #3, Bipolo Vitoria closed the series 3-0 and wins Spanish League for the first time. Puigcerdà Slovak forward Jan Simko, suspended in third game, was the season top scorer
Bipolo also won regular season and will play against Txuri Urdin for Copa del Rey semifinals on March 23 while Puigcerdà will face former champion CH Jaca
02 Mar 2013, 01:08 | Karol Pawlik leaves GKS Tychy
After 11 years as GKS Tychy GM, Karol Pawlik announces he leaves the club.
Under Pawlik's direction Tychy won one title in 2005 and four Polish Cup
"Things begin and things end. Today I close my long work at GKS Tychy. I want to thank all the players, fans and journalists for the amazing moments that given to me with this beloved club. I open a new chapter in my life in another place, but my heart forever will be in Tychy" said Pawlik
02 Mar 2013, 00:09 | Ukraine will play two games against Vityaz
Ukraine head coach Alexander Kulikov announces the team will play twice against KHL Vityaz Chekov on 8 and 9 April. Both games will be held in Chekhov and serves as the final stage of preparation for the World Championship Division I, which will be held from 14 to 20 April in Donetsk.
28 Feb 2013, 22:16 | Filip Forsberg wins award
Filip Forsberg was today anounced winner of the award "Guldgallret" as the best junior of HockeyAllsvenskan, the Swedish second league.
Forsberg was named winner due to his leadership that helped Leksand to win the regular season. Forsberg was also named to the All-Star team of the World Juniors earlier this season.
28 Feb 2013, 19:38 | Donbass fire Supler
Ukrainian KHL newcomers Donbass Donetsk today fired their head coach Julius Supler as consequence of missing the playoffs. As interims coach his Supler's assistant Miroslav Miklosovic will serve for the rest of KHL's Cup of Hope.
28 Feb 2013, 00:41 | Bietigheim Steelers win DEB-Pokal
Last year's cup winners Bietigheim Steelers have defended their title with a 2-1 (0-0, 2-0, 0-1) on home ice in front of 3,500 fans against the Starbulls Rosenheim. Since 2009 the German cup competition is played with participants from 2. Bundesliga and Oberliga only due to lack of interest by the DEL teams.
28 Feb 2013, 00:40 | Hannover Indians file for insolvency
German 2. Bundesliga team Hannover Indians filed for insolvency. This was announced today by their manager Dirk Wroblewski. This means that the team is relegated to Oberliga, the third tier in German ice hockey. If the Indians finnish their league schedule is still not known and has to bedecided by the liquidator.
27 Feb 2013, 19:13 | MHL cancelled play-outs
The Board of MHL decided to cancel the play outs and made appropriate amendments to the regulations of the League.
Teams finished the regular season from 9th to last place in their conferences simply end season
27 Feb 2013, 00:27 | Pontebba relegated
By loosing 4-2 playouts game #4 against Fassa, Aquile Pontebba lost the series 4-0 and is relegated in Serie A2 after seven consecutive seasons in Serie A
25 Feb 2013, 16:01 | Finland's young guns triumph

BRASOV - A robust team effort and inspiring goaltending prevailed over Russian skill at the final of the European Youth Olympic Winter Festival (EYOWF).
Stopping 47 of 49 shots, Finland relied on a quality performance from netminder Kaapo Kähkönen after a two-goal lead in the first period set them on the winning path against their neighbours to the east.

"It was our best game so far this season," said Rauli Urama, head coach of a Finland team born 1996 and later. "Having previously lost all our games against Russia this season, we now beat them in our fourth attempt because we played our own game and were all in this together as a team."

Thanks to double digit scorelines against hosts Romania and Czech Republic, Finland had enjoyed a relatively comfortable passage to the final of the ice hockey tournament during the eleventh European Youth Olympic Winter festival, held in Brasov at the foot of the Southern Carpathians in Romania.

Despite being outshot by Russia 20-7 in the opening period it was the Finns who twice got on the scoresheet going into the first intermission. Having been pulled down whilst through on goal, Antti Kalapudas scored Finland's first on a penalty shot 4:39 into the game before a Jere Huuhka pass from the blueline found Joona Jääskeläinen who steered the puck past Maksim Tretyak in the Russian net to double the lead at 11:11.

Russia, seeking revenge for last year's shootout defeat against the same opponents during the 2012 Youth Olympic Winter Games in Innsbruck, got back into the game only 20 seconds in to the middle frame when captain Ivan Nikolishin, son of former Russia left winger Andrei, found Daniil Vovchenko on the powerplay to pull withing a goal in front of a full house of 2,000 spectators inside the Patinoarul Olimpic.

But the joy was shortlived as Finland's two goal lead was soon restored with Antti Kauppinen firing home a one-timer from the slot after fine work by Ville Vainola on the power play. Soon after a determined Sebastian Aho fought for a loose puck into the Russian net after 31:52 to make it 4-1, capping off a eventful week for the 15-year old Kärpat Oulu prospect who had been called in as a quick replacement following Manu Honkanen's concussion sustained during Finland's opening game of the tournament.

"I was just about going to bed at home when the coach called me from Romania to ask if I was ready to play. I packed my bags, got some rest on the plane down and then got ready to play," said Aho who grabbed the opportunity with both hands scoring four goals against Romania only hours following his arrival to Brasov.

Trailing with four goals to one, Russia came out to the third period with an all-out attack approach, peppering the Finnish goal with shots from every angle. Käkhönen capped an excellent game with a string of magnificent saves during a final frame which also saw Nikolishin hit the crossbar and an Eduard Nasybullin shot hit the post as Russia searched desperately for goals. In the end all they could muster up was a Alexander Protapovich power-play goal with less than two minutes remaining as Finland held on to lift the EYOWF-trophy at the end of the game.

"It was the end result of us having spent three week together. We were together for two weeks in Finland ahead of coming here and as we are building up the team one game at a time, winning this tournament is a good experience for the team," said Urama.
Final standings:
1. Finland
2. Russia
3. Switzerland
4. Czech Republic
5. Latvia
6. Romania

Best Players Selected by the Directorate
Goaltender: Attila Adorjan (Romania)
Defenseman: Miro Keskitalo (Finland)
Forward: Ivan Nikolishin (Russia)
24 Feb 2013, 19:36 | AIK missed chance to gain on playoff spot
AIK had the chance to close the gap to Brynäs who has the last playoff spot, but in today's only Elitserien game Frölunda won 5-3. The game was decided in the first period when Frölunda took a 3-0 lead.
23 Feb 2013, 22:56 | Nagano champions meet in Prague
Today, seventeen of twenty-two 1998 Nagano Winter Olympics gold medalist meet in Prague, Czech Republic, to remind the fifteen-years anniversary of the biggest Czech ice hockey success in history. The players went to the Olšany Cemetery to put down a wreath of flowers to the tomb of the 1998 Team Czech head coach Ivan Hlinka. Then they moved to the Veletržní Palác to see the exhibtion of the 1998 Nagano photographies. They also received replicas of their Nagano jerseys in gold colour and commemorative medals. The exhibition in the Veletržní Palác will be open to public on February 24. Then it will move to the Kinský Palace on the Prague's Old-Town Square to stay there until March 17, 2013.
23 Feb 2013, 14:05 | Special offer for advertising
Buy profile sponsorship for at least 10 Euro and get a Eurohockey t-shirt for free! Read more here or contact us at ads@eurohockey.com for more information.
22 Feb 2013, 23:22 | EBEL playoffs pairs
After the last game of the intermediate round has been played, the top three seeded teams were able to choose their respective opponents in the playoffs. Vienna Capitals who were first picked Orli Znojmo as their opponent. Second seed Linz chose to play against Villach while Klagenfurt will play their rivals from Steyr, Graz 99ers. Medvescak was left with Red Bulls Salzburg. The playoffs begin Sunday at 17:30 all games at the same time.
22 Feb 2013, 18:56 | Vladivostok will have a team in KHL
Vyacheslav Fetisov assured that in the near future in Vladivostok will be the team of the Kontinental Hockey League.
"The decision to create a KHL team in Vladivostok was already taken, I hope it will be announced officially. I would set up a Far Eastern Division League, which would include teams from Vladivostok, Khabarovsk, as well as Japan, China and Korea.
22 Feb 2013, 17:14 | HK Astana changes coach
Vladimir Belyaev resigned as head coach of HK Astana, the new head coach of the Kazakh team will be former assistant Vladimir Strelchuk.
22 Feb 2013, 15:47 | KHL pays LEV Poprad debts
The Kontinental Hockey League and the KHL Players' Union have ensured that the players, coaches and staff of HC Lev Poprad have received the money owed to them for their work during the 2011/2012 season, when the now-extinct club had a team competing in the KHL Championship.
"The financial difficulties at Lev Poprad have been under the closest possible scrutiny by the League," - said KHL President Alexander Medvedev. "When it became clear that the club's owners were unable to meet their financial obligations to their players and staff, the League got together with the Players' Union to tackle the problems. After the formalities had been attended to, all outstanding payments owed to the players, coaches and staff of the club were paid in full. Despite the fact that the responsibility for making these payments rests with Lev Poprad's owners, we felt that we could not just stand aside, and we were guided by our concern that justice should prevail and these people must receive their hard-earned wages."
20 Feb 2013, 21:59 | Sabres fire coach Lindy Ruff
The Buffalo Sabres have fired coach Lindy Ruff. The announcement was made on the team's Twitter account and confirmed by Sabres spokesman Michael Gilbert.
20 Feb 2013, 20:29 | Kloten Flyers change their head coach
Swiss NLA club Kloten Flyers today fired their head coach Tomas Tamfal after the 2-4 derby loss against the ZSC Lions a day earlier. His substitute is already known - Kloten legend Felix Hollenstein. The change comes only four days after a huge 12-0 win against Rapperswil. Kloten has only two points more than 9th placed EHC Biel and Hollenstein has the task to make the playoffs with the team.
20 Feb 2013, 17:07 | Togliatti Arena ready in May
Finally Togliatti Arena should be inaugurated in late May: "the major works has been completed, it is expected that the facility will be completed by the end of May this year", said Director General of Stroykontrol Renal Myazitov. "We have adopted a hard schedule of works"
The project "Lada-Arena" is included in the comprehensive investment Togliatti modernization plan for 2010-2020.
Early last year, the contractor - the company "Avtozavodstroy" which began its work in February 2011 - stated that the facility will be put into operation in December 2012. However, in June, the date was postponed to March 2013.
20 Feb 2013, 17:00 | Belarus announces national team games
Belarus Hockey Federation announces the National Team games in preparation for World Championship: Andrei Skabelka troop will face Germany on 05 and 06 April in Minsk and Molodechno, Slovakia on 12 and 13 April in Minsk and Soligorsk (venue not yet confirmed) and then will play twice against Latvia on still unknown dates. Finally Belarus will compete in Skoda Cup
18 Feb 2013, 20:40 | MOL Liga Monday Night Recap - Miskolc Locks in 2nd Seed
All three teams with something to play for won tonight in MOL Liga action.  In the first game, ASC Corona Brasov shutout Ujpest TE 6-0.  Josh Bonar continued his strong season with a goal and three assists.  Levente Zsok added two goals and an assist, and Kevin Wehrs also scored one goal and added two assists.  Brasov remains three points out of a playoff spot with three games to play.
Miskolc Jegesmedvek easily handled Ferencvaros 7-2 and locked up the second seed for the playoffs.  This guaranttes them home-ice advantage in the first round.  Vladimir Dubek and Szabolcs Fodor each had two goals, and Martin Saluga added to his league leading scoring total with three assists.
Nove Zamky won a lopsided 6-1 victory over Dunaujvaros Acelbikak, one of the few in DAB Docler's amazing run his season.  Lubos Dobry had a goal and three assists on the evening and Miroslav Stefanka added two assists.  Nove Zamky holds the final spot of the playoffs by three points and is only two points away from moving into the third seed over HSC Csikszereda.
HSC Csikszereda did not play tonight, but lost the most ground with Nove Zamky and Brasov both winning.  On Friday, the two Romanian sides will play what is a must win game for both teams as Csikszereda, Brasov and Nove Zamky are all looking to clinch the final two playoff spots with three games left to play.
18 Feb 2013, 17:47 | Briançon wins Coupe de France
In a great atmosphere as usual at Paris Bercy, in front of 13.000 spectators, Briançon wins its second Coupe de France beating 2-1 Angers with two power play goals by Marc Andrè Bernier at 14:43 and Toby Lafrance at 23:13. Brian Henderson scored the only Angers goal at 26:49. Briançon goalie Ronan Quemener was elected MVP of the game.
18 Feb 2013, 16:13 | Silver Lions St. Petersburg scored 60 goals in a game
Russian team Silver Lions St. Petersburg set a memorable score crushing United Arab Emirates U17 team 60-0 during the Cup of the President of Turkmenistan, a junior tournament helding in Ashgabat.
UAE team previously suffered two other tough defeats against Belarusian Raubichi (0-22) and Turkmenstani team Oguzkhan (4-31). In the same tournament also Turkey U17 team suffered severe losses against Turkmenistani Galkan (21-0) and Russian Neftyanik Almetyevsk (32-0)
Khimik Voskresensk won the tournament beating 3-1 Oguzkhan
17 Feb 2013, 00:39 | Renon wins Italian Master Round
SV Renon wins Italian Master round and will play quarter finals against SG Cortina, finished 3rd in Relegation Round. Regular Season winner Val Pusteria will face Milano Rossoblu, while Alleghe - Valpellice and Bolzano - Asiago are the other quarter Finals. All aseries are best-of-seven.
Fassa and Aquile FVG Pontebba will play a relegation playout, also best of seven.
First game is scheduled for February 19.
Follow Italian Serie A on eurohockey.com !
16 Feb 2013, 00:48 | Erik Karlsson finishes season
Ottawa Senators defenseman Erik Karlsson had season-ending injury and a surgery to repair his left Achilles after the tendon was cut by a skate blade during a game against the Pittsburgh Penguins
15 Feb 2013, 00:15 | PHL faces more problems
As the Second Phase of the PHL draws near (top 6 advance), Berkut who have already been crowned regular season Champions can't confirme their participation in the play-offs. Even with all reports of Kharkiv money problems and Levy L'viv, both clubs have confirmed to the league they will see this season to the end. Berkut however, who was just recently in the news for backed player wages up to 3 months has yet to get back to the league. Should Berkut fail to take part, Bila Tserkva will take the spot (they have been eliminated for weeks) and whoever wins will be named Champions of Ukraine.
13 Feb 2013, 00:06 | Gdansk has applied to join the KHL
As previously reported, today the Polish club Gdansk officially applied to join KHL. Representatives of the club provided a presentation of the project at KHL Commission, talking about the budget, the existing infrastructure in the city, the plans to implement a "vertical" system, including youth and junior teams (respectively in VHL and MHL), and the intention to form a team with the best Polish players playing home games not only in Gdansk - in the 11.000 spectators arena - but also in several other cities.
In the near future a special KHL Commission visit Gdansk and examine the existing infrastructure in the city, ice arena, sports and economic aspects of the project.
Within 30 April the club will provide the full set of documents and guarantees for the entry in the KHL.
12 Feb 2013, 15:57 | NLB All-Star team
The first NLB All-Star Team was elected this week.
The players were initially selected by an online vote, then the Sports Directors, the head coaches, the captain and a media determined by the club could choose their favorite players except players from their own club.
The winners in the five categories are:
Best goalkeeper: Marc Eichmann, SC Langenthal
Best Defender: Sami El Assaoui, HC La Chaux-de-Fonds
Best Forward: Marco Truttmann, HC Olten
Best coach: January Tlacil, HC Ajoie
MVP: James Desmarais, HC Ajoie
12 Feb 2013, 09:57 | Lightning-Bruins game rescheduled in April
The snowed-out game between the Tampa Bay Lightning and Boston Bruins, originally to be played on Saturday, has been rescheduled for Thursday, April 25.
11 Feb 2013, 22:05 | Rögle won when Elitserien restarted
Rögle won the only game of Elitserien today, 4-2 against Luleå even if shots on goal were 18-36. Despite a dissappointing Olympic Qualifying campaign with Germany in the weekend Alexander Barta made a good game and scored two goals. Rögle is still last in Elitserien.
11 Feb 2013, 11:23 | Chris Campoli won't go to Geneve?
According to sportsnet Canadian defender Chris Campoli won't play with Geneve Servette, despite the one-year-contract signed last week due to problems with his working visa
10 Feb 2013, 22:26 | Norway wins in Stavanger
Norway, Slovakia and Switzerland played a 3-nation tournament in Stavanger this weekend. Norway beat Slovakia 4-2 and Switzerland 4-1 to win the tournament. The game Switzerland-Slovakia ended 1-2. Top scorer of the tournament was Slovakia's Kristian Kudroc who got a goal and two assists.
09 Feb 2013, 10:54 | Nando Wüthrich suspended for seven games
Basel Sharks defender Nando Wüthrich received seven games suspension and 700 Sweiss francs fee for his check from behind on Lausanne forward Eliot Berthon during 1st February NLB game NLB du 1er février 2013.
09 Feb 2013, 10:40 | New coach for champion Melbourne Ice
AIHL champion Melbourne Ice announces Alexander "Sandy" Gardner as the 2013 Head Coach. He was former Head Coach Paul Watson assistant in last three years.
"For us it is first of all look in your backyard. Melbourne Ice believe very strongly in supporting the local hockey community. Australian coached need an opportunity to coach at this level and develop their skills so that they have a potential opportunity to coach Australia." said Melbourne Ice former President Andrew Lamrock.
Mr. Lamrock also announces import Jason Baclig is completing permanent residency process: "In the case of Jason Baclig, his manifest for permanent residency is currently being prepared for processing. So Jason Baclig will start next season as a local."
07 Feb 2013, 18:09 | Gerber suspended for referee attack
Rögle's Martin Gerber was given a six game suspension for an incident in Elitserien. Gerber attacked the referee verbally and when the linesman tried to move Gerber away from the referee Gerber stroke the referee against the chest and arm with his glove hand. Two of the games is converted to a fine of 40 000 SEK. (about 4 600 Euro)
06 Feb 2013, 22:27 | Junior national team games
Three international junior tournaments featuring top nation started today.
U19: Czech Republic-Germany 8-0, Finland-Switzerland 2-6
U18: USA-Finland 2-4, Sweden-Czech Republic 5-1
U17: Finland-Czech Republic 5-3, Russia-USA 4-3
05 Feb 2013, 17:45 | WJC schedule released
Today the schedule for the 2014 World Junior Championship in Malmö, Sweden was released. Find the Preliminary Round games here.
05 Feb 2013, 12:41 | Nauseda left Energija directorate
Energija Elektrenai Director since 2009, Petr Nauseda, also an active player and Lithuanian Federation President, left his charge in the club. The new Director is Roland Aliukonis - for many years Lithuanian national team player and Energija captain.
Another player, Karolis Kubilius, enters in the Board of Directors
"We have introduced a number of structural changes in the club, we have ambitious plans, and Roland is really the right and necessary man at this point. Personally I won't abandon the club, but need a rotation" said Nausėda.
05 Feb 2013, 11:58 | Changes in Czech roster for Oddset Hockey Games
Czech coach Alois Hadamczik was forced to make roster adjustments for upcoming Oddset Hockey Games: forward Lukas Pech (flu) and defender Zdenek Kutlák (ankle injury) are out, replaced by Tomáš Mojžíš (Slovan Bratislava) and Ivan Rachůnek (Sparta Praha)
05 Feb 2013, 11:08 | THK Tver fires coach
THK Tver fires coach Vladimir Koltsov with the team in 21th place after 17 victories and 27 defeats in its first season in VHL. GM Yuri Rychkov, former women youth national team coach, will act as new headcoach.
"A series of defeats a bad game against Izhevsk influenced management's decision to fire the coach. We are trying to rectify the situation and lift the team" said Rychkov
05 Feb 2013, 01:37 | Changes in Austria and Great Britain rosters
Austria makes a cut in the roster for Olympic Qualification after the game against Kazakhstan: forwards Philipp Pinter, Daniel Woger and Michael Schiechl (all Vienna Capitals) and defenseman Johannes Reichel (Kac Klagenfurt) have been cut from the roster.
Also Great Britain has to make changes in the roster, all due to injuries: Basingstoke Bison netminder Stevie Lyle will replace Stephen Murphy while Nottingham Panthers defenceman Steve Lee will replace team-mate Jonathan Weaver
05 Feb 2013, 00:32 | Kalamazoo Jr. K-Wings to cease operations after this season
Stadium Management Company (SMC), which owns the Wings Stadium Complex, Wings West and the Kalamazoo Wings announce that the Kalamazoo Jr. K-Wings will cease operations following the conclusion of the 2012-13 North American Hockey League (NAHL) season. Tough economic conditions in this small marketplace, already home to both Western Michigan University Hockey and the Kalamazoo Wings made business success impossible to achieve.
04 Feb 2013, 16:04 | SønderjyskE wins Danish Cup
SønderjyskE beat Frederikshavn White Hawks 2-0 to win the final of Danish AL-Bank Cup.
Tyler Gotto and Nikolaj Murholt Rosenthal scored the goals.
03 Feb 2013, 23:10 | Ukraine lost key players for Olympic Qualifications
Despite a brilliant campaign in previous round, Ukraine will travel to Vojens, Denmark without almost all its best players: besides Ruslan Fedotenko and Alexei Ponikarovsky, back in NHL, also Dynamo Moscow Konstantin Kasyanchuk - personal reasons - Companion Kyiv defender Ruslan Borisenko - fractured rib - and Donbas Donets'k forward Sergei Varlamov - reason still unknown - won't travel to Denmark

03 Feb 2013, 11:20 | Vitoria and Puigcerdà battle for title in Spain
Regular season winner Bipolo Vitoria and CG Puigcerdà are the finalists for Spanish League. Both teams needed just two games to advance to final: Vitoria eliminated Txuri Urdin San Sebastian, while Puigcerdà knocked off reigning champion CH Jaca.
Finals are best-of-five and will start on February 16
Follow Spanish League and review complete boxscores for all games on Eurohockey.com!
02 Feb 2013, 09:47 | Yunost Minsk switches coaches and players
Out from post season in VHL, Yunost Minsk decides to focus energies on Belarus Open League farm team Junior Minsk. According to Junior head coach Oleg Khmyl, Yunost coach Mikhail Zakharov will finish the season as Junior coach while Khmyl and assistant Aleksei Scheblanov will lead Yunost. In addition, VHL team sent down 20 players from VHL roster to compete in Belarus League
02 Feb 2013, 00:38 | Another no-show in Ukraine
Dynamo Kharkiv received a 5-0 forfeit for failure to appear in the match with Bilyỹ Bars Bila Tserkva. It was reported that the players decided to boycott the match because of delayed wages.

This is the fourth case of no-show for the match of the season. Also Levy L'viv, Sokil and Berkut were fined with a forfeit
31 Jan 2013, 19:24 | Transfer deadline today
The transfer deadline for almost all European Leagues is today. Follow all the transfer action on our transfer page.
31 Jan 2013, 00:07 | Kölner Haie get DEL lead back against Iserlohn Roosters
In the only match of Germany's top ice hockey league, home side Kölner Haie defeated the Iserlohn Roosters 2-1 (0-0, 1-1, 1-0) to get the first place in the league table back from Mannheim. Haie team captain John Tripp scored the game winner with just 38 seconds left to play with a deflection. Both teams face each other again already on Friday, but this time with Iserlohn as the hosts.
29 Jan 2013, 11:18 | Energija Elektrenai players awarded
Four Energija players: Donatas Žukovas, Mantas Marcinkevičius, Rokas Bacevičius and Aivaras Bendžius (now at Ilves Tampere) were awarded with the "Athletes of the Year" prize by the Elektrenai municipality for representing the city and Lithuania in World Championships in Donets'k and Heerenveen.
"I am pleased that this year has attracted a lot of attention to our hockey players, who often are forgotten. I'm very happy for these guys, but they still need very much work in order to achieve better results" said Energija Director Sergejus Krumkačius
28 Jan 2013, 20:32 | Frederik Andersen will play Olympic Quals
Denmark a bit surprisingly get a big reinforcement for the Olympic Qualifiers in February when Anaheim Ducks has decided to let Denmark's star goalie Frederik Andersen travel home to Denmark to take part of the qualification tournament.
28 Jan 2013, 11:00 | Petr Malkov leaves Kuban
By mutual agreement of the parties Petr Malkov left the charge of assistant coach at Kuban Krasnodar
26 Jan 2013, 12:19 | Utrecht withdraws from league
Two time Dutch champions IJshockey Club Utrecht have announced they will withdraw from participate in the Dutch second tier league, Eerste Divisie with immediate effect.
After a tough off-season the team managed to get a team together for the upcoming season but fell apart after playing an inelegibile player. The three point deduction and a fine were the official caution but off the ice the event led to the main sponsor pulling out and with him the coach and import players. Utrecht remained playing but were often short handed regstering the bare minumum number of players on the game sheet. The fact that they were rock bottom without having gained a single point after 13 games therefore is no surprise.
All games played so far this season will be nullified and because of this Utrecht automatically will relegate to the third tier league, Eerste Divisie B. Furthermore the withdrawal means the champion of the Eerste Divisie B will be assured of promotion to the Eerste Divisie while the runner-up will be playing a promotion-relegation best-of-three-series against the 7th seeded team of the Eerste Divisie at the end of the season.
25 Jan 2013, 22:56 | 2. Bundesliga game postponed
The regular season match between German 2. Bundesliga teams Starbulls Rosenheim and Lausitzer Füchse, scheduled for today, has been postponed in the last moment. The Foxes had only very few players available after losing many players to injuries and illness in the last days. A new date for the match is going to be announced soon.
25 Jan 2013, 18:27 | Brest can return to its ice
HK Brest can play the remaining 21 games of Belarusian Open League at the Brest Ice Palace.
After the decision of the disciplinary committee of 16 January 2013 on the rescheduled matches of the fifth and sixth rounds to other arenas due to unsuitableness of ice surface, the club and the Ice Palace have taken the necessary measures on the basis of inspection of Belarus Federation representatives.
25 Jan 2013, 18:24 | Stancescu suspended six games
The Disciplinary Court Judge Reto Steinmann suspended for six games Kloten Flyers forward Victor Stancescu for his check against Ambri_piotta John Gobbi in the championship game on January 19. A fine of 2,000 swiss francs has also been imposed.
23 Jan 2013, 17:51 | Also a club from Poland in KHL?
KHL President Aleksandr Medvedev said that a Polish club can be added in the KHL.
"Now we have seven countries, several countries in the queue. I can say that in Poland, a club from Gdansk club made ​​a request. We do not forget the Russian clubs. I really hope that Lada Togliatti will be back, and Tyumen is already on the way. I am confident that in the near future KHL could reach 32 participants"- said Medvedvev to Russian newspaper Gazeta
21 Jan 2013, 23:35 | HIFK fires Pasi Sormunen
HIFK in Finnish SM-Liiga fired head coach Pasi Sormunen and assistant coach Antti Pennanen. They will be replaced with Raimo Summanen and the junior coach Joonas Tanska as his assistant. Jan Lundell will continue as goalie coach.
20 Jan 2013, 18:50 | Patriot Budapest towards withdrawal from MHL
Patriot Budapest, due to financial problems can't show up to the match against MHK Khimik Voskresensk. Do not rule out the possibility the Hungarian team comes off the league.
"Our sponsor owes the insurance company for the past years. So currently we have no insurance for the players, no medical personnel. In this situation, we have decided not to go to Voskresensk. Almost all of our players are EU citizens, so they need an insurance. Can you imagine what would happen if something happens in Russia!", said team manager Alexander Khrapak.
"Our players didn't receive salary for four months. Anyway we play. But if in the near future the situation will not change, probably have to be withdrawn from the league" - Khrapak added.
20 Jan 2013, 17:41 | Season's second switch of coaches in Pardubice
Miloš Říha replaced Mojmír Trličík in position of Pardubice's head coach. Together with Trličík also Ladislav Lubina, his assistant, leaves currently the eleventh team of the Czech Extraliga peloton. The function of Říha's assitant will be held by David Pospíšil, former assitant coach of Hradec Králové. Pardubice started the season with Pavel Hynek as the head coach so Miloš Říha is the club's third bench leader of currently running season. Trličík after being kicked out from Vítkovice in early November now gets his second walking papers in the season.
20 Jan 2013, 10:55 | Marco Bührer sets a new record
SC Bern goalie Marco Bührer breaks the record of goalkeeper invincibility in the Swiss National League suffering a goal after 269 minutes and 09 seconds by Kloten Flyers' Samuel Walser. The previous record - 248 minutes and 10 seconds - belongs to Cristobal Huet, set in 1999 when he played for Lugano.
20 Jan 2013, 10:40 | Zauralie coach resigned
Zauralie Kurgan coach Vladimir Shikhanov and assistant Yuri Mordvintsev wrote a letter of resignation accepted by the club, currently 25th in VHL. Igor Velcker, coaxch of Zauralie Junior in MHL, was appointed as interim coach. Shikhanov worked at Zauralie in last four years
19 Jan 2013, 16:57 | Tärnström retired
AIK's defender Dick Tärnström has been forced retired after problems with his back. Tärnström has played 14 seasons with AIK and also had a long career in the NHL.
19 Jan 2013, 09:50 | France lost Guttig
Team France won't count on Anthony Guttig on Olympic Qualifications tournament in Riga. Tranas forward suffered a knee ligament injury and will be out for about four weeks
18 Jan 2013, 22:46 | Islanders suspend Lubomir Visnovsky
New York Islanders announced that club has officially suspended defenseman Lubomir Visnovsky after he has not arrived for training camp. Visnovsky has tried to remain with his European club, Slovan Bratislava, despite a rule prohibiting that. The NHL and KHL have an agreement that any player with an NHL contract must return to his club once the lockout is lifted. The KHL is complying and won't let Visnovsky play in Russia now that the lockout has ended.
18 Jan 2013, 19:47 | Czech Extraliga shows up two hattricks
Lukáš Klimek scored three goals during today's game of the 35th Czech Extraliga round between Zlín and Vítkovice. Thanks to its 26-year forward HC Vítkovice Steel fed its tie hopes until the game's very ending. However in time 59.05 Čajánek scored an empty net goal to make the final score a 5-3 victory for Zlín. In another game of the day Lukáš Krenželok scored three Slavia's goals to win surprisingly 2-4 at home of the fearless Czech Extraliga standings leader Plzeň. Accidentaly both hattrick scorers of the round grew up in the team of Vítkovice.
18 Jan 2013, 19:07 | Slipčenko to share a net with recent rival
Robert Slipčenko moves across Slovak Extraliga clubs. A former goalie of Bánská Bystrica goes to play for Poprad. Now Slipčenko is about to share a net with Dušan Sidor with whom he had a fight during recent Poprad game at Bánská Bystrica. The incident cost Slipčenko a 6-games long disciplinary penalty for starting the fight and a €340 fare from his former club.
17 Jan 2013, 23:54 | Belarusian Federation bans Brest Ice Palace
HK Brest lost the right to play in the Brest ice palace and was fined by Belarusian Federation due the poor quality of ice with a rough surface, the insufficient marking of the lines on ice - in some cases non-existent - the levels of air pollution by exhaust gases. Furthermore, referees and staff of visiting teams have repeatedly drawn attention to the leaders of the Ice Palace on the above drawbacks.
However, despite assurances from the leaders of HK Brest to eliminate the drawbacks to January 10, the further games show the failure to properly prepare the ice arena for the championship matches.
Thus, the Disciplinary Committee decided to fine the club and to postpone the next two home games of Open League and to transfer the following ones to other arenas.
16 Jan 2013, 23:37 | SAry Arka record ends
Loosing 4-3 at SO against Lokomotiv Yaroslavl, VHL leader Sary Arka Karaganda stops a record of 23 winning streak games
16 Jan 2013, 18:44 | Geleen Eaters averted bankruptcy
Geleen Eaters has a victory on the road to a financially stable future.
The attempt by the Tax Foundation to file for insolvency by was rejected by the court.
As reported in a press release, the club itself calls it "a first small success" in the fight against the tax and for survival. "The board is behind the scenes working on finding a permanent solution and, supported by this success, confident that they come out of this situation." said the release
16 Jan 2013, 16:12 | Paul Gardner on Clan bench
Braehead Clan announces Canadian Paul Gardner as new head coach. He replaced resigned Jordan Krestanovich. Gardner, 56, was assistant coach at the Nashville Predators, as well as being head coach in the AHL, CHL, Hamburg Freezers in the DEL and Lokomotiv Yaroslavl in KHL.
16 Jan 2013, 11:53 | Roger Rönnberg - Robert Ohlsson will coach Frölunda next season
Sweden U20 coaching duo Roger Rönnberg and Robert Ohlsson will lead Frolunda in next Elitserien as headcoach and assistant respectively
Current assistant coach Christian Lechtaler will be the new Sport Director. Rönnberg and Ohlsson worked in Sweden U20 in last three season winning a gold and a silver medal at WJC
15 Jan 2013, 21:22 | KHL cancels Višňovský's contract with Slovan Bratislava
As a new NHL Collective Bargaining Agreement has been ratified by both the clubs and NHLPA, all the players with a valid NHL contract are obliged to join their teams in pre-season training camps. A Slovak defender Ľubomír Višňovský did not like the idea at all and stated he wish to finish the 2012/13 season in the KHL team of Slovan Bratislava due to personal reasons. But his NHL employer, the New York Islanders, do not want to accept that and called Višňovský to arm repeatedly. As the 36-year old player was not willing to travel across the Atlantic Ocean anyway, the Islanders asked the KHL Board to cancel Višňovský's contract with Slovan and they succeeded. KHL commented the decision the league wants to follow the NHL - KHL Memorandum about respecting of players' contracts, but will keep negotiating with the Islanders about possible compromise.
14 Jan 2013, 12:42 | No UAE in Sofia
The United Arab Emirates  team wasn't able to bring enough U20 players to the World U20 Championship Div III in Sofia. Their games will be counted as 5-0 wins for the opponents.
13 Jan 2013, 21:38 | Valpellice wins Coppa Italia
Italy National team forward Robert Sirianni was the star in Coppa Italia final, played in a sold out Pala Tazzoli in Turin. He scored 4 goals and served one assist in Valpellice's 7-3 victory against Alleghe.
This is the first ever trophy for the Bulldogs
13 Jan 2013, 10:58 | Plan to build a 20.000 seats arena in Chelyabinsk
Chelyabinsk Region Governor Mikhail Yurevich approved the construction of a new ice arena for 20,000 spectators in Chelyabinsk. The construction of the sports complex has been agreed with the federal government. Other details of the project are not yet known.
Nearly four years ago in Chelyabinsk was inaugurated the Arena-Traktor, with capacity of 7,500 spectators. Average attendance at the Traktor games is 98% of maximum capacity. This is the second attendance in KHL, after Khabarovsk, where the Platinum Arena is filled 100%.
12 Jan 2013, 19:55 | Chaos continues in Ukrainian League
Problems continue to strike Professional Hockey League in Ukraine: Bilyỹ Bars is given 5:0 technical victory for match against Berkut Kyiv scheduled today as Berkut fails to show up for the game. Berkut club didn't explain the reason of forfeit.
12 Jan 2013, 17:37 | New head coach in Rögle
Rögle, the last team of the Swedish Elitserien standings, signed a new head coach today. Jan Karlsson who was fired from Atlant of KHL in October will try to keep Rögle in Elitserien.
11 Jan 2013, 23:45 | Maple Leafs fired GM Brian Burke
Brian Burke has been fired as the president and general manager of the Toronto Maple Leafs.
Maple Leaf Sports and Entertainment president Tom Anselmi made the move official during a news conference at the Air Canada Centre in Toronto on Wednesday, and also named Dave Nonis the team's new general manager.
"We've decided to make a leadership change and move in a different direction for the general manager role," Anselmi said.
Anselmi also confirmed that Burke will serve as a senior adviser to the team.
11 Jan 2013, 18:39 | Neman sets a new record in Belarus
Winning 5-2 against Lida in last Belarus Open League round, Neman Grodno extended his winning streak to 19 matches and surpassed the record of Yunost Minsk in the season 2009/10
10 Jan 2013, 10:03 | KHL changes transfers deadline
KHL announces the change the transfers deadline from original January 15 to January 31
The decision was taken by the Board in order to stabilize the teams rosters after the end of lock out and the loss of many key players and avoid a deterioration of the quality of play in the league.
10 Jan 2013, 10:01 | Amur has a new coach
Evgeny Popikhin is the new head coach of Amur Khabarovsk. He signed a contract until the end of the season with the possibility of extension.
Popikhin recently worked as assiastant coach at Dinamo Minsk.
09 Jan 2013, 23:45 | Augsburg at top-6 playoff spot
The only DEL game on Wednesday ended with a 4-1 (0-0, 3-1, 1-0) away win for the Augsburger Panther against the Hannover Scorpions. The guests not only increased the distance towards Hannover to four points but they are also at the same level of points (55) as the top-6 playoff spots.
09 Jan 2013, 18:05 | Levy L'viv is back, now Sokil Kyiv will be out from Ukranian League?
Levy L'Viv apparently solved its financial problems and is back in PHL. Now historical Sokil Kyiv can leave the Ukranian Professional Hockey League. Team didn't travel to Donetsk to play against Donbas-2 last January 7, claimed financial problems and already canceled contracts with two star players Vadim Shahraychuk and Kaspars Saulietis
09 Jan 2013, 17:48 | Epinal changes coach
Italo-Canadian Santino Pellegrino quits his charge as headcoach of Epinal for personal reasons. Ligue Magnus club announces the new coach will be German-Canadian Alex Stein,41, until last October on Swiss NLB Thurgau bench
09 Jan 2013, 17:34 | Ariada-Akpars aircraft skidded off the strip
The aircraft with VHL team Ariada-Akpar, on the way back the game against Kuban Krasnodar suffered an accident in Saransk airport, where landed to refuel. After landing at the airport in Saransk, an AN-24 skidded off the strip for more than 100 yards. The team quickly left the plane,
None received injuries. Upon incident, Mordovia Emercom reported that the cause could be the icing strip.
09 Jan 2013, 13:01 | Japan wins promotion
Japan is promoted to the 2014 IIHF Ice Hockey U18 Women's World Championship after winning the Division 1 in Romanshorn, Switzerland.
07 Jan 2013, 22:19 | Rögle finally won again
The latest game that Rögle took three points was in November but today they won 4-3 against AIK who missed 11 players, one of them Patric Blomdahl who was suspended four games and fined after a tackle against the head of on opponent in an earlier game.
06 Jan 2013, 09:13 | Nürnberg wins record-breaking DEL outdoor game
Home side Nürnberg Ice Tigers defeated DEL record champions Eisbären Berlin in front of 50,000 spectators in the sold-out football stadium of the city, which is otherwise used by Bundesliga club 1. FC Nürnberg, with the score of 4-3 (0-0, 1-1, 3-2). The number of spectators set several new records in European ice hockey. It was not only the outdoor game with most fans in Europe - until now it was the match between HIFK and Jokerit on 5 February 2011 with 36,444 spectators - but also a new DEL record - before it was the game between Cologne and Mannheim on 19 April 2002 with 18,700 - but also the league game in Europe with most spectators in a hockey game.
05 Jan 2013, 09:15 | Sweden wins the World Under-17 Hockey Challenge
For the first time ever Sweden has won the World Under-17 Hockey Challenge. In the final in Victoriaville, Quebec, Sweden beat Russia 7-5.
04 Jan 2013, 22:13 | Final day of WJC live
The climax of World Junior Championship in Ufa is available live at eurolivescores.com. Follow the bronze medal game Canada vs. Russia at 09:00 GMT followed by the final Sweden vs. USA at 13:00.
04 Jan 2013, 15:27 | Aigars Cipruss on Baltica bench
Aigars Cipruss is the new head coach of Lithuanian club Baltica Vilnius of the MHL-B.
Cipruss is currently Latvian national team Assistant Coach and an active player in the Latvian League with Ozolnieki/Monarch. Last season he coached HK Juniors Riga in same MHL-B
04 Jan 2013, 13:53 | Griffin Reinhart suspended for four games
Canadian defenceman Griffin Reinhart has received a four-games suspension at the 2013 IIHF Ice Hockey World U20 Championship after he delivered a two-handed slash to the head and neck area of USA forward Vince Trocheck during the semifinal. He will miss the bronze medal game against Russia on Saturday.
04 Jan 2013, 00:07 | Away wins for the Elitserien top duo
Two games were played in Elitserien tonight. The league leader Skellefteå beat AIK 4-1. Two goals and an assist by Petter Emanuelsson.
Second placed HV71 played 0-0 against Färjestad but won the shootout with goals by Jason Krog and Marcus Nilson.
01 Jan 2013, 21:26 | Women's U18 update
The IIHF U18 Women's World Championship is played in Finland right now. The first stage ended today and as expected Canada and USA qualified directly for the semi finals. The quarter finals are Sweden-Hungary and Finland-Czech Republic. Russia and Hungary will play a best-of-3 series to decide who gets relegated.
01 Jan 2013, 12:59 | Ingolstadt fires head coach Chernomaz
DEL club ERC Ingolstadt fired their Canadian head coach Rich Chernomaz after a negative trend in recent months. He was in charge of his position since October 2010. Until further notice Austro-Canadian Richard Nasheim, who was assistant coach under Chernomaz, will be the new head coach in Ingolstadt.
31 Dec 2012, 08:57 | Svartvadet's jersey retired
MODO retired yesterday the jersey of Per Svartvadet (#39) before the game against Färjestad in Fjällräven Center. Svartvadet played 755 games for MODO and won one Swedish Championship. He retired after the 2010/11 season.
30 Dec 2012, 00:59 | Women's U18 Worlds on its way
The IIHF U18  Women's World Championship started today in Vierumäki and Heinola, Finland. Finland and Sweden both scored game winners in the last minute against Germany and Czech Rep. while USA won big against Russia and Canada won with some what surprisingly small numbers against Hungary. Full results and stats will be found on our tournament page.
30 Dec 2012, 00:45 | JKH Jastrzębie wins Polish Cup
JKH GKS Jastrzębie win its first ever title - the 2012 Polish Cup - beating 4-2 favourite and current tile holder KH Sanok, in front of 3.500 spectators in the Sanok Arena.
In very interesing semifinals, JKH GKS Jastrzebie won 4-3 in overtime against GKS Tychy and KH Sanok in shoot-out won 5-4 against Comarch Cracovia.
Review all Polish Cup stats on eurohockey.com!|

Tournament awards:
Best goalie: Kamil Kosowski (Jastrzebie)
Best defender: Pavel Mojžíš (Sanok)
Best forward: Richard Kral (Jastrzebie)
29 Dec 2012, 15:13 | Pan American Ice Hockey Tournament in Mexico
According to the Argentina Ice Hockey & Inline Hockey Association there going to be a Pan American Ice Hockey Tournament in Mexico City in April 2013 for Men and Women organized by Mexican Hockey Federation with the IIHF endorsement.
Countries mentioned as possible partecipants are Argentina, Mexico, Brazil, Chile, Colombia, Ecuador, Uruguay, Canada and United States.
28 Dec 2012, 17:36 | USA finalize WJC roster, Slovakia lost Luza
USA finalized its WJC roster by selecting a defenceman for the 23rd roster position, announcing that Windsor Spitfires blueliner Patrick Sieloff was chosen for the seventh spot on the American blue line.
Slovakia defender Patrik Luza was injured during the match against Canada. He was hospitalized with a diagnosis of brain injury. His WJC is over.
27 Dec 2012, 14:31 | WJC: Shalunov suspended one game
Russia's Maxim Shalunov has been suspended after a cross checking to the face of an opponent in the game versus Slovakia. Shalunov only got a double minor penalty but after video review he was suspended for the game against USA as the IIHF Disciplinary Panel concluded the action as reckless and dangerous.
27 Dec 2012, 01:11 | Rouen wins French League Cup
Rouen HE win its third French League Cup beating 4-3 at overtime Angers in the final played in a sell out arena in Meribel.
Angers is winning 3-1 with 5 minutes to play but Rouen turn the game and scores decisive goal at minute 68 in the overtime with Julien Desrosiers.
27 Dec 2012, 00:50 | WJC: changes on Finland and Switzerland rosters
Finnish forward Miro Aaltonen suffered a serious injury in the opening match of the WJC against Latvia and will miss the rest of the tournament
In this match Aaltonen scored two goals and was named the best player of the game. "His tournament is over because his ankle is very bad," said Finnish coach Harri Rindell, who said the 19-year-old Espoo Blues forward may require surgery. "He was so depressed because he really wanted to play and he is in great shape. That's hockey, unfortunately."
Also Switzerland made roster adjustments due to injuries: defender Isacco Dotti (Ambrì-Piotta) and forward Vincent Praplan (Kloten Flyers) are out and will be replaced by Phil Baltisberger and Martin Ness, both from GCK Lions
26 Dec 2012, 12:55 | Hampus Lindholm also misses WJC
The Swedish WJC team suffers another blow on defence when star d-man Hampus Lindholm also misses the tournament due to an injury. He is replaced by MoDo's Robert Hägg.
25 Dec 2012, 22:01 | Donbass with third period comeback
The only KHL game on Tuesday was won by Donbass Donetsk 6-4 (1-1, 1-2, 4-1) against Vityaz Chekhov. With this win the Ukrainian league newcomers have returned to the playoff spots in Western Conference.
25 Dec 2012, 21:02 | Bethel University arrives in Turkey
Bethel University arrived in Erzuurm, Turkey for a four game series against Erzurum Genclick Sports Club. Bethel University is in first place in the MIAC College Hockey League. This is the highest level club team ever play in Turkey. The teams will play December 25, 26, 27 and 28, 2012 in Erzuurm.
25 Dec 2012, 20:59 | Milano Rossoblu has a new coach
Hockey Milano Rossoblu announces Adolf Insam as new headcoach. He replaces Massimo Da Rin who remain in the coaching staff. Insam is back in Milano after the golden era 2002-2006 when the club - then called Milano Vipers - won 5 consecutive championship, 3 National Cup and 3 Super Cup. Last season Insam won the title with Bolzano Foxes
25 Dec 2012, 12:35 | Derrick Brassard left Salzburg
Despite a lock-out contract still valid, Canadian forward Derrick Brassard left Red Bulls Salzburg
Austrian club has already requested the IIHF requesting an assessment of the situation.
Previously another two NHLers - forward David Clarkson and defender Tobias Enstrom - left the club
Brassard agent Allan Walsh called out the cause of his client departure the unprofessional management and one of the players who left the Austrian team said that the Red Bull are "a parody of an hockey club".
24 Dec 2012, 16:17 | Salavat fires coach Vener Safin
Salavat Yulaev Ufa decided to terminate the contract with the coach Vener Safin. Assistant Vladimir Yurzinov Jr. was appointed as interim coach.
Safin has worked in the Salavat coaching staff since 2001 and became the head coach after the departure of Vyacheslav Bykov and Igor Zakharkin.
"Let me rest in peace! Took a break for four days, then I will comment this decision" said Safin
24 Dec 2012, 16:10 | Melbourne Mustangs hire new coach
Brad Vigon has been appointed as new Melbourne Mustangs head coach and will lead the team into their third Australian Ice Hockey League season. Vigon spent last two season as double champion Melbourne Ice assistant coach. Mark Connolly will be the assistant coach
24 Dec 2012, 00:07 | 42-0 in Turkey
Turkish Super Lig game between Izmir Büyuksehir Belediyesi and Istanbul Paten Klübü ended with a record score of 42-0. Slovak Robert Balga and Serkan Gumus both scored 8 goals assists, while Dutch Onur Mete had 4 goals and 11 assists. "Only" 4 goals and 8 assists for league topscorer, Latvian Oļegs Koreškovs
23 Dec 2012, 16:20 | ASC Corona Brasov wins Romanian Cup
After a spectacular match in front of 2.000 spectators ASC Corona Brasov won the 2012 Romanian Cup defeating 3-2 home side HSC Csikszereda. In the bronze match final title holder Steaua Bucarest defeated 3-1 Dunarea Galati.
This is the first ever trophy in club history
For the first time in Romanian hockey a skating rink was filled with teddy bears, which were donated to a charity foundation.
Review all Romanian Cup stats and results on eurohockey.com
23 Dec 2012, 00:31 | Torpedo fires coach Jalonen
Finnish Kari Jalonen was fired by Torpedo Nizhny Novgorod along with assistants Sakari Lindfors and Kai Rautio. Vyacheslav Ryanov, currently coach at MHL Chalki, was appointed as interim coach. There are rumours about a possible appointment of Czech Milos Riha, recently fired by SKA, as new coach
22 Dec 2012, 21:07 | Division 1A World Championships in Budapest On Sale
Tickets for the Division 1A Ice Hockey World Championships are on sale in Budapest.  The event takes place between April 14th and 20th at the Papp Laszlo Budapest Sports Arena.  Prices are between 2,000 and 20,000HUF per game.
Tickets can be purchased online at TicketPro.hu.  Ticket prices and the seat map can be found here.  Prices will increase after the first of the year.
The teams participating in the tournament are Great Britain, Hungary, South Korea, Italy, Kazakhstan and Japan.  
22 Dec 2012, 20:26 | Pettersson confirmed to miss WJC
It's now confirmed that Sweden's Jesper Pettersson will miss the WJC after today's game against Canada. Pettersson suffered a dislocated shoulder and a broken wrist.
22 Dec 2012, 11:46 | Max Görtz out of WJC
Max Görtz won't be able to play for Sweden in the WJC due to an upper body injury.
22 Dec 2012, 00:54 | Italian Cup Superfinals in Turin
Turin will host Italian Cup Superfinals on January 12 and 13.
Semifinals will be Alleghe Tegola Canadese - Renon and Val Pusteria - Valpellice. The winners will face for the final on Sunday 13. The first 4 teams in Serie A after half of total rounds are qualified for Coppa Italia Superfinals
21 Dec 2012, 18:35 | Thomas Wellinger at Spengler with Vitkovice
EHC Biel Swiss defender Thomas Wellinger will play Spengler Cup with Czech team HC Vitkovice.
Wellinger is the sixth Biel player to play the traditional tournament, besides Reto Berra and Patrick Kane (HC Davos), Jacob Micflikier, Marc-Antoine Pouliot and Tyler Seguin (Team Canada)
20 Dec 2012, 21:58 | WJC preparation games
USA - Sweden 3-2 OT (in Finland)
Finland - Canada 3-2
Czech Republic - Slovakia 1-4
20 Dec 2012, 21:46 | Success for Huselius and Beech
Kristian Huselius played his second game after his return to Swedish Elitserien and scored two goals when AIK took another important win with 4-3 at home to AIK. AIK had a solid 3-1 lead but Rögle scored two quick power play goals in the third period to tie the game, however Kris Beech scored his second goal in his second game for AIK only 26 seconds after the 3-3 goal.
20 Dec 2012, 12:46 | Sweden names captain
Filip Forsberg will be captain of the Swedish U20 team trying to defend the title from the last World Junior Championship. Jeremy Boyce Rotevall and Rickard Rakell will get the "A" on the jersey. All three participated in the championship winning team a year ago.
18 Dec 2012, 21:47 | Late winner for AIK
AIK took an important win away to Frölunda in the only Elitserien game today. Broc Little scored the game winner with 36 seconds left to play assisted by Kristian Huselius who made his first game for AIK. Box score.
18 Dec 2012, 20:23 | New arena in L'Viv
According to Levy L'Viv Athletic Director Mikhail Chikantsev the costruction of a new arena will begin in February 2013. The new arena will have 1.500 spectators capacity
18 Dec 2012, 20:13 | Cory Schneider at Spengler with Fribourg
Vancouver Canucks goalie Cory Schneider, currently at Ambri-Piotta with a lock-out contract, will play Spengler Cup with Fribourg Gotteron.
SC Bern confirmed club won't loan Roman Josi to Davos for the tournament
18 Dec 2012, 20:09 | Basel retires Voegele number
Four days after announcing his retirement due to injury, Basel Sharks decide to retire Stefan Voegele number 19. Voegele starts career and played more then 400 games for Sharks
16 Dec 2012, 22:09 | Channel One Cup awards
Scoring leader and best forward: Pavel Datsyuk (Russia).
Best goalie: Konstantin Barulin (Russia).
Best defenseman: Alexei Yemelin (Russia).
All-Star Team: Konstantin Barulin (Russia), Mikko Mäenpää (Finland) - Vicor Hedman (Sweden), Ilya Kovalchuk - Pavel Datsyuk - Sergei Mozyakin (all Russia).
16 Dec 2012, 18:48 | Finnish U16 success
Finland beat Sweden 3-2 to win the U16 Nordic Cup in Denmark.
16 Dec 2012, 12:45 | Slovak women win tournament in Poprad
The Slovak women's national team won a tournament in Poprad ahead of Czech Republic, Austria and France. Results and game stats here.
15 Dec 2012, 07:05 | Bundesliga game postponed
The game ESV Kaufbeuren-SC Riessersee in German 2. Bundesliga was postponed due to security reasons. There was too much snow on the roof. A new date has not yet been determined.
13 Dec 2012, 15:02 | Another sign at Gotteron for Spengler Cup
After forwards Patric Hörnqvist and Maxime Talbot, Fribourg Gotteron announces the sign of Philadelphia Flyers´ 28-years-old Canadian defender Bruno Gervais for the next Spengler Cup. Gervais currently playing with a lock out contract for Heilbronner Falken, in German Bundesliga
12 Dec 2012, 14:57 | GKS Tychy fires coach Vodila
Jan Vodila is no longer the coach of GKS Tychy. His former assistant Peter Kremen will be the new coach
"We were not happy with Vodila's work. The team has a lot more potential than it showed so far"said Karol Pawlik, Director of hockey section. "New coach Peter Kremen has already led the first training. We'll see how it will be presented the team under his leadership"
Dominik Salamon will continue as assistant coach.
11 Dec 2012, 20:20 | Lubomir Pokovic enters in Belarus staff
Slovak Lubomir Pokovic joins Belarus national team coaching staff. The coach will work with the defenders.
"I didn't lost contact with Lubomir from the time I played under him at Dinamo Minsk. We have a good relationship, I like his methods, he is a strong mentor with experience in working for the national team of Slovakia.I'm sure his experience will be very useful for us." said Belarus coach Andrei Skabelka
11 Dec 2012, 20:12 | Maxime Talbot will play Spengler with Gotteron
Philadelphia Flyers forward Maxime Talbot, currently at Ilves Tampere with a lock-out contract, will play Spengler Cup with Swiss Fribourg Gotteron
11 Dec 2012, 19:54 | Michael Del Zotto leaves Rapperswil, Kane and Nash are the next?
Rapperswil Lakers announces defender Michael Del Zotto left the team and goes back to US to treat a back injury. According to some Swiss media Del Zotto won't go back in Switzerland.
According other rumours also Patrick Kane (Biel) and Rick Nash (Davos), currently back at home during international break, could not return in NLA
11 Dec 2012, 19:45 | Aleksandr Rummo at Levy L'Viv
Belarussian Aleksandr Rummo is the new coach of Levy L'Viv of Ukranian Professional League.
Rummo, 41, won twice Belarus League with Keramin Minsk. He also coached Yunost, Neman and Brest.
Rummo replaced Vladislav Ershov, fired along with assistant Denis Bulgakov.
11 Dec 2012, 18:36 | HK Almaty replaces coach
HK Almaty and Russian coach Aleksandr Vysotsky terminated contract by mutual agreement. New head coach is Oleg Bolyakin, former coach at Kazzinc Torpedo and Sary Arka, with Yuri Mihailis as assistant
11 Dec 2012, 14:24 | Steve McKenna leaves Alleghe
After three years as headcoach and now GM, Steve McKenna left Alleghe and come back to Canada for personal reasons
10 Dec 2012, 21:08 | Carl Söderberg candidate for Guldpucken
Linköping's Carl Söderberg is the second canditate for Guldpucken, the award to the best hockey player in Sweden. Söderberg is one of the best players and scorers so far in Elitserien and in Tre Kronor. Gustaf Wesslau was the first candidate. Ten candidates will be nominated during the season.
09 Dec 2012, 21:32 | SCL Tigers release head coach
The Swiss team SCL Tigers, last in National League A, with only 16 points in 28 matches and thus a 29-point deficit towards the playoff spots, decided to release their head coach John Fust. Only one win in the last 13 matches was by far not enough for the Swiss-Canadian. He is not fired though and the club is looking for another task for him. His assistant Alex Reinhard was promoted to the position as head coach while Konstantin Kurashev, by now responsable for youth development, becomes the new assistant.
09 Dec 2012, 17:47 | Minsk wins battle of the Dinamos
Home team Dinamo Minsk defeated their namesakes from Riga with the score of 2-1 (1-1, 1-0, 0-0) to stay in touch with the playoff spots. This was also the last KHL match before an international break that lasts until 19 December 2012. Minsk is now at 41 points while Riga stays at just 32.
08 Dec 2012, 21:53 | Slovan earns derby win against Lev
In Saturday's only KHL game, hosts Slovan Bratislava have defeated Czech rivals Lev Prague 2-1 (1-0, 1-1, 0-0). Now the Slovakians (50 pts) are three points ahead of Lev Prague. In their first ever meeting in November Slovan had won the derby with the same result in Prague.
07 Dec 2012, 15:18 | Changes in the Swedish Channel One Cup roster
The defensemen Sebastian Erixon, Timrå IK, and Carl Gunnarsson, Örebro HK are injured and removed from the Swedish roster.
Mattias Bäckman, Linköpings HC and Jonas Frögren, Atlant Mytischi replace them.
Pär Mårts also added two more forwards to the team: Patric Hörnqvist, Djurgårdens IF and Linus Omark, EV Zug.
03 Dec 2012, 23:18 | AIK second team in Elitserien to change coach
AIK has sacked their head coach Per-Erik Johnson and replaced him with Anders Eldebrink. AIK is currently in 11th place in Elitserien.
03 Dec 2012, 22:41 | Timrå won the only Elitserien game today
Timrå came back from 0-1 to win 3-1 away to Rögle. Try-out defender Richard Demen-Willaume scored was the big hero of the day when he scored the two last goals.
03 Dec 2012, 17:11 | Nürnberg without two for the rest of the regular season
DEL team Nürnberg Ice Tigers has to wait at least until the end of the regular season before forwards Patrick Buzas (surgery of his left shoulder) and Evan Kaufmann (wrist surgery) can start again with training on the ice.
02 Dec 2012, 03:16 | Aleksei Zhamnov is new Atlant GM
After five season Aleksei Zhamnov left the charge of GM at Vityaz to assume same function at Atlant Moscow Oblast
30 Nov 2012, 23:37 | With trombosis Pavel Brendl may miss the rest of the season
The biggest Pardubice summer reinforcements, Czech forward Pavel Brendl, may be sidelined for the rest of the season after medical exames revealed a blood clot in an artery. "We are conducting all the tests, the final conclusion until fall, but the latest reports are that at least he can't play for three months" said sports manager Petr Hemsky "Theoretically, he could be back in late February, then start training and gradually recovering, but isn't a simple matter" said Hemsky.
30 Nov 2012, 13:40 | Neftekhimik ends farm agreement with Dizel Penza
Neftekhimik Nizhnekamsk announces VHL Dizel Penza is no longer the club farm team: "We have worked more than one season with Dizel and the collaboration was mutually beneficial: our young players gained experience playing in VHL and Dizel had at its disposal some players can really help the team. In November, we had some disagreements, and we decide to terminate the agreement on sports cooperation by mutual consent. Currently we are negotiating with the Izhstal Izhevsk to sending our players there. Geographically is the close, so we will pay more attention to our players" said Neftekhimik Director Vladimir Storonkin
30 Nov 2012, 13:30 | Vitebsk suffered the biggest defeat of its history
Loosing 16-1 against Gomel in Belarus Open League last round, Vitebsk suffered the worst defeat of its history, while the result wasn't Gomel's best victory: Andrei Skabelka team won 17-1 against Yunost Sdyushor in 2001
30 Nov 2012, 02:18 | Goalie Josh Harding diagnosed with multiple sclerosis
As reported by associated Press, Minnesota Wild goalie Josh Harding has been diagnosed with multiple sclerosis. The goalie is undergoing treatment for the disease. The 28-year-old Harding told the Star Tribune he plans to keep playing.
30 Nov 2012, 01:00 | Further Delays in Asia League Schedule
Earlier in the season, the League delayed several games involving the Chinese and Japanese teams due to rising political tensions. While some of those games have been played already, further games have been delayed. Two games scheduled December 29 and 30 are being pushed back to February 2 and 3.
29 Nov 2012, 14:49 | High1 pound China
It started just 9 seconds into the game and never stopped. High1 relentlessly out-shot China Dragon 51 to 32 and scored 9 goals. Inoue stopped all 32 shots he faced. Barney had a hat trick and an assist for 4 points. Yu-won Lee had 2 goals and an assist, and Swift had 4 assists. Mid-game Dragon defense Kumagai received a 5 minute major for hi-sticking and a game misconduct. This is one of the Dragon's worst losses of the season, the other being a 10-1 loss to the Blades.
29 Nov 2012, 10:25 | Jukka Jalonen new SKA head coach
Finnish national team coach Jukka Jalonen was confirmed by KHL club SKA St. Petersburg as their new head coach. His contract with the club has already been signed and is valid from 1 December 2012. He is the substitute for Czech coach Milos Riha who was fired on Sunday.
28 Nov 2012, 17:17 | Jason Chimera goes back to US...for now
Washington Capitals forward Jason Chimera, who signed a lock-out contract with Extraliga team Chomutov, decided to leave the Czech team after 5 games
"He realized he can't live far from his family, especially Jason missed children" - commented the player's agent Allan Walsh.
If the NHL season is canceled, Chimera can return to the Czech Republic with his family and continue to play with Chomutov
28 Nov 2012, 16:10 | Brunner and Diaz at Spengler Cup with Davos
EV Zug will loan its forwards Damien Brunner and Rafael Diaz to Davos during next Spengler Cup
28 Nov 2012, 02:19 | NSA Sofia player banned for life
NSA Sofia 39-years-old defender Stoyan Todorov received a life-ban from Federation for the accidents during NSA Sofia - Slavia game played last 15 November. Three other NSA players had to sign a statement that they would not fight or likewise be ejected for life. After the violent conduct of NSA players Slavia decided to pull out from the League, but then come back some days after

26 Nov 2012, 22:17 | Slavia returns to Bulgarian League
After a meeting with Bulgarian Federation Board, Slavia Sofia decides to go back in Bulgarian League and will play tomorrow against Levski. For the absence in last game against CSKA, Slavia received a 0-5 forfeit. Slavia pulled out of the Bulgarian League after a tough match against NSA Sofia, accusing Federation of tolerate rough play
26 Nov 2012, 21:19 | Poprad fires coach Jozef Škrak
Extraliga SKP Poprad fires coach Jozef Škrak and assistant Martin Klempa. They will be replaced by Milan Jančuška and Vladimír Turan. Both signed contract until end of season. Klempa will remain in Poprad staff, while Škrak will decide in next hours. Jancuska worked at Polish KH Sanok and at MsHK Zilina last season
26 Nov 2012, 21:13 | New President for Polonia Bytom
After the General Assembly, Polonia Bytom announces Marek Stebnicki was elected as new club's President. Łukasz Wiejacha will be the Vice-President
25 Nov 2012, 23:45 | Dizel Penza fires coach
Dizel Penza releases the head coach Alexander Sokolov from his charge. Assistant coach Vladislav Bulin was appointed as temporary coach with Valeriy Kukushkin as assistant
25 Nov 2012, 12:44 | eurolivescores.com
You can follow all the games of KHL in text minute-by-minute broadcasts at our partner website Eurolivescores.com. Also two games of Czech Tipsport extraleague will be available there.
23 Nov 2012, 14:09 | Kaspars Astašenko passes away
Former Latvian international and NHL player Kaspars Astašenko has passed away at the age of 37. The circumstances of the death are unclear but according to Swedish newspaper Aftonbladet Astašenko had drug problems.
21 Nov 2012, 19:45 | Sergei Zemchenko resigned from Bipolo Gasteiz
Ukranian coach Sergei Zemchenko resigned from his charge at Bipolo Vitoria/Gasteiz for personal reasons. Contract was terminated by mutual agreement. Bipolo is currently first in Spanish league with a perfect record. The club didn't explain the reason of resignation. Ibon Portularrumbe will be the new coach
21 Nov 2012, 18:45 | 20 games suspension for Maksim Martyshko
Ukrainian Professional League (PHL) Disciplinary Committee decided to disqualify Donbas Donets'k forward Maksim Martyshko for 20 games for deliberately blew the judges with the stick after the 17 November game against Dynamo Kharkiv, when the referee gave him a major penalty In addition, Martishko may have to pay a fine of two thousand hryvnia. For the same game Dynamo headcoach Dmitry Yakushin was banned for three games of the regular season for illegally entered in the referee's locker room
20 Nov 2012, 15:56 | Jaroslav Bednar released by Lugano
Czech forward Jaroslav Bednar was released by HC Lugano where he played since last season. Due to injuries Bednar played just eight games without a point in current season.
"He want to play and here there isn´t enough space, so this is the best solution" commented Sport Director Roland Habisreutinger
19 Nov 2012, 15:57 | Litvinov fined for fans' conduct
Czech Extraliga Disciplinary Committee punished Litvinov with a fine of ten thousand crowns for the conduct of spectators during the match against Pardubice. Litvinov fans committed unsportsmanlike conduct, plus throwing objects on the ice rink.
19 Nov 2012, 15:27 | Continental Cup suspensions against Beibarys
The IIHF Disciplinary Panel decided to hand out suspensions against player Tomas Horna and assistant coach Mikhail Zvyagin of Kazakh club Beibarys Atyrau for incidents in the game against Vaasan Sport from Finland in the last round of the Continental Cup.
Horna was already suspended one game during the tournament and will be suspended for three additional games at the upcoming Continental Cup event in Stavanger, Norway. Zvyagin was already suspended for one game and will be suspended for an additional game.
19 Nov 2012, 15:25 | Chevrolet ceases cooperation with MHL
MHL lost about 10 million rubles as result of termination of cooperation with the company Chevrolet, the main sponsor of the League
"We had the first experience as MHL support, and we believe that it was interesting. This year sponsorship budgets have been revised, in connection with the global financial crisis. It was decided to limit the sponsorship and focus only on the support of the KHL" commented the press service of the company.
At moment MHL has not found a new partner.
19 Nov 2012, 02:11 | Andrei Rasolko resigned as head coach of Yunost MHL
Due to the unsatisfactory results of Yunost Minsk in the MHL, head coach Andrei Rasolko resigned.
Before the appointment of the new head coach, team will be lead by Aleksei Scheblanov and Oleg Runets.
Yunost is currently last in MHL West Conference standing
17 Nov 2012, 14:50 | Sergei Svetlov is new Atlant coach
Former Lada and Amur coach Sergei Svetlov was named as new Atlant Moascow Oblast new Headcoach. He replaced temporary coach Aleksandr Smirnov, leading the team fronm Jan Karlsson dismissal in late October
16 Nov 2012, 23:49 | NS Stars - Vitez postponed
Serbian League game between Novi Sad Stars and Vitez scheduled for today was postponed due to Pool B Sledge Hockey World Championship helding in Novi Sad. In the other game, Partizan Beograd won 10-5 traditional derby with Crvena Zvezda
16 Nov 2012, 23:38 | Vitebsk Kirill Sachivko takes 10 games suspension
Vitebsk defender Kirill Sachivko was punished with 10 games suspension because he deliberately knocked to the ice linesman Jezierski during last 21 October game against Shakhtar Soligorsk while trying to fight with Shakhtar Evgeny Dadonov
16 Nov 2012, 21:15 | Evander Kane leaves Dinamo Minsk
Dinamo Minsk terminated the contract with Canadian center Evander Kane.
"I had several conversations with the player, explaining the requirements in the team and our vision of his role in it. Unfortunately, we didn't saw progress in the game so we decided to cancel the contract. Despite the differences in hockey matters, the parties parted without insults and complaints. I wish Kane success in his future career - said the club's Sport Director Igor Matushkin.
In Dinamo 21-year-old Kane played 12 games in which scored only 1 point.
16 Nov 2012, 12:42 | Zabel head coach in Djurgården again
Just as last season Djurgården signs Tony Zabel as a replacement head coach during the season. He replaces Challe Berglund who steps down after a very bad start to the season for Djurgården who was expected to battle for promotion back to Elitserien but currently only is in 10th place in Allsvenskan. Berglund will remain at the club as manager.
15 Nov 2012, 23:20 | French League Cup semifinals determined
Rouen, Grenoble, Angers and holders Briançon are the French Coupe de la Ligue Semifinalists. SemifinalsRouen - Grenoble and Briançon - Angers are scheduled for 27 November and 04 December. Follow Coupe de la Ligue with complete boxscores here
15 Nov 2012, 23:20 | Novokuznetsk wins against Amur
In Thursday's only KHL game home side Metallurg Novokuznetsk beat Amur Khabarovsk with the score of 4-2. All goals happend in the last period. Metallurg was already away with a 3-0 lead but had to wait for an empty netter to secure the win.
15 Nov 2012, 18:06 | Komarov will remain in the KHL, even if the lockout ends
Dynamo Moscow press agent Mikhail Kravchenko announces forward Leo Komarov won't return to NHL even in case of end of lock out
"We have an agreement with Leo that if the NHL doesn't start before the end of November, he will remain with us for all seasaon" - said Kravchenko.
15 Nov 2012, 07:23 | Sinan Akdag receives Hockey is Diversity award
Krefeld Pinguine and German national team player Sinan Akdag, who was born to Turkish parents, on Wednesday received the first ever Hockey is Diversity award. This is an initiative by former and current ice hockey players in Germany of and without foreign background to honour ice hockey players who do a lot for integration. The winner of the award receives 1,500€ which are given to a charity of the winner's choice.
14 Nov 2012, 19:40 | Maribor - Medvescak not played
The game of Croatian League between Maribor and Medvescak Zagreb, scheduled for yesterday, was not played because Medveščak could not gather more than eight players for the trip. Probably Zagreb team will receive a 5-0 forfeit
14 Nov 2012, 18:32 | Detroit Red Wings prospect is arrested for drunk driving
20-year-old Detroit Red Wings prospect Riley Sheahan was arrested October 29 in Grand Rapids and charged with driving with a high blood-alcohol level content, above .17, and giving false information.
The amount of alcohol in his blood is more than two times higher than the rate and Sheahan can get up to 180 days in prison.
At the trial, which took place on November 6, hockey player pleaded not guilty. The forward, who was chosen by Detroit in the first-round draft pick in 2010, was arrested for public intoxication during his freshman season at Notre Dame in 2010.
"I'm aware that Riley was charged with a DUI," Detroit general manager Ken Holland said. "We're handling it internally. He sat out a game. We've talked to him. We're aware of what's happened."
14 Nov 2012, 18:00 | Anatoly Stepanischev confirmed on Kuban bench
After four victories in last four games, Anatoly Stepanishev, having replaced fired Andrei Pyatonov as temporary coach, was officially confirmed as new Kuban Krasnodar headcoach. Petr Malkov and Maxim Bets will be the assistants
14 Nov 2012, 17:55 | Geoff Platt to play with Belarus in 2013
According to Dinamo Minsk Athletic Director Igor Matushkin, Canadian-born forward Geoff Platt, that recently successfully applied for Belarusian citizenship, will be able to play for Belarus in August 2013.
13 Nov 2012, 16:48 | Titan Klin headcoach resigns
Head coach Titan Klin Andrei Amelin resigned today from his charge. "The main reason I´m leaving the club is my family, my little son, whom I could not devote much time. I resigns also due to errors which I made in my work, maybe other people will shake the guys. The team, unfortunately, did not work for me." said Amelin.
Andrei's decision is a surprise, the guys were upset - told forward Michael Deev. - This is our fault: was lost a number of recent matches, and he took all the blame and responsibility."
Titan is currently 20th in VHL table
12 Nov 2012, 16:20 | Andrievsky confirmed as Dinamo Minsk headcoach
Dinamo Minsk announces that Aleksandr Andrievsky, appointed as temporary coach after the dismissal of Kari Heikkila last October, was confirmed as head coach.
12 Nov 2012, 12:34 | Germany wins Deutschland Cup
With a 2-0 win in front of 5,600 spectators in Munich against Slovakia hosts Germany won the 2012 Deutschland Cup. In the end the Germans had a perfect 3-0-0-0 record with 7-2 goals and 9 points ahead of Switzerland (6), Slovakia (3) and Canada (0).
10 Nov 2012, 09:35 | Erixon joins Team Sweden
Timrå's Sebastian Erixon will join Team Sweden for the game against Finland today as Jonas Ahnelöv can't play the game.
09 Nov 2012, 20:39 | Gerd Zenhäusern confirmed as Lausanne coach
Former player and assistant coach Gerd Zenhäusern was confirmed as new Lausanne headcoach until the end of season. He will be assisted by Mike McNamara, coming from HC Lugano coaching staff.
Zenhäusern was Lausanne interim coach after the dismissal of John Van Boxmeer. "Gerd showed in these last games that he has all the qualities to occupy this charge" said GM Jan Alston
09 Nov 2012, 20:04 | Andrei Razin named new Kristall Saratov coach
Former player Andrei Razin was named new headcoach of VHL Kristall Saratov. He replaced Vladimir Kuplinov, moved to HK Tambov in RHL
08 Nov 2012, 22:37 | Kopitar behind Slovenian win
Anze Kopitar had 3 assists when his Slovenia beat Italy 4-0 on the first day of the EIHC tournament in Ljubljana. France beat Austria 2-0.
08 Nov 2012, 14:58 | Doug Shedden/Chris McSorley to coach Team Canada
EV Zug coach Doug Shedden will serve as Team Canada headcoach at next Spengler Cup. He was Marc Crawford assistant coach at last year tournament. Geneve-Servette Chris McSorley will work as assistant coach
07 Nov 2012, 22:50 | Denmark - Norway 0-4
Norway beat Denmark 4-0 in the first of three games between the teams this week. Jonas Holøs, Lars Erik Spets, Niklas Roest and Mats Frøshaug scored the goals.
07 Nov 2012, 15:46 | Köbi Kölliker new Sport Director at Langnau
Former Switerland and Germany headcoach Jacob "Köbi" Kölliker becomes new Langnau Tigers Sport Director. He is back in Langnau where he worked as headcoach between 1993 and 1999 and GM in 1999/2000.
06 Nov 2012, 19:58 | Metallurg Novokuznetsk fans raise funds for the team
Following an appeal from the President to help financially the club,  Metallurg Novokuznetsk fans decided to provide financial assistance to the team.
They want to raise about 80 thousand rubles that are ready to be used for the purchase of medicines for the team. Besides the fans would like to install special boxes in shopping centers to raise money.
"In the near future we will open a special charity account where fans could transfer funds. For every penny, we naturally will report back" said the president Sergei Kuznetsov.
06 Nov 2012, 15:10 | Patrick Thoresen and Trine Martens won Gullpucken
SKA forward Patrick Thoresen won the Norwegian Gullpucken (The Golden Puck). This award is given to the best Norwegian hockey player following performances for his club and the national team. At the last World Champioship Thoresen finished second in the list of top scorers in the tournament and was named in Tournament All Team. Thoresen won Gullpucken also in the 2008-09 season. "It's great to receive such a prestigious award. In Norway there are many great players, so the choice wasn't simple" Thoresen commented. Vålerenga and Norway national team forward  Trine Martens won the award in women category
05 Nov 2012, 16:44 | Dinamo Riga fires Pekka Rautakallio
After the 0-2 defeat with Dinamo Minsk, leaving the team last in Bobrov Division, Dinamo Riga fired Finnish coach Pekka Rautakallio. Artis Ābols will act as temporary coach
05 Nov 2012, 05:09 | CIHL Taipei International Division closes
After the comunication that the budget of CIHL International has been cancelled from the Chinese Taipei Ice Hockey Federation, the league decided to suspend its activities hoping to re-emerge in the near future.The CIHL was scheduled to begin last september
05 Nov 2012, 01:51 | Belarus and Ukraine tied second match
Recovering twice, Belarus tied second friendly match against Ukraine in Kyiv
Ukraine - Belarus 2:2 (1:0, 1:2, 0:0)
1:0 Gnidenko (Navarenko, Kvitchenko, 4:07)
1:1 Antonov (Mikhailov, Musienko, 29:45)PP
2:1 Kvitchenko (Navarenko, Gnidenko, 35:25)
2:2 Kislyi (Musienko, Mikhailov, 36:12)
03 Nov 2012, 23:43 | Belarus won against Ukraine
With temporary coach Andrei Skabelka, Belarus won the first test match against Ukraine in Kyiv Ice Palace in front of 3.500 spectators.
Ukraine - Belarus - 1:2 (1:0, 0:2, 0:0)
1:0 Pastukh (Lyutkevich, 15:02)
1:1 Kisliy (S. Kolosov, Musienko, 21:48)
1:2 Pavlovich (Efimenko, 34:48)
Tomorrow the second match
03 Nov 2012, 23:33 | New President at Sport Club Miercurea Ciuc
Hódos László was named new SC Miercurea Ciuc President.
Born on June the 6th 1966 in Targu Mures, participated at the Olympics Games in Albertville as bobsleigh athlete and from 2000 he was Sportclub's bob coach. From 2006 until 2010 helped the hockey team as strength coach and in the last 2 years was the Romanian Bobsleigh Federation's Technical Director
"The Sport Club is one of the most famous clubs in the country, both in hockey and other winter sports. I accept this responsability wholeheartedly" said the new President
03 Nov 2012, 21:02 | Lithuania lost twice against Belarus U18
Lithuania faced Belarus U18 team in Elektrenai on Frifay and Saturday as preparation for Olympic Qualifications. Home team, still without main players, lost both games
Lithuania - Belarus U-18 3:4 (0:1, 2:3, 1:0) on friday
Lithuania - Belarus U-18 2:3so (1:2, 0:0, 1:0, 0:0, 0:1) saturday
"I'm not happy with the results but knowing that the team played without its best players, we try to do our best. In the first match 14 penalty minutes per half is too much. In the second game the guys fought better, but showed the same problem with penalties. Of course, the team will be very different when complete, but in Hungary we will not be easy, "- said Lithuanian head coach Bernd Haake
03 Nov 2012, 17:36 | Liberec fire head coach Jelinek
Marian Jelinek was fired as the head coach of Bili Tygri Liberec. An ambitious club is currently second from bottom in Czech Extraliga, having won just 5 out of 18 games this season, most recent loss being a 1-8 loss to Skoda Plzen on Friday.
02 Nov 2012, 19:54 | NHL Cancels Winter Classic
According to espn, the NHL has decided to cancel the Winter Classic between Detroit Red Wings and Toronto Maple Leafs at the University of Michigan's football stadium in Ann Arbor on Jan. 1.
"It's definitely very disappointing," Red Wings goaltender Jimmy Howard said. "Not only was I looking forward to it but so were all my friends and family. It was going to be a great event not just for us but all the businesses and hotels and fans excited to see us and Toronto play."
02 Nov 2012, 00:37 | Slovakia and France promoted
Slovakia and France are promoted to the 2013 IIHF Ice Hockey U18 Women's World Championship Division I after finnishing first and second in the qualification.
01 Nov 2012, 15:59 | Kasparaitis named Baltica honorary president
Darius Kasparaitis became honorary president of the MHL-B club Baltica Vilnius. In the club Kasparaitis will be responsible for the development of hockey in Lithuania, the development of club policies, as well as take over the function of the development of international relations.
01 Nov 2012, 15:16 | Alexander Svilin moved to Kazan
Sary Arka Karaganda assistant coach Alexander Svilin accepted a similar position at Ak Bars Kazan. "I am grateful to the leadership of Sary-Arka, that gave me the opportunity to work in Karaganda club. And I hope everyone will understand that work in my native city and club - it's an opportunity that I can't miss" said Svilin
01 Nov 2012, 05:32 | Fyodor Kanareikin is the new coach of Spartak Moscow
Fyodor Kanareikin officially became the new head coach of Spartak Moscow. He replaced fired Andrei Sidorenko
In the coaching staff will enter Vladimir Semyonov, Dmitri Gogolev, Oleg Romashko (goalkeeping coach) and Sergei Shchukin (fitness coach). Semyonov worked last season with Kanareikin at Metallurg Magnitogorsk
01 Nov 2012, 05:09 | Andrei Pyatanov fired by Kuban
Kuban Krasnodar fired head coach Andrei Pyatanov. Interim coaches will be former assitants Anatoly Stepanischev and Petr Malkov.
31 Oct 2012, 12:27 | Chomutov Pirati fined for racist acts
The Czech Extraliga fined this Tuesday Chomutov club in 30,000 crowns (1500 dollars) for racists acts against Philadelphia Flyer Wayne Simmonds. The Canadian player just signed a contract last week with Liberec during the lockout. On Sunday during his third game after a fight between the Canadian player and the Chomutov Miroslav Zalesak some home team fans begin to chanting "opice" a Czech word for "Monkey". After the game both clubs released statement condemning those acts.  Because the way that Chomutov reacted to the situation the fine was lower than normal.
31 Oct 2012, 00:59 | Tom Coolen and Aigars Cipruss named Latvian National Team Assistant Coaches
Latvian Federation anounces Tom Coolen and Aigars Cipruss were named National Team head coach Ted Nolan assistants
58-year-old Canadian Tom Coolen coached in North America and Europe, included teams in DEL (Kaufbeuren), NLA (Ambri-Piotta and Lausanne), SM-Liiga (HIFK Helsinki) and EBEL (Feldkirch). "Coolen is in the world of hockey from more then 30-years, he will be a good assistant to Nolan and certainly strengthen the Latvian hockey staff" said LHF President Kirovs Lipmans.
40-year-old Aigars Cipruss was Latvian U20 team assistant coach in the last two years after having played for 17 years for Latvia, closing his international career with. 172 caps and 112 (50 +62) points. He is still active in domestic League with HK Ozolnieki/Monarch
Both newly appointed coaches will debut on November 9th when Latvia will play against russia at Arena Riga.
30 Oct 2012, 22:49 | Yannick Blaser suspended for seven games
Swiss Ice Hockey Federation Discipline Commission suspended EV Zug defender Yannick Blaser for seven games after his violent charge on ZSC Lions' Andres Ambühl during 23 octobre game.
30 Oct 2012, 19:27 | More NHL players to HockeyAllsvenskan
Two more NHL lockout players signed with teams in the Swedish second league HockeyAllsvenskan. Brendan Mikkelson will play for Västerås and Marcus Johansson for Karlskoga.
Viktor Fasth, Mikael Backlund, Gabriel Landeskog, Jonathan Ericsson, Mike Santorelli, Anze Kopitar, Carl Hagelin, Matt Read, Douglas Murray and Patrik Berglund already play in the league.
30 Oct 2012, 19:12 | Rönnberg's last year with Sweden's U20
Roger Rönnberg who lead Sweden to gold at last year's WJC will quit as head coach for Team Sweden Juniors after this season. He will be replaced by Rikard Grönborg who is head coach for the Swedish U18 team and also worked as assistant coach at last year's WJC.
30 Oct 2012, 16:52 | Kristall Saratov changes coach staff
Head coach Vladimir Kuplinov and his assistants Igor Stepanov and Dmitry Chiki resigned from Kristall Saratov, last in VHL. Alexei Isakov will be the new coach, assisted by Oleg Leontiev. Both worked in Kristall last season.  Kristall won only four games out of 17.
30 Oct 2012, 16:30 | Kulikov out, Denisov in
CSKA Moscow defender Denis Denisov will replace injured Dmitri Kulikov (lokomotiv Yaroslavl) in Russian team partecipating in next Karjala Cup.
30 Oct 2012, 16:19 | Five games suspension for Khomitsky
Ak Bars Kazan defender Vadim Khomitsky was punished with five-games suspension for hit on the head of Atlant Moscow Oblast forward Igor Ignatushkin
29 Oct 2012, 16:12 | Belarus Open League records the worst attendance in last four years
This season the interest of the public for Open League in Belarus has fallen markedly. At the moment, the average attendance is 928 people, the worst in the last four years.
Last season, the attendance was 1.111. In the 2010-2011 season attendance was 956, in the 2009-2010 season 941, and in the 2008-2009 season 1.069.
29 Oct 2012, 15:42 | EV Zug extends coaches' contract
EV Zug announces the extension until 2014-15 of contract for Canadian head coach Doug Shedden and Finnish assistant Waltteri Immonen.
29 Oct 2012, 09:12 | Paul Di Pietro with Lugano
Paul Di Pietro is back to LNA. The Swiss-Canadian player played before for HC Seewen in 1. league. Di Pietro sign a try-out contract until November 24 with Lugano with a clause until Christmas. At the moment Lugano have 10 injuries in the the team and that was the main reason to give an opportunity to the Swiss-Canadian legend. Di Pietro had already play with Lugano in 2004-2005 for five games during the lock-out.
29 Oct 2012, 01:14 | Radulov marks career point n° 500
Scoring an empty net goal in 4-2 CSKA Moscow victory against Sibir, forward Aleksandr Radulov marks the point n° 500 in his career. With 25 points in 20 games Radulov is currently the top scorer of the regular season.
28 Oct 2012, 16:09 | Avtomobilist fires coach Shayanov
Another KHL team decides to change coach. Last-standing Avtomobilist Yekaterinburg fires headcoach Andrei Shayanov after just four victories in 20 games. Officially the club has not commented the information on its website, but the same Shayanov confirmed it in a press release
28 Oct 2012, 02:12 | Txuri Urdin fired coach for lack of money
In a deep economic crisis, Spanish club Txuri Urdin decided to fire French coach Jean-Michel Lutaud to save on the budget and replace him with former player Alain Iturralde, currently working in junior teams. Club will also release some imports in next days
27 Oct 2012, 16:40 | LEV Praha fires coach
After seven consecutive defeats, LEV Praha fires coach Josef Jandac. Assistant coaches Jiří Kalous and Vitali Karamnov will lead temporarly the team.
"I want to thank Josef Jandač for his work, he was an important element in building our team in the summer. Unfortunately, recently the results have been unsatisfactory" said GM Normunds Sejejs.
Jandac arrived at LEV in the summer when team moved from Poprad to Praha. He coached Sparta and Pardubice in last seasons and won a World Championship as Czech Republic assistant coach in 2009
27 Oct 2012, 16:32 | Sergei Zubov will work for St. Louis Blues
St. Louis Blues announced two-time Stanley Cup winner Sergei Zubov became Consultant for hockey operations. In addition, he will serve as a scout.
"Sergei is a respected player in our league and in Europe. He will monitor the young players in Europe" commented Blues' General Manager Doug Armstrong
27 Oct 2012, 16:29 | Amur Khabarovsk has a new Sport Manager
Yuri Kuznetsov is the new Amur Khabarovsk's Sport Manager. He also will continue to work as assistant coach
26 Oct 2012, 16:02 | Brezvin re-elected Ukraine Hockey Federation President
During the General Congress of Ukraine Hockey Federation delegates unanimously re-elected Anatoli Brezvin as President. Brezvin heads the federation from 2006.
26 Oct 2012, 10:16 | KHL games in USA cancelled
KHL has cancelled the two Dynamo Moscow vs SKA St. Petersburg games in Brooklyn January 20-21. The games will be played in Russia.
25 Oct 2012, 16:27 | Russian legends in Swiss hockey journey
Ambri celebatres their 75 anniversary this year. Sunday, 4 November the Swiss club will organize a charity game between Ambri legends and Russian Legends. An opportunity for Ambri fans to see their former Russian star Valery Kamensky. He will play on Ambri side. In Russian side fans have the opportunity to see legends like Aleksander Yakushev, Aleksej Kasatonov and Dmitry Kvartalnov. This game is only possible due the generosity of a Russian KHL sponsor and its president Dmitry Bosov. In this day Ambri will organize numerous activities for young kids like skills contest and games between Pee Wee players.
25 Oct 2012, 14:06 | Lockout in Swiss League
Vancouver Canucks goalie Cory Schneider has a passport with Swiss nationality. He could be a option for Swiss club EV Zug. Finnish goalie Jussi Markkanen had recover from his injury but could be in trouble during lockout. Swiss clubs can only acquire 8 foreign licences and play with 4 in NLA games.  Canadian coach Doug Shedden seems to prefers Andy Wozniewski, Linus Omark, Henrik Zetterberg and Josh Holden.
24 Oct 2012, 16:44 | Kosice players apologize
The players of HC Kosice in Slovak Extraleague decided to apologize to the fans for Tuesday's 0-4 home loss to HKm Zvolen. Along with the leadership of the club they want to fight for the favor and support of the audience by paying the entrance for next match in Steel Arena, on Friday the 26th October against Banska Bystrica.
24 Oct 2012, 16:38 | Richard Lintner looks for contract
Slovak defenseman Richard Lintner, after two games for the extra-league rookie team SHK 37 Piestany is still without another contract. The experienced 34-year old defenseman said in Tuesday's interview with SITA that he looks for Finland or Czech teams.
24 Oct 2012, 05:17 | Aebischer shuts out SC Bern
Rapperswil-Jona Lakers goaltender David Aebischer earned his first shutout of the season, when the home team beat the SC Bern 3-0. Aebischer made 48 Saves to keep the guests off the scoreboard. Matteo Nodari in the first and Lockout player Jason Spezza in the second period scored. Antonio Rizzello added an empty netter 28 seconds before the horn. The SC Bern dominated the game, but didn't used the numerous opportunities to score.
24 Oct 2012, 00:53 | Stanley Cup winner joins Tyler Seguin in Biel
Chicago Blackhawks Patrick Kane posponed in September the intention to play in Europe. He wanted to wait until middle October to see how the lockout goes. Seing that nothing happens his agent Pat Brisson started to ask European clubs the interess to his star player. Finally Kane signed with Swiss club EHC Biel, where he will play for a long has lockout goes. He will join also Stanley Cup Winner Tyler Seguin (10g, 6g, 7a).
23 Oct 2012, 22:00 | President of Gap resigns
Georges Obninsky who has been President of Gap for the past 12 years has resigned from the club, "officially" saying its because he wants to devote his time to his professional career however its been rumoured his disagreements with the cities Mayor, Roger Didier, played in role in Obninsky leaving. Its unclear who will replace him but more will follow when the club holds their press conference.
23 Oct 2012, 17:09 | Alexei Morozov reaches 1.000 points in career
AK Bars captain Alexei Morozov notched his career 1.000th point scoring the winning goal in today´s 2-1 victory against Metallurg Novokuznetsk
22 Oct 2012, 23:18 | Three Swiss clubs fired their coaches
In LNA 12 defeats in 14 games were enough to Ambri president. American coach Kevin Constantine was hired in October 2010 and had a contract until 2014. To replace Constantine, Ambri hired former Fribourg (and Ambri) coach, the Canadian Serge Pelletier. His first match will be tomorow against Biel.
LNB favorites HC Lausane fired former hockey legend John Van Boxmeer.  The 60-year-old Coach was in the club since 2009. The name of the future Coach will be announced in a few days. Colin Müller, former Zürich coach seems to have the bets in is favor. Also HC Thurgau fired its coach, Swiss-Canadian Alex Stein, in charge from November 2011, following poor results. Temporary coach will be former Stein´s assistant Emanuel Marbach
22 Oct 2012, 15:21 | Sergei Mogilnikov resigned
Kazzinc Torpedo headcoach Sergei Mogilnikov resigned from the charge with an open letter for the team and the fans. The contract terminated by mutual agreement. Club promoted as new headcoach German-Kazakh Igor Dorokhin, working from 2011 as Kazzinc Torpedo 2 headcoach in Kazakh League
22 Oct 2012, 03:25 | Atlant fired coach Jan Karlsson
Swedish coach Jan Karlsson was fired by Atlant Moscow Oblast after losing 1-4 at home against Dynamo Moscow, the eighth defeat in the last nine games. Assistant coach Alexander Smirnov was promoted as new headcoach
22 Oct 2012, 00:57 | Biel coach rants Tyler Seguin
In interview to Cyrill Pasche, journaliste from Swiss newspaper Journal du Jura, Kevin Schläpfer said that he had rant NHL star Tyler Seguin in lockerroom after the first period.
Bad atitude was the cause. "I let the bank 20 seconds before, because i knew that i would explode in moments. I couldn't stand anymore his bad attitude in the game. So i give him a wake up call in front of all team. I know that he has only 20 years, but expect him to be the leader of the team. I don't demand big speeches, but i expect him to have a positive attitude. "
Tyler Seguin react like a pro and lead Biel to another victory against rival SC Bern. "In the end of the game i congratulate him in front of all players. he understud the critic and react like leader".
20 Oct 2012, 21:36 | JYP beats HV71's youngsters
One game was played in the European Trophy today. Unbeaten HV71 decided to rest their team for more important games and almost only dressed junior players for the game against JYP. Despite that JYP played with their best team the game was very close and JYP "only" won 3-2.
19 Oct 2012, 23:42 | Freezers release their CEO
The Hamburg Freezers of the DEL have released their CEO Michael Pfad who was in charge of that position for the last two and a half years. Uwe Frommhold  who is the CEO of the AEG Facilities Germany will work as a substitute for Pfad as an interim solution. According to Matthieu van Veen, Senior Vice President of AEG Sports Europe, the reason for the change was that Pfad had other plans with the Freezers than the other persons in charge.
19 Oct 2012, 19:44 | Nesta Toruń withdrew from Polish League
Nesta Toruń withdrew from Polish Hockey League. The main reason are financial troubles. At the beginning of October strategic sponsor, company name Karawela, resolved a sponsorship deal with club, which was in fact the end of the team.
Polish Federation decided that all results from Nesta (except of game Nesta - Sanok played 24th of September - this game was moved from November) are valid due to Nesta played two full rounds - 13 games "on ice". The 14th game, which should to be played on Oct 14th, is awarded 5-0 to Sanok (Nesta withdrew from PLH on Oct, 15th).
Since 16th of October, when 3rd round started, in PLH play seven teams.
19 Oct 2012, 16:46 | Sergei Paramonov died at 54
Former Traktor Chelyabinsk player and coach Sergei Paramonov died yesterday when his heart stopped during a friendly match in Troitsk (Chelyabinsk region) with the team Traktor Veterans
Paramonov felt sick in the locker room, ambulance arrives but could not help. He was 54 years old.
Paramonov coached Traktor in 2001. In 2002/03 season and from 2008 to 2011 he was the head coach of Mechel Chelyabinsk
18 Oct 2012, 21:57 | SKA with a 2-0 against Sibir
SKA St. Petersburg was the dominating side today in the only KHL game but Sibir Novosibirsk didn't leave their offense score too many easy goals and so it was super star Ilya Kovalchuk who opened the score at 24:26. Shortly afterwards Alexander Kucheryavenko decided the match with the 2-0 for the hosts who extended their winning streak once more.
17 Oct 2012, 16:10 | Neliba new head coach at Székesfehérvár
SAPA Fehérvár AV19 announced Jan Neliba as their new head coach. 59-year old Czech coach replaces Kevin Primeau, who was fired by the Hungarian club on Sunday. Fehérvár are currently 9th out of 12 teams in EBEL.
16 Oct 2012, 17:46 | Pacioretty quits Ambrì-Piotta
After 5 games and one goal with Swiss Ambrì-Piotta, American forward Max Pacioretty decides to come back in Canada to treat an elbow inflammation. Ambrì informed a Pacioretty comeback will depend on duration of lock out and possible absence of another import.
15 Oct 2012, 17:12 | Kari Heikkila left Dinamo Minsk and Belarus
"I'm trying not to think about resignation, I have a good feeling with the Board" - few hours after this declaration, Finnish coach Kari Heikkila was fired from Dinamo Minsk due to unsatisfactory results. Assistant coach Aleksandr Andrievsky will act as temporary head-coach until November break, when a final decision about a new coach will be taken. After Dinamo's decision, Heikkila decided to resign also from Belarus national team: "We talked with the coach about his future, and he said that now would be inappropriate to him to remain as head coach of the national team." said Federation President Evgeny Vorsin
15 Oct 2012, 09:18 | Denmark advance to next stage
In Barcelona Denmark won Group G of the first stage of the Women's Olympic Qualification against Hungary, Spain and Croatia.
13 Oct 2012, 02:02 | Fire at Steel Aréna
A fire in a transformer inside Steel Aréna without any electricity and forcing HC Košice to postpone their weekend matches with Zvolen on 12.October and Poprad on 14.October.
12 Oct 2012, 21:25 | Pietilä new Austria U18 coach
Sakari Pietilä was announced as new Austria U18 head coach. The 58-year old Finnish coach has coaching experience from SM-liiga, Elitserien, as well as Finnish national team.
12 Oct 2012, 20:48 | Torpedo with half a dozen against Yugra
In Friday's only KHL game home side Torpedo Nizhni Novgorod let no doubt arise in their 6-2 (2-0, 2-1, 2-1) win against Yugra Khanty-Mansiysk. Half of the eight goals were scored by Swedish imports, two of them by Torpedo forward Martin Thörnberg.
12 Oct 2012, 18:14 | Cape Breton to host the 2014 World Under-17 Hockey Challenge
Hockey Canada, in partnership with Hockey Nova Scotia, announced Friday that Cape Breton, N.S., will host the 2014 World Under-17 Hockey Challenge from Dec. 29, 2013 to Jan. 4, 2014.
The 2014 World Under-17 Hockey Challenge will follow the same format as previous years - five Canadian entries (Atlantic, Ontario, Pacific, Quebec, West) will be joined by five international teams, with two groups of five teams. The top two teams from each group will advance to the semifinals, while the remaining three teams from each group will cross over for placement games.
12 Oct 2012, 13:52 | No Swiss NHL players in Deutschland Cup
Switzerland decided to not use any NHL lock-out players in Deutschland Cup November 9-11.
12 Oct 2012, 12:21 | Rally in Wonju to get Olympic Ice rink
After the suggestion that some facilities might be located outside Pyeongchang, South Korea for the 2018 Olympics, including an ice rink being placed in Wonju, over 5000 residents gathered in a rally to encourage them to make the decision to locate the rink in Wonju. Wonju is a small city, population 310,000 located about 90KM East of Seoul and 40KM west of Pyeongchang. The two cities are separated mostly by mountains and rivers but a large highway connects the two cities via a northerly route. Wonjy can be accessed from Seoul via a combination of metro subway and traditional rail line, but plans had already been made pre-Olympics to connect Wonju to the Seoul metro subway system.
10 Oct 2012, 19:11 | Luleå vs HV71 resumes on November 27
Yesterday's Elitserien game that was abandoned 6:27 into the third period will resume at November 27 before the game scheduled between the two teams on that date.
09 Oct 2012, 21:46 | Sundh injured
Oscar Sundh of HV71 suffered a head injury and was taken to hospital unconscious during the third period of the Elitserien game Luleå-HV71. The referee Sören Persson decided to abandon the game at the score 1-1.
08 Oct 2012, 23:26 | Marha with a Swiss nationality?
Czech Republic player Josef Marha(36 years old) could have the Swiss nationality in the future.
Arrived in in Swiss to play for Davos in 2001 faster he became one of favorite players for NLA fans.
Recognizing is value on rink and outside of him, Davo's coach Arno Del Curto says today in Swiss press if Marha play's with a Swiss licence he could easily play three more years on defense.
08 Oct 2012, 23:08 | Henrik Zetterberg to play in Swiss
EV Zug agrees a contract with Swedish star Henrik Zetterberg until the end of lockout. The Detroit Red Wing player will arrive Tuesday morning in Swiss and play his first game next Friday against Lugano. He will also a opportunity to know better Swiss star Damien Brunner also a Red Wing player.
07 Oct 2012, 18:28 | Ukraine will spend 3.5 billions for the development of hockey
The Cabinet of Ministers of Ukraine has increased the amount of funding for the social program "Hockey Ukraine" to 3.593 milliard hrivna (about 340 millions euro).

The funds will primarily be used for the construction and renovation of sports facilities with artificial ice.

Dates of the program of "Hockey Ukraine" was extended for five years - until 2017.

According to the government, with the changes will increase the number of teams participating in Ukrainian Professional League from 8-10 previously planned to 12-14
07 Oct 2012, 17:20 | Jonathan Ericsson to the Swedish third tier league
Jonathan Ericsson of Detroit Red Wings is the first NHL lock-out player to sign with a team in Division 1, the Swedish third league. He will join Vita Hästen, the club he represented as a junior, October 17.
06 Oct 2012, 19:59 | Lockout a marketing chance for small leagues?
In recent weeks many NHLers found their way to the leagues in Europe but most of them concentrated on the traditional hockey super powers like Russia, Sweden, Finland, Switzerland, Germany etc (1st and 2nd tier). After recent signings of Dustin Jeffrey (Tilburg Trappers, Netherlands) and Wojtek Wolski (KH Sanok, Poland) maybe more players use the lockout to make advertising for the fastest team sport on earth.
05 Oct 2012, 22:37 | Sweden to host 2015 Women's WC
The 2015 IIHF World Women's Championship will be played in Sweden. Venue and dates are still to be announced.
05 Oct 2012, 09:20 | Bergenheim returns to USA
HIFK's NHL lockout player Sean Bergenheim returns to USA after only two games (one goal) in SM-Liiga. He is injured and goes home to USA för rehabilitation. It is still not clear if he will return to HIFK.
03 Oct 2012, 07:46 | Frölunda second team to break agreement
Frölunda is the second of the Elitserien clubs after Modo to break the agreement between the clubs not to sign any NHL players to short time contracts during the lockout. After injuries on some key players Frölunda has signed a two-month contract with Colorado's Matt Duchene.
02 Oct 2012, 17:14 | Estonian champion out from league?
Kalev Valk Tartu, current Estonian champion, didn't appeared last Saturday in Tallinn to debut in 2012-13 Skoda League against Viiking Tallinn, citing financial problems. It's still unclear if Kalev will play the rest of the season. They lost the game 5-0 and was fined with 750 euro.
01 Oct 2012, 00:24 | HSC Csikszereda advances in Continental Cup
HSC Csikszereda/Miercurea Ciuc easily won the Continental Cup first round played at home. Romanian team finished the tournament with a perfect record and withou suffering a single goal: 15-0 and 15-0 against Baskent Yildizlari Ankara and Maccabi Metulla - Israelian team replaced forfeited CH Jaca from Spain - and 6-0 over Serbian Vitez.
Turkish team grabbed a significative second place beating 6-1 Vitez and 13-1 Maccabi.
HSC Csikszereda will now play in Landshut, Germany from 19 to 21 October with Landshut Cannibals, Belfast Giants (GBR) and Eaters Geleen (NED).
Follow Continental Cup here
01 Oct 2012, 00:01 | Dutch women takes the first step towards the Olympics
The Netherlands won the group against Poland, Slovenia and South Korea to advance to the second stage of the Women's Olympic qualification.
30 Sep 2012, 22:59 | Kölner Haie defend top position
DEL leaders Kölner Haie today defended their top position by winning 4-3 at home against the Hamburg Freezers. For the Sharks it was their 6th win in their 6th match this season. For more information on the league click here.
29 Sep 2012, 11:50 | Five-games suspension for Svitov
Salavat Yulayev forward Alexander Svitov was banned for five games for rough play against SKA forward Maxim Afinogenov. Svitov caused Afinogenov a leg injury in the third period of 27 september game and was fined with a major penalty
28 Sep 2012, 13:05 | Berkut - Companion suspended
The game of Ukranian Professional League between Berkut Kyiv and Companion-Naftogaz was suspended at 12.31 of first period due to fog on ATEK rink. The score was 2-0 for Companion. PHL decided to finish the match on September 29 at 16:30 at the same venue. The game will resume from the same time. The game originally scheduled for September 29 between the two teams was postponed to October 24.
28 Sep 2012, 07:58 | East China sea conflict causes Asia League to post-pone games
The Asia League has post-poned another set of games due to the growing Japan China conflict over a set of uninhabited islands. This weekend the Eagles were to play in China, but the league has postponed the games until the middle of November and end of December. Last week three games against the Cranes were rescheduled until January.
27 Sep 2012, 01:14 | Aleksei Shagov takes 10 games ban
Donbas Donets'k 2 forward Aleksei Shagov received 10-games ban for repeatedly using profanity and insults to a referee that gave him 10 minutes penalty plus a match penalty in the 22 September Ukranian League game against Levy L'Viv.  During the suspension, Shagov doesn't receive money for four games, then will received a 12.000 hryvnia salary until the end of suspension
25 Sep 2012, 16:12 | MODO first to break agreement - Steen plays tonight
MODO announced today that Alexander Steen of St. Louis Blues will play in tonight's game against Brynäs. MODO is the first club to sign an NHL lockout player after the agreement between the Elitserien clubs not to do so was ruled illegal.
25 Sep 2012, 11:22 | Crimmitschau signs two NHL stars
The current lockout in the NHL allows teams allover Europe to strengthen their rosters. German 2. Bundesliga club ETC Crimmitschau now signed Wayne Simmonds (Philadelphia Flyers) and Chris Stewart (St. Louis Blues) for at least the next 30 days with the help of their sponsors. The two childhood friends are expected to arrive this afternoon in the Eastern German town.
24 Sep 2012, 22:29 | Swiss Cup proposed to SIHF
During the up-coming General Assembly in November, a Swiss Cup project will be submitted to the SIHF, a tournament similar to the Coupe de France. The tournament will include clubs from the National Leagues and amateur Regio League in a knock-out format. Swiss Cup will be presented by Infrontringier who will do the marketing and television as well provide prize money to the winner. The goal is to generate even more interest in ice hockey, allow clubs to capture both a League title and National title as well as give clubs from lower levels a chance at a higher league club.
24 Sep 2012, 21:46 | Söderberg scores three
Carl Söderberg scored three goals when Linköping beat Växjö 8-3 in Elitserien tonight. Söderberg is now the scoring leader of Elitserien.
24 Sep 2012, 17:53 | Ljubljana fires head coach Heikki Mälkiä
After only six matches EBEL team HDD Olimpija Ljubljana from Slovenia fired their Finnish head coach Heikki Mälkiä. His team had only won one game so far. In the two years before Mälkia was head coach for HK Jesenice, also in EBEL. A successor has not yet been found.
21 Sep 2012, 21:29 | Riga Prisma 2 to replace Latgale
Latvian Federation Board approved tthe entrance of Riga Prisma 2 in the Latvian hockey league to replace DHK Latgale
21 Sep 2012, 15:30 | Sean Simpson will lead Switzerland in Ufa
Switzerland senior team coach Sean Simpson will lead U20 team at next IHWC in Ufa. Simpson will be assisted by Colin Muller, also named assistant coach of senior team
20 Sep 2012, 12:42 | Swift given 1 game suspension
After receiving 32 minutes in penalties related to a roughing call in Wednesday's game against the Eagles, High1 forward Michael Swift received a 1 game suspension for rule 528-h which relates to "A player who grabs or holds the face mask or helmet or pulls the hair of an opponent". He will miss the September 29 game against the Cranes in Japan.
20 Sep 2012, 04:05 | Bolzano wins Supercoppa
Bolzano Foxes win Italian Supercoppa, the opening season trophy between the champion and the winner of National Cup. Foxes won 4-3 after shootouts SG Cortina at Stadio Olimpico. This is the fouth Supercoppa for Bolzano, a record in Italy
19 Sep 2012, 22:46 | NHL announces cancellation of preseason schedule through Sept. 30
-NHL.com

The National Hockey League announced today the cancellation of the 2012 preseason schedule through Sept. 30.
The cancellation of the schedule was necessary because of the absence of a Collective Bargaining Agreement between the NHL Players' Association and the NHL.
19 Sep 2012, 15:10 | Eagles thrash High1 at home
Oji Eagles completed a three game sweep of High1 on Wednesday night when they defeated them 8-4. High1 took an early lead but saw it evaporate quickly as the Eagles tied it up by the end of the first and secured a lead mid-way through the second. Oji got two goals from Hashimoto and Takahashi while Cavosi and Saito each had 3 assits. Suh managed to get a couple goals for High1. Swift failed to get a single point during the game and was ejected early in the third period receiving a 2 minute roughing penalty, a 10 minute misconduct and a 20 minute game misconduct. Kawashima for the Eagles also took a 10 minute misconduct as part of the altercation. Despite a lop-sided second period which saw the Eagles get five goals on only eight shots, the Eagles outshot High1 49-47.
19 Sep 2012, 12:40 | Nürnberg without Aab for a long time
DEL team Nürnberg Ice Tigers cannot count with their forward Vitalij Aab during at least the next ten weeks as a result of an acromioclavicular joint separation he suffered during the season opener against Hamburg Freezers on Sunday. The 32 year old has to undergo surgery tomorrow.
18 Sep 2012, 22:46 | Pat Cortina named head coach and sports director of German national team
Canadian Pat Cortina has signed a three-year contract as head coach and sports director of the German ice hockey national team on Monday. In his first year he will continue as head coach of EHC München of DEL but after this he will concentrate on his work for the national team. He is the substitute for Swiss Jakob Koelliker whose contract wasn't extended after a dissapointing World Championship this year. Still without Cortina Germany defeated Austria 4-3 (1-1, 0-2, 3-0) today when their southern neighbours celebrated their 100th anniversary.
18 Sep 2012, 22:03 | Marc Furrer named Swiss Hockey President
During its General Assembly held in Luzern, the Swiss Ice Hockey voted Marc Furrer as the new President for the next three years, replacing Philip Gaydoul.
In addition, the General Assembly elected Pius David Kuonen as Director of Sport Competition, the charge previously occupied by Furrer.
After the confirmation of the General Assembly, Marc Furrer expressed his thanks to the body: "Thank you for this election and the confidence that you have given me. I take the direction of an association structurally and financially healthy."
18 Sep 2012, 17:13 | Halla gets three players back from Finland
Three players that went to Finland have returned to Anyang Halla. Tuesday night they announced that Donku Lee (D), Woosang Park (F), and Minho Cho (F) would be rejoining the team. After attending try-outs in Finland the three players return to Halla having only missed the first 2 games of the season.
17 Sep 2012, 22:46 | Linköping beats Rögle
In the only Elitserien game of the day Linköping beat Rögle 2-1. Goals for Linköping: Eric Himelfarb and Robin Figren. För Rögle: Fredrik Warg
17 Sep 2012, 19:41 | Latgale withdraws from Latvian League
After asking to postponed the first two games of Latvian League, DHK Latgale decided to withdraw its application, thus club won't participate in the Latvian league.
The penalty by withdrawing the team from the championship will be decided LHF disciplinary committee.
17 Sep 2012, 17:54 | Ordinary procedure against Andrei Bykov
The Judge of the elite sports' Disciplinary Court, Reto Steinmann, opened an ordinary procedure against Fribourg-Gotteron forward Andrei Bykov following a breach of Rule 540 IIHF b (charge against the head and neck) suffered by SC Bern Plüss Martin at the 19th minute of last Saturday's game.
17 Sep 2012, 17:32 | Boris Kolesnikov: "We'll build the largest arena in Europe"
The President of Donbas Donets'k Boris Kolesnikov says that in Donetsk will be built a new arena for 20.000 spectators.
"We have a budget of more than $20 million. We'll build the biggest arena in Europe. In autumn the engineering plan will be completed - explains Kolesnikov.
Currently the Ukrainian club playing in the Ice Palace Druzhba, with capacitty for 4.135 spectators.
17 Sep 2012, 15:32 | High1 shut out at home, besieged with 73 shots
Masahito was perfect for the Eagles as he turned away 48 shots for the Eagles. Inoue did his best, but couldn't withstand the 73 shot barrage from the Eagles but got away with only letting in three. Swift was kept off the scoreboard despite making eight shots, but still received two 2-minute minor penalties and a 10-minute misconducta at the end of the game for roughing. Domeki had nine shots for the Eagles but failed to find the back of the net.
16 Sep 2012, 23:44 | Färjestad beats AIK
In today's only Elitserien game Färjestad beat AIK 2-1 in Hovet. Ville Lajunen scored the winner in overtime.
16 Sep 2012, 23:41 | Four teams perfect in Extraliga
Six games were played in Czech Extraliga today. When two rounds are played Trinec, Vitkovice, Plzen and Brno all have six points.
15 Sep 2012, 17:25 | Landshut Cannibals get unusual sponsor
German 2. Bundesliga team Landshut Cannibals signed a sponsoring deal with a local brothel. In the future the players will wear warm-up jerseys with the name of the brothel "Lustra" and its logo - a kissing mouth. This gets the Cannibals 5,000€ per season. As unusual as this seems at first view, there is already some connection between the club and the brothel as it is owned by the mother of former Landshut Cannibals player Peter Baumgartner who in 2010 became DEL champion with the Hannover Scorpions.
14 Sep 2012, 11:51 | Ueno suspended for 10 games
Hiroki Ueno of the Nikko Ice Bucks has been suspended for 10 games as a result of a match penalty he recieved on Saturday night against China Dragon. Ueno received the penalty for 550-f, abuse of officials and unsportsmanlike conduct by players.
13 Sep 2012, 22:39 | Czech and Slovak leagues started
The season opener in Czech Extraliga between Pirati Chomutov and HC Kometa Brno ended 2-4 (1-0, 1-2, 0-2) while the first match of the Slovak Extraliga was won by HK Nitra 7-1 (1-0, 3-0, 3-1) against HK Orange 20, which is the Extraliga name for the Slovak U20 national team. While the Czechs continue tomorrow, Slovak fans have to wait for further game action until Sunday.
12 Sep 2012, 23:54 | DHK Latgale asked for postponement
DHK Latgale asked to Lavian Federation to postpone the first two games of the league due to the fact that the club has been unable to prepare for the championship. September 12th game against the HS Riga/Prizma and 15. September game versus HK Ozolnieki-MONARCH will be postponed
12 Sep 2012, 20:04 | Tre Kronor hires Mats Sundin as advisor
Mats Sundin and the Swedish Ice Hockey Association have agreed that during the season 2012/2013 Sundin will act as advisors for the national team (known as Tre Kronor) and the junior national teams.
12 Sep 2012, 17:32 | VMF will play in Karelia
Next October 14, the VHL game between VMF St. Petersburg and Sokol Krasnoyarsk will be played in the city of Kondopoga, Karelia.
"Karelia is waiting for arrival oh VMF. In 2001 in Kondopoga was built one of the best ice rinks in the North-West region, but hockey in the country was only at junior level. The Arrival of a such high-level team will be the best promotion of sport. I am sure that the number of children who want to play hockey to increase significantly. Karelia is a hockey region. Is building an ice arena in Petrozavodsk" said the Minister for Sports and Tourism of Karelia Alexander Voronov. Last season MHL team Silver Lion St.Petersburg played twice in Kondopoga. Both games was sold out.
12 Sep 2012, 17:21 | Vorsin confirmed as Belarusian Federation President
Evgeny Vorsin remained the President of the Belarusian Ice Hockey Federation.
According to the vice-president of the National Olympic Committee Sergei Teterin, Vorsin position was discussed with the head of the Olympic Committee, who supported the candidacy.
All the members of the Board approved
Vorsin announced his intention to leave his charge after the poor performance of the Belarusian team at the World Championship
12 Sep 2012, 16:32 | First Winter Game already gets new DEL attendance record
DEL today announced that the first ever outdoor event in the league's history, which is going to be a match between home side Nürnberg Ice Tigers and Eisbären Berlin on 5 January 2013, already set a new attendance record. With 20,000 tickets sold in the first two weaks of advanced sales the old record of 18,700 spectators in the match Kölner Haie vs Adler Mannheim on 19 April 2002 has been surpassed with almost 4 months left till the match is scheduled.
11 Sep 2012, 16:59 | KTH Krynica won´t play this season
Polish Ice Hockey Federation announces to have received a letter from the President of KTH Krynica Henryk Czarny, which informs the club won´t partecipate in Polaish Second Division this season
10 Sep 2012, 22:43 | Beybarys lost two games by forfeit
Current Kazakh champion Beybarys Atyrau is experiencing an internal crisis: after the Kazakhstan Cup final lost with Arlan, club admitted economic problems and released three of most rapresentative players, forwards Mikhail Panishin and Andrejs Smirnovs and defender Roman Teslyuk. Beybarys didn't play the first two games of Kazakhstan League against Kazzinc Torpedo alleging technical problems in filling equipment at the Ice Palace. Games counted as two 0-5 forfeits
10 Sep 2012, 18:55 | Milestone for Radulov and KHL
Scoring two points - 1 goals and 1 assist - in CSKA Moscow 5-3 victory against Donbas forward Alexander Radulov was the first player in the history of KHL to reach (and surpass) 300 points. He has now 301 (103 goals and 198 assists)
Radulov also should be the first to get the mark of 200 assists. Sergei Mozyakin (283) and Alexei Morozov (274) are the next players can get the 300 points' limit
10 Sep 2012, 14:53 | Halla injuries short term
Yong-jun Lee is expected to recover in about 2 weeks, while Jin-ho Jeon is expected to be able to return to the ice after 3-4 days rest after being carried from ice on a stretcher Sunday night in Anyang.
09 Sep 2012, 23:46 | Rouen wins Match des Champions
French champion Dragons de Rouen won the Match des Champions on Saturday evening in Cholet against the 2012 Coupe de France winner Ducs de Dijon with 3-1 (0-0, 2-0, 1-1). Rouen had earned a three-goal lead through Jonathan Janil, Ilpo Salmivirta and David Fredriksson. At 58:57 Peter Valier only could score the consolidation goal for Dijon. For Rouen it was the second Match des Champions won after 2010.
09 Sep 2012, 00:53 | Vladislav Serov died
Former Ukrainian forward Vladislav Serov, who played for the national team of Ukraine at the Olympic Games in 2002 in Salt Lake City (USA) and the World Championships in 2004 in the Czech Republic, suddenly died at 35 for unknown causes
Formed in famous Kharkov Druzhba-78 hockey school,Serov played for Ukraine at the World Junior Championship and then spent almost his entire career in North America, playing for various teams in AHL, UHL, IHL and ECHL. In 2003-04 played for Italian Appiano scoring 22 points in 18 games. In 2006-07 - his last active season - Serov won Ukranian title with ATEK Kyiv
08 Sep 2012, 23:59 | Dynamo honored Korolev and Karpovtsev
Before the match against Yugra, Dynamo Moscow raised the jerseys of Igor Korolev and Alexander Karpovtsev - both died in the Lokomotiv plane crash - under the arches of Luzhniki Palace
In addition was raised also a separate flag dedicated to the Lokomotiv Yaroslavl
08 Sep 2012, 23:53 | Andre Payette to lead Great Britain U20
Andre Payette has been appointed as the Great Britain Under-20s coach and will lead the youngsters at the 2013 World Championship next December.
The 36-year-old has been in charge of English Premier League side Sheffield Steeldogs since mid-way through the 2010-11 season.

Payette said: "I am very excited and honoured to be named head coach for the Great Britain Under-20s national team. Great Britain has been my adoptive country for the last nine years and I am thrilled to be able to give something back to British ice hockey, which has given me so much.
08 Sep 2012, 23:49 | Medvedev: Zagreb and Milan, the next step
KHL president Alexander Medvedev spoke briefly about future KHL expansion teams: "The next step: Zagreb and Milan. They fully comply schedule and prepare to join the League already in season 2013/14. And hopefully Togliatti: Lada is a team with a rich history that should not disappear from the map of Russian Hockey"
08 Sep 2012, 15:23 | Red Devils win NZIHL
The Canterbury Red Devils beat Southern Stampede 6-5 in the final of the 2012 New Zealand Ice Hockey League. Valery Konev scored the Birgel Cup winner in the shoot-out.
06 Sep 2012, 17:15 | Match des champions in Cholet
France Federation announces the Match des Champions between the French champion Rouen Dragons and the winner of French Cup Dijon Les Ducs will be played in Cholet the next September 08
06 Sep 2012, 17:01 | NLB, no more play-off à la carte
With eight votes in favour and two against, the Swiss NLB clubs decided to change the playoffs system for the upcoming season. The right for the best teams to choose the opponent was canceled and the new system will be the most common: first vs eighth, second vs seventh etc.
It will be created also a NLA/NLB commission to introduce a new system of promotion/relegation between the two leagues. Many clubs are in favour of NLB champion´s direct promotion without the current playouts against the last team of NLA
05 Sep 2012, 19:39 | Belarus Open League starts with Zhlobin win
The Belarusian league stared today today with the game Metallurg Zhlobin - Neman Grodno. The home team won 6-5 after five points by Konstantin Baranov and four by Dmitri Igoshin.
04 Sep 2012, 23:19 | Brad Leeb receives 3-games suspension for punch
Coventry Blaze forward Brad Leeb has received a three-match ban for his sucker punch during his side's challenge match at Sheffield Steelers on Saturday 1st September 2012.
Leeb will miss three matches, one of which has already been served, against Sheffield Steelers, Cardiff Devils
and Dundee Stars
04 Sep 2012, 23:06 | Coupe de la Ligue starts
French League Cup started with two games between Dijon and France U20. Ligue Magnus team won yesterday 5-2 and today with same score. Follow Coupe de la Ligue stats and results here
04 Sep 2012, 21:28 | Former player Nikolai Fedyashev killed
Former player Nikolai Fedyashev, 29, was killed on September 02 outside a night club in Samara, Russia.
Fedyashev and a friend fought with people of Caucasian nationality inside the bar. In the street Fedyashev dealt a mortal blow to the throat with a knife. His friend also suffered stab injuries and is now in intensive care.
In his career he played hockey for the CSK VVS Samara, Kristall Saratov and Lada Togliatti in Russia. He played also in Kazakhstan, Slovakia, Hungary and closed active career in Romania
Recently, Fedyashev coached team Vympel
04 Sep 2012, 20:10 | Hamburg without Aubin for six weeks
DEL club Hamburg Freezers can't count with their Canadian forward Serge Aubin for the next six weeks. The 37-year old veteran received a broken thumb in the European Trophy game against Eisbären Berlin on Sunday. The OP was scheduled for today.
03 Sep 2012, 13:32 | DEL introduces power breaks
Beginning with the new season Germany's highest professional ice hockey league DEL introduces power breaks for every game. After 8 minutes of play there will be a 90 second break that can be used for better advertisement by the clubs. This is already standard in most professional top leagues and at IIHF World Championships. A positive side effect is that players get more time to refresh and therefore the fans will get to see the best players more often on the ice. A power break has to be delayed in case of a power play to avoid unfair competition.
03 Sep 2012, 01:51 | Fife Flyers wins Scottish Autumn Cup
Fife Flyers were crowned the Scottish Autumn Cup champions beating 7-3 in the inaugural final the Braehead Clan. Canadian new forward Jason Pitton was the star of the game, scoring four goals and serving one assists. Great Britain National Team forward Robert Farmer, having recently joined Braehead Clan after an unsuccessful stint in Kazakhstan, noted two goal
02 Sep 2012, 17:33 | Sweden-Finland U17 games
Sweden U17 and Finland U17 played three games in Åmål Aug. 31-Sept. 2. Sweden won all three; 6-3, 4-3 (SO) and 3-2.
01 Sep 2012, 15:58 | Today was the start of the new MHL season
In the season opener of Europe's most important youth competition, the Russian-based Molodezhnaya Hockey League, between last year's winners Omsk Hawks and finalists Red Army Moscow team the hosts from Omsk won 2-1 (0-0, 2-0, 0-1) this afternoon.
01 Sep 2012, 11:35 | Shawn Hunwick has to leave Salzburg
EC Red Bull Salzburg from Austria used a release clause to end their contract with American goalie Shawn Hunwick early. In three European Trophy games the former one-time NHL player had a save percentage of 92.5 per cent.
31 Aug 2012, 10:39 | Poll: What league are you most excited about?
With league hockey beginning next weeek, the waiting has an end. But what league are you most excited about. Answer our new Facebook poll here.
30 Aug 2012, 22:24 | A new arena opened in Gorki
Last Saturday the city of Gorki, Belarus, received a new ice arena: opened by Prime Minister Mikhail Myasnikovich, the arena has capacity of more than 560 spectators and also includes a sports hall for indoor soccer, volleyball and handball for 370 spectators. The new complex will host an icehockey schools
30 Aug 2012, 13:28 | Dinamo Riga wins LDZ Kauss
In the final of LDZ Kauss on Wedneseday the Latvian hosts Dinamo Riga won against their KHL rivals Lokomotiv Yaroslavl with 3-1 in Arena Riga. Just one day earlier Lokomotiv had won the last group match between the two teams with 4-1. Finnish SM-liiga side Espoo Blues took the third place after defeating Atlant Mytischy 3:2 in the shootout. The following awards were given to the best players of LDZ Kauss.

Tournament MVP: Karsums (Riga); Best Goalie: Jučers (Riga), Best Defender: Vishnevsky (Atlant), Best Forward: Kalyuzhny (Lokomotiv)
29 Aug 2012, 17:02 | Jan Marek honoured in Magnitogorsk and Prague
Czech forward Jan Marek, died in Lokomotiv Yaroslavl's plane crash, had his jersey #15 retired by Metallurg Magnitogorsk during a ceremony at Romazan Tournament, currently helding at Metallurg Arena. Marek played in Magnitogorsk from 2006 to 2010.
In Prague, the City Council decided to dedicate a street to the three Czech players died in the crash: along with Marek, also Karel Rachunek and Josef Vasicek will have a street with their name
29 Aug 2012, 16:56 | Yunost signs farm agreement with Dinamo
Yunost Minsk, recently admitted in VHL, signed a partnership with KHL Dinamo Minsk for the 2012-13 season to act as farm team. Yunost can receive a maximum of six players from the head club.
29 Aug 2012, 09:40 | DEL Winter Game and DEB cooperate
The organizers of the first ever DEL outdoor match, the DEL Winter Game, which is going to be held in Nürnberg, 5 Januar 2013, and the German ice hockey federation DEB agreed to cooperate during the event. 50 cents of every ticket go to the DEB for youth development. In return DEB is going to promote the game during national team games and online.
28 Aug 2012, 20:39 | Georgia will have a training camp in Turkey
Genclik Spor Club announces that club and Georgia National Ice Hockey Team will do a joint training camp from September 15 to October 10.
"I think this is a great opportunity for both clubs" said Genclik coach Keith McAdams. "We will practice separately and play scrimmage or game each night"
28 Aug 2012, 17:46 | Sweden-Denmark games canceled
Sweden and Denmark had planned to play two games in September but Swedish Head Coach Pär Mårts has cancelled the games because the Elitserien clubs did not want to give the players a break reports Swedish newspaper Expressen.
27 Aug 2012, 19:57 | Innsbruck retires Rem Murray's number
HC Innsbruck announces team decides to retire the jersey #17 to pay homage to Rem Murray, retired this summer. Canadian forward played three season with Innsbruck. Murray is the third player to have his number retired by the club, after # 14 Greg Holst and #31 Claus Dalpiaz.
27 Aug 2012, 19:44 | Vinnyts'ki Haydamaky opts out Ukranian League
According to the channel "Hockey", during the meeting of Ukranian Professional League Executive Committee, Vinnyts'ki Haydamaky Vinnytsya announced team won't play in upcoming League due to lack of funds. Thus PHL will allign seven clubs: Donbas Donets'k 2, Sokil Kyiv, Berkut Kyiv, Companion Kyiv, Levy L'viv, Dynamo Kharkiv and Bilyỹ Bars Brovary.
27 Aug 2012, 19:35 | HK Mogilev out of Belarus League?
HC Mogilev sent a request to Federation to postpone the date of payment of the entry fee for partecipating in 2012/13 Belarussian open League
The club stressed that at the moment do not have the required amount. The Federation Executive Committee agreed to wait until October 1.
27 Aug 2012, 12:32 | Kölner Haie win Amsterdam tournament
DEL team Kölner Haie won the final of the ERU Prestige Amsterdam Icehockey Cup in the Ziggo Dome in Amsterdam against their league competitors Krefeld Pinguine with 6-0 (3-0, 2-0, 1-0). A selection of Canadians playing in Europe beat the Dutch national team 6-3 in the game for the third place.
26 Aug 2012, 02:52 | Poland appointed another Russian coach
After having named Igor Zakharkin as National Team coach, Polish Federation announces the hiring of 41-year-old Andrei Parfyonov as head coach of Under 20 team. He will also be involved in working with Under 18 squad.
Parfyonov coached CSKA Moscow Juniors teams, SKA Novopolotsk in Belarussian League and more recently VMF St. Petersburg in VHL. The Russian coach will lead Poland at WJC Division Ib in Donets'k, Ukraine from 10 to 16 december
26 Aug 2012, 02:44 | Amur Khabarovsk wins twice against Japan
KHL Amur Khabarovsk win today 3:1 (1:1, 1:0, 1:0) Japan National Team in the second friendly match between teams. Dmitri Shitkov scored 2 goals and Igor Ozhiganov completed the score. In the first match, Amur won 4-0 (2:0, 2:0, 0:0)
25 Aug 2012, 17:24 | Set for World Junior Club Cup final
Both the North American teams qualified for the finals of the World Junior Club Cup in Omsk. Waterloo Black Hawks (USHL) was down 4-3 win one second to go of the semi final against Linköping of Sweden but tied it and won the game 5-4 in shoot-out. Sudbury Wolves (OHL) won the other semi final 5-2 against Dinamo-Shinnik Bobruisk of Belarus.
25 Aug 2012, 01:32 | Spengler Cup program unveiled
The program of the 2012 edition of the Spengler Cup, which takes place from December 26 to 31 in Davos, was releaved. Like in last edition, the six teams were divided into two groups, named Torriani and Cattini.
Invited as special guest for its 75th anniversary, HC Fribourg-Gotteron will have the honor of playing the opening match against Russian Salavat Yulaev Ufa on December 26 afternoon. At night Team Canada and Adler Mannheim will open the Cattini group.
Czech HC Vitkovice Steel completes the group Torriani while host HC Davos is the third team of Cattini Group. Here the complete fixture
25 Aug 2012, 00:48 | Polesie Cup cancelled
Belarusian Ice Hockey Federation reported the traditional international tournament Polesie Cup this year won't be played
"In connection with the participation of the national teams of Austria, Belarus, Denmark, Latvia, Norway, Ukraine, Slovenia, France and several other countries in the qualifying tournament for the 2014 Olympics in Sochi, the international calendar of the season 2012/2013 was extremely rich, and a tournament "Polesie Cup" this year is not possible" reported the press release
25 Aug 2012, 00:43 | Belarus Cup final moved from Minsk Arena to Bobruisk
Due to many requests from Gomel fans, Federation decided to move Belarus Cup Final from Minsk to Bobruisk. Game will be played on September, 1 and entrance will be free
24 Aug 2012, 10:04 | Brawl ends Znojmo test game early
A match of EBEL team HC Orli Znojmo against SK Horácká Slavia Trebíc of the 1. Liga - 2nd tier in Czech ice hockey - was ended after only 35 minutes by the referees. When Trebíc was leading 3-2 a brawl including players on the bench occured and for safety reasons the game was stopped immediately and not continued. 
24 Aug 2012, 00:36 | World Junior Club Cup semi finals
Dinamo-Shinnik Bobruisk won Group A of the World Junior Club Cup ahead of Waterloo Black Hawks. Group B was won by Linköpings HC with Sudbury Wolves as runner-up.
In Saturday's semi finals Dinamo-Shinnik will play Sudbury and Linköping will play Waterloo.
23 Aug 2012, 16:06 | Former Italian League President dead
Current Alleghe Vice-President Nilo Riva, 67, tragically dead falling in a ravine during an excursion on the mountains near native Alleghe. Riva was the first President of LIHG (Italian Icehockey League) from 2008 to 2012 and former Alleghe President
22 Aug 2012, 23:00 | Metallurg Zhlobin and Gomel are the Belarus Cup finalists
By beating Neman Grodno 2-3 at SO, Gomel is the second finalist of Belarus Cup, joining current champion Metallurg Zhlobin, qualified last Monday. The final will be played at Minsk Arena on September, 1. Review Belarus Cup results and statistics here
22 Aug 2012, 18:07 | World Junior Club Cup - Day 5
Joshua Leivo scored a hat-trick with only short-handed goals when Sudbury Wolves beat Denmark 7-2 in the World Junior Club Cup. In the other game in Group B HIFK beat HK Riga 3-2. Linköping and Sudbury have qualified for the semis.
Group A is still open. After today's games Waterloo Black Hawks - Norway 5-3 and Karlovy Vary - Dinamo-Shinnik 3-2 four teams are tied with 6 points.
22 Aug 2012, 13:20 | DEL approves supervisory board
At their general assembly in Straubing the DEL, Germany's top professional ice hockey league, approved a two-year extension of the tenure of its director Jürgen Arnold. The other members of the supervisory board - Daniel Hopp (Mannheim), Ulrich Voll (Straubing) and Wolfgang Brück (Iserlohn) - will also continue in their positions.
21 Aug 2012, 19:59 | Latvian League clubs announced
The LHF announces the 8 clubs of the Latvijas Virslīga for this season: SK Liepājas Metalurgs II, HK Ozolnieki/MONARCH, DHK Latgale, SMScredit.lv, HK Zemgale/JLSS, HS Rīga/Prizma, HK Juniors and SK Rīga'96. HS Rīga/LSPA and Lithuanian side Elektrēnu Energija won't participate. The league is scheduled to start 12 September 2012.
21 Aug 2012, 17:13 | World Junior Club Cup - Day 4
Linköping were outshot 39-14 but beat HIFK 3-2 to become the first team to qualify for the semi finals of the World Junior Club Cup in Omsk. The home team Omsk Hawks beat Karlovy Vary 4-1.
20 Aug 2012, 20:25 | World Junior Club Cup - Day 3
The North American teams, Waterloo Black Hawks and Sudbury Wolves, both won big in their first game of the World Junior Club Cup in Omsk. But in the second game both lost.
Today Omsk, Linköping, Dinamo-Shinnik and HK Riga won its games. When all teams have played two games only Dinamo-Shinnik and Linköping have 6 points.
20 Aug 2012, 17:51 | Pushkaryov comes back to Barys
Kazakh forward Konstantin Pushkaryov cancelled the contract signed in early summer with Spartak Moscow and comes back to Barys Astana, his former club. The reason for the breach of contract wasn't revealed
20 Aug 2012, 13:14 | First round of DEB-Pokal has been drawn
On Saturday the German Ice Hockey Federation, DEB, has drawn the first round of the DEB-Pokal, the national cup competition for teams of the 2. Bundesliga and Oberliga along with the national men's U20 team. The first round is to be played Sunday, 16 September 2012. There was a lot of confusion whether Oberliga Nord participant Adendorfer EC is allowed to take part in the competition or not. By mistake the ice hockey federation of Lower Saxony had told them they had qualified for the tournament, but this information turned out to be incorrect. When 2. Bundesliga team Bremerhaven said they would not play if Adendorf could take their seat this was also not permitted by the DEB as other teams would have the right to take the spot first. An overview of the first round you can find here.
19 Aug 2012, 16:53 | World Junior Club Cup - Day 2
On the second day of the World Junior Club Cup in Omsk the North American teams entered the competition. Waterloo Black Hawks of USHL beat HC Energie Karlovy Vary 5-0 while Sudbury Wolves (OHL) beat HIFK Helsinki 9-1.
18 Aug 2012, 17:59 | World Junior Club Cup - Day 1
The World Junior Club Cup started today in Omsk. Karlovy Vary beat Norway U20 3-1 in the first game. Other results: HIFK-Denmark U20 4-2, Omsk Hawks-Dinamo-Shinnik Bobruisk 1-2 and Linköping-HK Riga 4-1.
17 Aug 2012, 15:09 | ServusTV and laola1.tv announce first live games (EBEL)
The TV partners for the multi-national EBEL have chosen in a first round the games each channel will show until 30 September 2012. Servus TV starts with the season opener between the two finalists of the 2012 playoffs, EC KAC and EHC Liwest Black Wings Linz on Friday, 7 September 2012 (19.30h). After that ServusTV shows one game on Sunday and laola1.tv one game on Friday. Servus TV also broadcasts the game between Medvescak and Vienna on Sunday, 16 September 2012 (20.30h) in the 2000 year old Arena Pula. A detailed overview of these matches you can see on the websites of both channels.
17 Aug 2012, 13:07 | Ari Sulander gets farewell game
ZSC Lions' legendary goalie from Finland, Ari Sulander, ended his career this April after 14 years and 4 Swiss championships with the team at the age of 43. Now he gets honoured with a farewell game by his long-time club that will take place Saturday, 29 September 2012. A team led by Sulander will face a selction of Swiss players to play 2x 20 minutes during the afternoon. Later on the same day the ZSC Lions will play their regular season game against  HC Ambrì-Piotta.
16 Aug 2012, 17:09 | Dinamo Riga signs cooperation with Jokipojat
Dinamo Riga has signed a cooperation agreement with Finnish club Jokipojat Joensuu, playing in Mestis League.Under the terms of this cooperation, Dinamo players can play for Jokipojat with the possibility at any moment to be called back to Riga. The first players going to Finland were defender Martins Jakovlevs and forward Vitaljs Pavlovs.
16 Aug 2012, 08:50 | Rapid Solicitors and EIHL continue partnership
In a press release the top professional ice hockey league in the United Kingdom, the EIHL, announced that the law firm Rapid Solicitors will continue also in the 2012-13 season as league sponsor. The official name of the league therefore stays "Rapid Solicitors Elite Ice Hockey League". Martin Ward, the commercial manager of Rapid Soliciors, told eliteleague.co.uk: "Ice hockey fans will know Rapid from watching the games around the UK and on Sky. We hope they'll support us in return. We need that to continue our investment."
14 Aug 2012, 19:08 | Bilyy Bars Brovary will play in next PHL
At the Executive Committee of PHL held in Kyiv on August 13, Bilyỹ Bars Brovary confirmed its partecipation in next Professional Hockey League. "Now we have a new, very solid sponsor" said Bilyỹ Bars Director.
The only team still unsure if partecipate is Haydamaky Vinnitsa. The situation, according to team director Valery Lukyantsev, will be resolved shortly. "I can say at now the budget is provided by 25-30 percent. It is not enough to engage in championship. We have to find the necessary money over the next 10 days to form a team" said Lukyanets.
14 Aug 2012, 18:33 | 2013 Challenge Cup of Asia in Thailand
The 2013 Challenge Cup of Asia Senior Men will be held in Thailand during the 3rd week of March 2013, as decided during the Asian Strategic Planning Group meeting in Macau. The meeting also determine that Senior and U18 Challenge Cup will be held in alternate years. 2013 is for seniors in Thailand and U18 will in held in March 2014.
14 Aug 2012, 15:52 | Dornbirn and Zell am See agree about cooperation
The Austrian clubs Dornbirner EC of the EBEL and EK Zeller Eisbären of the new second-tier Inter-National League (INL) become partners. Both teams want to work close together regarding youth hockey but also players of both senior teams will have the chance to play in either EBEL or INL.
13 Aug 2012, 20:40 | SKA St. Petersburg and Toros Neftekamsk win pre-season tournaments
The President of Kazakhstan Cup came at the right time for KHL participants SKA St. Petersburg. With four wins in four games they dominated the tournament. Other KHL teams that played in the cup were Barys Astana and Yugra Khanty-Mansiysk along with the most traditional Kazakh team Kazzinc-Torpedo Ust-Kamenogorsk and a "B" version of the Kazakh national team.

Already yesterday the Lada Cup ended. In a tournament of four VHL teams Toros Neftekamsk won the final 2-1 against HC Sarov. The other two participants were Lada Togliatti and Dizel Penza. Lada won the game for the 3rd place 3-0 against Dizel. A detailed overview you can find here.
13 Aug 2012, 17:47 | Konstantin Plaksin changes his name
Traktor Chelyabinsk 21-year-old defender Konstantin Plaksin decides to change his surname assuming his mother's one: Klimontov.
"I have a very good relationship with my father, so there is no subtext here. Just a desire to change his surname." commented Plaksin
12 Aug 2012, 20:00 | Poll: In which country do you want to see KHL next?
Let us know you're opinion on this topic. See our new Facebook poll.
12 Aug 2012, 19:42 | Lokomotiv game cancelled
Today's pre-season game EHC Visp-Lokomotiv Yaroslavl was cancelled beacues Visp had eight injured or ill players.
12 Aug 2012, 03:14 | Sébastien Beaulieu new goalies' coach for France
Geneve Servette goalies coach Sébastien Beaulieu signed a three-years deal with France Federation. Canadian coach will be the supervisor for national team, U20, U18 and U16 teams goalies'.
11 Aug 2012, 17:34 | U18 teams preparing for Memorial of Ivan Hlinka
Four U18 teams played games today preparing for the prestigious Memorial of Ivan Hlinka tournament that starts on Monday. USA beat Slovakia 6-0 and Czech Republic beat Canada 6-3.
11 Aug 2012, 11:12 | Herperger injured, Maki retires
Hannover Scorpions of the DEL lose two players - one for a couple of weeks, the other one permanently. Scorpions forward Chris Herperger has been diagnosed with a damage of his meniscus after joining the team recently. The 38 year old will have to wait four weeks before he can be on the ice again. At the same time Ryan Maki suddenly decided to end his career at the young age of 27. The former Harvard graduate prefers to take a job in the business world.
10 Aug 2012, 20:35 | Alexandre Rouleau suddenly retires
French-Canadian defender Alexandre Rouleau suddenly announces his retirement from active hockey to become General Manager of QMJHL Val d'Or Foreurs, the team where he spent four seasons before to play in France for five seasons, one in Briançon and four in Grenoble. Last april he signed a two-years contract with Allsvenska's Vasteras but he didn't appeared at training camp. Vasteras management is considering to sue Rouleau.
10 Aug 2012, 20:22 | Vladimir Vasiliev passed away
The former Russian national coach Vladimir Vasiliev passed away on Wednesday in Moscow at the age of 71. He was well-known as a player and coach both in his native country and Europe. In Germany for example he worked as a head coach for the DEL teams Kölner Haie and Nürnberg Ice Tigers.
10 Aug 2012, 18:33 | Aleksandr Savitsky new coach of Ukraine U18
Aleksandr Savitsky was named as new Ukraine U18 national team headcoach, replacing current Sokil Kyiv coach Aleksandr Godynyuk.
A former national team defender, Savitsky, 41, lead Ukraine U20 team in 2010-11 and currently works in Kyiv Ldinka hockey school. "The logic of our actions is clear : we are focused on those coaches who are working in the with players born in 1995-1996, we want to give a chance to prove himself" - said President of the Federation Anatoly Brezvin.
10 Aug 2012, 12:54 | Elitserien pre-season
Two Elitserien teams played their first pre-season game last night. Both against opponents of the Swedish second league HockeyAllsvenskan The 2012 Champion Brynäs lost 1-3 to Almtuna while Linköping beat Södertälje 3-2 in overtime.
09 Aug 2012, 10:05 | EBEL transfer update
After having been released from his try-out contract with Lev Praha, Hungarian national team player Istvan Sofron continues his career in his old team SAPA Fehervar AV19 of the multi-national EBEL. Newcomers Dornbirner EC signed the Canadians John Hecimovic (Nippon Paper Cranes, Asia League) and Michael Henrich (Asiago, Italy).
08 Aug 2012, 09:22 | Lake Placid update
Sweden U20 beat Finland U20 8-2 at the U.S. National Junior Evaluation Camp in Lake Placid. William Karlsson scored 3 goals and Viktor Arvidsson 2.
07 Aug 2012, 20:22 | U17 results
Czech Republic U17 beat Germany 7-0 and Slovakia beat Switzerland 3-2 (shootout) on the first day of an 5-nations U17 tournament in Czech Republic. USA will enter the tournament tomorrow.
06 Aug 2012, 18:21 | Arlan wins home tournament
Arlan Kokshetau wins all games of the home tournament against HK Astana (5-2), Arystan Temirtau (4-1) and Zauralie Kurgan (2-1).
Best Goalkeeper: Vitaly Evdokimov, Arlan
Best Defender: Sergei Yakovenko, Arystan
Best Forward: Askhat Rakhmatullin, Zauralie
05 Aug 2012, 02:14 | Sofron released by Lev Praha
HC Lev Praha, the first ever KHL team from the Czech Republic, released István Sofron from his try-out contract. The Hungarian national player was the best goal scorer in last year's EBEL season but couldn't convince the coaching staff. His future destiny remains unknown.
04 Aug 2012, 19:10 | Ingolstadt with new GM
DEL club ERC Ingolstadt announced that 47-year old Karl-Heinz Schapfl becomes the new GM of the club. He was the sales manager for Bosch in Bavaria for 25 years. He substitutes Jürgen Arnold and Reinhard Büchl who shared the position for the last three years. They will keep their jobs in the advisory bord of the Bavarian club.
03 Aug 2012, 18:59 | Two players for try-out in Cologne
DEL team Kölner Haie gave try-out contracts to former NHL player Nathan Robinson from Canada and Ales Kranj who represents Slovenia internationally. In both cases a decision regarding the signing of a one-year contract will be made after the pre-season has ended.
03 Aug 2012, 12:23 | Ljubljana vs. Stavanger test postponed
HDD Olimpija Ljubljana and the Norwegian champion Stavanger Oilers were scheduled to face each other on Sunday, 12 August 2012 but as the Norwegians can't come earlier than Monday, 13 August the game was postponed until Tuesday, 14 August (19.15h). Both teams will participate also in the pre-season tournament in Bled (Rudi-Hiti-Sommercup, 16-19 August).
03 Aug 2012, 10:30 | Fischer gets long break
German national player Christopher Fischer will miss most part of the next season. The defender of DEL's Grizzly Adams Wolfsburg was diagnosed with a cartilage damage which he received during the 2012 World Championship.
02 Aug 2012, 20:00 | Sweden U20 beats Czechs twice
Yesterday the Swedish U20 team beat Czech Republic U20 7-1 in Norrtälje. Today the Swedish team won 7-0. Next week the Swedes will play USA and Finland in Lake Placid.
02 Aug 2012, 09:27 | ServusTV and laola1.tv pick first live games
The new tv partners for the German DEL have chosen in a first round the games each channel will show until 4 November. Both channels are going to broadcast the season opener between Kölner Haie and Krefeld Pinguine on 14 September 2012 (19.10h) together. After that ServusTV shows one game on Sunday and laola1.tv one game on Friday. A detailed overview of these matches you can see on the websites of both channels.
31 Jul 2012, 09:14 | Germany invited to 100th anniversary of ÖEHV
The German national team has been invited by the Austrian Ice Hockey Federation (ÖEHV) to play a test game on 18 September 2012 to celebrate the 100th anniversary of the Austrian federation. The venue for the game still has to be announced by the Austrians in the next weeks.
28 Jul 2012, 19:27 | Magnitogorsk beat Nizhny Novgorod
Metallurg Magnitogorsk was down 2-0 and 3-1 against Torpedo Nizhny Novgorod in today's pre-season game in Füssen, but managed to get back to win 4-3. Denis Platonov scored the winner at 57:45.
26 Jul 2012, 20:59 | René Fasel re-elected
The 124th IOC Session in London re-elected IIHF President René Fasel for another four years on the IOC Executive Board.
25 Jul 2012, 14:19 | Forbes billionaire to become new Dynamo Moscow president?
Russian media are confident that Gagarin Cup holder Dynamo Moscow will change their management. №1153 of Forbes rating Arkady Rotenberg can replace current President Mikhail Tyurkin. Arkady Rotenberg and his brother Boris called to be member of Putin judo pool, and the two brothers have a controlling block of shares of SMP Bank who is a sponsor of KHL.
23 Jul 2012, 22:22 | Yakupov signs with Edmonton
NHL first draft pick Nail Yakupov today signed an entry level contract with the Edmonton Oilers. Other NHL news todays was that Rick Nash was traded from Columbus to New York Rangers in exchange for Tim Erixon, Artem Ansimov and Brandon Duchinsky.
23 Jul 2012, 00:50 | Bristol out of ENL
Bristol Pitbulls have announced they're withdrawing their ENL1 South team for next season, though they will ice a team in Division Two
21 Jul 2012, 23:19 | Leonid Vaisfeld: Metallurg will play in KHL
Metallurg Novokuznetsk General Manager Leonid Vaisfeld briefly commented the club situation after a meeting with President Sergei Kuznetsov.
"Sergei told me the budget for this season. And will be modest".
According to Vaisfeld the club won't play in VHL, as suggested by League Board, but will continue in KHL: "Kuznetsov said that the Kemerovo Oblast will keep the team in the KHL"
21 Jul 2012, 23:13 | Jan Laco broke collarbone and needs surgery
During the first Donbas Donets'k training camp in Finland Slovakian goalie Jan Laco - Eurohockey.com player of the months for April/May -  broke his left collarbone and need surgery to be done as early as Monday in Bratislava, where the goalkeeper was rushed.
"We will take all necessary measures. Three hours later he was sitting on the plane, heading to Slovakia. I immediately got in touch with the leaders of Slovak Ice Hockey Federation and its president, Igor Nemecek, and, of course, with a doctor who will be engaged in treatment for Jan - said coach Julius Supler - We are waiting for good news and a successful operation. I cannot say the exact date of recovery, because it is a fracture with displacement. This data will be announced after the operation"
20 Jul 2012, 18:55 | Petri Matikainen is new Avangard Omsk coach
As rumoured in last week, Finnish Petri Matikainen, 45, is the new Avangard Omsk headcoach. He signed a three-years contract and replacing countryman Raimo Summanen, resigned some weeks ago. Matikainen coached Pelicans Lahti and Espoo Blues in the past, and HIFK Helsinki last season. He was also Finland national team assistant coach in last two World Championships
19 Jul 2012, 22:25 | Colorado Avalanche sign affiliation with Cutthroats
The CHL expansion team Denver Cutthroats announced they have entered into an affiliation agreement with the National Hockey League's Colorado Avalanche.
18 Jul 2012, 17:00 | Kloten Flyers get license
The Kloten Flyers will play the next NLA and are definitively saved.
The Swiss Ice Hockey Federation has issued to the club a license provided that Kloten submit a monthly report on the finances.
18 Jul 2012, 16:46 | Juris Opulskis new GM at Dinamo Riga
Juris Opulskis was appointed as new Dinamo Riga GM during the Management Board meeting on July 17. A former player, Opulskis, 43, had previously served a similar function at Juniors Riga and HK Riga, Dinamo's farm clubs.
He replaced Normunds Sejejs who has left the club last April after four years to became the general manager of new Lev Prague.
18 Jul 2012, 00:27 | No candidates for Belarusian Federation Presidency
Two days before the meeting of Belarusian Federation to elect the new President after the resignation of Evgeny Vorsin, no one fill the application as candidate. Deadline expired last Saturday. This means that the election, scheduled for July 19, would not take place in any case. Tentatively, the vacancy will close after the London Olympics.
16 Jul 2012, 20:23 | Kloten bankruptcy cancelled
Odyssey for Kloten is ended: the Bülach District Court canceled the bankruptcy of the company EHC Kloten Sport, The final granting of the license to compete in NLA 2012/2013 is expected in the next days.
To support its decision, the judge handling the case of bankruptcy has highlighted that the EHC Kloten Sport SA has provided convincing evidence dating from July 13. He also added that sanitation was successful and that the debts of April 30 and June 30 had been eliminated.
16 Jul 2012, 19:08 | All clubs get license in France
The French Federation publishes the clubs who are validated to play this season, as well as the punishments and clubs under surveillance of transfers and money spending.
All clubs in Ligue Magnus are validated though most of them have sanctions against them, Angers, Epinal, Gap, Mulhouse, Strasbourg are under surveillance.
All but Annecy and Mont Blanc have been validated from Division 1, Mont Blanc is going to appeal the decision. Montpellier is under surveillance
From Division 2, everybody but La Roche-sur-Yon is validated and club will appeal the decision, nobody under surveillance
16 Jul 2012, 18:58 | Dusan Gregor new coach at Sokol
VHL team Sokol Krasnoyarsk announces the new coach for next season will be Slovakian Dusan Gregor, fired last January from Dukla Trencin.
Gregor, 50, coached Trencin, Skalica, Kosice, Martin and Zilina in Slovakia and Liberec in Czech Republic, winning a title in 2003-04 with Dukla Trencin when he was elected Coach of the Year. He also lead Slovakia U20 at 2005-06 WJC.
13 Jul 2012, 21:53 | CSKA Moscow signs farm team agreement with THK Tver
THK Tver, debuting this season in VHL, will be the farm team for CSKA Moscow, as announced by CSKA GM Sergei Fedorov: "Team Tver and the city pay great attention to hockey. And they conveniently monitor our kids, that is we are looking for." said Fedorov. The agreement is for a year
12 Jul 2012, 21:10 | Maccabi Metulla replaces Jaca in Continental Cup
Israeli champion Maccabi Metula will replace forfeited CH Jaca in first round of Continental Cup, held in Miercurea Ciuc, Romania, from 28 to 30 September. Maccabi will play with host HSC Csikszereda, Vitez Belgrade (Serbia) and Baskent Yildizlari Ankara (Turkey).
12 Jul 2012, 18:24 | Kuban Krasnodar will be Vityaz farm team
Newly formed Kuban Krasnodar will play in next VHL as Vityaz Chekhov farm team. Last season HK Ryazan was the Vityaz affiliate
12 Jul 2012, 18:01 | San Francisco Bulls become Sharks affiliate
New expansion ECHL team San Francisco Bulls announced they have been named the ECHL affiliate of the San Jose Sharks. The Bulls have also been named the ECHL affiliate of the American Hockey League's (AHL) Worcester Sharks. The Bulls will serve as the primary ECHL developmental team for the San Jose and Worcester Sharks.
11 Jul 2012, 22:11 | Kloten will host Memory Night
On 4.August at 19.00, the Kloten Flyers will host Memory Night for all those who lost their life in the 7.September, 2011 Lokomotiv Yaroslavl air crash. The Flyers will play a match and do a skill competition against Hockey All-stars, a made up of both current and former stars. All money raised will go towards Lokomotiv, for more information please visit event website here
Purchase tickets: here
11 Jul 2012, 18:08 | Kloten Flyers receives one week more
The bankruptcy court of the Bülach District extended for one week more the extension of bankruptcy proceedings of Kloten Flyers. This should be the last before the rescue of the club.
The new investors Philippe Gaydoul and Thomas Matter have received the majority of shares and all conditions are now set for new capital to be injected into the company EHC Kloten Sport.
The legal representative of the SA, Daniel Hunkeler, said that a further extension would not be necessary.
11 Jul 2012, 17:27 | Polish Federation names coaches' staff
During the last meeting of Polish Ice Hockey Federation, the Board named the coaches' staff, excepted the head coach that will be nominated later. The national team assistents will be Marek Ziętara and Jacek Płachta. Both coached in last Polish League: Zietara at MMKS Podhale Nowy Targ and Plachta at champion KH Sanok.
Jarosław Morawiecki will be the new coach of U20 team, Tomasz Demkowicz of the U18 team and Marek Kozyra will lead women team.
11 Jul 2012, 11:01 | Asplöven to HockeyAllsvenskan
Asplöven HC from Haparanda has now officially been announced to replace Borås in Sweden's second tier HockeyAllsvenskan. Borås was relegatad due to financial reasons and Asplöven who finished third in the qualification round was first in line to replace them.
10 Jul 2012, 22:50 | Anton Belov suspended three months for doping
Avangard Omsk defender Anton Belov takes a three-month suspension for doping from disciplinary committee of the Russian Anti-Doping Agency (RUSADA). The period of disqualification is from 21 April to 21 July, it means Belov won't miss any game in next season. Belov was found positive during playoffs final and was suspended.
Few days ago another player, SKA St. Petersburg Maksim Rybin, also took three months suspension for doping
10 Jul 2012, 22:27 | Timchenko elected new KHL Chairman of the Board
SKA St. Petersburg President Gennadi Timchenko - one of the richest businessmen in Russia with a fortune estimated in 9.1 billion dollars - was elected Chairman of the Board of Directors of KHL replacing Vyacheslav Fetisov.
- I am truly glad that I can be useful to the Russian hockey. In five years the League has achieved great success and brought together in its ranks not only Russian but also foreign clubs. I hope that my extensive experience in business, enthusiasm, professional attitude will help to raise the KHL and the Russian ice hockey to an even higher level of quality - said Timchenko.
09 Jul 2012, 20:44 | Germany selects Bietigheim-Bissingen to host Olympic qualifications
The German Ice Hockey Association named Bietigheim-Bissingen host of Group D of the Final Olympic Qualification, 7-10 February 2013.
The tournament that includes neighbour Austria, Italy and a qualifier will be played in the new Ellentalarena that is currently being built beside the old ice rink and will have space for about 4,000 spectators.
The Latvian Hockey Federation (LHF) previously announced to host Group E at Arena Riga. The other participating teams are France, Kazakhstan and a qualifier.
The third group of the Final Olympic Qualification will be hosted at a venue to be determined in Denmark with Belarus, Slovenia and a qualifier being the other teams.
09 Jul 2012, 19:08 | Kazakhstan Cup groups announced
Kazakhstan Cup Groups were announced: as in the last edition teams will play splitted in two Groups, the winner of each group will play the final. All competition will be held in Astana from 22 to 28 August
Group A:
Ertis Pavlodar
Arlan Kokshetau
Gornyak Rudny
Sary-Arka Karaganda
Barys-2 Astana
Group B:
Beybarys Atyrau
Arystan Temirtau
Kazzinc-Torpedo-2 Ust-Kamenogorsk
HK Astana
HK Almaty
09 Jul 2012, 18:41 | Nicklas Lidstrom hired as Red Wings scout
Former Detroit Red Wings defenseman Nicklas Lidstrom, retired in last May, will operate as team scout. The Red Wings announces that Lidstrom would likely be based in Europe.
09 Jul 2012, 18:38 | Reading Royals become Capitals and Bears affiliate
The Reading Royals of the ECHL, the Washington Capitals of the National Hockey League and the Hershey Bears of the American Hockey League jointly announced that they have entered into an exclusive affiliation arrangement, under which the Royals will receive players designated for assignment within the professional hockey operations development systems of the Capitals and Bears
"We are very pleased to announce our new ECHL affiliation with the Reading Royals," said Capitals' General Manager George McPhee. "The Royals are a first-class organization where our prospects will be playing in an environment that will help them develop to their ultimate potential. We feel the proximity to both Washington and our AHL affiliate in Hershey will be beneficial to all three clubs."
07 Jul 2012, 19:37 | Raimo Summanen left Avangard
Less then one month from the announce of extension of his contract, Finnish coach Raimo Summanen suddenly resigned from his charge. Avangard President Aleksandr Sterligov states that this decision was quite a surprise and put the club in a difficult position: The decision of Raimo Summanen clearly puts the club in a difficult position and there is no reason to break a contract seven days before the start of preseason. Because we always start from the presumption of full responsibility for the parties to their commitments." According to some sources Summanen decided to leave Avangard due to disagreements about the composition of the roster.
There are rumours about HIFK Helsinki coach Petri Matikainen as possible replacement
06 Jul 2012, 22:17 | Morozov will be 2013 Universiade ambassador
Ak Bars captain Alexei Morozov will be the ambassador of the 2013 Universiade to be held in Kazan from July 6 to 17.
"I am very pleased to enter into the Universiade family. This will give an enormous development of sport in Russia. In Kazan there are now many sports facilities that have changed the city" said Morozov.
06 Jul 2012, 18:39 | Tom Renney moves to Detroit
Tom Renney signed a two-years contract as assistant coach for the Detroit Red Wings. In the last two seasons Renney was Edmonton Oilers' Headcoach
05 Jul 2012, 00:10 | ZSC Lions hire Marc Crawford as new coach
Former Colorado Avalanche, Vancouver Canucks, Los angeles Kings and Dallas Stars coach Marc Crawford was named the new ZSC Lions headcoach. He signed a two-years contract. His assistant will be former Canada and Calgary Flames assistant coach Rob Cookson. They replaced another Canadian duo, Bob Hartley and Jacques Cloutier.

04 Jul 2012, 20:47 | MOL Liga suffered withdrawals
Two clubs applied to join 2012-13 MOL Liga announces they won't enter in the competition: Slovak HK 38 Dubnica did not got the approval from the Slovakian Federation, while Slohokej Liga champion Partizan Beograd can't solve the problem of ice availability to ensure a proper preparation for the season.
In addition also regular partecipant Steaua Rangers Bucharest won't compete due to uncertain status of the ice-hockey department of the club. Previously Sapa Fehérvár AV19 announced its farm team was disbanded.
So MOL Liga will start in September with 7 teams: Hungarian Dab.Docler Dunaújváros, Ferencváros Budapest, Miskolci Jegesmedvék and Újpesti TE Budapest, Romanian ASC Corona Brasov and HSC Csíkszereda/Miercurea Ciuc and the Slovak Ice Tigers Nové Zámky
03 Jul 2012, 20:16 | Spengler Cup participants named
Today the Spengler Cup officials released the names of the participants for this year's Spengler Cup. Favourite for the tournament win is Salavat Yulayev Ufa (KHL). The other participants are Adler Mannheim (DEL), host HC Davos and Fribourg-Gottéron (both NLA), HC Vítkovice (Czech Extraliga) and a team consisting of Canadian players.
03 Jul 2012, 20:07 | Koelliker no longer German head coach
The one-year contract of Jakob Koelliker as head coach of Germany's men's national team has not been extended. The Swiss national was heavily criticised for the weak impression of his team during the 2012 World Championship in Finland and Sweden. A successor has not been named yet by the German ice hockey federation.
02 Jul 2012, 23:29 | Ryazan changes coaches
HC Ryazan announces team will have a new coaches' staff for the upcoming season. New head coach will be former Soviet Union defender Anatoli Fedotov, while his assistant will be Nikolai Davydkin. former coaching staff, Oleg Kurin, Oleg Barsukov and Konstantin Frolov should remain in team staff
02 Jul 2012, 22:03 | LEV Praha launches the official website and sets up price of tickets
Today, the brand-new KHL club LEV Prague has launched its official website on www.levpraha.cz. Simultaneously the organization also announced the ticket prices for the next season. Fans can buy a season-ticket starting on €177, the single-game tickets price moves in region of €10.
02 Jul 2012, 14:23 | Radulov signs with CSKA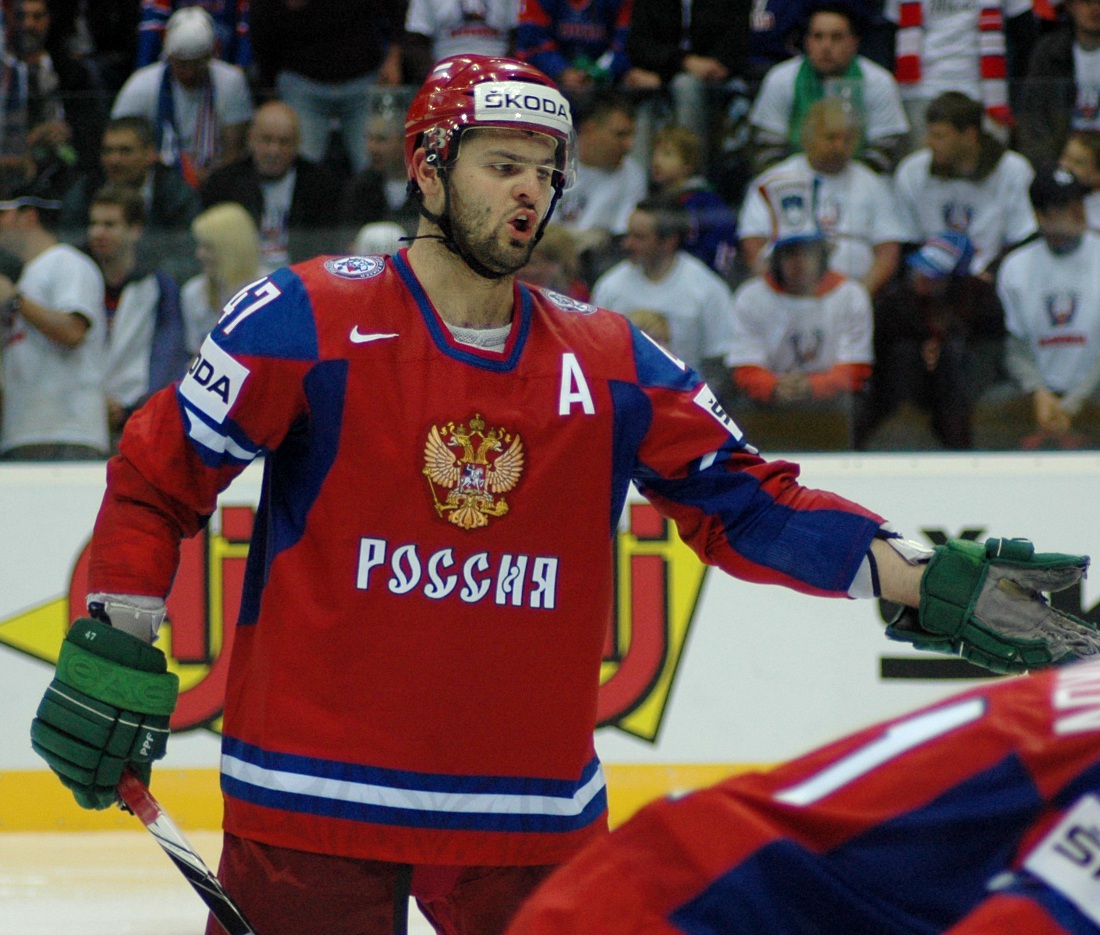 Alexander Radulov today signed a four year deal with CSKA Moscow.
29 Jun 2012, 17:10 | Remir Khaidarov dies in fire
35 year-old Rubin Tyumen defenseman Remir Khaidarov died on the night of June 29 while on vacation in his native Kazan. There was a fire in his house and Khaidarov rushed upstairs to rescue his family. At this point the roof collapsed. Khaidarov played 187 games for Rubin, winning the VHL title in 2010-11. He played also for Ak Bars, Neftekhimik and Neftyanik Almetyevsk.
27 Jun 2012, 22:05 | Borås not allowed to play in HockeyAllsvenskan
Borås HC has been relegated from the Swedish second tier HockeyAllsvenskan due to bad finances. The club wasn't granted the elite license that is needed to play in any of Sweden's top two divisions. The board of Borås had announced that they will appeal against the decision.
27 Jun 2012, 18:57 | Timo Lahtinen named SC Miercurea Ciuc coach
Finnish Timo Lahtinen, 65, is the new coach of MOL Liga SC Miercurea Ciuc. This is the second stint of Lehtinen in Romania, he already coached Sport Club in 2008-09 season when team won MOL Liga
26 Jun 2012, 22:27 | Taipei Wolves win CIHL
Beating 2-1 and 6-3 the Taipei Raptors in the playoffs finals, Taipei Wolves win Chinese Taipei Ice Hockey League (CIHL) Open Division Title. Wolves' Mike Lin was named playoffs MVP. Typhoon clinch Development Division title beating Tu Gou in the final
26 Jun 2012, 20:48 | Washington Capitals get new coach
After one season in Tampa Bay and two seasons behind the New Jersey Devils' bench as an assistant coach, Adam Oates has his first job as head coach. He has signed with the Washington Capitals, replacing his former teammate Dale Hunter.
26 Jun 2012, 16:44 | News from Polish Federation
In the first Board meeting after the elections, Polish Federation takes some decisions:
- National team headcoach Wiktor Pysz was fired and will be replaced with a foreign coach appointed in the next few weeks. Also Marian Pysz left his charge as head of national coaches, replaced by Tomasz Rutkowski.
- Wojciech Mądrala is the new referees coordinator
- The women prequalification tournament for Sochi 2014 Winter Olympics will be held at the end of September 2012 in Jastrzebie.
- In the season 2012/13 teams partecipating in Polish Hockey League can have six foreign players. In the First Division club can register 3 foreigners in next season and none in the following seasons.
- Season 2012/13 will begin on 9 September in Katowice, where GKS will face the Polish champion Sanok.
- Every team must allign minimum four youth players (five in First League) and maximum five players over 35 years
26 Jun 2012, 14:23 | KHL games in USA
SKA and Dynamo will play two KHL games in New York at the Barclays Center January 19 and 20.
23 Jun 2012, 01:26 | Yakupov picked first
Russian forward Nail Yakupov was picked as first overall by the Edmonton Oilers when the 2012 NHL Entry Draft started. More information will be found here on eurohockey.com later. Complete draft results will be found here later.
22 Jun 2012, 23:45 | Ted Nolan continues as Latvia coach
Despite a not brilliant World Championship, Latvian Federation decides to extend for one year the contract with Canadian coach Ted Nolan
22 Jun 2012, 23:29 | Norfolk signs farm agreement with Anaheim
Anaheim Ducks has signed a cooperation agreement for the next season with the current AHL champion Norfolk Admirals. The duration of the contract isn't specified. In the last two seasons Syracuse Crunch was the Ducks' farm club while Norfolk acted as Tampa Bay Lightning affiliate since 2007.
21 Jun 2012, 00:34 | Yunost Minsk want to join VHL
Yunost Minsk sent the documentation to VHL applying to join the league from next season 2012/13. Application of the Belarusian team will be considered by the leadership of the league before the end of July. The decision on Yunost admission will be taken at a meeting of the Board.
20 Jun 2012, 23:31 | Andrei Shayanov will coach Avtomobilist
Former Kazakhstan and Barys Astana head coach Andrei Shayanov was named new head coach of KHL Avtomobilist Yekaterinburg
20 Jun 2012, 23:06 | Rio Grande Valley Killer Bees cease operations
The Central Hockey League announced that the Rio Grande Valley Killer Bees have notified the league that they will not operate during the 2012-13 season.
"The economics of playing in the Valley are no longer financially viable. With the loss of Laredo for this coming season and losses of close rivals such as Corpus Christi and Austin in recent years have created a larger financial burden than the team can bear" said Killer Bees President Trey Medlock.
The Killer Bees joined the Central Hockey League in 2003
20 Jun 2012, 08:49 | Karlsson signs new contract
- senators.nhl.com
The Norris Trophy finalist Erik Karlsson and the Ottawa Senators agreed today on a new contract that will keep him in Canada's capital for the next seven seasons, clearly establishing the 22-year-old Swede as a franchise cornerstone for the foreseeable future. The signing comes less than three weeks before his July 7 wedding in Göteborg.
18 Jun 2012, 17:10 | Pirati Chomutov joins European Trophy
Pirati Chomutov replaces Slavia Praha in the 2012 European Trophy.
18 Jun 2012, 11:39 | Three teams in the U.K. sign new defencemen
It's been a busy day in the EIHL, as three of the leading teams have penned deals with North American defencmen new to the country.  Challenge Cup and Playoff champions, Nottingham Panthers, have announced the signing of Jason Beckett. Beckett, who split last season with Västervik IK and Kallinge-Ronneby IF in Sweden. Cardiff Devils have agreed a deal with former HC Alleghe and SC Riessersee defenceman Tyson Marsh, who ended last season with the Alaska Aces of the ECHL. Finally, Coventry Blaze have signed former EfB Ishockey defenceman Mike Egener. Egener, who racked up a mammoth 235 minutes for EfB this season will give grit and toughness to the Blaze's blueline.
12 Jun 2012, 16:28 | Raimo Summanen remains at Avangard
Avangard Omsk announces the team has extended contract with Finnish coach Raimo Summanen for one year. "I thank the Avangard for giving me the chance to return to this wonderful team. Along with the players and fans, we will achieve great results! - said Summanen.
Avangard also announces the arrive from Metalurg Novokuznetsk of Leonid Vaisfeld as new General Manager. Gazprom President Aleksei Miller said the company intends to increase funding for "Avangard to 1 billion rubles a year.
11 Jun 2012, 17:34 | Belarus Cup calendar unveiled
Belarusian Federation announced the calendar for the 2012 Belarus Cup. As in last edition teams were splitted in two groups playing a single round robin from 13 to 22 august. The winner of each group will play the final at Minsk Arena on September 01. In this edition will partecipate just the Open League clubs, while in past editions also the Belarusian club competing in MHL were invited. Current Cup holder is Metallurg Zhlobin
08 Jun 2012, 16:27 | Vladimir Krikunov is the new coach of Barys Astana
62-year-old Vladimir Krikunov is the new Barys Astana head coach.
Last season Krikunov coached Ak Bars Kazan which was eliminated in the second round of the playoffs.
During his career Krikunov won the Russian League in 2004-05 with Dynamo Moscow and the the European league the following year
Krikunov was the head coach of Russian national team at the Olympics 2006 in Turin (4th place) World Championships 2005 (bronze medal) and 2006 (defeated in the quarterfinals).
At the 2002 Olympics in Salt Lake City team of Belarus led by Krikunov noted a sensational victory in quarter finals over Team Sweden.
08 Jun 2012, 16:19 | Mikhail Varnakov named Russia U20 coach
Mikhail Varnakov was appointed as the new Russia U20 coach. "I understand the responsibility to come after the success of Valery Bragin", said 54 years old Varnakov. 2We have to create a necessary connection with the senior national team. Guys need to understand the game, study the tactics to be ready for a call". In last two seasons Varnakov coached HK Sarov of the VHL. Yevgeny Koreshkov was confirmed as assistant coach.evgeny KoreshkovYevgeny Koreshkov was confirmed as assistant coach
07 Jun 2012, 18:53 | Austria hires Alpo Suhonen
Austrian Ice Hockey Federation annouces Finnish Alpo Suhonen was named new Sports Director
Suhonen, 63, was the first European-born NHL head coach in 50 years when he took over the Chicago Blackhawks on 22 May 2000. More recently he worked as Sports Manager of Kloten Flyers in Switzerland and last season at HC 05 Banska Bystrica in Slovakia
07 Jun 2012, 14:21 | Garpenlöv leaves Tre Kronor
Johan Garpenlöv quits his job as Team Manager of the Swedish national team. His contract has expired and he won't continue. It is still not decided who will replace him.
07 Jun 2012, 01:49 | Montral Canadiens fire coaches
The day after announcing Michel Therrien as head coach, Montreal Canadiens fired assistant coaches Randy Cunneyworth and Randy Ladouceur.
Cunneyworth finished the season as Montreal's interim head coach, after the team fired Jacques Martin in December, missing the qualification to the post-season for the first time since 2007
07 Jun 2012, 01:20 | Defender Bryan Rufenach died
Defenseman Bryan Rufenach, a seventh-round draft pick of the Detroit Red Wings in the 2007 NHL entry draft, currently at Toledo Walleye of ECHL, died this week while traveling in Switzerland. He was 23.
Details of Rufenach's death have not been released, but The Lindsay Post has learned he suffered a fatal electrocution.
Walleye coach Nick Vitucci said in statement: "The entire team's thoughts and prayers are with Bryan's family as they get through this difficult time. Bryan was a great teammate and would play any role asked of him."
07 Jun 2012, 00:45 | MHL awards
MHL announces the winners of annual awards:
Top Scorer: Artyom Gareyev (Tolpar Ufa) (59 games, 82 points, 28 goals, 54 assists)
Best Forward: Denis Davydov (Silver Lions St. Petersburg) (55 games, 37 goals)
Best Defender and Best +/- : Sergei Tereshchenko (Steel Fox Magnitogorsk) (35+/-)
Best Goalkeeper: Eduard Reyzvikh (Hawks Omsk) (35 games, 1.69 GAA, 7 SO)
MVP of the playoffs: Nikita Gusev (Red Army Moscow) (19 games, 33 points, 16 goals, 17 assists)
Best coach: Evgeny Kornoukhov (Hawks Omsk)
05 Jun 2012, 22:45 | Michel Therrien named Montreal Canadiens new head coach
Montreal Canadiens announced the appointment of Michel Therrien as the club's new head coach. Michel Therrien spent seven seasons as head coach in the Montreal Canadiens organization from 1997 to 2003. He also coached Pittsburgh Penguins in the NHL, reaching Stanley Cup finals in 2007-08.
05 Jun 2012, 22:17 | Evgeny Vorsin resigned as Belarus Federation President
Evgeny Vorsin presented his resignation during the Belarusian Federation Executive Committee. "We have made mistakes - said Vorsin - I ask to the Executive committee to arrange an extraordinary meeting to accept the resignation of the chairman and select a new President. Possibly at the end of June, early July. My successor must be an expert or a person who could raise funds"
Vorsin was in charge from March 2010. Also national team GM Vladimir Safonov resigned.
05 Jun 2012, 21:44 | Vladimir Vujtek extends his contract
After the brillian campaign at World Championship, Slovakian Federation extended coach Vladimir Vujtek contract until Sochi 2014 Olympic Games. Original contract was signed until 2013 with a clause of automatic extension if Slovakia automatically qualified for Sochi
05 Jun 2012, 21:39 | Barys fires coach and GM
A day after having been dismissed from Kazakhstan national team, coach Andrei Shayanov and GM Nurlan Orazbayev were fired also by their club Barys Astana.
Kazakh club also named a new President, Askhat Akchurin, the former Vice President of Human Resources and Social Affairs of Barys sponsor NK KTZ
05 Jun 2012, 21:32 | SKA names minor teams coaches
SKA St. Petersburg announces the coaches of its controlled teams: in VHL' VMF St. Petersburg the new coach is Anatoli Semyonov, last two seasons at MHL Silver Lions. Assisatent coach will be Andrei Andreyev, also coming from Silver Lions. Ilya Gorbushin will coach MHL's SKA 1946
04 Jun 2012, 22:12 | Kazakhstan Federation releases dates for Cup and League
Kazakhstan Federation announces dates for upcoming season. Kazakhstan Cup will be played from 22 to 28 Agust in Astana, as last season. Kazakhstan league will start on September 08 and will finish on March 31. As last season it will be played in a triple round robin plus playoffs. Teams not qualified for playoffs and the ones eliminated at first round will play a round robin playout.
Every team must allign at least 10 Kazakh players (last season limit was eight), included one under 20 years. Finally, after the move of Sary Arka Karaganda to VHL, a new created team called Sary Arka-2 will play Kazakhstan League
04 Jun 2012, 17:21 | Vladimir Krutov hospitalized in serious conditions
The legendary Soviet hockey player Vladimir Krutov was hospitalized in serious condition according to Dmitry Shaposhnikov, General Director of the team "Legends of Hockey" where Krutov plays
After an amazing career as player, Krutov worked as CSKA Moscow assistant coach from 1995 to 2000 and head coach in 2000-2001 season. In 2002 he was appointed as Director of the State Higher School of Sports. In recent years, Krutov played in veterans' team "Legends of hockey."
04 Jun 2012, 16:49 | Andrei Shayanov resigned from Kazakhstan National team
The Kazakhstan Hockey Federation Executive Committee currently helding in Astana accepted the resignation of National team General Manager Nurlan Orazbayev and head coach Andrei Shayanov after the relegation of Kazakhstan at IHWC in Sweden/Finland
04 Jun 2012, 16:43 | Lukas Riha suspended two years for doping
Unia Oświęcim Czech forward Lukáš Říha was disqualified for two years due to positive result in doping control. He was tested after game Unia-JKH on March, 14th. Test confirmed four prohibited substances: amphetamine, methamphetamine (D-), levmethamfetamine and pholedrine. Suspension is valid for all competitions organized by the IIHF.
03 Jun 2012, 15:19 | AIHL game abandoned
Sunday night's Australian AIHL game Gold Coast Blue Tongues - Melbourne Ice was abandoned due to unsafe ice conditions. A decision is yet to be made as to what the outcome of this may be.
03 Jun 2012, 14:59 | Four new teams in VHL
The General Meeting of members of the VHL helding in Sochi discussed the admission of new members to the VHL.
After the voting, the new members officially admitted are: Buran Voronezh, THK Tver, Kuban Krasnodar and Kazakh Sary-Arka Karaganda.
Lokomotiv Yaroslavl, as a separate team from the main one, was confirmed in the League and Chelmet Chelyabinsk enters as successor of folded Mechel.
03 Jun 2012, 14:55 | Hilli new goalies' coach at Dinamo Minsk
Dinamo Minsk announces Finnish Ari Hilli is the new goalies' coach. Hilli, 44, worked last season at Metallurg Magnitogorsk
03 Jun 2012, 04:41 | LIepaja Metalurgs applies to join MHL
Liepajas Metalurgs sent a formal application for membership at the MHL.
The final decision will be taken at a general meeting of the League after the club's infrastructure inspection and verification of its compliance with the rules of the MHL.
03 Jun 2012, 04:34 | Belarus Cup Final will be at Minsk Arena
Belarusian Federation announces the Belarus Cup 2012 will be played from 13 to 22 August, and the final match will be played at the Minsk-Arena on September 1. The composition of the preliminary groups and the schedule will be announced later.
30 May 2012, 02:39 | Kloten Flyers crisis update
President Jürg Bircher and his board colleague Kurt Hildenbrand have both resigned from the club leaving their shares for compensation. The former President of the club and current leader of the task force Peter Bossert now has nothing to oppose him or his Groups. Adrian Fetscherin who was supposed to take over the club still owns 30% shares but is willing to work with Bossert.
The players have dropped their 31.May deadline to pay their wages for April and May which are around 1,5 million francs in order to give Bossert and his Group all the time they need to save the club. Kloten final deadline is 6.June before the National Leagues meeting.
28 May 2012, 18:44 | English National League changes name
English National League has undergone a name change. The word English has been dropped and the league will now been known as The National Ice Hockey league. Why the change? There have always been teams involved from Wales and now with the inclusion of a Scottish team it was thought it was appropriate to reflect all National elements of the sport within this league.
27 May 2012, 20:35 | U20 Challenge Cup of Asia starts in Seoul
Today the U20 Challenge Cup of Asia started in Seoul, Korea.
China beat Taiwan 5-2 while Russia (an MHL All-Star team) beat the home team Korea 6-0.
Tht fifth nation, Japan, enters the tournament tomorrow.
26 May 2012, 17:35 | Piotr Halasik is the new President of Polish Federation
Sosnowiec businessman Piotr Halasik is the new President of Polish Hockey Federation. He was elected by the General Assembly with 45 votes. His opponent, Jacek Chadziński, received just 12 preferences. Main sponsor of team Zaglebie Sosnowiec and owner of company Energysteel, Halasik takes over from Zdzislaw Ingielewicz.
"This job is social work. I did not come here for the position and for the money. I came here to achieve success - said Halasik - I want hockey become the second team sport in Poland, as it was in the late 70th and 80"
Kazimierz Szynal, Adam Zięba, Mariusz Wołosz, Dawid Chwałka, Andrzej Skowroński, Marta Zawadzka and Piotr Demiańczuk will form the Board
26 May 2012, 16:33 | Valery Belov on Ak Bars' bench
Ak Bars Kazan on its official website confirmed the signing of a two-years contract with Valeri Belov as new head coach. Belov acted as Ak Bars assistant-coach in last seven seasons
24 May 2012, 21:34 | Yashkin appointed as new Slovan Executive Director
Former defender Alexei Yashkin was appointed as new Executive Director of Slovan Bratislava.
Yashkin played for Khimik Voskresensk and for Czech team Vsetin for 12 seasons. Slovan hopes that the Yashkin's knowledge of the Russian hockey will help team in its first season in KHL
23 May 2012, 19:49 | HK Acroni Jesenice out of EBEL
EBEL league executives decided not to allow HK Acroni Jesenice to participate in 2012/13 EBEL season. The first ever non-Austrian team to join EBEL experienced financial problems through last few seasons. Legendary Slovenian team actually finished last in league for the last two consecutive seasons. EBEL offered Jesenice to reconstruct their financial and player situation and apply for return to league after season or two.
Two Austrian teams are joining the league – HC TWK Innsbruck is re-entering the league after three seasons. Dornbirner Eishockey Club will compete in the league for the first time.
22 May 2012, 21:31 | Gill to coach Canada at Ivan Hlinka Memorial
Hockey Canada announced that Todd Gill, head coach of the OHL's Kingston Frontenacs, will be the head coach of Canada's National Men's Summer Under-18 Team for the 2012 Memorial of Ivan Hlinka tournament, scheduled from Aug. 13-18, 2012 in Piestany, Slovakia and Breclav, Czech Republic.
22 May 2012, 17:03 | Gazovik youth team changes name
Gazovik Tyumen of MHL announces club chage name and is now called Legion Tyumen.
"The new name will emphasize the fact that MHL club are from local players. In addition, the former name of the team, Gazovik, was not quite adequate to the spirit of youth hockey" explains club in a press release
21 May 2012, 20:14 | Dornbirn wants to join EBEL
At the EBEL clubs presidents' meeting EC Dornbirn has applied to join EBEL today. The club said that with the help of businesses and politics from the province a plan for long term participation in the league has been put up.
21 May 2012, 19:54 | Avtomobilist will continue to play in KHL
with 11 votes in favour and 8 against the KHL commission voted to keep Avtomobilist Ekaterinburg in the KHL in the upcoming season. Deputy chief of governor of the Sverdlovsk region, Ilya Ananiev said Governor Evgeny Kuyvashev held talks with business entities that are willing to contribute financially.
19 May 2012, 15:44 | Steve Spott Named Head Coach of Canada for WJC in Ufa
Hockey Canada announced that Steve Spott, head coach and general manager of the OHL's Kitchener Rangers, will be head coach of Canada's National Junior Team for the 2013 IHWC U20, scheduled for December 26, 2012 to January 6, 2013 in Ufa, Russia.
Spott will be joined on the coaching staff by assistant coaches Mario Duhamel (Drummondville, QMJHL), Don Nachbaur (Spokane, WHL) and Andre Tourigny (Rouyn-Noranda, QMJHL).
18 May 2012, 21:35 | New coach at Severstal
Andrei Nazarov was appointed as new coach of Severstal Cherepovets. Nazarov was on Vityaz Chekov bench in last two seasons
18 May 2012, 20:48 | Fort Wayne Komets join the ECHL, Dayton Gems ceased
Current CHL champion Fort Wayne Komets announced that the franchise has withdrawn from the Central Hockey League and has been admitted as a member of the ECHL. The Fort Wayne membership will take flight with the 2012-13 ECHL season.
The Dayton Gems announced they were ceasing operations and that a new team playing in Federal Hockey League will be estabilished in Dayton.
Along with the move of Evansville from CHL to ECHL, these changes reflect the end of two-year agreement between the CHL and the defunct International Hockey League (IHL). Among the former IHL teams Bloomington Blaze and Quad City Mallards have signed long-term CHL agreements, while Dayton, Evansville and Fort Wayne are no longer affiliated with the CHL.
17 May 2012, 21:23 | Evansville IceMen join the ECHL
The ECHL announced that the Board of Governors has approved the Expansion Membership application of the Evansville IceMen for admission to the ECHL.The IceMen will become a member club of the Eastern Conference/North Division which will be comprised of the Cincinnati Cyclones, Kalamazoo Wings and Toledo Walleye. Under a special two-year agreement, the Evansville IceMen, as an IHL entity, operated their franchise in the Central Hockey League in the 2010-11 and 2011-12 CHL seasons.
17 May 2012, 19:58 | New Denver franchise is named Cutthroats
The Central Hockey League's new Denver franchise announced today the team name will be the Cutthroats. The Cutthroats begin to play in October 2012 at the historic Denver Coliseum.
17 May 2012, 17:56 | World Championship ended for Lehtonen
Finnish goalkeeper Kari Lehtonen, injured in the third period of the match with USA, will no longer play at home World Championship
Due to a knee injury Lehtonen will miss up to three weeks. The recovery will take place in Finland, then he'll fly to America for further exams.
17 May 2012, 16:46 | Nottingham Lions retired their number #7
The Nottingham Lions have announced the retirement of the number 7 jersey, as forward Chris Colegate revealed he is quitting hockey after twelve years with the club.
It is the first time any Lions player has received the honour.
17 May 2012, 00:39 | CSKA appoints Valery Bragin as headcoach, Sergei Fedorov is new GM
Rosneft Group, the new owner of CSKA Moscow, decided to completely renew team staff. The new headcoach is Valery Bragin, in last two seasons on Russia J20 bench. He will be assisted by former Dallas Stars Sergei Zubov, last season at SKA St. Petersburgh with the same function, and Vyacheslav Butsayev that terminated the season as CSKA interim head coach. Sergei Fedorov hangs up the skates at 42 and become new General Manager
17 May 2012, 00:24 | Donbas, LEV and Slovan officially admitted to KHL
President of the KHL Aleksandr Medvedev said that the clubs LEV Praha, Donbas Donets'k and Slovan Bratislava will play next season in the KHL
According to the gazeta.ru, the question of partecipation in next KHL of Avtomibilist Yekaterinburg and Vityaz Chekov, but with economic troubles will be examined in late May.
15 May 2012, 23:15 | Set for WC quarter finals
The quarter finals of the 2012 World Championship will all four be played on Thursday. Canada-Slovakia and USA-Finland in Helsinki and Russia-Norway and Sweden-Czech Republic in Stockholm.
15 May 2012, 19:56 | Niederreiter injured
The Swiss forward Nino Niederreiter (New York Islanders) will miss tonight's game against USA due to an ankle injury.
14 May 2012, 22:31 | Vitali Koval injured
Belarusian goalie Vitali Koval suffered an injury during the second period against France adn was replaced by Dmitri Milchakov. Is still unclear if Koval will be available for tomorrow game against Canada. Recall that Belarus has just two goalies after the Andrei Mezin sudden departure
14 May 2012, 12:11 | Anssi Salmela suspended
Finland's defenseman Anssi Salmela has been suspended for three games by the IIHF Disciplinary Panel. Salmela was suspended for a boarding hit on team USA defenseman Alex Goligoski.
14 May 2012, 11:13 | Kari Lehtonen injured
Finland's goalie Kari Lehtonen sustained a lower body injury. Lehtonen is out of Team Finland's line-up until further notice.
14 May 2012, 01:30 | Slovakia adds Hovorka
Slovakia completed the roster adding the 25th player: 28 years old Kladno forward Marek Hovorka.
13 May 2012, 18:04 | Bäckström joins Team Sweden
More WC reinforcements from Washington Capitals. Nicklas Bäckström will join Team Sweden and will arrive in Stockholm on Tuesday.
13 May 2012, 16:31 | Bezina suspended
The IIHF Disciplinary Panel has suspended Switzerland's defenceman Goran Bezina for two games following his checking to the head and neck area on France forward Anthony Guttig.
13 May 2012, 16:31 | Ovechkin and Semin join Russia
The strong Russian team is unbeaten in the WC so far. Now the team will be even stronger as Alexander Ovechkin and Aleksandr Semin will join the team since Washington Capitals has been eliminated from the NHL playoffs.
13 May 2012, 14:27 | Daugavins and Rocco under review
Two alleged spearing incidents, one involving Latvian forward Kaspars Daugavins in the Latvia-Norway match and the other coming from Italian forward Vincent Rocco during the Italy-Sweden game, are currently under review by the IIHF Disciplinary Committee.
12 May 2012, 12:33 | Franzén ready to play but will be rested tonight
Sweden's Johan Franzén, who broke his nose against Russia yesterday, says he is ready to play against Italy. "You don't get slower with a broken nose."But coach Pär Mårts says he will rest him: "We should beat Italy without him."
11 May 2012, 21:44 | Bartulis suspended
Latvian defenceman Oskars Bartulis has been suspended one game for his penalties on Tomas Mojzis and Milan Michalek during a game against the Czech Republic. He will miss Saturday's match against Norway.
11 May 2012, 07:14 | IHWC ends for Armin Helfer
During the morning training Italy defender Armin Helfer broke his collarbone and says goodbye to World Championship. He is the second defender, after Cristiano Borgatello, Italy lost due to injury.
10 May 2012, 22:30 | Olten hires Scott Beattie as head coach
EHC Olten announces Italo-Canadian Scott Beattie will be the new head coach for the next season. Beattie, 44, played in Switzerland, Germany and Italy. He started coaching career in native Kimberley, Ontario. In last two seasons he worked at Tri City Americans in WHL previously as assistant coach and last season as associate coach
10 May 2012, 21:53 | Switzerland lost Rubin
Geneve Servette forward Daniel Rubin won't play anymore in this World Championship. During the third period of the match with Canada he was hit in the face by a puck and broke a bone. He already had a surgery
10 May 2012, 21:37 | Teams add players
Many teams decide to add players: Sweden will count on Nashville Predators forward Patric Hörnqvist, Canada adds St. Louis Blues defenceman Kris Russell, Belarus added Dynamo Minsk forward Andrei Mikhalyov, defenceman Michael Eskesen of the Odense Bulldogs joins Denmark, Italy calls defenceman Roland Hofer (Peliitat Heinola) and finally Slovakia adds Södertälje goalie Julius Hudacek as third goalkeeper
10 May 2012, 21:25 | Russia adjusts roster
Russia adds to roster CSKA Moscow defender Yevgeny Ryasensky and Yugra Khanty-Mansiysk goalie Mikhail Biryukov and cut forward Vadim Shipachev and defender Konstantin Korneev
10 May 2012, 13:53 | Team Finland will pay tribute to the late hockey legend Pekka Marjamäki
In today's game against France Team Finland will pay tribute to the late Finnish hockey legend Pekka Marjamäki who passed away last night.
Before the game a moment of silence will take place and the Finnish national team will wear black armbands in the memory of Marjamäki.
Pekka Marjamäki represented Finland in 251 international games and was chosen to International Ice Hockey Federation's Hall of Fame in 1998.
10 May 2012, 03:14 | Ak Bars Kazan Vice President in serious conditions
Ak Bars Kazan Vice President Ravil Shavaleev is currently in critical care unit of the Republican Hospital in serious conditions after been falling down from the third floor
"Shavaleev was hospitalized with a fractured pelvis and multiple bruises after falling from the third floor of the hospital, where he was screening. Circumstances of the accident are currently being investigated," - said an hospital source, refusing to further comment on his condition.
Shavaleev works at Ak Bars since 2004.
09 May 2012, 19:08 | Alleghe announces new coach
Alleghe Hockey announces American Tom Pokel as new coach for 2012-13 season. Pokel, 45, coached Aquile Pontebba in last three seasons and in April served as Netherlands assistant coach at World Championship
09 May 2012, 16:40 | Russia adds Yevgeny Biryukov and officially ask Ilya Brizgalov to join team
To replace Alexei Emelin, who suffered a shoulder injury during the game against Germany, Russian coach Zinetula Bilyaletdinov calls Metallurg Magnitogorsk defender Yevgeny Biryukov. Bilyaletdinov also confirms he talked last night with Philadelphia Flyers goalie Ilya Brizgalov, after his team was eliminated in NHL playoffs. Brizgalov didn't confirm his partecipation but Bilyaletdinov comments: "I still need to talk with him"
09 May 2012, 09:26 | Erat strengthens the Czechs. Jágr doesn't, Voráček doesn't know
Defender Martin Erat announced he will join the Team Czech Republic for rest of the 2012 IIHF World Championship in Finland and Sweden. The 2011-12 NHL season is over for his home-club, the Nashville Predators, since Monday. The Predators has been eliminated by the Phoenix Coyotes, but Erat decided to extend his season. The season is over also for the Philadelphia Flyers, knocked out by the New Jersey Devils. But one of Philadelphia's key forwards Jaromír Jágr told he won't strengthen the Czechs. Another Philadelphia's Czech player, forward Jakub Voráček has not made the decision yet.
09 May 2012, 03:22 | Kostitsyn brothers will join Belarus
After the elimination of Nashville Predators, brothers Andrei and Sergei Kostitsyn will join Belarus for the World Championship probably next Friday.
09 May 2012, 01:16 | Skudra at Sibir
Former Latvian goalie Peteris Skudra will be headcoach Dmitri Kvartalnov's assistant coach, along with Andrei Tarasenko, at Sibir Novosibirsk. Skudra worked as goalies coach at Severstal Cherepovets last season
08 May 2012, 22:08 | Josi will come
Swiss coach Sean Simpson confirmed that Roman Josi, defenseman of Nashville Predators, will join the Swiss WC team on Saturday.
08 May 2012, 17:04 | Hosts for the 2013 World U17 Hockey Challenge named
HockeyCanada, in partnership with Hockey Quebec, announced Tuesday that Victoriaville and Drummondville, Que., will host the 2013 World Under-17 Hockey Challenge from December 28, 2012 to January 4, 2013, marking the fifth time in the tournament's 27-year history that it will be held in Québec.
08 May 2012, 15:50 | Czechs add a new player
Czechs will add Petr Koukal (Czech champion with Pardubice, now Nizhnekamsk) to the roster, he will play against Latvia. Roman Polak from St. Louis Blues will not arrive. If Philadelphia Flyers lose against New Jersey, Jaromir Jagr will be asked to come.
08 May 2012, 12:03 | Joel Lundqvist injured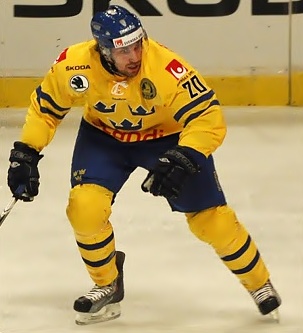 Joel Lundqvist leaves the Swedish World Championship team with a fractured cheekbone.
Lundqvist was injured after an elbowing from Jesper B Jensen during the game Sweden-Denmark yesterday.
07 May 2012, 19:33 | Slovakia and Belarus modify rosters
Slovakia finally can get in its roster San Jose Sharks forward Michal Handzus, after the medical tests. Belarus coach Kari Heikkila decided to cut from roster defender Ilya Kaznadei
07 May 2012, 16:11 | France adds two players
Today France added Loic Lamperier and Maxime Moisand to their World Championship roster.
07 May 2012, 12:54 | Simon Moser and Julien Sprunger out for Switzerland
In yesterday's game against Belarus has Swiss forward Simon Moser (SCL Tigers) sustained a knee injury.
Julien Sprunger was injured in an exhibition game against Canada April 29 and is still not fit.
The two national players will travel back to Switzerland today.
06 May 2012, 21:50 | IHWC: Kazakhstan lost forward
During the match France-Kazakhstan forward Roman Starchenko was injured after a collision with a French player. The player lying on the ice without movement for some minutes, then was carried out from the ice and hospitalized.
In the post-match press conference the head coach of Kazakhstan's Andrei Shayan said that Starchenko World Championship is ended
06 May 2012, 15:11 | Germany adds two
Germany adds Daniel Pietta and Sinan Akdag to the WC roster. Akdag is the first German World Championship player with Turkish family background.
06 May 2012, 14:52 | Vlasic injured
Canada's Marc-Edouard Vlasic will not be able to return to play at the 2012 IIHF WC with a lower body injury.
06 May 2012, 12:24 | Don't miss our live twitter from WC
We're twittering live from many of the WC games in Stockholm. Follow us @eurohockey
06 May 2012, 02:38 | Dizel Penza appoints new coach
Alexander Sokolov is the new Dizel Penza coach. He will be assisted by Vladislav Bulin as player/assistant coach and Valery Kukushkin. In last three seasons Sokolov, 56, coached Reactor Nizhnekamsk of the MHL
05 May 2012, 18:47 | Canada adds a player
Hockey Canada announced Saturday the addition of defenceman Kyle Quincey (Kitchener, Ont./Detroit, NHL) to Canada's National Men's Team roster for the 2012 IIHF Ice Hockey World Championship, bringing Canada's roster to 24 players, including three goaltenders, eight defencemen and 13 forwards.
05 May 2012, 16:55 | Sweden adds two juniors
Johan Larsson and Jonas Brodin who both was part of the gold winning World Juniors team has been added to the Swedish WC rosters following the injuries to Pettersson and Ericsson in yesterday's game.
05 May 2012, 02:47 | Coaches move in Czech Republic and Slovakia
Former Avangard Omsk experienced Rostislav Cada is the new coach of Slovan Bratislava. Cada will lead Slovak team in its first season in KHL. LEV Poprad coach Radim Rulík won't follow the team's relocation in Prague. He signs with Extraliga runner up HC Kosice.
In Czech Republic, František Výborný leaves Ceske Budejovice and signs for Mlada Boleslav while Milan Vrzal left Sparta Praha coaching staff to take the lead of Stadion Litomerice in First Division
05 May 2012, 01:40 | Jan Tlacil is the new Ajoie coach
Slovak Jan Tlacil is the new coach of NLB HC Ajoie. Tlacil was on Trinec bench last season and is known in Switzerland as coach of Ambri Piotta and SC Bern juniors in the past
05 May 2012, 01:11 | IHWC: Handzus is expected to join Slovakia
San Jose Sharks forward Michal Handzus arrived today in Helsinki and should be included in Slovakia roster for the next games.
The forward will be submitted to a medical examination to determine if he can be included in the roster.
05 May 2012, 01:01 | IHWC: Burrows injured for Canada
Forward Alexandre Burrows was injured in the first World Championship game with Slovakia.
According to coach Brent Sutter, in Burrows suffered an upper body injury. The severity of damage will be determined on May 5, after an in-depth examination.
04 May 2012, 23:22 | IHWC: Italy adds Dan Tudin to roster, Borgatello uncertain
After the opening loss against Germany, Italy can count with Italo-Canadian forward Dan Tudin (Renon) in next game against Denmark. Medical staff will check in next hours the condition of defender Cristiano Borgatello, sidelined after second period with a muscle strain. If the check is negative, coach Rick Cornacchia will call Peliitat Heinola defender Roland Hofer
04 May 2012, 22:47 | Follow the World Championship with Eurohockey.com
The World Championship started today with six games in Helsinki and Stockholm. Follow the tournament with Eurohockey.com.
04 May 2012, 22:01 | Swedish injuries
Fredrik Pettersson's WC lasted only 35 seconds. He is out from the tournament with a broken arm.
Jonathan Ericsson also left the game against Norway with an injury but is expected to play next game.
03 May 2012, 02:51 | Thomas Decock sidelined with cancer
Dijon announce that assistant captain Thomas Decock who signed an extension 12 days ago wont be ready to play come August. Decock was diagnosed with cancer and will be under going treatment for the time being, Dijon will welcome Decock back with open arms when he is ready to return to the line-up.
02 May 2012, 19:22 | New coach at Dynamo-Shinnik and Torpedo Ust Kamenogorsk
Aleksandrs Belavskis is new Dynamo-Shinnik (MHL) head coach. He spent last two season at Vännäs HC bench, in Swedish third league. He will be assisted by Aleksandr Makritsky, last year assistant coach at Dinamo Minsk, Shinnik's mother club.
Former player Sergei Mogilnikov is new Torpedo Ust Kamenogorsk coach. He lead Gornyak Rudny in last two seasons
02 May 2012, 08:59 | Sixth loss in a row for Sweden
Sweden continues to show bad for the upcoming WC on home ice. Yesterday the lost 2-3 to USA in Gävle in the last game before the tournament. USA took a 3-0 lead after goals by Jim Slater, Bobby Ryan and Kyle Okposo before Joel Lundqvist and Johan Larsson scored Sweden's goals.
01 May 2012, 21:29 | Injuries forced Kulikov and Zaripov out from IHWC
Florida Panthers defender Dmitri Kulikov and Ak Bars Kazan forward Danis Zaripov won't travel to Sweden for upcoming IHWC. Both players are injured
01 May 2012, 21:12 | Laredo Bucks suspend operations
The Central Hockey League (CHL) announced today that the Laredo Bucks have notified the league that they will not operate during the 2012-13 season. The Bucks ownership will maintain their license agreement in the league.
"The decision to cease operations was extremely difficult for the ownership group," stated one of the owners, Glenn Hart. "This is one of the hardest decisions we have ever had to make. We made every effort to avoid this outcome, but in our current position we thought this was the proper decision"
"It is a sad day for fans of the CHL and specifically Bucks fans," said Duane Lewis, CHL Commissioner. "There is tremendous history for the Bucks and for the last decade, they helped the sports world take notice of South Texas hockey. We sincerely appreciate all of their efforts over the last 10 seasons, and we will miss seeing hockey in Laredo next season."
01 May 2012, 14:31 | Big changes in Mladá Boleslav after its Extraliga relegation
As a reaction on the team's Extraliga relegation by Chomutov in the best-of-7 series, big changes occurred in Mladá Boleslav. Both coaches Petr Novák and Vladimír Hiadlovský has been resigned, the Sport Manager Milan Hnilička as well. Also all the players went through a personal interviews with the organization's top management. Regarding the Head Director of Mladá Boleslav Jan Plachý players were penalized with fines. "We need to get back to Extraliga and to reach it we need there people what would sliver themselves for the team," Plachý said to bkboleslav.cz
29 Apr 2012, 22:59 | Maccabi Metulla wins Israeli League
By beating Icebergs Bat Yam 2-1 at shoot-outs Maccabi Metulla, coached by Semion Yakubovich, wins its first ever Israeli League title. Game final flows very dramatic. In the second period, Iceberg opened the score after the team's defender Nisan Butbol going out by one on one with the Maccabi goalie Alex Aronov. With 12 seconds before the end of the game Artem Korotin (Maccabi) equalized the score. Score did not change in over time, and in the series of penalty shoot Korotin again was accurate and realized his try
29 Apr 2012, 20:33 | Postfinance continues as NLA main sponsor
PostFinance will continue to be the NLA main sponsor until 2017. Financial details of the new deal weren't disclosed
The same brand will extend its contract with Bern Arena, named PostFinance Arena, until 2018
28 Apr 2012, 23:39 | Fasel answer to German Parliament
IIHF President answered with a letter to the German Parliament request to move 2014 IHWC from Belarus. "Discrimination against members of the Federation for racial, religious or political reasons is not permitted" -said Fasel. He also commented that sports federations must follow the political neutrality.
28 Apr 2012, 23:21 | Goc and Kopecky in Sweden, Fleischmann and Cervenka out
Florida Panthers forwards Marcel Goc and Tomas Kopecky will be at the upcoming World Championship, as inform the Panthers official twitter
Goc will play for Germany, and Kopecky will defend the colors of Slovakia.
Avangard Omsk Czech forward Roman Cervenka won't be in Sweden due to an injury. He has a broken finger on his left hand. For the same injury also Florida Panthers Tomas Fleischmann won't be able to join Czech national team
28 Apr 2012, 01:05 | Dynamo trio forfeited Czech for World Championship
Dynamo Moscow forwards Marek Kvapil and Jakub Klepis and defender Filip Novak declined invitation to play for Czech Republic at next IHWC. Avangard Omsk forward Roman Cervenka is still uncertain
27 Apr 2012, 19:35 | Karlovy Vary enters in MHL, six new clubs in MHL-B
Czech team Karlovy Vary will have a junior squad in next MHL. Team's apply was approved unanimously during the general meeting of clubs participants at 2012/13 MHL.
"Karlovy Vary has an excellent infrastructure in our region. We have 9 ice hockey clubs and our own Academy. The MHL is currently the best project in the junior hockey world and is growing rapidly" - said the team director Aleksei Naumov.
At the same meeting 6 new applies were approved to enter in MHL-B: HC Dimitrov, HC Zauralie Kurgan, HC Ryazan, HC Buran Voronezh, HC Belgorod and HC Sputnik Nizhny Tagil
27 Apr 2012, 19:27 | Kronwall in, Sedin brothers out
Detroit Red Wings defender Niklas Kronvall will play for Sweden at the World Championship. Previously the player refused the invitation to the team because he is busy in building his new home. But then changed his mind and decided to postpone the construction after the end of the world championship. Vancouver Canucks' forwards Daniel and Henrik Sedin and defender Alexander Edler defender will not play for Sweden.
27 Apr 2012, 01:13 | NLA starts on September 12
Champion ZSC Lions will open the 2012-13 NLA season facing Langnau Tigers at home for a 20 round advanced game. the day after HC Lugano will travel to Zug to face home team for a second round game.
Friday September 14, finally, the first round will take place with these games:
Davos - Kloten
Fribourg - Biel
Genève Servette - Bern
ZSC Lions - Rapperswil
The Fribourg game will be confirmed if the works at the arena will be completed at that date
26 Apr 2012, 17:15 | DEL Winter Game
DEL announces today that Eisbären Berlin v. Thomas Sabo Ice Tigers will be played outdoors in easyCredit-Stadion on 5.Janurary,2013. The 50,000 seat stadium is home to 1. FC Nürnberg in Bundesliga.
26 Apr 2012, 02:33 | Bill Wilkinson moves to Australia
Canadian coach Bill Wilkinson, 65, has accepted a coaching job with the Melbourne Mustangs of the AIHL in Australia. Wilkinson has been coaching C.H. Jaca in Spain in last three season winning three consecutive championships.
25 Apr 2012, 23:44 | Players in and out for next IHWC
For Canada, besides Sydney Crosby, also Chicago Blackhawks captain Jonathan Toews declined invitation to play in Sweden: his teammates Duncan Keith and Patrick Sharp, instead, accepted the call. Also Pittsburgh trio Kristopher Letang, James Neal and Jordan Staal won't be in Canada roster. Evgeni Malkin (Russia) and Zbynek Michalek (Czech Rep.) are waiting their team authorization but both should join respective national team. Finally Daniel Sedin gives up due his recent concussion, same reason for Swiss defender Julien Vauclair forfeit, while Daniel twin brother Henrik will give a final answer this week
25 Apr 2012, 23:20 | Red Wings players at the IHWC
Besides Swedish Henrik Zetterberg, Johan Franzen and Jonathan Ericsson, Detroit Red Wings will send to World Championship Russian star Pavel Datsyuk, Finnish Valtteri Filppula, Czech defender Jakub Kindl, Slovak forward Tomas Tatar. In addition, forward Justin Abdelkader and goaltender Jimmy Howard will play for Team USA.
25 Apr 2012, 22:57 | Kari Heikkilä will coach Dinamo Minsk
Finnish Kari Heikkilä will coach Dinamo Minsk in next season. He signs a one-year contract with a renewal clause. Currently Heikkilä is Belarus national team coach. "Of course I am pleased with this invitation - said Heikkila - I would like to work in a club too. I thank the Federation for the possibility. I hope this decision will benefit the entire Belarusian hockey."
24 Apr 2012, 23:42 | Kazakhstan lost first exibithion
In the first of three consecutive games between the two teams, Italy, despite many absences - goalie Bellissimo, defenders Borgatello, Helfer, Plastino and De Marchi and forwards Tessari, Gander, N. Fontanive, M. De Toni, Egger and Iannone - wins clearly against Kazakhstan in Asiago. Before the game Kazakhstan annnounces Dmitri Upper will serve as captain at the upcoming IHWC. Talgat Zhaylauov and Vitaly Novopashin will be assistant
Italy - Kazakhstan 5:2 (2:1, 2:0, 1:1)
1:0 - Bowman (Sirianni, Rocco)PP - 02:15
2:0 - Lutz - 14:55
2:1 - Bumagin PP - 16:56
3:1 - Ansoldi (Bowman, Insam) - 20:20
4:1 - Benetti (Ambrosi) - 36:01
5:1 - Bowman (Ansoldi, Scandella) - 40:25
5-2 - Dudarev (Krasnoslobodtsev) - 52:32
24 Apr 2012, 23:05 | Landshut is 2.Bundesliga Champs
Landshut closed out the series tonight with a big 7:1 victory winning the series 4-2. Once Rosenheim took a 2-1 series lead winning both their matches in overtime, Landshut showed their dominance outscoring Rosenheim 21:7 in the last three matches. Landshut can now ask submit their paperwork to join the DEL.
24 Apr 2012, 20:11 | Crosby won't skate in Sweden
Sydney Crosby declined invitation to play with Canada at the World Championship in Sweden/Finland. Crosby's agent, says his client wants to spend next four months training and working towards next season.
This season Crosby played just 22 games due to concussions
23 Apr 2012, 23:58 | Alexandria Blizzard to relocate to Brookings, South Dakota for 2012-13 Season
The North American Hockey League (NAHL) has announced that its Board of Governors has approved the relocation of the Alexandria Blizzard from Alexandria, Minnesota to Brookings, South Dakota. Once the move to Brookings is complete, the team shall be renamed the Brookings Blizzard and compete in the NAHL's Central Division during the upcoming 2012-13 season.
NAHL also announced that would be keeping a team in Alexandria, Minnesota to play as the Alexandria Blizzard in the North American 3 Hockey League (NA3HL), an 18-team, USA Hockey Tier III-sanctioned junior league that is run by the NAHL.
23 Apr 2012, 21:06 | Beybarys win game #5 of the finals
Latvian forward Vitalijs Pavlovs was the key player in Beybarys Atyrau capital 4-1 victory against Ertis Pavlodar in Kazakhstan League Finals. With league top scorer Mikhail Panshin runs short, the former Metalurgs Liepaja was decisive with one goals and two assists. Now Beybarys leads the series 3-2 and have the first match-point next Thursday in Pavlodar
23 Apr 2012, 20:34 | Kowloon Warriors are CIHL champion
Last weekend the Kowloon Warriors were crowned the inaugural 2011-2012 CIHL Champions, winning the RBC Asia Cup after a hard-fought 2-0 shutout over the South China Sharks. The best-of-three series saw the Warriors win both Game 1 back in March 5-4 and secure the championship in last weekend's Game 2. Warriors Greg Smyth is the league Top Scorer with 29 goals and 18 assists in 14 games.
The CIHL is the 1st professional ice hockey league covering Southern China with teams from Hong Kong, Kowloon, Macau and South China.
23 Apr 2012, 17:57 | Aleksandr Steblin elected president of the Russian Hockey League
Honorary President of the Russian Hockey Federation Aleksandr Steblin was named the first President of the new Russian Hockey League (RHL), created as the highest level of amateur hockey. A former Spartak Moscow player, Steblin worked from 1994 to 2003 at IIHF marketing department and from 1997 to 2006 was the President of Russian Hockey Federation
23 Apr 2012, 16:20 | Jannik Hansen joins Denmark, Zetterberg is expected to play with Sweden
After the Canucks premature end of season, Danish forward Jannik Hansen will join Denmark to partecipate in next IHWC.
Detroit Red Wings Henrik Zetterberg declared his desire to play for Sweden in home Championship
"I'll be very glad to come home and play at the world championship. But first I need to undergo a medical examination which takes place each time after the completion of the season, and get permission from the club. If all goes well, and I'm sure, I'll play on World Cup" said Zetterberg to newspaper Expressen.se.
Two other Swedish Red Wings', defenders Jonathan Ericsson and Niklas Kronwall, expressed the desire to help Tre Kronor. Forward Tomas Holmstrom, instead, declined his partecipation citing his age.
23 Apr 2012, 15:27 | Chelmsford Chieftains ENL South Champions
Chelmsford Chieftains secured the ENL South Play-Off championship as they overcame bitter rivals Romford Raiders with a 6-2 second leg win, after the first tie had ended 4-4 the night before.
23 Apr 2012, 02:35 | Czech Republic and Belarus earn NHL players for IHWC
Detroit Red Wings forward Jiri Hudler and defender Jakub Kindl will join Czech Republic roster to play in next World Championship. Both players will play also in Euro Hockey Tour at the end of April. Also Belarus will be benefit by NHL: star player, Toronto Maple Leafs Mikhail Grabovsky, will join team to play in Sweden/Finland tournament
22 Apr 2012, 21:04 | Stanley Cup Favorites Eliminated in First Round
Pittsburgh Penguins, Favorites to take the Stanley Cup this year has been eliminated by the Philadelphia Flyers in the first round. Another win or go home game for the Penguins for the 3rd time in the series being down 3-0 things looked bad for the Pens now they are 3-2 can they make it to a game 7?

Game starts with a crushing hit on Sidney Crosby and a Flyers goal both from Claude Giroux 32 seconds into the game. giving him a franchise record for most points in a series with 15. So far this series the team that scored first has lost the game. Smart penalty killing from the flyers denies the Pens a goal. Flyers make it 2-0 on a power play with a goal by Scott Hartnell 13.01 good initial save from Marc Andre-Fleury but couldn't hold on to it. The Flyers continue to pressure the Pens in the first period, Fleury keeping the score 2-0.

Flyers make it 3-0 with a laser of a shot fromErik Gustaffson in the 2nd period. Pittsburgh finally make it on the scoreboard with a PP goal from Evgeni Malkin. Flyers respond right back with another goal from Danny Briere 1 min 26 seconds after the Pens goal. .period ends 4-1 Flyers could have been more for the Flyers but Fleury managed to put a wall up. Shots 20-19 Flyers.

Even with the lead Flyers kept maintaining pressure on the Pens Fleury was keeping the Flyers to a 3 goal lead or it would have been a lot more. Pens pull goalie for extra attacker with 3.30 to go in 3rd. Flyers put the nail in the coffin with an empty net goal from Brayden Schenn with less than 20 seconds to go in the game making the final score 5-1.

Still undetermined who the Flyers will play in the 2nd round but whoever it is, it will be a great series.
21 Apr 2012, 19:22 | Torres takes 25 games suspension
Phoenix Coyotes forward Raffi Torres has been suspended 25 games for his hit to the head of Chicago forward Marian Hossa during Playoffs quarter finals Game 3.
Hossa was briefly hospitalized and missed Game 4, and has been ruled out for Game 5.
20 Apr 2012, 22:17 | Switzerland beats Sweden again
Switzerland defeated Sweden for the second time in three days, winning 5-2 on away ice in Nyköping. Nino Niederreiter scored two goals.
20 Apr 2012, 00:21 | Dijon keeps the coach
After a very positive season, Finnish coach Jarmo Tolvanen decided to extend his contract with Dijon Les Ducs for the next season, with an option for 2013-14
19 Apr 2012, 23:40 | Dynamo legend Valeri Vasiliev passed away
Dynamo Moscow and USSR national team defender Valeri Vasiliev passed away at 63 after a long illness.
Vasiliev defended the colors of Dynamo from 1967 to 1984. In the USSR national team defender has won twice Olympic gold medal (in 1972 and 1976)and the silver in 1980, and eight gold medals at the World Championships. Vasiliev was a member of Super Series-72. In the 1998 IIHF inducted Vasiliev into Hall of Fame.
18 Apr 2012, 22:43 | Today's Euro Hockey Challenge games
Switzerland beat Sweden 4-2 and Czech Republic beat Slovakia 3-1.
18 Apr 2012, 22:10 | Almaty will have a 15,000 seats arena
Almaty Mayor Akhmetzhan Esimov, during the visit at locations of sports facilities to be built for the 28th Winter Universiade in 2017, announces the city will have a new 15,000 seats Ice Arena and two further minor ice rinks
18 Apr 2012, 21:29 | Changes in Belarus and Kazakhstan rosters for World Championship
Belarusian Yugra Khanty Mansiysk forward Sergei Demagin will miss World Championships in Sweden and Finland. Doctors not allowed to start training because of a shoulder injury.
Also Kazakh defender Aleksei Vasilchenko (Traktor Chelyabinsk) won't travel to Sweden due to injury
18 Apr 2012, 18:55 | Loko won't play in Yaroslavl next season
MHL team Loko Yaroslavl won't play in Arena 2000 next season. "We would like to have three hockey teams playing here - said Governor of the Yaroslavl region Viktor Kostin - but there are a lot of problems in sharing a unique arena between three high-level teams. Many fans regret the fact that Loko will act in a different region, but so far it's a necessary measure. There are already plans for the reconstruction of the ice palace in Rybinsk. We want to bring there Loko, but this is not in the immediate future"
18 Apr 2012, 18:49 | Nikitin and Emelin in, Chudinov out
Team Russia roster suffered another changes: Severstal Cherepovets defender Maxim Chudinov was cut from preliminary list, while Montreal Canadians' Aleksei Emelin and Columbus Blue Jackets' Nikita Nikitin, both defenders, joined the Russia training camp in Novogorsk
18 Apr 2012, 18:42 | Saku Koivu and Selanne won't partecipate in IHWC
According to Finnish site leijonat.fi, Anaheim Ducks forwards Teemu Selanne and Saku Koivu will not defend Finland in the 2012 World Championships 2012
16 Apr 2012, 20:23 | Slough Jets win English Premier League
Slough Jets won their third EPL Playoff title in five years with a comprehensive 4-1 victory over Manchester Phoenix. A double from Darius Pliskauskas and four assists from Dan Davies handed them a deserved crown.
16 Apr 2012, 19:32 | Italy cuts roster after first two games
Italy headcoach Rick Cornacchia decided the first roster reduction after the two exhibition games against France. Defenders Fabian Hackhofer (Vipiteno Broncos)and Enrico Miglioranzi (Asiago) and forwards Mirko Presti(Asiago), Simon Kostner (JYP Akatemia FIN), Diego Kostner (HC Lugano SUI) and Patrick Mair (Vipiteno Broncos) won't travel to Sweden for IHWC. Also Valpellice forward Luca Frigo won't be in Sweden due to injury. Italy will now face Kazakhstan three times in Asiago (April 24 and 27) and alba di Canazei (April 26)
16 Apr 2012, 16:21 | Fasel: "The 2014 IHWC will be in Belarus"
IIHF President Rene Fasel has assured that the IHWC in 2014, as originally planned, will be held in Belarus.
"I think the tournament will be played in Belarus. I'm sure we'll be there. The issue would be discussed at the congress IIHF in May, if the federation will make it on the agenda." - Fasel said to the agency R-Sport.
16 Apr 2012, 16:12 | Metalurgs Liepaja 2 confirmed title in Latvia but club can terminate cooperation with Dinamo Riga
By hammering 8-2 regular season winner Ozolnieki/Monarch in game #5 of finals, Liepaja Metalurgs 2 confirmed its title in Latvian League. Mārtiņš Gipters scored an hattrick. This is the fourth title in last five years for Metalurgs, two as senior team and the last two as "B" team.
During the celebrations for the title Metalurgs' Director Mikhail Vasilenok said is still unsure if club will continue to serve as Dinamo Riga farm club: ""Co-operation in this season was not as favorable as in the first season, so do not know whether we will continue to cooperate and will remain a farm club Dinamo. We had the impression Dinamo prioritised HK Riga in the MHL, assigning to them some key players when we are also fighting for access to the playoffs in Belarus League"
16 Apr 2012, 16:01 | Kazzinc-Torpedo changes coach
Oleg Bolyakin won't be on Kazzinc-Torpedo Ust Kamenogorsk bench next season. Team decided not to extend 47-years-old coach for next season and is searching for a replacement. Bolyakin arrived at Torpedo in 2010-2011 season
16 Apr 2012, 15:53 | Musatov and Zubarev left national team
Forward Igor Musatov and defender Andrei Zubarev, both from Atlant, left the Russian national team.
"Players know that unfortunately not all will go to Sweden. We wanna express our gratitude for the professional attitude of Musatov and Zubarev" commented coach Valeri Belov"
15 Apr 2012, 23:14 | Conacher voted AHL MVP
Cory Conacher of the Norfolk Admirals has been named the winner of the Les Cunningham Award as the AHL's most valuable player for the 2011-12 season, as voted by AHL coaches, players and media in each of the league's 30 member cities.
15 Apr 2012, 19:38 | World Cup; Division 1A
Ljubljana, Slovenia
Game Nr.2
Ukraine : Austria 4:5 (1:1, 2:4, 1:0)
Attedance: 1415
Scorers: 0:1 Geier M. (Herburger, Geier S., 4., PP1), 1:1 Tymonchenko (Kasyanchuk, Materukhin, 14., PP1), 1:2 Raffl (Trattnig, Ulmer, 21., PP1), 1:3 Kirisits (Herburger, Geier M., 22.), 1:4 Welser (Ulmer, Grabner, 23.), 1:5 Koch (Welser, 30.), 2:5 Pobyedonostsev (Lyutkevich, Materukhin, 33., PP1), 3:5 Tymonchenko (Pobyedonostsev , Shafarenko, 35.), 4:5 Tymochenko (Materukhin, 58., PP1)
Sthots on goal: 27:25 (8:7, 9:12, 10:6)
Penalty minutes: 20:10 (16:4, 4:2, 0:4)
The best players of the game: Daniel Welser (AUT), Oleg Tymonchenko (UKR)
15 Apr 2012, 19:30 | World Cup; Division 1A
Ljubljana, Slovenia
Game Nr.1
Japan : Hungary 1:5 (0:2, 0:2, 1:1)
Attendance: 1692
Scorers: 0:1 Magosi (Sikorcin, 6.), 0:2 Horvath A. (13.), 0:3 Sofron (Ladanyi, 34./PP1), 0:4 Kovacs (Pozsgai, 40./PP1), 0:5 Mihaly (Vas J., 56.), 1:5 Yanadori (Yamashita, 58.)
Shots on goal: 34:25 (12:11, 7:9, 15:5)
Penalty minutes: 33:12 (2:4, 29:2, 2:6)
The best players of the game: KUJI Shuhei (JPN), BALIZS Bence (HUN)
15 Apr 2012, 00:09 | First ever medal for Switzerland
For the first time ever Switzerland won a medal in the World Women's Championship when they beat Finland 6-2 in tonight's Bronze Medal Game.
14 Apr 2012, 22:58 | Mulhouse back in Ligue Magnus
Mulhouse defeats Nice tonight 4:3 to sweep the series 2-0 in the Division 1 Championship. The Scorpions complete their comeback to Ligue Magnus since 2005, the year the won the Championship and then were relegated due to bankruptcy.
14 Apr 2012, 10:21 | USA-Canada in the women's final
As expected both USA and Canada made it to the final of the World Women's Championship in Burlington, Vermont. Canada beat Finland 5-1 in the first semi final and then USA beat Switzerland 10-0. Sweden won the 5th place game against Russia 2-1 in overtime. In the relegation round Germany beat Slovakia 3-1 to stay in the top division.
14 Apr 2012, 05:06 | Barry Brust gets 8 game suspension
Straubing Tigers goalie Barry Brust was punished with an 8 game suspension for hitting Florian Busch of the Eisbären Berlin into the face when Busch scored the decisive goal in the last minute of match 4 of the DEL semifinals between the two teams. The Canadian also has to pay €2400.
13 Apr 2012, 18:53 | 14 matches for Morant
SC Bern defender Johann Morant has been suspended for 14 matches for repeadtly hitting/punching Cyrill Bühler in the head and for shoving an oficial. On top of the suspension, Morant was fined 1,000CHF.
12 Apr 2012, 21:34 | Russian roster lost two players
SKA St.Petersburgh forward Fedor Fedorov and Neftekhimik defenseman Nikolai Belov left the training camp of the Russian national team due to injuries
12 Apr 2012, 21:31 | Mats Näslund in Swedish Hall of Fame
Mats Näslund, one of only four Swedish players who has won Swedish Championships, World Championships, Olympics and Stanley Cup, has been announced as member number ten of the Swedish Hall of Fame.
12 Apr 2012, 21:04 | Dmitri Kvartalnov new Sibir coach
Former Severstal headcoach Dmitri Kvartalnov signed a two-years-contract with Sibir Novosibirsk
12 Apr 2012, 17:22 | Ceske Budejovice hires three former players as staff
After a disappointing season Ceske Budejovice decides to change the coaching staff hiring three former players: former NHLer Roman Turek was named new goalies´coach. He will work also in the marketing area due to his recognized fame. Petr Sailer hangs up the skates and becomes new sport manager´s assistant. Finally Radek Belohlav will work in the coaching staff. He was player/coach at Second Division Pisek this season. "Radek is about to start coaching career, he follows modern trends and highlights the hard work of players in the training process. That we like and want to combine his work in collaboration with a more experienced coach. We will appoint him at the beginning of summer, as well as the new sport manager" says chairman Zdenek Blazek.
12 Apr 2012, 13:39 | European Trophy schedules
European Trophy announced today the schedule for the 2012/13 season. Find the complete fixture list here.
12 Apr 2012, 10:01 | Set for VHL finals
The 2011 champion Rubin beat Dizel 5-2 yesterday to win the semi final series 4-2 and qualify for the VHL finals against Toros. Toros beat Donbass 4-0 in the other series. The finals start April 17.
12 Apr 2012, 03:02 | Hannover to stay in DEL
Hannover Scorpions owner Günter Papenburg said on Wednesday the club will be in DEL next season after long talks with Landshut about purchase of license have come to an end. Papenburg will also take over management of the club.
11 Apr 2012, 23:35 | Austria and Latvia wins
Austria beat Switzerland 3-1 in Feldkirch in Euro Hockey Challenge tonight. Latvia beat Denmark 2-1 in Odense.
11 Apr 2012, 22:51 | Mark Streit and Nino Niederreiter will play the World Championship
The Swiss stars of New York Islanders, Mark Streit and Nino Niederreiter, have confirmed that they will play the World Championship. Niederreiter will join the Swiss team April 16 and Streit April 24.
Switzerland opens their WC campaign against Kazakhstan May 5 in Helsinki.
11 Apr 2012, 20:29 | Swedish shoot-out wins in Minsk
For the second day in a row Sweden beat Belarus in shoot-out in Minsk Arena. 4-3 yesterday and 2-1 today.
11 Apr 2012, 09:54 | No Weinhandl or Mårtensson in the World Championship
Sweden's KHL stars Mattias Weinhandl and Tony Mårtensson are both injured and won't play in the World Championship. Five Swedish NHL'ers have confirmed participation: Jhonas Enroth, Linus Omark, Gabriel Landeskog, Loui Eriksson and Victor Hedman.

Mikael Backlund, Carl Gunnarsson and Mattias Öhlund are injured and won't come. Tobias Enström also said no.
10 Apr 2012, 21:14 | Latvia finalize roster for U18 IHWC
Latvian coach Leonīds Tambijevs announces the final cuts in roster for upcoming WJC U18 in Czech Republic: defenders Krists Apsītis (HS Rīga/Prizma) and Kristaps Bazevičs (Alaska Avalanche, USA) and forwards Filips Plostnieks (HS Rīga/Prizma), Edgars Homjakovs (Liepājas Metalurgs2),Rūdolfs Pētersons (HK Rīga95) and Roberts Šmits (Select Hockey Academy, USA) won't travel to Znojmo.
Latvia played two preparation games, winning 3-2so against Liepaja Metalurgs U18 and loosing 5-6so against HK Riga
10 Apr 2012, 20:51 | Ericsson nominated for Guldpucken
Skellefteå's Jimmie Ericsson is the seventh candidate for the Guldpucken award, given to the best hockey plyaer in Sweden. Ericsson has been very good during the playoffs when Skellefteå qualified for the final.
10 Apr 2012, 18:51 | Scott Gordon backs on US bench
USA Hockey announced that Scott Gordon will serve as head coach of the U.S. Men's National Team in the 2012 IIHF Ice Hockey World Championship in Helsinki and Stockholm.
Gordon held the same position in 2010 and 2011
Gordon is currently an assistant coach for the NHL's Toronto Maple Leafs.
Also 2011 assistant coach Greg Cronin was recalled.
10 Apr 2012, 17:48 | Mechel Chelyabinsk will be disbanded
According to "Soviet sport" VHL club Mechel Chelyabinsk will be disbanded.
Steel group "Mechel" managers have taken this decision during a recent company meeting.
This means that from next season the team will cease to exist. The Mechel group will now partially funded Izhstal Izhevsk team
The sports school, based at the Ice Palace "Mechel" will continue to operate as well the MHL-B team Steel Lions
10 Apr 2012, 17:14 | Normunds Sējējs left Dinamo Riga
Dinamo Riga General Manager Normunds Sējējs resigned from his charge today during the Board meeting. "After four years in the club I decided to accept new proposals" said Sējējs
The Board accepted the resignation and decided to temporarily delegate as GM the Chairman of the Board Aigars Kalvitis.
10 Apr 2012, 00:51 | Rafael Diaz misses World Champs
Long-time injured Montreal Canadiens Swiss defender Rafael Diaz confirms he won't be at Sweden/Finland IHWC. Diaz is sidelined from end of February due to a groin injury
10 Apr 2012, 00:45 | Donbass is preparing application to join KHL
Donbas Donets'k President Boris Kolesnikov confirmed the club is preparing all documents to apply for KHL membership for season 2012/13. Team recently lost in VHL semifinals against Toros Neftekamsk
09 Apr 2012, 20:13 | Melin back in Linköping
Roger Melin almost took AIK to the Swedish finals this week but lost in game seven of the semis to Skellefteå. Now the coach returns to Linköping. A club he coached 2003-2006. Melin signed a 3-year contract.
09 Apr 2012, 18:46 | Ozolnieki keep hopes alive
Ozolnieki/Monarch wins 2-1 Latvian League playoffs finals game #3  against Liepaja Metalurgs 2, earning the first victory in the series. Goals by Sergejs Durdins and Aleksandrs Šiškovičs answered to Gunars Skvorcovs opening one, scored after 35 seconds. The series is now leading by Metalurgs 2-1. Next game is tomorrow, again in Liepaja
09 Apr 2012, 18:41 | Niklas Bäckström will miss World Championship
Minnesota Wild Finnish goalie Niklas Bäckström will undergo a surgery next week to treat an ankle injury he suffered in December, so he won't play for Finland in the upcoming world championships
09 Apr 2012, 13:17 | Lada Arena will open in December
During a meeting at the Ministry of Sports, Samara Region Governor Vladimir Artyakov announces the new Ice Palace "Lada Arena" will be opened in Togliatti in December. The new home of Lada Togliatti costed 1 billion 300 million rubles.
08 Apr 2012, 16:38 | Orhan Duman new Turkish Ice Hockey Federation President
Orhan Duman was elected new Turkish Ice Hockey Federation capturing 104 votes. His opponent, former President Fatih Cintimar, obtained 94 votes. Duman, a 35 years-old business man, is former Baskent Yildizlari President
08 Apr 2012, 03:30 | US opens WWC with big win
United States women routes Canada 9:2 to open the 2012 IIHF Women's World Championships. The Americans opened the scoring 37 seconds in and added four more just over 5 minutes in. Monique Lamoureux-Kolls led the way with 6pts (3+3) handing the Canadians their worse loss.
08 Apr 2012, 03:29 | Odense wins round 1
Odense won the first of the Danish finals against Herning 2-0. Mathias Thinnesen and Mikkel Ankjær Nielsen scored the goals.
07 Apr 2012, 23:41 | Rouen wins Ligue Magnus
Rouen Les Dragons wins its 13th Franch title, the third consecutive, by beating 0-4 Grenoble in Ligue Magnus finals game #6. Captain Carl Mallette scored twice and served an assist, fan favourite Marc-André Thinel and Loic Lamperier on empty net were the other scorers.
Last January Rouen won also Continental Cup
07 Apr 2012, 17:55 | Milano is back in Serie A
By beating 2-1 at overtime Gherdeina in playoffs final game #6, Hockey Milano closed the series 4-2 and is back to Serie A after 4 years from the dissolution of Milano Vipers. The entry of Milano in KHL will be probably postponed to 2013-14 season, but late next week there will be another round of talks between Milano's board and KHL.
07 Apr 2012, 17:30 | Awards in Estonia
After the end of championship, Estonian Federation announces League awards:
Top Scorer: Anton Nekrassov (Viru Sputnik)
Best goalkeeper: Joni Weckström (Kalev-Valk)
Best defender: Aleksei Petrovits (Viru Sputnik)
Best forward: Ilja Iljin (Kalev-Valk)
Best Coach: Anatoly Zaharov (Kalev-Valk)
Fair Play: Team Viking Sport Tallinn
Federation also announces national team assistant coach Aleksandr Gavrilenok won't be on Estonia's bench at upcoming World Championship in Iceland due to commitments in native Belarus. He will be replaced by Baltica Vilnius (MHL-B) assistant coach Aleksei Lozhkin
06 Apr 2012, 16:41 | Chicago Express withdraw from ECHL
The Chicago Express have announced today that they are withdrawing from the ECHL, effectively ending the Chicago Express organization immediately.
The team competed in its first season this year but decided to suspend operations due to poor attendance numbers and lack of support. All other Members who participated in the ECHL during the 2011-12 season will return for the 2012-13 season.
In recent months, the ECHL announced the addition of Expansion Memberships in San Francisco and Orlando for play in the 2012-13 season.
06 Apr 2012, 16:20 | Vladimir Kapulovsky named new Avangard GM
Former Lev Poprad assistant coach Vladimir Kapulovsky is the new Avangard Omsk GM. Fifty-two years old Murmansk born Kapulovsky spent seven seasons as defender at Avangard from 1988 to 1995 and then returned to Omsk as juniors team coach in 2000. He worked as assistant coach also at Atlant Mytischi, Dinamo Minsk and Spartak Moscow
05 Apr 2012, 22:21 | Vyacheslav Fetisov new RAHL Chairman
Former star player Vyacheslav Fetisov was named new Chairman of newly created Russian Hockey Amateur League. Fetisov, recently in KHL board as Director, will take carte also of "Dalnyi Vostok" (Far East) RAHL conference.
05 Apr 2012, 21:38 | Sweden wins in Jordal Amfi
Sweden beat Norway 5-0 in Oslo tonight. Robin Figren scored two goals. Dick Axelsson, Nicklas Danielsson and Mattias Karlsson a goal each.
04 Apr 2012, 22:25 | Swiss win against Finland
Switzerland beat Finland 3-0 in Rapperswil in the first of 36 games in Euro Hockey Challenge. Euro Hockey Challenge is the name of the World Championship preparation games of the European top nations played April 4-22.
04 Apr 2012, 22:04 | Ertis Pavlodar joins Beybarys in Kazakhstan League finals
Ertis completes today an amazing comeback winning 3-0 game six of semifinals against Sary Arka Karaganda, closing the series 4-2 (recovering from 0-2) and reaching Kazakhstan League finals for the first time in its history. Ertis decided game in the first period, scoring two goals - with Vadim Rifel and Ilya Solarev - in less then two minutes.
Team from North Kazakhstan will face current champion Beybarys Atyrau, having swept Arystan Temirtau in four games, without two key players: captain Evgeny Ushkov and Andrei Troshchinsky, both injured. Game #1 of the finals will be on April 13
04 Apr 2012, 18:34 | Big win for Swiss youngsters
Switzerland U16 beat Italy U16 28-0 in a 5-nation tournament in Norway.
04 Apr 2012, 16:22 | Igor Zhilinsky named new Lada Togliatti GM
Former player Igor Zhilinsky was named new General Manager at Lada Togliatti. Zhilinsky, 49, worked as assistant coach at Avangard Omsk and Sibir Novosibirsk and recently as Omsk Hawks headcoach in MHL
"We will give to Zhilinsky full powers for interacting with the coaching staff as well as the hockey club's management." said General Director Andrei Galayda
In same press conference, coach Gennady Tsygurov reveals Lada won't sign a farm agreement for next season: "I am totally against this system. We had an offer from Severstal. They would send us the players paying their wages, but they could "pull off" at any time. We aren't an appendage, Lada is Lada!"
04 Apr 2012, 00:54 | Kazakhstan adds Sokolov in the staff
Former national team captain Andrei Sokolov was called by Kazakhstan Federation to complete the coaching staff for the upcoming World Championship as assistant coach. Soikolov is currently assistant coach at Metallurg Magnitogorsk, where he spent almost all career as player
03 Apr 2012, 23:20 | Lauris Darzins will miss World Championship
Latvian AK Bars Kazan forward Lauris Darzins will miss upcoming World Championship due to a shoulder injury
02 Apr 2012, 23:23 | Singapore gets first Olympic-size ice rink
The Rink, Singapore's first Olympic-size ice rink located at the mall JCube, was inagurated on April 2nd.
The 60x30 rink is designed to host activities such as recreational skating, figure skating, speed skating and ice hockey. Together with its 460-seat gallery, spectators will be treated to rink-side action during ice hockey matches and skating performances.
"The Olympic-size rink, which meets international standards, allows the community to experience playing winter sports such as ice hockey on our tropical island. It also represents a very important step towards Singapore's participation in the Winter Olympics in the future," said Mr James Kodrowski, President of Singapore Ice Hockey Association
02 Apr 2012, 23:07 | Balkan Junior League repealed
Few days before the start of the tournament, scheduled for April 3rd, due to organization problems in Novi Sad, Serbia, venue of tournament, the whole U16 Balkan League is repealed for the coming months. Before the cancellation, the tournament recorded the forfeit of Croatia, Greece, Macedonia and Turkey, remaining just with five countries: Slovenia, Serbia, Bulgaria, Romania and Bosnia and Herzegovina.
Balkan Junior League is part of an agreement between Balkan countries for the developing of icehockey at junior level....not a great start
02 Apr 2012, 19:02 | HK Kalev-Välk Tartu confirms title in Estonia
By beating Viru Sputnik Kohtla-Järve 5-3 in finals game #4, Kalev-Välk wins the series 3-1 and keeps Estonian Meistriliiga title. In the last game Kalev-Valk recovers from 1-3 winning the third period 4-0. Captain Ilja Iljin, scoring an hattrick, was the key player for Kalev recover. This is the 8th title for Kohtla-Järve club
In the bronze medal final Viiking Sport Tallinn captures third place winning 2-0 over Panter/Purikad
02 Apr 2012, 17:02 | CH Jaca completes another dominant season capturing Copa del Rey
CH Jaca completed another season dominating domestic hockey. Besides the league they also won Copa del Rey in last weekend winning 5-3 Puigcerdà in the finals after a battled semifinal against Barcelona
This season Jaca won Spanish League, Copa del Rey, Copa del Principe (U18 National Cup) and U15 League
Txuri Urdin, winner of U18 league, was the only team able to break Jaca dominance
01 Apr 2012, 19:46 | Sport Club Csikszereda takes all titles in Romania
Team HSC Csikszereda won another Romanian championship title after winning 4:1 the finals against ASC Corona Braşov.
In the last match HSC Csikszereda won with the score of 3-2 (1-1, 2-1, 0-0)
This title is the 14th in the history of the club, the sixth consecutive.
Besides senior team, HSC Csikszereda also won title in every junior category: U12, U14, U16 and U18
01 Apr 2012, 00:09 | LIepaja Metalurgs join Ozolnieki in Latvian League finals
Six games were enough for current champion Liepaja Metalurgs-2 to sweep out SMS Credit and advance to finals against regular season winner Ozolnieki. In last game Metalurgs, alligning some of first team top players, win 5-3 against SMS Credits. As last year the Latvian title will be decided between Ozolnieki and Liepaja Metalurgs-2
30 Mar 2012, 00:12 | Val Pusteria closes the series
By winning Alleghe 6-2 in playoffs semifinals game 5, Val Pusteria reaches Bolzano in Serie A finals beginning April 5
29 Mar 2012, 18:24 | SC Csikszereda makes another step towards the title
HSC Csikszereda won away 3-0 (0-0, 1-0, 2-0) playoffs finals game #3 against ASC Corona Braşov and it is now leading 3-1 the finals series of the Romanian National Hockey League. Sport Club can close the series next Friday at home
29 Mar 2012, 18:15 | Pierre Gauthier fired by Canadiens
The Montreal Canadiens have fired general manager Pierre Gauthier
The club says in a release the search for a new general manager "is underway."
Gauthier started working at Canadiens in 2003 as director of professional scouting, becoming GM and executive vice president in February 2010
29 Mar 2012, 15:44 | Jakub Horak new Sport Director at EV Zug
Former defender Jakub Horak, 38, is the new EV Zug's Sport Director replacing Patrick Lengwiler, named team's GM
29 Mar 2012, 00:53 | Acroni Jesenice ties the series
Two goals by Anze Kuralt and the decisive one by Jaka Ankerst after 01:50 in the overtime give Jesenice the final 3-2 in game #2 of Slovenian League finals against Olimpija Ljubljana. The series is now 1-1. Game #3 will be on Thursday in Ljubljana's Tivoli Arena
28 Mar 2012, 21:06 | Salming Trophy to Ekholm
Mattias Ekholm, Brynäs has been awarded the Salming Trophy as the best defender in Elitserien. "Ekholm is a modern defenseman, strong in his own zone and with a large offensive capacity. I like his courage, he never doubts to go forward when there is a chance", Börje Salming said about the winner.
28 Mar 2012, 16:54 | Ozolnieki waits for opponent
Ozolnieki Monarch sweeps out HK Juniors Riga in four games, closing the series with 5-3 victory in game four after been recovered from a 3-1 gap after second period. A 4-0 half points in last period gives Ozolnieki the third consecutive finals in Latvian League. In other pairs Liepaja Metalurgs-2 ties 2-2 the series beating 4-2 SMS-Credit
28 Mar 2012, 16:48 | Maribor wins bronze in Slovenia
By beating twice 4-1 Triglav Kranj, HDK Maribor clinches bronze medal in Slovenian National League. Today Olimpija Ljubljana and Acroni Jesenice play final game #2. Olimpija leads the series 1-0
28 Mar 2012, 08:34 | Langenthal wins NLB final
SC Langenthal became new champion of the NLB by beating Lausanne HC 4-2 in the best of seven series between the two clubs in this year's finals of the NLB playoffs. As the Swiss Federation announced Langenthal fulfills all necessary economic and infrastructure related requirements to be promoted to NLA if they beat NLA club HC Ambrì-Piotta in the relegation battle starting on Tuesday, 3 April.
27 Mar 2012, 22:36 | French finals start tonight
In the first of seven games in the French finals Rouen beat Grenoble 4-3. Julien Desrosiers scored the winning goal at 1:32 of the overtime period.
27 Mar 2012, 22:29 | Metallurg Zhlobin leads the Belarus finals
Metallurg Zhlobin beat Neman Grodno 5-2 today to take a 2-1 lead in the Belarus League finals.
27 Mar 2012, 21:28 | MHL AllStar will have two coaches in Seoul
Russian Federation announces Yuri Strakhov (Khimik Voskresensk) and Oleg Bratash (MHK Spartak) will coach MHL Stars from May 27 to June 1, 2012 in Seoul at the U20 Asian Challenge Cup in 2012.
This season Strakhov and Bratash already work together coaching Western Conference team in the Challenge Cup.
27 Mar 2012, 21:16 | SC Csikszereda takes the lead
HSC Csikszereda won with the score of 3-1 (2-1, 0-0, 1-0) against ASC Corona Fenestela Braşov in Game 3 of the Romanian National Hockey League finals, and they are now leading the series 2:1.
The next match will be on Thursday in Braşov. In bronze medal series, Steaua leading 3-1 over Dunarea Galati
26 Mar 2012, 21:07 | Ozolnieki one step from final, SMS Credit takes advantage
In Latvijas Virslīga semifinals game #3 Ozolnieki Monarchs get the third victory against Juniors Riga recovering from 1-3 and closing the game 5-3 with two goals by Artis Abols in third period. In the other pair SMS Credit get a capital success against Liepaja Metalurgs-2 with a lonely goal by veteran Aleksandr Kercs and now leads the series 2-1
26 Mar 2012, 16:05 | ESSM/Energija Eletrenai wins Lithuanian league
ESSM/Energija Eletrenai wins its first ever Lithuanian title hammering 13:1 (5:0, 5:1, 3:0) title holder ESC Elektrenai. ESSM is Energija farm team and used several players from first team in domestic league final four. Kedainiai LRK finishes third winning 8:4 (5:2, 1:2, 2:0) Latvian team Cetra Riga
25 Mar 2012, 21:16 | Donbas confirms title in Ukraine
Reigning champion Donbas Donets'k confirm national title winning Sokil Kyiv 5-0 at home in game six of finals in front of 4.000 spectators, closing the series 4-2. Donets'k Russian forward Yury Koksharov, scored an hattrick in last game, was named Ukraine League playoffs MVP
25 Mar 2012, 19:50 | New Zealand increased import quota for 2012
New Zealand Hockey Federation announced the number of overseas players allowed per team has increased from 5 to 7 for the 2012 season.
New Zealand Hockey League will start in June
25 Mar 2012, 19:10 | Csikszereda ties the series
HSC Csikszereda won in Brașov with the score of 6-1 (3-0, 1-1, 2-0) against ASC Corona Fenestela Brașov, in Game 2 of the Romanian National Hockey League finals, getting the tie in the series
25 Mar 2012, 03:51 | SMS Credit ties series in Latvia, Ozolnieki wins also second game
To call some star players from MHL HK Riga wasn't enough for Juniors Riga to win semifinal game #2 in Latvian League. Despite initial advantage scored by Ainars Podzins, Juniors conceeded 3 goals to Ozolnieki, now 2-0 in the series. The other pair confirms to be very balanced: SMS Credit equalizes the series beating Liepaja Metalurgs-2 4-3 at shoot-outs: Ronalds Cinks scores decisive penalty. Games #3 will be played next monday
25 Mar 2012, 03:16 | Olimpija and Jesenice will decide Slovenian National League
Defending champion Acroni Jesenice will defend national title against arch-rival Olimpija Ljubljana. The two main Slovenian teams advance to final defeating Triglav Kranj and HDK Maribor respectively. Playing with EBEL rosters Jesenice left with no chance Triglav, winning 5-2 and 6-0, while Olimpija left Maribor arena with a 3-3 draw in the first game, but decided series at Tivoli arena with a clear 4-1.
24 Mar 2012, 15:08 | Mikhail Panshin can become Kazakhstan citizen
Beybarys Atyrau Russian forward Mikhail Panshin is completing all legal issues related to the change of nationality. Panshin, born in Cherepovets, arrived in Kazakhstan in 2009 and for three consecutive seasons finished league as top scorer. He already declared his purpose to play for the Kazakh team.
24 Mar 2012, 00:06 | Keith's charge on Sedin costs him 5 game suspension
Chicago Blackhawks defenseman Duncan Keith has been suspended for five games for his elbow to the head of Vancouver Canucks forward Daniel Sedin in Wednesday's 2-1 overtime win by Chicago.
23 Mar 2012, 21:34 | Playoffs semifinals started in Kazakhstan
Champion Beybarys suffers but get an important victory 3-2 against Arystan Temirtau in Kazakhstan League playoffs semifinals game one. Andrei Zakharov scored decisive goal at 51:12. Arystan, the underdog team in these semifinals, showed it can be competitive in the series.
The most battled series between Sary Arka and Ertis Pavlodar keeps he expectations: Ertis was 1-3 until 57 minutes but Sary Arka managed to equal game and after 17 minutes of overtime Slovak forward Tomas Jasko scored the 4-3 winning goal giving Sary Arka the third victory of the season in the seven matches played between the two teams.
23 Mar 2012, 21:18 | Ozolnieki and Metalurgs-2 win semifinals game #1 in Latvia
Latvijas Virslīga playoffs semifinals started today: Regular Season winner Ozolnieki/Monarch clearly win over Juniors Riga. Ozolnieki veterans scored five goals with five different players for the final 5-2. In other pairs the young Liepaja Metalurgs-2 turns over the score in the last period against SMS-credit, another team with a lot of veterans in the rosters: 45-years-old Aleksandr Kercs scored twice for SMS but his team lost 3-4.
23 Mar 2012, 17:21 | Färjestad signs new contracts with coaches
Färjestad of Swedish Elitserien signed new 2-year contracts with head coach Leif Carlsson and his assistant coach Andreas Johanson.
23 Mar 2012, 13:22 | Valentin Lebedev passed away
Belarusian coach Valentin Lebedev died at 51 after a long illness. Well-known hockey expert, Lebedev spent all coach career in Novopolotsk, leading the hockey school from 1990 to 2003, then was in SKA-Khimik Novopolotsk coaching staff until 2011. He worked also in Belarus U18 national team staff. This season Lebedev trained SKA-Khimik-2 in Belrusian 2nd League
23 Mar 2012, 03:38 | Krzysztof Oliwa wanted by police
Former NHLer Krzysztof Oliwa is wanted by Tychy police since last year.
According to the prosecutor's office the athlete had fraudulently obtained credit from banks in 2009. Oliwa produced proof of employment to an applicant for a loan. But this person has not worked for th player. When the police wanted to question 39-year-old Oliwa in connection with the investigation, he didn't showed up at prosecutor office. For this reason, the prosecutor decided to issue an arrest warrant for him. He can face until 8 years of prison.
22 Mar 2012, 21:16 | Sapa Fehérvár AV 19 wins 10th consecutive Hungarian League
Domestic title number 13 for Sapa Fehérvár. By beating 8-3 Miskolci JJSE in game four of finals, SAPA easily closed the series blanked 4-0 the opponent. This is the tenth consecutive Hungarian title for Székesfehérvár team, equalizing the record set by Ferencvaros from 1971 to 1980.
22 Mar 2012, 19:38 | Krasnodar will have a team next season
The Governor of the Krasnodar Territory Aleksandr Tkachev confirmes that in the near future an hockey team will be activated in Krasnodar
"Soon we will have a team called Kuban In April will begin training and next season will compete in VHL" said Tkachev
21 Mar 2012, 20:56 | Metallurg and Neman to the finals in Belarus
Metallurg Zhlobin beat Shakhter Soligorsk 5-3 and Neman Grodno beat Gomel 1-0 (OT) in game 5 of the semi finals to advance to the Belarus League finals.
21 Mar 2012, 15:33 | Lukashenko comments campiagn against IHWC in Belarus
Belarus President Aleksandr Lukashenko comments on newspaper Russia Today the recent decision of European Parliament to ask at the IIHF to move the 2014 IHWC from Belarus. "This is purely politicized process, it has nothing to do with sports. And if that happens, it will be a blow to the image of the World Ice Hockey Federation. Belarus has earned this right to host championship"
21 Mar 2012, 03:45 | Filip decisive in Romanian League Finals game #1
Slovak Richard Filip shines in first game of Romanian League finals: Brasov defender scores all four goals in his team's 4-3 overtime away victory against defending champion SC Miercurea Ciuc. Game #2 will be played in Brasov next Friday. In bronze medal series Steaua leads 1-0 after destroying Dunarea Galati 10-1
20 Mar 2012, 15:09 | World U18 Championship Div 2B has started
Michael Tugo scored 5 goals when Estonia beat Australia 7-4 in the opener of the World U18 Championship Div 2B in Novi Sad, Serbia.
20 Mar 2012, 01:07 | Dmitri Yushkevich won't remain at Sibir
Dmitri Yushkevich won't be on Sibir Novosibirsk's bench next season. The coach refused to extend the contract with the club "Sibir board has made me an offer to continue working at the club, but I refused it - said Yushkevich - I have my personal reasons and I don't want to comment"
19 Mar 2012, 19:56 | Tied in the Belarus semis
After todays games, Shakhter-Zhlobin 1-2 and Gomel-Neman 4-2, both Belarusian semi final series are tied 2-2.
19 Mar 2012, 14:45 | Brasov goes to finals
After a thrilling semifinal series Corona Fenestela Brasov wins 5-2 decisive game 5 against Steaua and will play in Romanian League finals against the defending champion HSC Csikszereda.
18 Mar 2012, 21:20 | Canada names U18 coaches
Hockey Canada announced Sunday that Jesse Wallin, head coach and general manager of the WHL's Red Deer Rebels, will be the head coach of Canada's National Men's Under-18 Team for the 2012 IIHF Ice Hockey U18 World Championship in Czech Republic.
Gordie Dwyer and Todd Gill were named assistant coaches.
18 Mar 2012, 21:07 | CH Jaca is Spanish champion
CH Jaca wins its third consecutive Spanish League title by away beating 4-2 Puigcerda in playoffs game four. Puigcerda forced Jaca to game four winning 4-1 game three Saturday night. This is the eleventh title for Jaca, the sixth in last 10 year
18 Mar 2012, 14:39 | Victor Andrushchenko suspended for five games
Shakhtar Soligorsk's Ukranian forward Victor Andrushchenko received five games suspension for his "extremely rude" charge on Metallurg Zhlobin's Andrei Spiridonov during game #2 of playoffs semifinals
17 Mar 2012, 15:39 | Belfast Giants win Elite Ice Hockey League
By beating defending champion Sheffield Steelers 5-1 in fron of 7.000 spectators, Belfast Giants win their third EIHL title, the first from 2005-06
17 Mar 2012, 15:19 | Estonia will play against Dinamo Riga
Estonian Federation announces preparation games for IHWC Div. II in Iceland. National team will play against Dinamo Riga on April 6 and then will face teams from Finalnd and Sweden, still unknown, on April 8 and 9.
All matches will take place in Tallinn
17 Mar 2012, 13:18 | MHL send AllStar team to IIHF U20 Challenge Cup of Asia
The "Red Stars", an Allstar team from Russian MHL, will partecipate in IIHF U20 Challenge Cup of Asia, in Seul, Korea, from May 27 to June 2. Host Korea, China, Japan and Taipei are the other partecipants.
The partecipation of Red Star is directly connected with the promotion of hockey in the Far East and a possible future establishment of a Pacific Division in KHL.
17 Mar 2012, 02:54 | Wenatchee Wild will return to NAHL next season
Wenatchee Wild signed a promissory note guaranteeing their return to the North American Hockey League (NAHL) for the 2012-13 season.
The Wild had sought entrance into the British Columbia Hockey League (BCHL), but the league denied the Wild's request earlier this week for the 2012-13 season because it had already set its divisional alignment and rules pertaining to rosters and on-ice play in January.
The Wild were the NAHL's Organization of the Year in 2009 and 2010 and dominated league attendance during its first three years in the league
16 Mar 2012, 22:06 | Junior Minsk wins Vysshaya Liga
Junior Minsk won three straight games against Mogilev-2 to win the finals of the Belarusian second league Vysshaya Liga. After 6-2 and 4-2 at home Junior won 9-0 away in the last game.
16 Mar 2012, 16:51 | Andrei Nazarov fired from Russia coaching staff
Vityaz Chekov head coach Andrei Nazarov said he no longer works in the coaching staff of the Russian national team.
"There is nothing to hide, Zinetula Bilyaletdinov called me and informed of the decision. The conversation was pretty short but I want to thank Bilyaletdinov because of the opportunity he gave me."
15 Mar 2012, 16:23 | Martin Steinegger named new Sport Director at Biel
Few days after announced his retirement as active player at 40 years, former defender Martin Steinegger was named new EHC Biel Sport Director.
14 Mar 2012, 23:15 | Sanok Polish champion
Ciarko PBS Bank Sanok won today the Polish championship for the first time. Comarch Cracovia was beaten 5-1 in tonight's game and 4-1 in the final series.
14 Mar 2012, 17:28 | No new contract for Håkanson
Mikael "Musse" Håkanson won't be offered a contract extension by Linköpings HC. He has played more than 500 games during 10 seasons for Linköping. Håkanson is the player with most games played ever in Elitserien. He has played 808 games (940 including playoffs) for Linköping, Djurgården and Modo.
14 Mar 2012, 00:54 | Fribourg gets past Lugano
Fribourg beat Lugano 5-4 (OT) in the sixth game to win the NLA quarter final series 4-2. Benny Plüss scored the winning goal at 66:52.
Fribourg will play SC Bern in the semis. In the other semi final series EV Zug will face ZSC Lions.
14 Mar 2012, 00:08 | Ten points in one game
When Bulgaria beat South Africa 13-1 in the World Juniors U18 Division 3 Ivan Hodulov scored 10 points, 7 goals and 3 assists.
13 Mar 2012, 23:40 | Yugra extends coaches' contract
Happy with the team campaign, Yugra Khanty-Mansiysk board decides to extend contract of head coach Sergei Shepelev and his assistants Nikolai Solovyov and Sergei Kotov.
All the staff signed a new agreement with the club for two years.
13 Mar 2012, 12:51 | Karlis Skrastins number retired
The Latvian Hockey Federation has decided to permanently retire Karlis Skrastins' number 7. The Latvian defenceman died in the Lokomotiv Yaroslavl plane crash last September. Only one other Latvian player, Helmuts Balderis, has had his number 19 retired.
13 Mar 2012, 12:40 | Selanne becomes the #1 Finnish scorer in NHL
By scoring a power-play goal in the third period of a 3-2 overtime loss to the Colorado Avalanche, Anaheim Ducks' Teemu Selanne collected his 1,399th career point (659 goals and 740 assists), becoming the NHL's all-time leading scorer from Finland, passing Jari Kurri.
Only two European-born players, the Czech Republic's Jaromir Jagr (1,645 points) and Slovakia's Stan Mikita (1,467), have scored more points than Selanne.
12 Mar 2012, 20:20 | Chelyabinsk bid for WJC 2017
Chelyabinsk mayor Stanislav Mosharov has declared that his city has applied to host the IIHF World Junior Championship in 2017.
"Chelyabinsk's application is already on the IIHF's desk. We will wait for the decision of the International Federation," said Mosharov.
12 Mar 2012, 19:45 | HC LEV is moving to Prague, says Medvedev
HC LEV Poprad, the only Slovak KHL member, is going to Prague, Czech republic, for the 2012-13 season. That is what league president Alexander Medvedev announced on Monday. But according to his statement, the league won't be leaving the country, as Slovan Bratislava is going to enter the Russian-based circuit next season.
Since January, the HC LEV organization has faced speculation that it was going to move to the Czech capital. The club's management kept denying it for more than two months. But after Medvedev's meeting with Jan Musil, HC LEV's Executive Director, it now appears to be true, even though the Czech Ice Hockey Association has not agreed to it. Association President Tomáš Král said that they have not received any official notification of the club's moving to the Czech Republic yet.
12 Mar 2012, 19:35 | Known dates of the PHL final series
fhu.com.ua
Today was the famous calendar of meetings final playoff hockey championship Ukraine -PHL championship season 2011/12. Handsome cup will compete with each the current champion Donbas Donets'k and winner of the regular PHL championship - capital club Sokil. The first match between the teams is scheduled for March 16. The game will take place in Brovary on TEC Terminal Ice Arena, beginning at 19:30.
Main arbiter of the final games will be a team of referees from Sweden. All matches of the finals series will be Ukrainian broadcast channel "Hockey."
Calendar of matches finals PHL championship:
16.03.12, 19:30. Sokil Kyiv - Donbas Donets'k (TEC Terminal Ice Arena. Brovary)
17.03.12, 18:00. Sokil Kyiv - Donbas Donets'k (TEC Terminal Ice Arena. Brovary)
20.03.12, 18:30. Donbas Donets'k - Sokil Kyiv (Druzhba, Palace of Sports. Donets'k)
21.03.12, 18:30. Donbas Donets'k - Sokil Kyiv (Druzhba, Palace of Sports. Donets'k)
23.03.12, 19:30. Sokil Kyiv - Donbas Donets'k (TEC Terminal Ice Arena. Brovary)*
25.03.12, 15:00**. Donbas Donets'k - Sokil Kyiv (Druzhba, Palace of Sports. Donets'k)*
27.03.12, 19:30. Sokil Kyiv - Donbas Donets'k (TEC Terminal Ice Arena. Brovary)*
* - If necessary.
** - Time to be revised.
12 Mar 2012, 14:52 | Swiss court rules in favour of IIHF
- IIHF.com
The Swiss Federal Court has ruled in favour of the IIHF in the case involving SC Bern, where the Swiss club was seeking damages pertaining to the cancellation of the Champions Hockey League in 2009.
11 Mar 2012, 08:49 | Nikko Icebucks to Asia League Finals
Nikko Icebucks of Japan lost the first two semi finals of the Asia League to Korean Anyang Halla but managed to win the next three games to qualify for the finals against Oji Eagles. Today's game was won 4-3.
11 Mar 2012, 01:07 | Six games suspension for DeVergilio
Kevin DeVergilio season is almost over: Pontebba American forward takes six games suspension after his double charge at Alleghe Nicola Fontanive. Aquile Pontebba and Alleghe are playing Serie A playoffs quarter finals and series is currently 2-2
09 Mar 2012, 18:43 | Honken Trophy to Viktor Fasth
AIK's goalkeeper Viktor Fasth has been awarded with the Honken Trophy as the best goalkeeper in Elitserien for the second year in a row.
09 Mar 2012, 17:52 | Bolzano hires Brian McCutcheon as assistant coach
Bolzano Foxes announces Brian McCutcheon as new assistant coach. Toronto native McCutcheon has a long career as head coach in NCAA (Elmira and Cornell), ECHL (Columbus Chill) and AHL (Calder Cup finalist in 1999 and 2000 with Rochester Americans). From 2000 he was Buffalo Sabres assistant and associate coach. His son Mark plays in Bolzano.
09 Mar 2012, 15:43 | Klaipeda bid for 2013 U18 IHWC
Lithuanian city of Klaipeda will officially submit a bid to host 2013 U18 Division I IHWC, as announced by Lithuanian Federation President Petras Nauseda. "Klaipeda has a new arena and good hockey tradition. So we want take the opportunity to offer the city a high-level competition, which will interest not only the Klaipeda region, but all Lithuanian sport fans."
08 Mar 2012, 00:07 | Steaua and Brasov punished
Disciplinary Committee of the Romanian Ice Hockey Federation decided to fine Steaua Bucarest and Brasov and to suspend players involved in the riots in last games between teams: Brasov forward József Adorján received the most severe punishment, a suspension until 31st of December 2012, because of the fight he had with Cătălin Berdilă. Steaua player was suspended for six games and fined with 600 lei. Adam Krug (Steaua) and Antal Zsombor (Brasov) were suspended for three games while Csaba Nagy (Brasov) takes two games suspension. Teams will face eachother again in playoffs semifinal
07 Mar 2012, 23:35 | Matthias Fauster suspended for eight games
SV Renon forward Matthias Fauster received eight games suspension for tripping a linesman during Serie A playouts final game two between Renon and Vipiteno.
07 Mar 2012, 20:58 | EBEL mass-brawl consequences
Disciplinary Comission of EBEL have made a verdict: due to mass brawl on first semi-final game betwen Medvescak and EC KAC, following players will miss several games: Frank Banham (Medvescak) will miss seven games for deliberate checking to the head and neck area. Joel Prpic (Medvescak) will miss six games , four of those on absolut, and another two conditional; he was called guilty for pulling the opposing player out of the group of players and attacking him while he was lying on the ice. Both players were a part of mass brawl caused by Banham's foul some 18 seconds before second intermission. Seven Medvescak players were given 133 minutes of penalty for that fight, while six KAC players got 106 minutes. KAC won first semi-final game in Zagreb (CRO) with 4:0.
07 Mar 2012, 19:28 | Swiss WC staff
The Swiss federation has decided the coaching staff for the World Championship. Sean Simpson will be head coach with Lance Nethery and Manuele Celio as his assistants.
Andy Murray supports the trio as a consultant.
07 Mar 2012, 19:23 | Red Wings extend AHL affiliation
The Detroit Red Wings announced a five-year extension of their affiliation agreement with Grand Rapids Griffins until 2016-17 season.
The new agreement transfers responsibility for all players and hockey operations staff - including coaches, equipment managers and trainers - to the Red Wings.
07 Mar 2012, 18:00 | All set for playoffs in Romania
With last non-influential games between Brasov and Dunarea Galati, Romanian League finishes regular season and begins playoffs next friday. HSC Csíkszereda, as MOL regular season winner, was qualified directly for semifinals and will face modest Dunarea Galati in a foregone series. The other pair between Brasov - winner of pre-playoffs group - and Steaua is much more balanced despite Brasov won 15-0 last game and the polemics of last games
07 Mar 2012, 15:16 | New arena in Kazakhstan
The governor of North Kazakhstan Serik Bilyalov announces a new arena will be built within two years in Petropavlovsk. "It will be an ultra-modern sports palace with an olympic rink and all the modern requirements and standards" said Bilyalov in a statement. The announced budget is around 20 million dollar
07 Mar 2012, 14:42 | Flyers retire Mark Howe's number
Before Tuesday night's 3-2 victory against the Detroit Red Wings, Philadelphia Flyers have retired former defenseman Mark Howe's number 2. Howe, a three-time Norris Trophy finalist, played for the Flyers from 1982-92, and is still the Flyers leader in goals, assists and points for a defenseman. Howe is the fifth Flyer to have his number retired, joining Bernie Parent, Barry Ashbee, Bill Barber and Bobby Clarke.
07 Mar 2012, 00:21 | Lausanne HC to the NLB finals
Lausanne HC beat EHC Visp 4-0 in game four to win the NLB semi finals 4-0.
In the finals Lausanne will play SC Langenthal or HC La Chaux-de-Fonds from the other semi final series that is tied at 2.
06 Mar 2012, 21:50 | Scorpions celebrates third straight victory, Tigers suffers fourth defeat
In the closing game of DEL round 50, last placed Hannover Scorpions inflicts the fourth straight defeat on Straubing Tigers, now at risk to lose thier place in Qualification Round. This is the third consecutive victory for Scorpions, already out from postseason. Sascha Goc, Chris Herperger and David Sulkovsky scored for home team, but was Man-of-the-Match Dimitri Patzold to firmly contribute to final 3-2 victory with 43 saves. Daniel Sparre and Calvin Elfring scored for Straubing
06 Mar 2012, 20:48 | Russian Federation gives green light to Slovan
After a meeting in Moscow with Slovan Bratislava President Maroš Krajči, the Russian Hockey Federation has announced that it won't oppose the club's participation in the 2012-13 KHL season, provided it fulfills all entry requirements.
06 Mar 2012, 20:31 | Avto changes coach staff
Last in Ural-Siberia MHL conference, Avto Ekaterinburg decides to change all coach staff with two games remaining in regular season: new head coach is Evgeny Mukhin, team manager Leonid Gryaznov and goalies' coach Gennady Shapovalov. They replaced fired Vladimir Shcheglov, Vasili Tatarinov and Pavel Velizhanin
05 Mar 2012, 23:16 | Four home wins on the first day of the Belarus playoffs
In all four quarter finals of the Belarus playoffs the higher ranked home team won the opening home game. Metallurg Zhlobin beat Mogilev 4-1, Neman Grodno beat Metalurgs Liepaja 3-0, Gomel beat Lida 4-1 and Yunost got away with a 2-1 win against Shakhter Soligorsk.
05 Mar 2012, 22:57 | HK Kalev-Välk Tartu won Estonian regular season
Estonian Meistriliiga finished in last weekend with HK Kalev-Välk Tartu as winner of regular season. Current champion will face fourth seed Viiking Sport Tallinn in playoffs semifinal starting Saturday 11 March as favourite, while other pair between Viru Sputnik Kohtla-Järve and Panter/Purikad Tallinn seems more balanced. Viru Sputnik Anton Nekrassov finished as Top Scorer
05 Mar 2012, 11:42 | GET ligaen qualification scheduled
On March 8, GET ligaen qualification gets underway with four teams battling for two spots in next year´s elite Norwegian ice hockey league. Two bottom teams from GET ligaen - Manglerud Star and Frisk Asker - face the best duo of 1. divisjon - Tønsberg and Comet Halden in a double round robin competition.
04 Mar 2012, 22:56 | Dab.Docler won Hungarian Cup
Sensational season for Dab.Docler Dunaújváros continues: after been crowned MOL Liga champion, team keeps also Hungarian Cup, winning 5-0, in MOL Liga finals replay, Miskolci JJSE, in front of its fans. This is third consecutive success in National Cup for Dunaújváros club.
03 Mar 2012, 14:06 | Maple Leafs fire coach Ron Wilson
Brian Burke, President and General Manager of the Toronto Maple Leafs, announced that head coach Ron Wilson has been relieved of his duties. Replacing Wilson is Randy Carlyle, fired last December by the Anaheim Ducks. Assistant Coach Rob Zettler has been reassigned to other duties in the organization. Burke and Carlyle were in charge of Anaheim when the Ducks won the Stanley Cup in 2007.
"This was not an easy decision for me to make," said Burke. "I want to thank Ron for all of his hard work and dedication to our organization over the past four seasons."
03 Mar 2012, 13:11 | Soo Eagles accepted in NAHL
The North American Hockey League (NAHL) has announced that the Soo Eagles, a Sault Ste. Marie, Michigan-based junior hockey team currently playing in Northern Ontario Junior Hockey League, has been granted a membership into the NAHL effective for the 2012-13 season. The group was granted approval to operate in the Sault Ste. Marie market conditioned upon acquiring and relocating an existing NAHL membership, the Traverse City North Stars. The Eagles will play their home games out of Pullar Stadium, which seats 2,250 spectators for hockey games. This isn't the first time an NAHL team has been in the Sault Ste. Marie area. The Soo Kewadin Indians played in the NAHL from 1995-2005
01 Mar 2012, 12:44 | Sokil Kyiv wins regular season in Ukraine
Sokil Kyiv has won the first Ukrainian Professional League regular season. The long-established team from the capital finished at the top of the standings and will now faced in the playoff semifinals Companion-Naftogaz, coached by former Sokil mentor Alexander Seukand. Current champion Donbas Donets'k and Berkut Kyiv will decide the other finalist. This second semifinal will have Swedish referees as per team requests.
28 Feb 2012, 22:07 | Peter Barinka shines in Progym massacre
Slovak forward Peter Barinka was the star in tonight Romanian League game between Fenestela Brasov and Progym Gheorgheni. Home team destroyed opponent with an unquestionable 22-3 and Barinka noted 9 points: five goals and four assists. also his teammate Attila Borsos left a mark on boxscore with 8 points, two goals and six assists. Brasov continues with a 7-0 perfect record in Romanian League.
28 Feb 2012, 15:53 | New Technical Director at Ajoie
Vincent Lechenne, 46, is the new Technical Director of NLB club Ajoie. The former player signed a two-plus-one years contract and will also coach Junior Elite team
27 Feb 2012, 22:13 | Belarusian Vysshaya Liga quarter finals
Metallurg-2 Zhlobin, HC Gomel-2, Junior Minsk and HC Mogilev-2 all won their away games today to win their quarter final series 3-0 and advance to the semis of the Belarusian second league.
27 Feb 2012, 18:05 | Arizona Sundogs fire long-time coach Marco Pietroniro
The Arizona Sundogs announced today that head coach Marco Pietroniro and assistant Chris Bartolone have been fired. Pietroniro was in his sixth season with the Sundogs, the only coach in franchise history. He won the Ray Miron President's Cup Championship in 2007-08.
"Marco Pietroniro has provided the Sundogs organization with a lot of wonderful memories, and those memories will never be forgotten," said General Manager Chris Presson. "The Sundogs would like to thank him for his effort and contributions in his six years here, and wish him nothing but the best in the future."
The new coach is David Lohrei.
27 Feb 2012, 15:06 | Hungarian League starts today
Few days after the Dab Docler victory in MOL Liga, Hungarian National League starts today: in this season there will be just play-offs. The seeding is based on the MOL Liga regular season standing (including the matches against the Romanian teams). The last two teams (Sapa Fehérvár AV19 2 and Újpesti TE) play a qualification for the 4th semifinal spot, while the first three teams (Dab.Docler, Miskolci JJSE, Ferencvárosi TC) have already secured the semifinal.
27 Feb 2012, 02:45 | Copa del Rey in Vitoria
Spanish Federation announces the city of Vitoria will host Copa del Rey superfinals from March 31 to April the 1st. This is the third time Vitoria host Copa del Rey, after 1979 and 1992
27 Feb 2012, 02:00 | Leagues awards in France
Amazing Dijon Les Ducs campaign (2nd places in regular season behind Rouen and victory on Coupe de France) reflectes on Sport newspaper "L'Equipe" votation for season's MVP: Dijon captain Canadian Martin Gascon,30, and his teammate Anthony Guttig,23, were elected respectively Best Foreign and Best French Player in annual votation among sport medias.  Gascon finishes regular season as League Top Scorer. Briançon 21 years-old Spanish goalie Ander Alcaine was elected rookie of the year. Alcaine, arrived in Briançon Diables Rouges from FC Barcelona, preceded Dijon's Nicolas Ritz and Rouen's Anthony Rech
26 Feb 2012, 20:36 | Brunner first in 30 years
As in the previous year (Glen Metropolit) again a Zug player became NLA topscorer - the almost 26 year old Swiss international Damien Brunner. With 24 goals and 36 assists (60 points) in 45 games he kept second placed Fribourg attacker Julien Sprunger (51) on distance by a large margin. By that the attacker is the first Swiss player in 30 (!) years to get this title. The last one to reach this goal was the Arosa player Guido Lindemann during the 1981/82 season. He is the father of Brunner's EV Zug colleague Sven Lindemann and of Langnau's Kim Lindemann.
26 Feb 2012, 19:44 | Gynge scores five goals
Elitserien's top goal scorer Richard Gynge ended an eleven games long streak without scoring with scoring five goals when AIK thrashed Timrå 8-2 in the only game played today. The top point scorer Robert Rosén was also succesful with four assists and now has scored 56 points. The win was an important step for AIK in their hunt for a spot in the playoffs. Boxscore is found here.
25 Feb 2012, 15:02 | Barys Astana release doping suspect Josh Gratton
One day after being suspended for suspected doping, Barys Astana has announced the release of Canadian forward Josh Gratton by mutual agreement. A sample taken on January 24 in Omsk by Russian doping agency RUSADA showed a possible violation of anti-doping rules. A substance of Class S6 was found. In a statement, RUSADA said the substance was not intended to increase athletic performance and it probably comes by accident from some low-quality nutritional supplements, in which not every ingredient was reported on the label. If so, it shouldn't be an intentional violation.
24 Feb 2012, 15:29 | Slovenian National League starts tomorrow
Slovenian Domestic League will start tomorrow with the first round of qualification group. Five teams (Triglav, Bled, Maribor, Slavija and Olimpija) will play a single round robin until March 9th. Then, the best two teams will play against Tilia Olimpija and current champion Acroni Jesenice playoff semifinals. Follow Slovenian League on eurohockey.com !
22 Feb 2012, 19:11 | Two more NHL milestones for Jágr
Jaromír Jágr, 40, scored a goal during yesterday's NHL game of his Philadelphia Flyers in Winnipeg. With point no. 1641 he ties Joe Sakic in the NHL all-time career scoring leaders. In 7th place sits Mario Lemieux with 1723 points. Both Sakic and Lemieux have retired and cannot add any more points. At the same time, the goal mentioned above is Jágr's 16th overtime game-winner. No one has scored more.
22 Feb 2012, 18:34 | Modrý supended five games
Jaroslav Modrý, 40, received a five-game suspension from the Czech Extraliga Disciplinary Council because of a foul against Petr Kafka. The incident occurred during Monday´s game between Plzeň and Kladno. The Plzeň defenceman slashed Kafka from behind while he was on a breakaway. Modrý received a major penalty and a game misconduct from the on-ice referee. Yesterday´s meeting of the Disciplinary Council resulted in additional punishent for him, meaning that Modrý won´t be back until his team´s third game of the upcoming Extraliga playoffs. Today, the Plzeň club appealed the sentence.
22 Feb 2012, 18:11 | CSKA Moscow fires Šupler
Julius Šupler, 61, has been fired from the head-coach position of CSKA Moscow. The club's management was disappointed with the team's results during current regular season. The team is currently placed eight in the KHL West Conference and will finnish the season 2011-12 under a lead of Šupler's earlier assistant Vyacheslav Butsayev.
20 Feb 2012, 19:50 | Game number 1000 for Alexei Troschinsky
Today's KHL game between Vityaz and Severstal was game number 1000 in Russian hockey for Kazakh 38-year-old defenceman Alexei Troshchinsky. Born in Ust Kamenogorsk, Troschinsky won a gold medal with the CIS at the 1992 U20 WC, then represented Kazakhstan in seven World Championships and one Olympics. He played for Torpedo Ust-Kamenogorsk, Dynamo Moscow, Metallurg Magnitogorsk, Avangard Omsk, Torpedo Nizhny Novgorod, Atlant, Ryazan and from 2010 in Vityaz Chekhov, winning five Russian titles, three with Dynamo Moscow, one with Metallurg Magnitogorsk and one European Super Cup with Magnitogorsk. Troshchinsky is the third player to reach 1000-game milestone this season after Vitali Proshkin and Andrei Subbotin.
20 Feb 2012, 14:52 | Amur extends Jortikka contract
KHL team Amur Khabarosk announces Finnish coach Hannu Jortikka signed a two-years contract extension.
"I really wanted to stay in the Amur - said Jortikka - I like the city, the people, the staff of the club. I am absolutely happy with everything. Therefore, I gladly accepted the offer of the club to extend the contract."
19 Feb 2012, 23:15 | Japan wins Challenge Cup of Asia
Just like last year Japan beat China 3-1 in the final to win the 2012 IIHF Women's Challenge Cup of Asia. This year the event was held in in Qiqihar, China.
19 Feb 2012, 16:58 | Jaca won regular season in Spain
Champion CH Jaca finishes regular season at the top of standing with 50 points in 19 games and just three defeats. Puigcerdà, silver medal FC Barcelona and Txuri Urdin are the other teams qualified for playoffs. Escor-Bakh and Majadahonda are out. Playoffs will start on February 25 with semifinals game #1 (best of three): Jaca - Txuri Urdin and Puigcerdà - Barcelona. In the same day Escor-Bakh and Majadahonda will play Copa del Rey first round against Majadahonda B and Boadilla, finished second and first in II Division. Jaca Canadian forward Maxim Martineau finishes as top scorer with 55 points (22 goals, 33 assits)
18 Feb 2012, 11:11 | Olimpija Ljubljana fined for losing on purpose
Slovenian club Olimija Ljubljana was fined by the Erste Bank Eishockeyliga for losing on purpose against Red Bull Salzburg. When the team learned about the other results, head coach Hannu Järvenpää gave instructions to his team to lose to avoid having to play against Red Bull in the first playoff round, as they preferred to face Sapa Fehervar AV19. In the shootout, goalie Matija Pintaric showed no will to make any saves and just left his net open. The club has to pay €10 000 for damaging the reputation of the league. Järvenpää received a two-game suspension plus another two on probation. Pintaric received a 10-game suspension and four games probation.
17 Feb 2012, 21:05 | Panther/Purikad receives suspensions
The Estonian Hockey Federation has decided to suspend Panter/Purikad's player/coach Olle Sildre for the remaining of the season for unsportsmanlike conduct and his verbal attack of the referee after the last league match against Viru Sputnik. Finnish player Jussi Nieminen was suspended four games for charging Viru Sputnik defenceman Aleksei Petrovits. As a result of the charge, Petrovits suffered a broken left collarbone and his season is over.
17 Feb 2012, 20:05 | Matjaz Sekelj takes over as interim Olimpija coach
For the first two playoffs games Olimpija sport Director Matjaz Sekelj will be behind the Dragons' bench, replacing Finnish coach Hannu Järvenpää. Sekelj previously coached Olimpija temporarily in 2009-10 when he replaced Danny Gélinas.
17 Feb 2012, 19:57 | Friesland Flyers won't confirm coach for next season
Dutch team Friesland Flyers chairman Henk Hoekstra announces headcoach Hans Kroon won't return next season: "He's too busy with his work  to combine with ice hockey. The club is thinking back to a full-time coach to be appointed" - said Hoekstra: "The lesson of last season has been that we have better results with players who are focused only on hockey." Looking for a new coach, Hoekstra announces former players Jan Janssen, Gert Nijland and Marcel Nijland will enter in technical staff and that team budget for next season will be around 340.000 euro
17 Feb 2012, 14:00 | Gatiyatulin new White Bears coach
Former Traktor Chelyabinsk defender Anvar Gatiyatulin was named MHL White Bears Chelyabinsk head coach. Andrei Sapozhnikov and Andrei Kudinov will serve as assistants
17 Feb 2012, 02:36 | Predators and Admirals extend agreement
Nashville Predators and Milwaukee Admirals jointly announced today that the Admirals will continue to serve as the Predators top developmental affiliate through the 2013-2014 season with a mutual option for the 2014-15 campaign. Per conditions of the agreement, the Admirals will continue to receive their roster from the Predators.
16 Feb 2012, 21:04 | Five teams interested in NLA promotion
At the 31 january deadline, five Swiss NLB clubs expressed interest to enter in NLA if playoffs champion: HCC La Chaux-de-Fonds, SC Langenthal,  Lausanne HC, EHC Olten and EHC Visp
16 Feb 2012, 20:51 | Three players get Belarussian citizenship
Three Dinamo Minsk Canadians, Jeff Platt, Kevin Lalande and Charles Linglet, get Belarussian citizenship. Normally the process takes seven years but Belarussian government makes an exception for the athletes
16 Feb 2012, 00:10 | Hull Stingrays' Jereme Tendler provisionally suspended
"Following tests carried out at the Elite Ice Hockey League match between the Coventry Blaze and Hull Stingrays in January by UK Anti-Doping, IHUK can confirm that Jereme Tendler of the Hull Stingrays has been provisionally suspended following an adverse analytical finding. As an investigation is currently underway, no further statement will be made until a final outcome has been confirmed."
15 Feb 2012, 18:03 | Matt Ezzy announces retirement
Newcastle North Stars and Australia goalie Matthew Ezzy announces his retirement due to work's commitments. "I recently finished my training as a commercial pilot, and I'm likely to start my career in the more remote areas of Australia." - said Ezzy - ""I have to get out there and get my career off the ground."
Ezzy, 28, was elected 4 times Best AIHL goalie and 3 times Best Goaltender at IHWC Div. II.
"Hopefully in a couple of years I'll be able to return to Newcasle and play again." completes Ezzy.
15 Feb 2012, 18:02 | Czech Extraliga game postponed due to crash
Today´s Czech Extraliga game between Vítkovice and České Budějovice will start later. The team from České Budějovice was stuck in a traffic jam and has arrived late. Originally scheduled to start at 17:30 CET, the opening faceoff will now take place at approximately 18:15, according to the latest estimations the first face-off could take place at 18:15. The situation occured because of a multi-car crash on the highway near Olomouc. The bus with the team was stuck in the jam and was unable to arrive in Ostrava in time.
15 Feb 2012, 14:44 | Fire at Mogilev Arena
A fire occurred in the locker room of farm team "Mogilev", located on the first floor of Mogilev Arena on February 12. Thanks to the automatic fire alarm fire was discovered at an early stage and didn't spread out of the room damaging four wardrobes with jersey and hockey clothes and the same room. No injuries were reported.
14 Feb 2012, 19:42 | Christian Weber new coach at Klagenfurt
Swiss Christian Weber, until now junior team head coach, was named new KAC Klagenfurt coach. He replaces Manny Viveiros, named Sport Director. Weber also coaches Austria U20 National Team
13 Feb 2012, 19:55 | Mike Comrie announces retirement
After 589 NHL regular season games with the Edmonton Oilers, Philadelphia Flyers, Phoenix Coyotes, Ottawa Senators, New York Islanders and Pittsburgh Penguins, collecting 168 goals and 197 assists, 31-years-old Mike Comrie announces today his retirement, two weeks after his third hip surgery in five years. In a statement released by his agent Comrie says he was no longer able to "manage the rigours of NHL play." He won a IHWC with Canada in 2002 and played one season in Europe with Swedish Färjestad
13 Feb 2012, 13:21 | New record for Nicklas Lidström
In the night Detroit Red Wings, beating the Philadelphia Flyers 4-3, equaled an NHL mark with its 20th straight win at home, captain Nicklas Lidström celebrates another personal record playing his 1,550th game, the most by an NHL player who spent his entire career with one team surpassing previous record, set by Red Wings' Alex Delvecchio, 1549 games with Detroit from 1950-51 season to 1973-74.
12 Feb 2012, 22:46 | Russia triumphs in U16 tournament in Sweden
Winning 4-3 (1-1,2-2,1-0) last game against host Sweden, Russia captured U16 Four Nations Tournament played last weekend in Sundsvall. Russia won 4-3 at shoot-outs against Finland in opening game, then destroyed 8-1 Czech Republic. Sweden finished second, Finland captures bronze with a 2-0 victory over last placed Czech Republic
12 Feb 2012, 18:13 | New arena in Zurich in 2017
The municipality of Zurich has approved the construction of a new arena in the Alstetten area for 2017. An architectural competition will be published in mid-February to build a 12 000-capacity hockey arena for the ZSC Lions and a 3000-capacity volley arena for team Volero Zurich. Each club will invest 44 million Swiss francs and the municipality will put in 149 million. The ZSC Lions currently play at Hallenstadion, a 10 700-capacity arena, originally built in 1939 and completely rebuilt in 2005.
12 Feb 2012, 14:32 | U16 friendlies
The U16 teams of Norway and Denmark played three games in the newly built Idda Arena in Kristiansand. The first game ended with a 4-4 tie. Denmark won game 2 3-2 and today Norway won the third game 10-1.
11 Feb 2012, 15:01 | West Team won MHL Challenge Cup
Beating 4-2 (0-1,2-1,2-0) East Team, West won MHL Vyzova Cup, the League All Star Game, played in a sold out Magnitogorsk Arena in front of 7.700 spectators. Krasnaya Armiya forward Roman Lyubimov was the game MVP scoring two goals
11 Feb 2012, 00:26 | Another game postponed in Serbia
Unlucky season for Serbian domestic hockey continues: league game between Vojvodina and Vitez wasn't played due to lack of electricity in the Novi Sad arena  due to rationing of electricity because of the extreme weather conditions in all Vojvodina region. Isn't clear if the game was cancelled or just postponed. At now only two games were played in Serbian League
10 Feb 2012, 23:20 | Kloten Flyers have new GM and majority shareholder
Swiss team Kloten Flyers is making changes on its board: starting next May, 37-year-old Adrian Fetscherin will be the new GM. He currently is the director of sport editorial office at Teleclub. In the 2013-14 season, he will buy a majority stake from current board chairman Jürg Bircher and will be the new majority shareholder.
10 Feb 2012, 21:07 | USHL Expands Schedule for 2012-13
The United States Hockey League today announced that the USHL Board of Directors has approved an increase in the League's regular season schedule from 60 to 64 games beginning with the 2012-13 season.

Each USHL Member Club will play 32 home games and 32 road games in 2012-13, an increase of two home and two away contests over the 30 home, 30 road game schedule each team is playing this season.  The announcement marks the first time the USHL has changed the number of games each team plays in the regular season since it was first designated by USA Hockey as the only Tier 1 junior hockey league in the United States in August 2002
10 Feb 2012, 18:15 | Björn and Salming in Swedish Hall of fame
Before the game against the Czech Republic on Thursday. Lars Björn and Börje Salming was announced as member number 2 and 3 of the Swedish Hockey Hall of Fame
10 Feb 2012, 15:21 | Valeri Evstifeev passes away
Former Russian player Valery Evstifeev passed away yesterday at 55. He played for Spartak Moscow and Krylia Sovetov during the '80s, representing Soviet Union at WJC U20 in 1976.
09 Feb 2012, 17:40 | Referee suspended in Kazakhstan
Referee Vladimir Malienko was suspended until end of season by Kazakhstan Federation for his mistake during regular season game Beybarys Atyrau - Arlan Kokshetau, played last February 3. At minute 17 in the first period Malienko didn't allow a regular goal scored by Arlan defender Samvel Mnatsyan alleging that cage was moved, but video replay didn't confirm. Arlan lost game 2-1
09 Feb 2012, 15:33 | Lithuanian League Final Four in Siauliai
Lithuanian National League Final Four will be played in Siauliai on 24-25 March. Second division Final Four will be in Klaipeda on 28-29 April
09 Feb 2012, 15:26 | Colin Muller quits Swiss National Team
Swiss-Canadian Colin Muller won't be on Switzerland bench at next IHWC as Sean Simpson assistant coach. Swiss Federation will soon announce the name of new coach
09 Feb 2012, 14:44 | Asiago fires coach
Despite two consecutive titles, Italian champion Asiago fires Canadian coach John Tucker due to poor results in current season. Asiago is playing relegation round in Serie A. The new coach will be current Tucker's assistant and former Asiago player John Parco
09 Feb 2012, 14:35 | Ilya Nikulin named Russia captain
Ak Bars Kazan defender Ilya Nikulin was named Russia captain for next Oddset Hockey Games in Sweden. SKA Evgeny Artyukhin ans Metallurg Magnitogorsk Evgeny Biryukov will serve as assistants


09 Feb 2012, 09:23 | U17 Four-nations tournament in Czech Republic
The city of Hradec Kralove hosts a 4-nations tournament of U17 teams from Czech Republic, Finland, Sweden and Russia this weekend, featuring some of the brightest young stars of respective nations. Games run from Thursday to Saturday, with more info available here.
08 Feb 2012, 22:45 | Torp suspended four games
Timrå's Nichlas Torp has been suspended four games and fined 21 000 SEK for a tackle against the head of Frölunda's Sebastian Collberg.
07 Feb 2012, 23:22 | Litvinov fires second coach in one season
HC VERVA Litvinov has announced another coaching change this season. Jiri Kucera, who previously succeeded Vladimir Kyhos, was fired by the club management and replaced by Vladimir Jerabek. Litvinov find themselves in 12th place, just two points above the last placed team, with five regular season games to go.
06 Feb 2012, 12:58 | HYC Herentals wins Belgian Cup
HYC Herentals has won the Belgian Cup on Sunday in Deurne by beating White Caps Turnhout with 4-3. For Herentals it was the eighth win of the national cup and the first since 2003.
05 Feb 2012, 21:44 | Edinburgh Capitals re-sign top scorer
The Edinburgh Capitals today announced that they have extended the contract of Slovakian forward René Jarolin. Jarolin, who is the EIHL's top goal scorer with 35 goals in 44 games is the second signing that the Capitals have made for 2012/13, after re-signing player/coach Richard Hartmann back in December.
05 Feb 2012, 09:57 | Belgian National League game not finished
The game between Guellegem Jets and Yeti Bears Eeklo was never finished as Guellegem's coach Dean Martin decided that his team wouldn't return to third period as his team had too many injured players and the game was too hard. The score after two periods was 1-7.
05 Feb 2012, 00:15 | Brad Voth retires
Cardiff Devils Canadian forward Brad Voth has retired with immediate effect following a spate of injuries this season. Voth played over 300 games for the Devils over six seasons, racking up over 200 points and 1700 penalty minutes in that time.
04 Feb 2012, 15:28 | Sébastien Reuille gets 80 stitches
HC Lugano forward Sébastien Reuille was hit by a puck on the face during training last friday and was immediately taken to the hospital where was sutured with 80 stitches during a four-hours surgery. He also lost various teeth. It's already impossible to predict when Reuille can return to ice
04 Feb 2012, 15:18 | Alexei Koznev joins Silver Lions staff
Former forward Alexei Koznev, retired after last season, was appointed as new athletic director at MHL team Silver Lions St. Petersburg.
04 Feb 2012, 07:28 | Miskolci ties the semi finals against Csíkszereda
Miskolci JJSE won game four 1-0 to tie the MOL Liga semi finals against HSC Csíkszereda 2-2. Bence Svasznek scored the goal in the second period.
Regular season winner Csíkszereda won the first two games but then Miskolci won its two home games. The winner of game five will play Dab.Docler in the finals.
03 Feb 2012, 20:11 | Lindström suspended three games
Skellefteå's Joakim Lindström has been suspended three games and fined 40 000 SEK for a tackle against the head of Färjestad's Marcus Paulsson.
03 Feb 2012, 18:20 | Averin out, Burdasov in
Russian roster for next Swedish Oddset Hockey Games suffers a modification: Avangard Omsk forward Egor Averin, sick, was replaced by Traktor Chelyabinsk Anton Burdasov
02 Feb 2012, 12:53 | Sokil strengthen leadership in Ukraine
With goals by Shakhraychuk, Nikolishin and Chernenko Sokil Kyiv wins 3-0 against the main rival Berkut in the "Battle for Kyiv" and strengthen its leadership in Ukranian Professional Hockey League. For the first time in 36 rounds Berkut ends a game scoreless. Sokil is now leaders with 94 points, 6 more then champions Donbas Donets'k. Berkut Kyiv is third with 74.
02 Feb 2012, 12:12 | Swiss club voluntary relegated
Swiss 1.Liga club HC Tramelan announces its voluntary relegation to 2.Liga for next season due to financial problems. Tramelan board assures club will play upcoming play-out will reliability and full roster
01 Feb 2012, 10:58 | A change in the Swedish EHT roster
Swedish goalie Erik Ersberg that was named for the Swedish Oddset Hockey Games roster has to recover from some minor injuries and will be replaced with Johan Gustafsson.
01 Feb 2012, 00:55 | Maxim Sokolov sets a new record
Playing 45 minutes in his first seasonal game against Ak Bars Kazan, SKA St. Petersburg goalie Maxim Sokolov sets a new record in Russian hockey: he is the first goalie playing for 21 seasons. Aleksandr Pashkov and Yuri Shundrov played 20 seasons, legendary Vladislav Tretiak for 16. Sokolov, 40, debuted in 1992-93 for same SKA, playing also for Severstal, Avangard and Metallurg Nk. For Russian national team he played in six World Championships and in 2006 Winter Olympics in Turin.
31 Jan 2012, 22:54 | Duda receives a sentence
Radek Duda, a Czech Extraliga player for HC Plzeň 1929 was found guilty of the assault of a pedestrian. But Duda is not going to prison. He received a suspended three-month long punishment with a year long probation period. The incident occured in January 2011: Duda was driving a car and did not give way to a pedestrian. The pedestrian grazed the car, Duda stopped it, got off and insulted the man. Currently, Duda is the top-scorer of Czech Extraliga's 2011-12 season.
31 Jan 2012, 15:55 | Dinamo Minsk will start playoffs in Bobruisk
Dinamo Minsk announced that the team will play the first two playoffs game at Bobruisk Arena due the figure skating World Junior Championship at Minsk Arena. The club will run special trains to Bobruisk for fans.
30 Jan 2012, 10:35 | Team Chara wins NHL All Star Game
Team Chara wins 12-9 against Team Alfredsson reporting 2011-12 All Star Game in Ottawa. New York Rangers Marian Gaborik, scring 3 goals plus one assist - was named game MVP
30 Jan 2012, 01:23 | Dijon won French Cup in a thrilling final
Dijon won its second Coupe de France beating Continental Cup champion and current Cup holder Rouen in a thrilling final at Paris Bercy in front of 13.362 spectators. Rouen played without its star goalie Fabrice Lhenry and France national team defender Jonathan Janil, both injured. Regular time ends with a unusual score of 6-6. Young Dijonnais Nicolas Ritz scores decisive goal after 01.24 in overtime. Dijon forward Yannick Riendeau, scoring 3 goals, was named game MVP
29 Jan 2012, 22:41 | End of regular season in Slohokej liga
After HD Mladi Jesenice folded the competition the seven remaining clubs finished the regular season. First seeded HDK Maribor now goes directly to play off semifinals while six other clubs play in a best of three series for the remaining three spots. Play off start February 1st with games between HK Partizan - HDD Bled, HK Triglav - HK Slavija and HK Olimpija - KHL Mladost.
29 Jan 2012, 20:47 | Chára improves his NHL record
Yesterday, as well as every single season from 2006-07, Zdeno Chára won the hardest-shot competition during the NHL's All-Star weekend in Ottawa, Canada. The value of his best attempt and of the new NHL record is 175km/h(108.8mph). Last year he made 170.4km/h(105.9mph) what also was the new world record. The current value of the world record is 177.58kmph(110.343mph) what made Denis Kulyash during the last year's KHL All-Stars weekend in St. Petersburgh, Russia.
29 Jan 2012, 19:31 | Winter sales in Poprad
Today, another two players of HC LEV Poprad changed the club: goalie Tomáš Duba(to Chomutov; 1.liga(CZE)) and forward Martin Chabada(to Biel, NLA(SUI)). As there are almost no chances left to make the playoffs, big part of Poprad's roster is for sale. In summary, Duba and Chabada are the 8th and 9th player who have left the organization only in January. Are you a hockey-club manager? Does your team need any good players for the finnish of the season? You should contact HC LEV Poprad!
29 Jan 2012, 18:16 | Färjestad defeated Djurgården
In the only game of the day in Elitserien Färjestad won 1-0 against Djurgården in an even game with chances on both ends. Patrik Lundh scored the only goal assisted by Mikael Johansson who made his 26th assist and is leading the league in assists. Fredrik Pettersson-Wentzel made 25 saves for the shutout when Christopher Nihlstorp was injured. Boxscore
29 Jan 2012, 18:16 | CH Jaca lost for the first time
After 18 rounds of Liga Nacional, champion CH Jaca lost saturday its first game. Txuri Urdin from San Sebastian was the first team to earn points from Jaca, winning 4-1 at Pabellon de Hielo in Jaca. American forward Adrian Sosa was the man of the match scoring an hattrick. CG Puigcerdà won the game between runner ups clashing FC Barcelona 8-0.

29 Jan 2012, 11:26 | Columbus to host 2013 All Star Game
Columbus was chosen to host next season All Star Weekend. "We're looking forward to bringing our All-Star celebration to Columbus," said Commissioner Gary Bettman "The Blue Jackets did a great job of hosting the NHL Draft in 2007, and I have no doubt they will raise the bar even higher when they welcome our All-Star celebration next January."
29 Jan 2012, 08:40 | Leads 3-0 but loses - twice
For the second day in a row High1 leads the Asia League game 3-0 but loses 4-3. Yesterday Cranes won 4-3 in the shootout and today Eagles won 4-3 in overtime.
28 Jan 2012, 19:45 | Elkins leaves Pardubice to be with his pregnant wife
Corey Elkins' pregnant wife is going through health complications. That's the reason why Elkins, currently on the injury list of ČSOB Pardubice, left the Czech Republic to join his wife in a tough life situation. Regarding to information of iSport.cz Elkins' wife already miscarried her twins during a flight to the U.S.
28 Jan 2012, 19:41 | Bowman joins the U.S. Hockey national team
Stan Bowman, vice president and general manager for the NHL's Chicago Blackhawks, has been added to the U.S. Men's National Team Advisory Group, it was announced today by USA Hockey.
28 Jan 2012, 19:17 | Will the Czechs, Finns and Russians share the camps?
Slavomír Lener, 56, the Czech Republic's director of the national team program and player development told to IIHF.com he wished to arrange a shared training camp for the best youth players of the Czech republic, Finland and Russia. "I hope I'm going to have an agreement with all those federations, and I would like to arrange that camp in July," Lener said. In his concept every country could delegate five players to join the camp.
28 Jan 2012, 10:56 | Jean Perron backs on Israel bench
Montreal Canadiens' 1998 Stanley Cup winning coach Jean Perron has agreed to return on Israel national team bench for upcoming IHWC Division II.
Perron, 66, led Israel in 2005 and 2006 when team won II Division and was promoted in Division I, the best ever result for Israeli hockey.
Perron will be at National Team training camp scheduled for February 3-4.
28 Jan 2012, 10:34 | New problems for Serbian League
With just one game played and start postponed from November to January, Serbian League continues to face difficulties: game number 2 between Crvena Zvedza and Vitez, scheduled for yesterday, was cancelled. It seems Crvena Zvezda wants to withdraw from the league
27 Jan 2012, 18:20 | Lausanne takes a 0-5 by forfeit
Swiss Nationalliga B disciplinary commission decided to assign a 5-0 loss to Lausanne in the last January 24 game against HC Thurgau, originally won 3-0 by Lausanne. Team alligned defender Tim Bucher despite he received a major penalty, and so an automatic one-game suspension, in January 21 game against EHC Visp
26 Jan 2012, 14:49 | After 213 consecutive games played Lidström wasn't on ice
A flu stopped the Detroit Red Wings captain Nicklas Lidström after 213 consecutive games. The Swedish defender missed the last Red Wings game against Montreal. His last game watched from the stands was on April 2009 against Chicago.
Lidström also leads the team with 23:43 of ice time per game.
25 Jan 2012, 17:42 | Jan Latvala makes Finnish ice hockey history
Jan Latvala, Pelicans Lahti, will play his 1000th SM-liiga game on Saturday, Feb 4th at home against TPS. Latvala, 39, is only the 2nd player in Finnish SM-liiga who reaches this milestone. Current record holder is Rauma native Erik Hämäläinen who played 1001 games for Lukko, KalPa and Jokerit during seasons 1982-2008. Latvala is going to break also this record couple of games later. Besides Pelicans Latvala has played for JYP and Jokerit.

When Latvala some day retires his record will most likely stand for years. At the moment next active player with most played games is HPK's Marko Tuulola, soon 41 years, with 826 games (by the 24th of Jan).
25 Jan 2012, 10:17 | Ovechkin won't play All Star Game
Upcoming January 29 All-Star Game won't count with Aleksandr Ovechkin. After the three games suspension taken for a charging incident with Pittsburgh Penguins defenseman Zbynek Michalek last Sunday, Ovechkin said he dosn't deserve to partecipate in All-Star Game as a suspended player. In a statement NHL said it had "no intention of pursuing this matter further."
24 Jan 2012, 17:47 | Game number 1000 for Vitaly Proshkin
Salavat Yulayev Ufa defender Vitaly Proshkin played career game n° 1.000 in Russian elite leagues today in Salavat 3-0 victory against Vityaz. He debuted in 1994-95 season with Kristall Elektrostal, playing also for Dynamo moscow and Ak Bars Kazan where he spent most of his career (407 games. Proshkin, 36, played also in six World Championship with Russian national team. He celebrated the milestone serving one assist in Salavat 2nd goal scored by Igor Grigorenko
24 Jan 2012, 16:38 | Sokol Krasnoyarsk changes coach
Six consecutive defeats cost the job for Aleksandr Glazkov, replaced on Sokol Krasnoyarsk (VHL) bench by Byelorussian Vyacheslav Dolishnya
24 Jan 2012, 15:10 | Jesenice fulfills EBEL conditions
HK Acroni Jesenice has fulfilled all conditions set up by the management of EBEL and is therefore allowed to complete the ongoing season. The financially troubled Slovenian club had to guarantee its ability to provide basic services, such as transport to away games, medical service etc. The guarantee has been confirmed by the Slovenian Ice Hockey Federation, Mayor of Jesenice and representatives of coaching and playing staff.
23 Jan 2012, 17:38 | Ukranian shine in All Star Game
Ukranian Stars beat 14-12 Foreign Stars in first ever All Star Game played yesterday in Kyiv in front of 6.500 spectators. Sokil Kyiv's Konstantyn Kasyanchuk was the star of the game with four goals and two assists while Lithuanian forward Arturas Katulis (Berkut Kyiv) was elected best player of imports team
23 Jan 2012, 17:33 | 2012 KHL draft in Chelyabinsk
Kontinental League board announced next KHL draft will be from 25 to 26 May 2012 in Chelyabinsk.
23 Jan 2012, 16:34 | Helvetics Sports AG officially registered
The KHL project of the Swiss Helvetics has gone a step further as the Helvetics Sports AG has been officially registered at the Commercial Register of the Canton Bern. Part of the shareholders are German-Latvian coach Igor Pavlov and former Swiss national goalie Lars Weibel. Goal of Helvetcs Sports AG is to establish an ice hockey team in the Canton Bern and the creation of a stadium - both to play in KHL.
23 Jan 2012, 16:31 | KooKoo fires coach too
Sunday was a pretty busy day in Finland regarding coach firing. After HPK from SM-liiga also Mestis club Kookoo fired coach Ismo Lehkonen. Kookoo is currently in the 2nd place in table only 2 points behind league leaders Jukurit and firing was a little bit suprising at least for the people who look at the team from distance. Assistant coach Jarno Kultanen will take care of the coaching for now but KooKoo will inform later about coming trainer decisions.
23 Jan 2012, 16:27 | SM-liiga club HPK fires coach
Finnish SM-liiga's team HPK from Hämeenlinna has fired coach Harri Rindell on Sunday. HPK has played the whole season very poor and it is currently at the last place of the table (14th) and is fighting against the relegation games which the last team will face at the end of the season. Rindell is replaced by Timo Lehkonen who has earlier been assistant coach for HPK but was currently working with the juniors of the team.
23 Jan 2012, 12:48 | Servette cuts distance
In Sunday`s two NLA games Genève-Servette HC used the chance to come even closer to EHC Biel which is on the last playoff spot. While Biel lost 2-4 at home against top team EV Zug, Genève won its away game against record champion HC Davos 3-2 after shootout. Now Genève is only three points behind Biel.
23 Jan 2012, 00:01 | Iceland wins U20 WJC Div. III in NZ
In Dunedin, New Zealand, the Icelandic U20 junior national team had no problems to win all its four games to get the promotion to Div. IIB. In the decisive game Iceland won 5-1 against China on Sunday when both teams had nine points each. Host New Zealand finished on the third position with six points in front of Bulgaria (3 pts) and Turkey (0 pts).
21 Jan 2012, 11:40 | Serbian League finally starts
Originally scheduled for mid-November and postponed due to lack of agreement between clubs and federation, Serbian League finally started yesterday with Spartak Subotica's 6-4 away victory against Vojvodina Novi Sad. The Serbian League is consisting of four teams, besides Vojvodina and Spartak, Crvena Zvedza Beograd and Vitez Beograd. The winner of the regular season will play a final against Slohokej Partizan Beograd.
21 Jan 2012, 10:20 | Team Fetisov wins the Legends Game
Yesterday, just a day before the 2012 KHL All-Star Game, a special event took place at Arena Riga in Riga, Latvia. A Legends Game between the legends of Russia led by Vyacheslav Fetisov and legends of Latvia captained by Helmuts Balderis took place. The game ended 11:7 in favour of the Russians. Such legends as Vladimir Myshkin, Valery Kamensky, Andrei Kovalenko, Vyacheslav Anisin as well as Aleksandrs Kercs, Olegs Znaroks and Harijs Vitolins were out there proving their never-fading hockey skill.
21 Jan 2012, 00:37 | Levy L'viv has a new coaching staff
Ukranian team Levy L'viv fires head coach Denis Bulgakov and replaces him with 51 years old Vladislav Yershov. Yuri Makrensky will be the assistant coach along with same Bulgakov
20 Jan 2012, 16:44 | Game 1,100 in NHL for Sergei Gonchar
The Ottawa Senators 4-1 victory against the San José Sharks marked NHL game number 1,100 for Russian defenceman Sergei Gonchar. He debuted in the 1994-95 season with the Washington Capitals, playing also for the Boston Bruins and Pittsburgh Penguins. "The thing is, time is just flying by," Gonchar said. "It seems like just a little while ago I was starting in the NHL, then all of a sudden it's 1,100 games. Time just flies by, season after season." The only Russians to play more NHL games are Alexei Kovalev, Sergei Fedorov and Slava Kozlov.
In the same game, another Senators defenceman, Czech Filip Kuba, celebrated his 100th point in the league.
20 Jan 2012, 11:49 | Radek Martinek is out for rest of season
Columbus Blue Jackets Czech defenseman Radek Martinek will miss the remainder of the season due to post-concussion symptoms. Martinek, 35, suffered a concussion in a game at Detroit on October 21.
"After consulting with our medical team it was determined that it would be in Radek's best interest not to play again this season," said GM Scott Howson "Radek is very disappointed, as are we, that he will not return to the ice this year but his health moving forward is the most important factor in this decision."
20 Jan 2012, 00:08 | Cortina wins Italian National Cup
SG Cortina surprisingly wins Coppa Italia beating Bolzano 4-3 at shoot-outs in Final Four played at Bolzano's Palaonda. In semifinal Cortina won 2-1 in overtime against favorite and Cup holder Val Pusteria
This is 3rd National Cup for Cortina after the victories in 1973-74 and 1974-75
19 Jan 2012, 20:06 | Peter Åslin passed away
Former Swedish national team goalie Peter Åslin passed away on Thursday morning at the age of 49.
19 Jan 2012, 16:31 | Andorra Federation elected new president
The Andorran Ice Sports Federation has elected a new President in Mònica López, the former General Secretary of Andorra's national body for ice hockey and other ice sports.
López succeeds David Palmitjavila. Raquel Puigcernal was named new General Secretary.
19 Jan 2012, 11:41 | 15 games suspension for Dubois
Dunkerque Corsaires (French second division) defender Grégory Dubois received 15 games suspension, 5 of which already served, for assaulting the referee during the match against Reims played last december. Dunkerque announced club will appeal
18 Jan 2012, 22:48 | Alfredsson and Chara named All Star game captains
Ottawa Senators Daniel Alfredsson and Zdeno Chara of the Boston Bruins were named as captains for the NHL All-Star Game.
Both Alfredsson and Chara are making their sixth All-Star appearance.
18 Jan 2012, 20:56 | Richard Král injuried
JKH Jastrzebie Czech forward Richard Král broke the knee ligament during the match against Podhale after he was hardly charged. He may not be able to play to the end of this season. Richard had played 29 matches, scored 16 goals and served 26 assists.
18 Jan 2012, 11:52 | Kölner Haie get away win in Hannover
In Tuesday's two DEL matches the favourites both won their games. While Eisbären Berlin won 6-5 against last year's finalist Grizzly Adams Wolfsburg, the Kölner Haie won 3-2 away against bottom club Hannover Scorpions.
18 Jan 2012, 11:44 | Biel improves playoff chances
In Tuesday`s only NLA game EHC Biel won away against their neighbours in the standings ZSC Lions with 5-2. Now they are against seven points ahead of Genève-Servette HC.
18 Jan 2012, 09:21 | Stümpel joins HK Nitra
Jozef Stümpel, 39, joined workouts of the Slovak Extraliga team HK Nitra. It is not sure if Stümpel will play for Nitra, he holds offers from several European countries. The 2002 IIHF World Champion with Slovakia announced he will make a final decision until Jan, 31. The last team Stümpel played for is Spartak Moscow (KHL). Stümpel left Spartak on Jan 1, 2012.
18 Jan 2012, 08:10 | Třinec has a new coach: Jan Tlačil
Regarding to the club's official website Jan Tlačil replaces Pavel Marek in the spot of Třinec's head coach. Marek resigned for his position, but he remains in the position of the club's sport director. The reason for Marek's resignation is in the team's result. The last year's Czech champion is currently in the eighth poisition of the league standings and has to fight hard for a play-off ticket. Marek hopes that the change of the coach will be a stimulus fo the team. An asstant coach of Marek, Břetislav Kopřiva, leaves Třinec as well.
17 Jan 2012, 21:57 | Shutout by Wesslau when Djurgården won
Gustaf Wesslau was very good and made 26 saves for the shutout when Djurgården won 3-0 against Timrå. It was Wesslau's second shutout for the season, both against Timrå. Mario Kempe scored two goals in an important win for Djurgården.
16 Jan 2012, 22:54 | Valpellice hires Ron Ivany as new coach
Valpellice Bulldogs choose Canadian Ron Ivany as new coach, replacing fired Mike Ellis. In Italy Ivany, 62, already coached Fassa, Renon and last season Gherdeina in Serie A2
16 Jan 2012, 22:40 | Game not played in Kazakhstan League
Due to ice problem at Almaty Baluan Sholak Arena, Kazakhstan League match between HK Almaty and Arystan Temirtau wasn't played today and will be rescheduled. Place and date will be determined soon.
16 Jan 2012, 22:32 | The players of Zlín pay the tickets for fans
Czech Extraliga club Zlín prepares big discounts on the tickets for a game against Mladá Boleslav. The tickets for seating are available with a 50% discount, standing places will have free entrance. This is a club's gesture of apologize for the team's recent results. The club's management is disappointed about them and decided to take a part of the players' bonuses and invest them into the tickets discounts. Zlín's next home game is scheduled for Friday, Jan 20.
16 Jan 2012, 18:15 | Tolsa and Nilson suspended two games
Frölunda's Jari Tolsa has been suspended two games and fined 9 000 SEK for a hit to the head in the game against Djurgården. Djurgården's Marcus Nilson was suspended two games for hitting a linesman in the same game when trying to get to Tolsa after another he had hit another player. Both hits made Djurgården players leave the game with injuries but the disciplinary board judged the second one to be an accident.
16 Jan 2012, 02:46 | Valpellice fires coach
Valpellice Bulldogs, last in Italian Serie A, announces team fires British/Canadian coach Mike Ellis, from lat season playoffs' on Bulldogs bench. Interim coach will be team manager Giulio Francella
14 Jan 2012, 18:19 | Kazakhstan has new coach
Kazakhstan National Federation appointed Barys Astana coach Andrei Shayanov as new head coach until the end of next World Championship. He replaces former coach Andrei Khomutov. By a coincidence Shayanov replaces same Khomutov also on Barys bench last october. Shayanov will remains in charge also at Bary
14 Jan 2012, 18:09 | New record for Sergei Fedorov
Scoring a goal in the Metallurg - Dynamo Moscow game, Magnitogorsk forward Sergei Fedorov becomes the oldest player to score a goal in Kontinental Hockey League history at 42 years and one month
14 Jan 2012, 17:35 | Turnhout withdraws from the North Sea Cup
The main reason appears to be that the import players fear for their safety due to the many injuries.
All games involving Turnhout will be scrapped. The standings and statistics in the North Sea Cup will be adjusted.
14 Jan 2012, 11:26 | Photos from Continental Cup
A selection of photos from the Continental Cup Super Final is found on the Eurohockey.com Facebook page
13 Jan 2012, 22:12 | Košice keeps first place in Slovak Extraliga
The hard fight for the first spot in the standings continues. Slovan Bratislava crushed Žilina 7-0 and currently the club has 49 points. But Košice won its game in Zvolen as well (3-1), so they keep the top spot. There is a six-point gap behind Košice and Bratislava. For more info have a look at the league's details.
13 Jan 2012, 21:30 | Dresdner Eislöwen become fraud victim
German 2. Bundesliga club Dresdner Eislöwen has been repeatedly the victim of one or more persons this season who have used the bank account details of third persons to buy a large amount of tickets to damage the club's reputation and its finances. According to the club the amount of money used for illegal ticket purchases is higher than €50.000. The case has been handed to the police while the club has cancelled all the illegal purchases and gave the money back to all people whose bank details had been used.
13 Jan 2012, 18:18 | HC LEV ownership moves to Prague
KHL club HC LEV has officially changed the company´s residence. The club was moved to the Czech Republic because of the change in its ownership structure. In addition, since Jan 13 the official name of the company is Hockey Club Lev Prague. According to HC LEV Director of Communication Jan Rachota, the club is going to stay in Poprad, Slovakia, for the rest of the 2011-12 and for the whole 2012-13 season.
12 Jan 2012, 09:35 | Adam Dennis becomes Italian
Thanks to his mother born in Italy, Canadian born Alleghe goalie Adam Dennis, one of star player in Serie A, has now Italian citizenship and can be called by coach Rick Cornacchia for National team. Dennis, 27, drafted by Sabres in 2005 when he won Memorial Cup with London Knight, commented: "My mother born in Catanzaro, South Italy, and there I have relatives always asking me about National team, so now dress Blue jersey will be an honour for me and all my family"
11 Jan 2012, 10:54 | Žďár nad Sázavou hires Cihal as coach
Czech Second League team SKLH Žďár nad Sázavou has fired coach Petr Kuchyňa and hired former Kometa Brno, Varese (ITA), and Ambri Piotta (SUI) head coach Svatopluk Cihal.
Cihal, 64, was an assistant coach with Kometa Brno, his former club as player, last season.
10 Jan 2012, 19:14 | Nedorost out for the season
HC LEV Poprad will miss their top scorer Vaclav Nedorost for the remainder of the season after the Czech forward suffered a shoulder injury in KHL game against Sibir Novosibirsk. Nedorost has already underwent surgery. His recovery is expected to take at least two months.
09 Jan 2012, 17:30 | New coach in Linköping
Linköpings HC is 11th of the 12 teams of Elitserien. A result far below the expected. Now coach Hans Särkijärvi has to go. Harald Lückner was today named new head coach.
09 Jan 2012, 16:41 | Columbus Blue Jackets fire coach
Columbus Blue Jackets, the worst NHL team, have fired coach Scott Arniel, after one season and half, replacing him with assistant coach Todd Richards until the end of the season.
Columbus was the first Arniel's experience as head coach in NHL
We have two wins in our last 11 games' general manager Scott Howson told ESPN.com. 'I just wanted to move the team in a new direction with a different head coach. Scott tried everything and he was running out of answers. I didn't see much hope in moving forward with him. I just felt this needed to be done.'
09 Jan 2012, 11:03 | Fasel: IHWC 2014 will be in Belarus
During the post-tournament press conference in Calgary, IIHF president Rene Fasel responded to the US Congress request to move the 2014 World Championship from Minsk, Belarus:
"We discussed this issue at a meeting of the Board and during the Congress," said Fasel. "Congress decided to hold the tournament in Belarus in 2014. So the Championship will be held in Belarus."
09 Jan 2012, 10:38 | New cooperation for Magnitogorsk
Metallurg Magnitogorsk has signed an agreement on sports cooperation with Titan Klin of VHL
Previously existing agreement with Yuzhny Ural Orsk was terminated by mutual agreement.
09 Jan 2012, 10:24 | Lehterä out for injury
Sibir Novosibirsk Finnish forward Jori Lehterä broke his leg during yesterday 5-2 victory against Dinamo Minsk. He flies today to Finland for a surgery but it's still unclear how long he will be out
09 Jan 2012, 10:05 | Daniel Mitterdorfer voted young star of December
Daniel Mitterdorfer from Black Wings Linz won "The Young Star Of The Month"award for December in Austrain based international EBEL league. He is actually the second BW Linz player awarded with this title this season as Patrick Spannring won it for October. Second on voting list was Jan Bercic of HK Acroni Jesenice, third was Adam Havlik (Orli Znojmo). Daniel Mitterdorfer played in 35 this season's games for leaders BW Linz and contributed two goals and two assits. Mitterdorfer joined previous months winners of the Trophy: Patrick Spannring, Gal Koren and Anze Ropret.
07 Jan 2012, 20:49 | Werner Augsburger quits Sochi committee
Swiss Werner Augsburger quits his job as Sochi 2014 Olympic Games sports director after only four months. According Swiss Neue Zuercher Zeitung reason was a language barrier in Russia as well as the distance between Moscow and his family back home in Switzerland, even if Sochi 2014 CEO Dmitry Chernyshenko said later there were no language problems between Augsburger and committee.
Before joining Sochi 2014, Augsburger had been the chief executive of the Swiss Ice Hockey League for two seasons.
07 Jan 2012, 20:40 | AHL sets new attendance record
A record crowd of 45,653 watched the Adirondack Phantoms - Hershey Bears AHL outdoor game last Friday at Philadelphia's Citizens Bank Park.
The crowd was more than twice as big as the previous record of 21,673, set last year in the outdoor event between the Connecticut Whale and Providence Bruins in East Hartford.
06 Jan 2012, 16:51 | Adler Mannheim fined for incidents against Ingolstadt
DEL record champion Adler Mannheim has been fined by the league to pay €3000 for incidents in their home game against ERC Ingolstadt where fans threw coins on the ice. In addition to this assistant coach Mike Schmidt has to pay €500 for unsportsmanlike conduct.
05 Jan 2012, 22:02 | Xaver Unsinn passes away
German hockey mourns the death of Xaver Unsinn who passed away on Wednesday at the age of 82. Unsinn played 72 international games for Germany and also did 107 international games as coach for the national team. As coach he lead Germany to its last olympic ice hockey medal in 1976 - bronze in Innsbruck.
05 Jan 2012, 19:06 | Polish Federation cancels All Star Game
Due to a lack of sponsors, the Polish Hockey Federation has announced that this year's All-Star Game won't be played. The game was scheduled for January 21
05 Jan 2012, 15:31 | Italian Cup final four in Bolzano (again)
Italian Hockey Federation decided the venue for 14-15 january National Cup final four: Bolzano's Palaonda for the fourth consecutive year.
Title holder Val Pusteria will face SG Cortina in semifinals,while host Bolzano will play against Alleghe.
Saturday 14 January
Val Pusteria - SG Cortina 17.00 hrs
HC Bolzano Foxes - HC Alleghe 20:30 hrs

Sunday 15 January
Final 20:30 hr
05 Jan 2012, 15:19 | HC LEV releases 4 players, Nagy threatens legal action
The last day of the year 2011 was the last with HC LEV Poprad(KHL) for four players. Tomáš Klouček, Stanislav Balán, Peter Ölvecký and Ladislav Nagy were released from the team. Because the club terninated their contracts in December, it does not have  to pay them for the whole season, but only half of it. Nagy is disputing the legality of it because he was on the injured list. He wants to be paid for the full season and is prepared to sue HC LEV if needed.
05 Jan 2012, 12:48 | Tortorella fined $30000
New York Rangers head coach John Tortorella was fined $30000 for his postgame comments about referees in Monday's Winter Classic. Tortorella called the performance of Dennis LaRue and Ian Walsh 'disgusting' and questioned whether they tried to guide the game into overtime after awarding Flyers a penalty shot in the last minute of 3rd period with Rangers 3-2 up.
05 Jan 2012, 10:43 | A Czechoslovakian legend loses a leg
Jaroslav Holík loses a leg. The former Czechoslovakian national team player passed a foot-amputation surgery. The reason of Holík's hospitalization is not known. The 1972 World Champion said to iDnes.cz: "The doctors don't even know what is wrong. They just told me that if I won't go for a surgery in three days, I will die.". Except the 1972 WC gold medal Holík as a player earned also a bronze medal at the 1972 Winter Olympic Games, two WC silvers and three WC bronzes. As a coach he brought the Czech U20 to a victory at the 2000 and the 2001 World Championships. More info about Holík in his profile.
05 Jan 2012, 01:49 | Bourque suspended five games, Carcillo seven
NHL announced suspension for five games of Calgary Flames left wing Rene Bourque for hitting the Washington Capitals' leading scorer Nicklas Backström in the head with his elbow. For his boarding on Edmonton defenseman Tom Gilbert, Chicago Blackhawks forward Dan Carcillo has been suspended for seven games.
04 Jan 2012, 18:05 | Fredrik Andersson new European Scout for Sabres
Former Modo and Timrå goalie Fredrik Andersson was named new European Scout for Buffalo Sabres. "I have tried to get a similar job for a long time and it will be interesting and exciting to help Buffalo" said 44 year old Andersson who also has worked also as Modo's sport director
04 Jan 2012, 14:28 | Dijon and Rouen will fight for French Cup
Dijon and Rouen are the finalists of 2011-12 French Cup. Both teams won 4-1 semifinals, against Amiens and Strasbourg.
Final will be played in Paris Bercy on january 29.
Rouen is the current Cup holder and the biggest winner (4 titles and three silver medal), while Dijon won title in 2006 and was runner-up in 2009
04 Jan 2012, 12:18 | DEL investigates incidents in Mannheim
The DEL has started investigations regarding the home game of Adler Mannheim against ERC Ingolstadt on 30 december (5-2) where home fans threw coins on the ice to protest the referees' decisions. As a consequence the game had to be stopped for ten minutes and almost had been abandoned. In addition to that Adler assistant coach Mike Schmidt received a match penalty for offending the referees. A sentence in the case is expected for Thursday.
04 Jan 2012, 00:44 | Carcillo suspended indefinitely
Chicago Blackhawks forward Dan Carcillo has been suspended indefinitely after his hit on Edmonton's Tom Gilbert in Monday night's 4-3 victory by the Oilers. Carcillo was previously suspended in October for two games after a hit on Carolina's Joni Pitkanen.
03 Jan 2012, 22:18 | Correction by IIHF, Barkov not youngest
The IIHF announced yesterday that Finland's Sasha Barkov was the youngest player to ever score at a WJC. That was incorrect as Kazakhstan's Viktor Alexandrov scored a goal on his 15th birthday in the 2001 tournament.
03 Jan 2012, 17:28 | Challenge Cup of Asia
The IIHF announced dates and venues for the four Challenge Cup of Asia tournaments to be played this spring.
2012 IIHF Challenge Cup of Asia in Dehradun, India, 17-25 March 2012

2012 IIHF U20 Challenge Cup of Asia in Seoul, Korea, 26-30 May 2012

2012 IIHF U18 Challenge Cup of Asia in Abu Dhabi/Al Ain, United Arab Emirates, 1-6 April 2012

2012 IIHF Women's Challenge Cup of Asia in Qiqihar, China, 15-20 February 2012
03 Jan 2012, 15:52 | Game number 1000 for Jörg Reber
SC Langnau Tigers home defeat against EHC Biel marked NLA game number 1000 for Tigers defender Jörg Reber.
He debuted in NLA during SC Bern 1991-92 title campaign, playing also for Rapperswil, Bienne, La Chaux-de-Fonds, Kloten and Langnau. Last season Reber, 37, was a key player in Langnau great season, finishing league as NLA top scorer among defensemen
03 Jan 2012, 00:20 | Rangers wins the NHL Winter Classic
The New York Rangers won the NHL Winter Classic outdoor game against the Philadelphia Flyers 3-2. The game was played in front of 46,967 spectators at the Citizens Bank Park in Phildelphia. The Flyers had a 2-0 lead but Rangers came back by two goals by Mike Rupp and a game winning goal by Brad Richards. Henrik Lundqvist did a great game in the Rangers\\\' goal and saved a penalty shot with 20 seconds left to play.
02 Jan 2012, 17:15 | New coach at Timrå
Timrå IK has announced that their junior team coach Anders Karlsson (father of former Timrå player Anton Lander) will take over the coach position after Per-Erik Johnsson who left the position after the last game. In a press relase GM Kent Norberg says that it still could be more changes, leaving it open to having Karlsson just as a temporary solution and bring in a coach with more experience from elite level.
02 Jan 2012, 11:05 | Olli Jokinen played his 1000th NHL game
Olli Jokinen became the fourth Finn to play 1000 NHL games when his Calgary Flames played Nashville Preators yesterday.
01 Jan 2012, 19:25 | Karlovy Vary names Vladimír Kýhos new coach
Václav Baďouček was fired as Karlovy Vary head coach and replaced by Vladimír Kýhos, former Litvinov coach. Martin Pešout and Pavel Kněžický will remain as assistant coaches. Karlovy Vary also named Jaromír Látal as sport manager. "The aim of both measures is to improve the team's performance and move from last place" said club general manager Miroslav Vanek.
01 Jan 2012, 19:08 | Kent Ruhnke is new EHC Olten coach
EHC Olten (NLB) has a new head coach: after the dismissal of Colin Muller, club named Canadian Kent Ruhnke as new head coach. His assistant will be André Rötheli, former olten player and currently Elite Juniors head coach.
Kent Ruhnke, 59, already coached Olten from 1987 to 1990, promoting club in NLA. He also coached several Swiss clubs
01 Jan 2012, 19:02 | NHL fines Torres, Del Zotto and Kopecky
Phoenix Coyotes forward Raffi Torres has been fined $2,500 by the NHL for a hit on defenseman Jan Hejda during second period in Colorado Avalanche's 3-2 over the Coyotes
Also New York Rangers defenseman Michael Del Zotto and Florida Panthers forward Tomas Kopecky were also both fined $2,500 for their altercation in the Rangers' 4-1 win Friday night.
31 Dec 2011, 10:02 | Three games ban for Ziga Pance
The captain of Tilia Olimpija Ziga Pance was given a three games ban by the disciplinary commission of EBEL. Pance attacked the referees after his team lost in EBEL's 34th round Slovenian derby against Acroni Jesenice on Monday. Not agreeing with Olimpija's equalizing last second goal not being allowed he hit one of the referees with his stick. Pance claims he didn't do it, but the crowd clearly saw what was happening. Pance will miss games against Linz in Ljubljana (already did last night), and those away in Wien and Salzburg.
31 Dec 2011, 00:57 | U18 Women's World Championship
The tournament starts on 31st December. Live commentary from all games can be found at www.eurolivescores.com.
30 Dec 2011, 15:34 | Sanok won Polish Cup
In a replay of last season's final, Ciarko Sanok defeated Unia Oswiecim 3-2 after shootout and won its second consecutive Polish Cup. Also in last season's final Sanok beated Unia in a shootout.
30 Dec 2011, 12:39 | World Championship games postponed
The directorate of the ongoing World Women's U18 Championship Division 1 in Tromsø has decided to postpone the games that would have been played today, Friday 30 December, one day.
The reason is that several players on all participating teams have been sick during the day yesterday, and after medical advice, it is in the players's interest to take a days rest before the tournament continues.
30 Dec 2011, 10:30 | David Clarke sets record in the UK
Nottingham Panthers' David Clarke has become the has become the Elite League's all-time leading goal scorer in all competitions. Clarke scored the fourth goal in the 9-3 victory at Hull to reach 230 goals and pass Adam Calder.
29 Dec 2011, 21:36 | U18 Women's WC Div 1
The IIHF U18 Women's World Championship Division 1 started today in Tromsø, Norway. The results of the first day was Great Britain-Japan 1-2, Hungary-Austria 4-3 and Norway-Slovakia 7-2.
29 Dec 2011, 20:01 | Olten fires coach
Swiss-Canadian Colin Muller was fired as EHC Olten head coach due to december poor results, four consecutive defeats. Assistant coach Richard Stucki will be interim coach. Olten is currently sixth in Swiss National League B with 46 points, 24 less then leader Lausanne
29 Dec 2011, 19:56 | Oxford City Stars announce new coach
Simon Anderson will take over the role of team coach for Oxford City Stars with immediate effect replacing Ken Forshee. Following a disappointing first half season team directors, Elaine Sutcliffe and John Harrison, made the change in a bid to revitalise the performance of the team. "Simon was recommended to us and it is clear that he is passionate about hockey at Oxford. He has a long successful coaching history and brings a lot of experience, Simon is determined to see the team reach the play offs".
29 Dec 2011, 19:46 | Briançon won French League Cup
In a sold out Meribel arena, Briançon won French Coupe de la Ligue beating 4-1 Morzine Avoriaz. For the first time since start of competition in 2006-07 there is a champion different from Rouen (two title) or Grenoble (three title)
Briançon - Morzine-Avoriaz 4:1 (1:1, 1:0, 2:0)
1:0 - 00.32 Jean François Caudron (Vanoosten, Castonguay)
1:1 - 18.26 Marko Makinen (Smyth, Shields) PP2
2:1 - 37.30 Braden Walls (Vanoosten, Castonguay) PP1
3:1 - 50.57 Edo Terglav (Bernier, Perez)
4:1 - 58.09 Steven Vanoosten (Bernier) PP1 EN
PIM: 8x2 - 7x2 Att: 2500 (sold out)
28 Dec 2011, 03:44 | New Arena opens in Karaganda
Sary Arka Karaganda will play January 9 and 10 games against Barys-2 in new Karaganda Arena. With a capacity of 5.500 spectators, new arena replaces old Ice Palace Akzholtay satisfying the requirements of KHL and is another step to promote Sary Arka partecipation in next Kontinental Hockey League
28 Dec 2011, 03:06 | Konstantin Gorovikov celebrated Christmas with game number 800
On December 25, in 2-4 victory at Ekaterinburg, Dynamo Moscow forward Konstantin Gorovikov played his game number 800 in Russian League. He became the twenty-third player to have reached this mark. Traktor Chelyabinsk Vladimir Antipov and Metallurg Magnitogorsk defender Dmitry Bykov played their game number 799
28 Dec 2011, 02:48 | KHL nominates All Star Game coaches
Olegs Znaroks (Dynamo Moscow) and Milos Riha (SKA St. Petersburg) will coach Sandis Ozolins team - formed from the best players in the Western Conference, while Valeri Belousov (Traktor Chelyabinsk) and Hannu Jortikka (Amur Khabarovsk) will lead Sergei Fedorov team, the stars of the Eastern Conference in the next All Star Game on January 21 in Riga, Latvia.
Olegs Znaroks and Milos Riha also participate in the last year All Star Game in Minsk.
26 Dec 2011, 14:29 | Pittis at Spengler Cup
Team Canada announced Italo-Canadian forward Domenico Pittis, 37, (ZSC Lions) will join Canadian roster for Spengler Cup
26 Dec 2011, 14:20 | Maple Leafs coach received contract extension
In an unusual way - a tweet saying "I got a new Red Ryder BB gun and a contract extension!" - Toronto Maple Leafs coach Ron Wilson announced he will remain on team bench after his four-years contract expires, despite the team's absence from the playoffs in his three seasons.
26 Dec 2011, 14:06 | Torpedo Nizhny Novgorod celebrates 65 years
Along with Russian Hockey Federation, also Torpedo Nizhny Novgorod celebrates its 65 years. Founded in 1946 as Torpedo Gorky, won its only title in 1961.
'The anniversary of Russian Hockey Federation is celebrated in many cities across the country, and it's exciting that Nizhny Novgorod is one of the main centers of commemorative activities' - said Torpedo president Nikolai Pugin - 'Hockey club Torpedo also celebrates its 65th anniversary and is considered as an integral part of national pride and hockey for its contribution to the development and promotion of hockey in our country'
Torpedo will play in retro jersey the game against Moscow Dynamo on january 07
25 Dec 2011, 16:44 | Altai player found dead
21 years old Altai Barnaul defender Dmitri Orekhov was found dead in his garage the night between 23 and 24 December. The preliminary cause of death was carbon monoxide poisoning.
24 Dec 2011, 23:54 | WJC: Åberg out for Sweden
Sweden's Pontus Åberg was injured in the preparation game against Canada and will miss the WJC tournament. A big setback for Sweden as Åberg has been one of the best juniors in Elitserien this season. He will be replaced by Jeremy Boyce-Rotevall from Timrå IK.
24 Dec 2011, 18:05 | Last from Spengler Cup
Team Canada replaced injured SC Bern defender Travis Roche with Doug Lynch from Red Bulls Salzburg.
Kloten Flyers will allign Swedish forward Michael Nylander, recently released by ZSC Lions
24 Dec 2011, 09:00 | WJC preparation
In the last preparation games before the World Juniors Sweden beat Canada 5-3 and USA beat Slovakia 5-0.
24 Dec 2011, 00:38 | Steaua captures Romanian Cup
Beating Corona Brasov 4-3 in a thrilling final, Steaua Rangers Bucarest wins 2011 Romanian Cup final played in Galati. HSC Csíkszereda grabbed bronze medal beating 5-15 host Dunarea Galati
23 Dec 2011, 15:39 | Katherine Gale named 2011 English Olympic Athlete of the Year for Ice Hockey
The British Olympic Association (BOA) has announced the list of recipients of the 2011 Olympic Athlete of the Year trophy.
Katherine Gale, who is part of the GB Women squad and captain of the GB Under-18s Women, has been awarded the 2011 Olympic Athlete of the Year for Ice Hockey.
23 Dec 2011, 15:28 | 108 million for WJC Ufa 2013
The government of Bashkortostan is planning to allocate 108 million rubles for the preparation and the conduct of IIHF U20 World Championship in 2013. "We also need to actively attract private sponsors," said President Rustem Khamitov. The 2013 U20 World Championships will be held in Ufa from December 26, 2012 to January 5, 2013.
22 Dec 2011, 22:47 | Spengler Cup: Turco, Niinimaa, and Hecquefeuille in, Birbaum out
Team Canada announced a change in the cage for Spengler Cup: Ambri Piotta's Nolan Schaefer will not partecipated and will be replaced by Marty Turco, recently crowned European Trophy's champion with Red Bulls Salzburg.
Host HC Davos announced the loan of Rapperswil Finnish veteran Janne Niinimaa.
German Grizzly Adams Wolfsburg will allign French international Kevin Hecquefeuille, on loan from Servette Geneve. Finally ;Kloten Flyers hasn't reach an agreement with Fribourg Gotteron for the loan of defender Alain Birbaum, previously announced as roster addition.
22 Dec 2011, 22:23 | Svartvadet retires
Modo's Per Svartvadet announced his retirement today. He hasn't played this season due to an inflammatory bowel disease and as the treatment hasn't helped him he has now realised that he can't return to play at elite level.
22 Dec 2011, 00:22 | Fee for cold water in locker room
Unusual episode in Italian Serie C League: Aosta Gladiators team was fined with 300 euro after the game against Dobbiaco because showers in referees' and teams' locker rooms were cold.
21 Dec 2011, 23:31 | Andrei Kirdyashov is new Sary Arka coach
Russian Andrei Kirdyashov, 45, was appointed as new Sary Arka Karaganda head coach. He coached Neftyanik Leninogorsk, Yuznhy Ural Orsk and last season Krylya Sovetov in VHL
21 Dec 2011, 14:30 | Janne Niinimaa at Rapperswil until end of season
Rapperswil Jona decided to extend contract of Finnish defender Janne Niinimaa, originally signed for one month, until end of season.
21 Dec 2011, 14:18 | Russia beats USA in WJC preparation
Russia won 6-3 against USA at the Enmax Centrium in Red Deer, Alberta in a friendly game to prepare upcoming WJC in Edmonton. Barrie Colts' Ivan Telegin with three assists and CSKA Moscow Nikita Kucherov - two goals - were the stars.
'While we're disappointed with the loss, this is just a step in our evaluation process' said Dean Blais, head coach of the U.S. National Junior Team. 'We will continue to work to prepare for the tournament'
21 Dec 2011, 14:11 | Sydney Crosby named Youth Olympic Games Ambassador
The International Olympic Committee announced that Pittsburgh Penguins' Sidney Crosby was named Youth Olympic Games Ambassador for the first edition of the Winter Youth Olympic Games in Innsbruck from 13 to 22 January 2012. Other athletes named are Korean skater Kim An, skiers Lindsey Vonn (U.S.) and Benjamin Raich (Austria)and freestylers Kevin Rolland(France).
'It's important that young athletes have the proper guidance and support in their early years,' Crosby said. 'I have always tried to lead by example and be a positive role model for people. I hope my involvement in the first Winter Youth Olympic Games can help inspire the athletes and motivate them to be the best they can be in everything they do, not only during competition.'
20 Dec 2011, 20:15 | Moldova can enter a team in next MHL
During a meeting between Director of Development MHL Sergei Yakovlev and the Moldovan Minister of Youth and Sports Ion Ciobanu was discussed the possibility of the entry of a Moldovan team into MHL.
'It is gratifying that in Moldova the attention for the sport is growing - said Yakovlev. 'The MHL is an Open International League. If a club has the necessary infrastructure, an arena, qualified coaches and administrative staff and financial resources to participate in the championship, we'll be happy to see a new club in the MHL family. All the procedures of entry into the league are transparent and simple, so we can expect  to see a Moldovan team in the coming season'
20 Dec 2011, 19:46 | Belarus Open League will change format
Belarus Federation Executive Committee approved new format for next Belarus Open League. Eleven teams will played four round robins, then will be divided in two groups: the first six secure a place in the playoffs and will play two more rounds to determine higher position for a final knock-out round. The first two teams of second group also will gain right to play playoffs.
There is an option for the entrance of a team from Lithuania, probably Baltika Vilnius, currently competing in MHL-B. The approved format is valid just for next season
20 Dec 2011, 15:53 | Zankovets new assistant coach at Avangard
Former Belarus National team coach Eduard Zankovets, 42, was appointed as new Raimo Summanen´s assistant coach at Avangard Omsk
20 Dec 2011, 15:26 | Bofors IK changes name
Bofors IK, a top team in Sweden's second tier HockeyAllsvenskan yesterday decided to change it's name BIK Karlskoga.
20 Dec 2011, 09:04 | Canada beats Finland in WJC preparation
In the first game before the upcoming World Juniors Canada defeated Finland 3-1 in Calgary. Teemu Pulkinen opened the scoring for Finland but Canada turned the game around with two goals in the second period
20 Dec 2011, 05:05 | 2012 European Trophy with 32 teams
The next European Trophy will pass from current 24 teams to a new formula with 32 participants. New teams to get in are Swiss CP Bern, HC Fribourg-Gottéron, le EV Zug and ZSC Lions, German ERC Ingolstadt and Hamburg Freezers, Swedeish Brynäs IF and Finnish JYP Jyväskylä.
20 Dec 2011, 04:16 | New arena in Krasnoyarsk
Tuesday VHL game between Sokol Krasnoyarsk and Rubin Tyumen will be played in new Sever Arena, built in Krasnoyarsk inside a multipurpose sports complex costed 1 billion and 464 million rubles.
The new arena, with a capacity of 2600 spectators, replaced old small Fakel Ice Palace
Director of Sokol Denis Lugovik commented: 'As hockey club we are waiting this moment for a long time. Now we can't wait to enter on the new ice. Our club has finally its own house, its base, where we can better prepare for the league'
20 Dec 2011, 01:29 | Rene Bourque suspended two games
The NHL suspended Calgary Flames forward Rene Bourque for two games for his hit on Chicago Blackhawks defenseman Brent Seabrook on Sunday.
19 Dec 2011, 22:02 | Russian Junior team avoided a plane crash
The flight Moscow-Zurich, which took Russian U-18 team avoided a plane crash. Due to the hurricane in the Central Europe pilots decided to land the plane in Munich, but before a landing plane got into a turbulence zone and began going down fastly. The pilots manage to land the plane without any damage. The team went to Zurich by bus. In Switzerland they lost first game and won the second in the overtime. At 20 and 21 December Russia U-18 team will play against Czech Republic.
"It was a nervous situation on the plane, when we heard a strong engine sound, we stand up until the landing. To Czech Republic we also went by plane," Russian forward Bogdan Yakimov said.
18 Dec 2011, 14:07 | Dynamo Moscow won in Zagreb
Dynamo Moscow won 6-4 (1-1,2-5,1-0) friendly game to celebrate Medvescak Zagreb 50th anniversary in front of 7000 spectators. Canadian veteran Frank Banham scored three from four Zagreb goals
18 Dec 2011, 13:52 | Patrik Elias becomes New Jersey Devils best scorer
Scoring twice in Devils' victory against Montreal Canadians, 35 years old New Jersey captain Patrik Elias becomes the Devils' all-time points leader with 845. Elias played 993 games in NHL, all with Devils' jersey
"It just feels nice," said Elias to ESPN. "It just feels that you're doing something right and it keeps me going. Hopefully, I have a lot more in me, obviously, but at this moment I'm enjoying it."
18 Dec 2011, 13:41 | Canadiens fire Martin
The Montreal Canadiens fired coach Jacques Martin on Saturday and put assistant Randy Cunneyworth, 50, in charge for the rest of the season. Assistant GM Larry Carriere was appointed as assistant coach.
Cunneyworth is the team's first unilingual English-speaking coach since 1971.
18 Dec 2011, 10:37 | Österreich Cup
Switzerland wins Österreich Cup after beating Belarus in the final. The game ended 4-3 (SO) and Julien Sprunger scored the winner in the shootout.
Slovakia beat Austria 2-1 to finish third.
17 Dec 2011, 22:10 | Germany wins promotion
Germany are promoted to the 2013 World Juniors in Ufa after a 5-3 win against Norway in the decisive game.
Norway had a 3-2 lead with five minutes remaining but the Germans scored three late goals.
17 Dec 2011, 12:53 | New Jersey Devils retired Scott Niedermayer's number
Fomer defenseman Scott Niedermayer has his number 27 retired Friday, when New Jersey Devils honored him in a ceremony before the game.
Niedermayer played for New Jersey from 1992-2004 before joining the Anaheim Ducks in 2005, amassing 172 goals and 568 assists in 1,263 games and winning three Stanley Cups with the Devils and a fourth in Anaheim in 2007.
Among all NHL players, Niedermayer is the only one to have won a Stanley Cup championship, Olympic gold medal, World Cup, World Championship, World Junior Championship and a Memorial Cup. "It was an honor and a privilege to be a New Jersey Devil all those years," he told during the ceremony. "These are memories I will cherish all my life."
16 Dec 2011, 16:41 | HV71 retires Liv's jersey #1
January 10, before the game against Timrå IK, HV71 will retire Stefan Liv's jersey #1.
Liv was one of the victims of the Lokomotiv tragedy.
He played 569 Elitserien games for HV71 and 140 games for Team Sweden.
16 Dec 2011, 14:03 | Harry Rogenmoser extends at Rapperswil
Despite last place in NLA, Rapperswil Jona Lakers extended coach Harry Rogenmoser's contract also for next season. Also assistant coach Roland Schmid will continue on Rapperswil bench until end of 2012-13
16 Dec 2011, 13:47 | Krasnodar will enter in VHL
Krasnodar region began to work for creating an hockey team called Kuban, to enter in 2012-13 VHL
"At present we are conducting the selection of coaches and players who can adequately represent the Krasnodar region in the Vysshaya hokkeinaya liga (VHL) season of 2012-2013," - said in a statement the regional administration.
A new ice palace will be opened soon in Krasnodar.
16 Dec 2011, 07:43 | Thursday's national team results
EIHC: Hungary-Ukraine 2-3, Russia B-France 4-2, Romania-Poland 2-3, Slovenia-Norway 4-1.

EHT: Finland-Russia 0-3, Czech Republic Sweden 1-2.
15 Dec 2011, 23:30 | Pavel Brendl will play Spengler Cup with Davos
HC Davos announced another roster addition for Spengler Cup: Czech forward Pavel Brendl, currently playing for Rapperswil-Jona Lakers. In last weeks Davos confirmed another two loans for tournament: EHC Biel goalie Reto Berra and Red Bulls Salzburg forward Robbie Earl
15 Dec 2011, 17:13 | Mora fires coach
Mora IK of Swedish HockeyAllsvenskan fired tiday their head coach Harald Lückner. Lars Ivarsson is named new head coach.
15 Dec 2011, 14:23 | Federal Hockey League added a new team to replace Vermont Wild
After Vermont Wild folded last month due to financial problems, Federal Hockey League announced that they are in the final stages of negotiations to put a team in Delaware. DPHI (Delaware Pro Hockey Inc.) is working out the final details to house the Federals team starting January 1, 2012.
DPHI will work in conjunction with the FHL to complete all the remaining home games for the seven FHL teams which were scheduled against the Vermont Wild. The December 2nd game at Akwesasne is being rescheduled at this time. The first Federals game will be Friday December 16th in Cape Cod vs. the Bluefins.
14 Dec 2011, 20:36 | Siberian Snipers changes coach
Due to unsatisfactories results Andrei Evstafiev resigned today as head coach of Siberian Snipers, Sibir Novosibirsk young team playing in Molodezhnaya Hockey League. Viktor Laukhin, resigned in october from Ermak Angarsk, is the new head coach

14 Dec 2011, 04:43 | Paul Adey fired by Ajoie
Canadian-British coach Paul Adey was fired by Swiss NLB HC Ajoie after two season following last 2-8 defeat against Olten. Ajoie is currently 7th in NLB. Vincent Léchenne and Marcel Forster were nominated interim coaches
14 Dec 2011, 04:20 | Antti Törmänen confirmed on Bern bench
Finnish coach Antti Törmänen will remain on SC Bern bench until end of season.
He began season as assistant of Larry Huras, replacing him as interim coach in October. Good results persuaded board to confirm Törmänen for remaining season with an option for the next. Renovation will be automatic if team will reach playoffs semifinals
13 Dec 2011, 23:51 | National team game
Germany "Top Team Sotschi" beat Russia (B) 4-3 in a shootout game. Garret Festerling scored the winner.
13 Dec 2011, 13:02 | Tumba first in Swedish Hockey Hall of Fame
Sven Tumba was today the first person to be selected for the newly formed Swedish Hockey Hall of Fame. Tumba was also the first Swede in IIHF's Hall of Fame.
Tumba passed away earlier this year at the age of 80. Read more about him here.
12 Dec 2011, 21:29 | Lokomotiv Yaroslavl shines in VHL debut
Lokomotiv Yaroslavl won its first ever game in VHL, where they will play this season due to the board of director's decision. Dmitri Maltsev, Oleg Yashin, Kirill Kapustin, Daniil Erdakov, Alexei Kruchinin lead Yaroslavl to 5-1 win over Neftyanik Almetievsk, who answered with lonely goal by Rustem Shangaraev. Lokomotiv will play once time at home against all West conference teams, and one game away against the East teams. Yaroslavl renounced their rights to guaranteed playoff-spot this season, that's why teams in the West will be sorted in standings by a percentage of winning points, except first two, who will be the division's winners.
12 Dec 2011, 21:14 | Finland names WJC captain
Mikael Granlund will be Finnish captain at the World Juniors in Alberta.
12 Dec 2011, 21:10 | Name change
The Swedish Euro Hockey Tour tournament changes name to Oddset Hockey Game.
12 Dec 2011, 15:57 | Avangard Omsk fires their head coach
KHL club Avangard Omsk has announced the dismissal of the team's current coaching staff, including the head coach Rostislav Cada. Team's management has expressed it's disappointment with the style of play practised by Cada. It is expected that he will be replaced by Finnish specialist Raimo Summanen who has worked with the team throughout the previous two seasons.
Being one of the league's powerhouses, Avangard Omsk is currently positioned third in the Eastern conference with 56 points in 33 games, and is led by such players as Roman Cervenka, Karri Rämö, Martin Skoula and Aleksandr Frolov.
12 Dec 2011, 00:27 | Red Bulls Salzburg signs Turco for Salute Tournament
Red Bulls Salzburg announced the sign of Canadian goalie Marty Turco for next week Red Bulls Salute finals: former Dallas and Chicago goalie will play just the tournament for Austrian team. Recalled Salzburg already signed a short term deal with forwards Akim Aliu from ECHL Colorado Eagles and Tyler Redenbach from Swiss EHC Olten.
Red Bulls Salute Tournament Final Round (European Trophy Finals) will be played in Salzburg and Wien from Friday 16 to Sunday 18. Salzburg will play quarter-final against Czech Pardubice
11 Dec 2011, 21:51 | Game n° 1000 for Andrei Subbotin
Defeat 3-6 against Metallurg Magnitogorsk marked game number 1.000 in Russian League for Avtomobilist Ekaterinburg captain Andrei Subbotin. He scored momentary 2-2 on power play.
Subbotin, 38, debuted in 1988 with Avtomobilist Sverdlovsk (Soviet name for Ekaterinburg), then played for Avangard Omsk, Sibir Novosibirsk and Lokomotiv Yaroslavl.
11 Dec 2011, 21:37 | Aleksandr Smirnov becomes Severstal senior coach
Aleksandr Smirnov, 48, is the new Severstal Cherepovets' senior coach. Resigned from Neftekhimik Nizhnekamsk in mid-November, Smirnov, coached Severstal in the last two seasons. Dmitri Kvartalnov is head coach of Severstal.
11 Dec 2011, 13:28 | SKA celebrates today 65th anniversary
Before KHL game against Neftekhimik, SKA St. Petersburg celebrates its 65th anniversary with a match between Legends of SKA and Legends of the USSR. On the ice Aleksei Kasatonov, Aleksei Gusarov, Andrei Andreev, Mikhail Kravets, Aleksandr Yakushev and Sergei Gimaev among the others.
Founded in 1946 as LDO Leningrad, SKA is one of the oldest Russian hockey club. Was Soviet champion twice, in 1970-71 and 1986-87 and won fourth Spengler Cup.
09 Dec 2011, 02:00 | Andy Sutton suspended indefinitely
Edmonton Oilers defender Andy Sutton has been suspended indefinitely for his hit on Carolina Hurricanes Alexei Ponikarovsky.
This season Sutton already served a five-game suspension for a head hit on Gabriel Landeskog of the Colorado Avalanche.
09 Dec 2011, 01:49 | Montpellier changes coach
Montpellier Vipers, France 1st Division team, fired head coach Lionel Bilbao and replaced him with former captain, Slovak Marek Michalovic
07 Dec 2011, 20:01 | Hustle and bustle of coaches continues in Karaganda
Sergey Voykin hold on one week in his comeback on Sary Arka bench. On december 6 he left the team and flied to Russia not commenting his second dismissal.
Voykin started season as head coach of Karaganda team, left the job in septemberassuming Sary Arka MHL team Kazakhmys. He was recalled last week to replace resigning Ramil Saifullin. now Sary Arka is looking for another coach
07 Dec 2011, 17:34 | Coach changes in Moscow and Novosibirsk
Two KHL teams decided to fire current head coach: Spartak Moscow replaces Slovak Frantisek Hossa and assistant coach Vadim Epanchintsev with Andrei Sidorenko, assisted by Aleksandr Titov and Dmitri Erofeev.
Also Sibir fired its head coach Andrei Tarasenko, who will remain in the club as senior coach, replacing him with former assistant Dmitri Yushkevich
07 Dec 2011, 17:15 | Metallurg Magnitogorsk game anticipated
Due to Christmas events in the Arena-Metallurg, KHL game Metallurg Magnitogorsk - Neftekhimik Nizhnekamsk originally scheduled for January 3 will be played on December 30
07 Dec 2011, 16:02 | Federal Hockey League lost Vermont Wild
The Federal Hockey League has announced that the Vermont Wild has chosen to cease operations immediately. Despite several days of negotiations with multiple investment groups, nothing could be agreed upon to move forward this season.
The Wild, Vermont's first professional ice hockey team originally called the Green Mountain Rock Crushers, played 10 games before folding.
They announced in March of their intentions of joining the FHL
06 Dec 2011, 21:30 | KHL All-Star game
KHL announced the starting line-ups for the All-Star game.

TEAM OZOLINS: Konstantin Barulin - Jere Karalahti, Maxim Chudinov - Mikelis Redlihs, Vadim Shipachyov, Geoff Platt.
TEAM FEDOROV: Mikhail Biryukov - Ilya Nikulin, Mikko Mäenpää - Evgeny Kuznetsov, Alexei Kaluzhny, Jakub Petruzalek.
06 Dec 2011, 21:23 | Jan Zachrla finds another job in Russia
Czech coach Jan Zachrla, fired in october from Titan Klin, is the new coach of Kristall Saratov. He replaced Sergei Vorsunov and already conducted first training session. Kristall is currently 11th in VHL West Division
05 Dec 2011, 23:31 | Coventry Blaze needs financial help from fans
Four time Elite League Champions Coventry Blaze is in financial troble and asks the fans for help. Read more here.
05 Dec 2011, 22:14 | Postponed game in Sisak
Due to uncommon high temperatures in Croatia, game from Croatian League round 8 between KHL Sisak and Mladost Zagreb, scheduled for Monday, was postponed because open rink in Sisak didn't offer a decent ice. This should have been the first home game for Sisak, usually playing in Zagreb indoor rinks except for december and january
05 Dec 2011, 20:11 | Spengler Cup referees nominated
Veteran Swiss Danny Kurmann will officiate his 10th Spengler Cup after been nominated today among the referees for traditional Davos' tournament from 26 to 31 december. Others officials are: Didier Massy and Daniel Stricker (NLA), Jean Herbert (NHL) and Georg Jablukov (DEL).
05 Dec 2011, 20:00 | Sierre scores four in less then two minutes
HC Sierre managed to score four goals in 138 seconds in the NLB game against GCK Lions last sunday when the score was 0-5 for the visitors. Lee Jinman ties games with 10 seconds remaining in the last period and Sierre won at SO.
Team almost equalize Ajoie record set last season: on 29 janvier 2010 Ajoie scored four goals in 77 seconds to come back from 0-3 in 5-4 victory against Olten
05 Dec 2011, 10:14 | Preliminary round of Slovak 1.liga ended
From now 1.liga will be divided into 2 groups, qualification for play off group and play out group. In the qualification group there will be the first 10 teams including also Slovakian team U20 playing with each other twice. The first eight teams will qualify for the playoffs. In the play-out group there will be 3 teams playing each other 6 times. The last team will relegate to 2.liga and last but one team will play in relegation battle with the winner of the 2.liga.
05 Dec 2011, 07:52 | Hungary and Great Britain on top
Hungary finished first with a perfect 5-0 record and Great Britain captured the second place in the World Women's U18 Championship Div. I Qualification in Asiago, Italy. Both teams qualify for the World Women's U18 Championship Div. I that will be played in Norway December 29-January 4.
03 Dec 2011, 04:18 | Perron returns on ice
After almost 13 months out with a concussion, St. Louis Blues forward David Perron will return on ice Saturday for Blues' home game against the Chicago Blackhawks.
Perron missed 97 games since being injured on a high check from Joe Thornton in the game against S. Jose Sharks on Nov. 4, 2010. 'It's been a long road, obviously," Perron said at Associated Press. 'I didn't expect it to be that long, obviously, in a short career so far. I'm just glad to be back to 100 percent healthy now and ready to go.'
02 Dec 2011, 22:51 | Sary Arka recalled Sergei Voykin
After the last weekend games against Arlan Kokshetau, despite two victories, Sary Arka player-coach Ramil Saifullin resigned from the charge. "After 26 league games I realize my lack of experience as coach at this level" said Saifullin in an official statement.
Club recalled Sergei Voykin, dismissed in september after Kazakhstan Cup and currently coach of Sary Arka MHL B team Kazakhmys.
Dmitri Glavyuk, last season coach of defunct Kazakhmys Satpaev, replaces Voykin
01 Dec 2011, 21:54 | Four goals by Baranov
Konstantin Baranov scored four goals when Metallurg Zhlobin beat Neman Grodno 5-2 in the Belarus league. He scored 1-0 at 2:46 on the powerplay, 2-0 at 8:43, 3-0 at 12:06 shorthanded and 4-1 at 22:18.
29 Nov 2011, 17:55 | Two injury blows for Timrå
Last place in Elitserien and now more bad news for Timrå as both Pierre Hedin and Johan "Bagarn" Andersson probably will not able to play any more games this season. Pierre Hedin is out with a knee injury and Johan Andersson has a clot in his lung.
28 Nov 2011, 17:30 | New record of penalties set in SM-Liiga
A 465 penalties minutes record was set in SM-Liiga's Pelicans Lahti - HIFK Helsinki game last saturday. After an initial fight between HIFK's Siim Liivik and Pelicans' Arttu Luttinen, another big brawl resulted in 14 players and the two coaches sent off. The news had a notable repercussion all over the country and even Finnish president Tarja Halonen made a statement about it blaming the event
The SM-Liiga disciplinary board has not yet decided about suspensions.
28 Nov 2011, 16:56 | Hurricanes fire coach Paul Maurice
After having lost 11 of their past 15 games the Carolina Hurricanes have fired coach Paul Maurice. Current AHL's Milwaukee Admirals coach Kirk Muller will be the new head coach.
Maurice was on Hurricanes bench from 2008, when he replaced Peter Laviolette and previously coached Carolina franchise from 1995 to 2003 reaching Stanley Cup finals in 2001-02 season, when the Hurricanes lost to the Detroit Red Wings
28 Nov 2011, 16:19 | Dmitri Yakushin is the new Kharkiv coach
33-year-old Dmitri Yakushin is the new Kharkivs'ki Akuly head coach. A native of Kharkiv, Yakushin closed his active career last season in Belarussian Metallurg Zhlobin. In 1999-2000 season he played two games in NHL with Toronto Maple Leafs.
Yakushin assistant will be former defunct HK Kharkiv coach Aleksandr Kobikov
28 Nov 2011, 15:40 | Capitals named new coach
Washington Capitals fired head coach Bruce Boudreau on Monday after a disappointing league start and a 5-1 loss to the Sabres on Saturday. Former team captain Dale Hunter was named new team's head coach. Hunter, 51, is one of just four players to have their numbers retired by the Washington Capitals. He captained the Capitals from the 1994-95 season until the 1998-99 and was named to the NHL All-Star Team in 1997. He played in 872 games for the Capitals from 1987-99 with 556 points (181 goals, 375 goals). As coach Hunter had spent the past 11 seasons in the Ontario Hockey League as coach of the London Knights.
25 Nov 2011, 15:25 | Ilya Byakin resigns from Avtomobilist
Soviet Hall of Famer Ilya Byakin resigned as Avtomobilist Ekaterinburg head coach. Also Sergei Mylnikov and Aleksandr Bezrodnov left their positions. Interim coach will be former head coach Andrei Martemiyanov, currently serving as one of Byakin's assistants, while the club is looking for a new coach.
25 Nov 2011, 09:16 | 25 out of 26 penalty shots saved
When Lukko beat Blues 5-4 in SM-Liiga yesterday, the game was decided in the 13th round of the shootout when one of the goalies finally was beaten after 12 scoreless rounds. Kris Beech got the winner when he beat Lars Volden in the Blues net. Mika Noronen guarded the net for the winners.
23 Nov 2011, 11:56 | Two Slovak clubs want to play Czech Extraliga
Slovan Bratislava and HC Košice want to join Czech Extraliga. That's the reason why the leading organ of the Czech top-level hockey competition(APK LH) schedules an exceptional meeting with the clubs' directors. Eurohockey.com is trying to contact the head-representatives of APK LH to reach their statement, so stay tuned.
22 Nov 2011, 06:39 | Serbian association gets new president
Aleksandar Milosavljevic was elected new President of the Serbian Ice Hockey Association.
21 Nov 2011, 16:30 | Ravil Yakubov gets into Neftekhimik staff
Former Dynamo Moscow head coach Ravil Yakubov was called by new Neftekhimik Nizekamsk headcoach Vladimir Golubovich as assistant coach. "When Vladimir called, I accepted without hesitation - said Yakubov - In the past year I have had only one offer from a MHL club but my priority always was to work in KHL".
18 Nov 2011, 14:44 | French referee Pierre Dehaen officiates in Sweden
International French referee Pierre Dehaen was invited by Sweden Federation to officiate three matches during the upcoming weekend including one from Elitserien
"It's an amazing opportunity for me - said Dehaen - Swedish referees are among the best in the world. This experience will help me to get ready for next World Championship".
Dehaen will referee the following matches: Västerås IK - Rögle BK (Hockeyallsvenskan) on Friday 18 November,
AIK - Modo (Elitserien) on Saturday 19 and Bofors IK - Leksands IF (Hockeyallsvenskan) on Sunday 20.
17 Nov 2011, 21:52 | Serbian League start postponed
The start of Serbian League, scheduled for tomorrow, was postponed indefinitely because the clubs didn't accept the schedule proposed by the federation.
17 Nov 2011, 13:51 | Neftekhimik changes coach
Neftekhimik Nizhnekamsk signed Vladimir Golubovich as new head coach after the resignation of Aleksandr Smirnov.
Vladimir Golubovich, 57, coached Avangard Omsk, Sibir Novosibirsk, Latvian Metalurgs Liepaja and last season Torpedo Nizhny Novgorod. He was already on Neftekhimik's bench during 2000-2001 season. Neftekhimik is currently 5th in KHL Kharlamov Division
17 Nov 2011, 13:30 | Storhamar saved from bankruptcy
The Hamar municipality decided to give Storhamar a loan of 3 million Norwegian kronor. That saves the team from bankruptcy. The club has struggled with liquidity and had to ask the community for help. Storhamar had a shortfall of around 400,000 per month. In November, the club only managed to pay out 55 percent of the players' salaries.
16 Nov 2011, 14:02 | Chaos in HK Jesenice
In addition to Patrik Bergström and Henrik Petre, five another players decided to left Slovenian champions: Johan Björk, Marcus Olsson, Lukaš Hvila, Martin Tuma and James Sixsmith are leaving Jesenice due to delays in payment of their services. There are two more non-Slovenian players in the team who decided to stay; Antti Pusa and Michal Fikrt.
16 Nov 2011, 12:55 | The season ends for Noah Clarke
The EHC München (DEL) forward Noah Clarke needs shoulder surgery and is out for the season.
16 Nov 2011, 09:10 | Most hires Jerabek
Bottom side of Czech 1. liga, HC Most, has hired an experienced coach and motivator Vladimir Jerabek as their new head coach. The news comes after lengthy negotiations. Jerabek replaces Kamil Kastak, who got the team promoted from 2. liga last season, but managed just two regular time wins in 16 games so far.
16 Nov 2011, 07:35 | Another two players left HK Acroni Jesenice
It was announced last week already - Patrik Bergström left HK Acroni Jesenice (SLO;EBEL) to continue this season in Sparta Sarpsborg, Norway. No explanation about this (un)expected departure came from Slovenian side. However, HK Acroni Jesenice confirmed that Henrik Petre also won't be a member of team during next months. Petre satisfied coaching staff during his try-out period, but is apparently too expensive for impoverished Slovenian member of EBEL.
15 Nov 2011, 15:36 | Vladimir Migulev leaves Kharkiv
Russian coach Vladimir Migulev resigned from Kharkivs'ki Akuly Kharkiv of Ukranian Professional League for family reasons. The club did not decide yet who will be the new coach.
15 Nov 2011, 15:12 | Two coaches fired in VHL
The bottom teams in VHL Division East changed coaches.
Izhstal Izhevsk fired Kazakh Nikolai Myshagin and assistant Andrei Zubkov recalling former coach Albert Loginov and promoting Sergei Dushkin from farm club as coach assistant. Izhstal is last in East Division with 19 points in 22 games.
After one month Sputnik Nizhny Tagil fired coach Evgeny Mukhin and replaced him with former assistant Aleksei Fetisov who started the season as head coach and become assistant when Mukhin arrived at club in october

14 Nov 2011, 10:48 | EBEL: Young star of October
Patrick Spannring of EHC Liwest Black Wings Linz was voted young star of October in EBEL. The 21-year old forward beat Erik Pance of Olimpija Ljubljana in the voting. This is Spannring's first whole season in EBEL. He scored one goal so far in the season (playing 18 games). Spannring is successor of Anze Ropret (Olimpija Ljubljana) who was voted young star of the month for September.
13 Nov 2011, 20:32 | Slovakia wins Deutschland Cup
For the third time Slovakia wins Deutschland Cup. They earlier won it in 1997 and 2006.
This year they won three straight games: 2-0 against USA, 6-3 against Germany and today 2-1 against Switzerland.
12 Nov 2011, 22:41 | France beats Norway
Yorick Treille scored the winner when France beat Norway 4-3 in overtime tonight.
12 Nov 2011, 18:45 | Polesie Cup, Day 3
Russian B team defeated Slovenia in first game of the day with 3:0 (1:0,0:0,2:0). Danmark destroyed home team (Belarus) later with 8:2 (4:1,3:1,1:0). Russia B won Polesie Cup 2011 with three straight wins. They are followd by Danmark (2 wins in three games) and Slovenia (one win). Belarus is last with all three defeats.
12 Nov 2011, 09:56 | Viktor Fasth ill, sent home from Karjala
Sweden's goalkeeper Viktor Fasth has been sent home from Karjala Tournament after suffering from a high fever during the game. He will be replaced by Johan Gustafsson who already was in Finland with Sweden's U20 team.
12 Nov 2011, 09:18 | First day of Deutschland Cup
On the first day of Deutschland Cup in München Slovakia started by defeating USA 2-0. In the second game the hosts defeated Switzerland 4-2.
11 Nov 2011, 22:53 | Tom Kühnhackl suspended 20 games
The German OHL player Tom Kühnhackl has been suspended 20 games after a check to the head of an opponenet.
11 Nov 2011, 22:12 | Polesie Cup; Gomel, Belarus - second day
Danmark beat Slovenia 3:0 (1:0,1:0,1:0) in first game of the day to secure their first win on tournament. Belarus lost another game; this time it was against against Russia B team - 1:4 (1:0,0:0,0:4). Further reports will follow
11 Nov 2011, 21:26 | Poland beats Romania in EIHC
Poland opened the EIHC tournament on home ice by beating Romania 9-0. As Croatia withdrew from the tournament it will be a three team tournament. Tomorrow Poland will play The Netherlands.
10 Nov 2011, 22:36 | U20 games in Finland
Finland beat Russia 3-1 and Sweden beat Czech Republic 4-2 on the opening day of the U20 tournament in Finland.
10 Nov 2011, 11:26 | Patrik Bergström wants to leave HK Acroni Jesenice
28-year Swedish forward wishes to terminate the contract with Slovenian EBEL side. He plans to play for Sparta Sarpsborg for the rest of the season. There's a demand for Bergström's transfer card already in Jesenice. Outcome is not known yet, potential info is following...
08 Nov 2011, 09:02 | 2011 World Junior A Challenge
The 2011World Junior A Challenge for U18 national teams started yesterday in Langley, BC.
Canada East beat Czech Republic 5-0 and Sweden beat USA 1-0 with a goal scored 6 seconds before the end.
03 Nov 2011, 14:00 | Czech national team retires the jersey numbers of Rachůnek, Marek and Vašíček
From the next season you will never see again a Czech national team player wearing any of the numbers 4, 15 or 63 on the jersey. These numbers were worn by Karel Rachůnek, Jan Marek and Josef Vašíček, men who died in the Yaroslavl plane crash in September 2011. The last chance to see their numbers on the Czech national team jerseys is during this season, when all the Czech players will wear them on the front side of the jersey as a remember of the tragical death of former Czech national team players.
03 Nov 2011, 13:34 | HC LEV prepares a game of the ice hockey legends in Poprad
This Friday, Oct 4, an exhibition game of Russian legends against the team of former Czechoslovakian players will take a place in Poprad, Slovakia. Originally, this game would take place on Sep 10, but in the connection to the Lokomotiv plane crash it was postponed.
02 Nov 2011, 19:18 | Anatoli Khomenko is new Ukraine coach
Russian Anatoli Khomenko, 50, is new head coach of Ukraine national team. He will be assisted by Sergei Lubnin and Vadim Kulabuhov, both previously in Ukrtaine U20 team staff.
Khomenko was player-coach in defuncted Berkut Kyiv from 1998 to 2002 before to move to Russia where he worked as Lokomotiv Yaroslavl second team head coach. From 2005 to last season, he was KHL team assistant coach. Recently he worked in Lokomotiv junior department
02 Nov 2011, 05:07 | Znojmo - KAC replayed on December 28th, 2011
The game between HC Orli Znojmo and EC KAC last friday which was postponed after first period (score 2-2) due to problems with ice will be played again on December 28th, 2011. Referees decided after that that ice wasn't in proper state for skating as there was a big hole in it.
01 Nov 2011, 20:08 | Phil Kessel is NHL player of the month
Toronto forward Phil Kessel was named October's Player of the Month in the NHL due his amazing start: he finished October leading the League with 10 goals and 18 points in 11 games. Dallas goalie Kari Lehtonen coming in second and Edmonton goalie Nikolai Khabibulin finished third.

01 Nov 2011, 19:06 | Sevc suspended two games
Färjestad's Martin Sevc has been suspended two games and has been fined 20 000 SEK for saying "you fucking gypsy" to an opponent.
31 Oct 2011, 17:03 | Kronwall 7 years more in Detroit
Detroit Red Wings announced Swedish defenseman Niklas Kronwall signed a seven-year contract extension avoiding he become an unrestricted free agent July 1. The contact contains a full no-trade clause for the first five years.
31 Oct 2011, 14:16 | Toni Koivisto left Frölunda
Finnish striker Toni Koivisto left Frölunda despite one year left on his contract, after the parts terminated the contract by mutual agreement.
"We found this solution in complete agreement. This is hockey life - declared Koivisto at club website - sometimes there are no "feelings". But I really want to thank the fans for all the support." Koivisto played two season at Frölunda, scoring 15 goals and serving 11 assists in 71 games
31 Oct 2011, 13:14 | Finnish traditional club Ilves fires coach
Finnish elite league club Ilves has fired its coach Juha Pajuoja. Ilves is the third club in this years SM-liiga to change coach (after JYP and Tappara). New coach is Seppo Hiitelä, 57 years, who worked as a sport manager of Ilves. Hiitelä has trained Ilves also during seasons 1982-86 and 1990-91 and he was a trainer when Ilves won it's last Finnish championship 1985. Assistant coaches Raimo Helminen and Pekka Kangasalusta remain at their jobs.
There were also speculations that Finnish hockey legend Raimo Helminen will replace Pajuoja but since Helminen is also coach of the Finnish U20 national team Hiitelä took the job.
31 Oct 2011, 10:34 | Henrik Petre comes on try out to Jesenice
The 32 year old Swede comes to Jesenice. He was currently with no team, but played previously 303 games in Elitserien and 133 games in SM-liiga. He played in Alsvenskan as well. Petre already cooperated with Jesenice's finnish coach Heikki Mälkiä during the 2006/07 season playing for SaiPa. He'll probably introduce himself on ice Friday's Jesenice game against Znojmo in Czech Republic.
30 Oct 2011, 08:00 | Smith makes two hockey-themed movies
A producer, actor, director and writer in-one-person Kevin Smith announced he is working on the screenplays for two hockey-themed movies. Actually, "Hit Somebody: Home" and "Hit Somebody: Away" should be a two-parts movie telling the fictional story of Buddy McCracken and they both shall be filmed in the summer 2012 in and around Detroit, Michingan, USA. The happening in the first part's script takes place from 1950 to 1972, the second part's from 1972 to 1980 and Smith wants to publish the script online: ""We're still talking about that. I want to make sure the people that are sniffing around about financing, it doesn't make them squeamish," Smith said to nhl.com.
29 Oct 2011, 20:35 | Ice Rink in Teplice loses the roof
The ice rink "Na Stínadlech" in Teplice, Czech republic, is partly without the roof. It is uncertain how did it happened, but regarding to the witness words the roof crashed down on Friday, Oct 28. The ice rink where grew-up Robert Lang is not in use from January 2011 when local club Stadion Teplice moved to Bílina. The owner of the arena Jiří Prokůpek announced he prepared the reconstruction plans, but the City of Teplice did not agree with them. Later Prokůpek unsuccessfully tried to sell the rink for app. €1.2mil., later he decided to tear it down and sell the lands under the arena.
29 Oct 2011, 19:26 | Two Czechs score hat-trick
Petr Vrána, 26, helped Khabarovsk to earn 2 points in an KHL game in Ekaterinburg(4-5 SO) with scoring three goals on Saturday. One day earlier Jakub Svoboda needed only 4 minutes and 41 seconds of the second period to score a hat-trick in an Czech Extraliga game of Kometa Brno in Plzeň(1-6).
29 Oct 2011, 09:18 | St. Louis win 1,500th game in team history
The St. Louis Blues became the 9th NHL franchise in history to win 1,500 games with 3-0 victory over the Canucks in Vancouver. The organization joined the prestigious club of the Boston Bruins, the Buffalo Sabres, the Chicago Blackhawks, the Detroit Red Wings, the Montréal Canadiens, the New York Rangers, the Philadelphia Flyers and the Toronto Maple Leafs. Together with Philadelphia, the Blues are the second youngest team with 1,500 victories(est. 1967). The youngest club is the Buffalo Sabres(est. 1970).
28 Oct 2011, 12:38 | USA Hockey and NHL honours 4 men with L. Patrick Award
Tony Rossi, Mark Johnson, Bob Pulford and Jeff Sauer were honoured with the Lester Patrick Award on Wednesday, Oct 26, in St. Paul, Minnesota, USA. The Lester Patrick award is presented for outstanding service to hockey in United States since 1966.
28 Oct 2011, 06:30 | Marc Crawford will coach Canada in Spengler Cup
Hockey Canada announced Thursday that Marc Crawford will be head coach of Canada's National Men's Team at the 2011 Spengler Cup, scheduled for Dec. 26-31 in Davos, Switzerland. In addition, Doug Shedden and Trent Yawney will serve as assistant coaches.
27 Oct 2011, 08:21 | Montreal fired assistant coach
After three years Montreal Canadiens fired asistant coach Perry Pearn before Wednesday night's game against the Philadelphia Flyers.
27 Oct 2011, 06:33 | 5th consecutive shutout
Dmitri Malgin, goalie of Ertis-Pavlodar in the Kazakhstan league, earned his fifth shutout in a row yesterday. Between October 13 and 25 he played 5 league games without allowing one single goal.
26 Oct 2011, 22:08 | Davidsson retires from Tre Kronor
HV71's Johan Davidsson has announced that he has played his last game in Team Sweden. After 129 national game he now says that his body isn't fit enough to play more than with his club.
26 Oct 2011, 16:07 | Larry Huras is new Lugano coach
Fired last friday from SC Bern after three season and a title, Canadian Larry Huras was appointed as new HC Lugano coach. He signed a contract until 2013/2014 replacing Barry Smith. Listowel, Ontario native, Huras, 56, already coached Lugano from 2003 to 2006 winning a championship in his first year and a silbver medal in the second season. Lugano is currently 7th in the standing with 26 points, 15 less then leader Fribourg-Gotteron
26 Oct 2011, 16:04 | Anatoli Bardin left Avangard
Avangard Omsk GM Anatoli Bardin resigned from his charge for personal reasons. He was replaced by Konstantin Bilan
26 Oct 2011, 07:49 | 2012 NHL draft will held in Pittsburgh
NHL Commissioner Gary Bettman announced Thursday, before Penguins home game against the New York Islanders, that NHL annual draft will take place in Pittsburgh on days 22 and 23 june 2012. First round will be on friday, 22 june; all other six rounds will be drafted on saturday.
NHL draft is returning to Pittsburgh for the first time since 1997
25 Oct 2011, 23:06 | Andrei Shayanov replaces Andrei Khomutov at Barys
Two shameful losses at home, 0-7 to Ugra and 0-4 to Amur, completing a sequence of seven losses in the last eight games, decided the future of Andrei Khomutov and his assistant Sergei Starikov. Both were fired yesterday by Barys Astana. After the rumour about the possible arrive of former Russia coach Vyacheslav Bykov, speculations were denied by the same Bykov, currently in Switzerland, Barys president Nurlan Orazbaev announced this morning that new coach will be 43 years old Andrei Shayanov who lead Barys from 2008 to 2010 and worked last season as national team assistant coach. Shayanov's contract is until end of season. Barys is currently 21th in KHL.
25 Oct 2011, 06:11 | Lokomotiv veterans will play charity match
On November 9, Yaroslavl Arena 2000 will held a charity match between Lokomotiv Yaroslavl veterans and an All Stars team, promoted by the KHL players' association.
All the money raised will give to charity for the families of players died in plane accident
The veterans will allign famous former players as Dmitri Krasotkin, Egor Podomatsky, Andrei Kovalenko, Sergei Nemchinov and Vyacheslav Butsaev. For the team "Stars" will perform Valery Kamensky, Aleksei Kasatonov, Ravil Yakubov and Maksim Mikhailovsky among the others
24 Oct 2011, 20:32 | Frögren suspended three games
In a row of suspensions for tackles to the head in Elitserien Färjestad's Jonas Frögren is the latest player to be suspended. Frögren was suspended three games and fined 20 000 SEK after a tackle that gave Timrå's U20 star Max Friberg a concussion.
24 Oct 2011, 20:15 | Nieves is the hottest player for 2012 NHL Entry Draft
NHL Central Scouting on Friday released a list of Canadian and U.S. junior players eligible for the 2012 Entry Draft. Regarding to the report, the hottest player between all Canadian and U.S. junior and midget hockey leagues and U.S. scholastic leagues is Cristoval Nieves. A center of Kent School, Connecticut, USA, is the only player marked with 'A' ranking on the list - it means that Nieves is a potential first- or second-round pick.
23 Oct 2011, 05:35 | Barry Smith leaves Lugano
After the shameful 9-0 suffered against Kloten Flyers, HC Lugano American coach Berry Smith resigned from his charge, despite a two-years contract. He will be temporarily replaced by assistant Patrick Fischer and Mike McNamara. "I don't accept mediocrity, there was a lack of ambition and I can't handle with this" said Smith - winner of five Stanley Cup with Pittsburgh and Detroit as assistant coach - leaving Lugano after 16 games and twenty points Probably successor is Serge Pelletier
23 Oct 2011, 05:06 | Continental Cup 2nd Round, Day #2
In Dunaujvaros B Group Belgian White Caps Tourhout made a sensation beating 5-3 Dutch champion HYS The Hague with an amazing performance by American goalie Tyler O'Brien, 53 saves and it's almost qualyfing for an historic third round. Host Dunaujvarosi Acelbikak hammered 7-1 Spanish champion CH Jaca: a significant 80-10 shoots on goal says a lot about a one-sided game.
C Group in Miercurea Ciuc, Romania opened with an easy victory by Metalurgs Liepaja. Latvian side scored 11 goals against Olimpija Ljubljana with an hattrick by Juris Upitis, while Sport Club says goodbye to qualification after 1-5 suffered by Beybarys Atyrau, now with a chance to advance if Liepaja will lost in last game.
Follow all Continental Cup results and stats on Eurohockey.com here
23 Oct 2011, 02:16 | Jacob Josefson out with broken right collarbone
New Jersey Devils Swedish center Jacob Josefson underwent surgery Saturday morning and will be out three to four months after having broken his right collarbone after a spill into the boards with 3:05 left in the first period in 4-3 shootout home defeat against the San Jose Sharks. Strange coincidence, Josefson suffered another injury during a game against Sharks last season: he was forced to undergo surgery for a torn ligament in his thumb, missing ice for almost four months.
22 Oct 2011, 05:56 | Rosneft will own CSKA Moscow
Oil company Rosneft, one of the largest public oil and gas companies in the world, will become the new owner of CSKA Moscow
Last week press reported that CSKA is experiencing financial problems, with debts exceeding 100 million rubles. Club president Vyacheslav Fetisov wrote a public letter to Prime Minister Vladimir Putin urging a solution "in order to prevent the collapse of a legendary club", stating curent ownership has "not stable funds" and the wages are paid with long delays
The owner of CSKA Moscow is at the moment electric company WGC-3, which in last January holds 100% stakes of the club.
22 Oct 2011, 04:06 | Continental Cup 2nd Round results
The second Round of Continental Cup started on Friday, with two groups in Miercurea Ciuc (ROM) and Dunaujvaros (HUN). In Romania, Liepaja Metalurgs opened tournament with a shoot-outs victory against Kazakh champion Beybarys Atyrau: 3-2 with decisive shoot-out by Juris Upitis. Host SC Csikszereda easily won its first match, 8-3 against HK Olimpija Ljubljana (farm of EBEL main team) with 2 goals scored by Ede Mihaly.
In Hungarian seed White Caps Turnhout, winner of preliminary group, didn't have problem with Spanish champion CH Jaca: 7-3 and 3 goals by veteran Marek Ziarny while Dunaujvarosi Acelbikak frustrated its fans loosing 3-1 with Dutch HYS The Hague
22 Oct 2011, 00:03 | SC Bern fires head coach
SC Bern separates immediately from their head coach Larry Huras. Antti Törmänen and Lars Leuenberger will now lead the team.
21 Oct 2011, 22:16 | Kloten Flyers extends contracts with coach duo Eldebrink / Hollenstein
The Kloten Flyers and the long-standing coach duo Anders Eldebrink / Fige Hollenstein will work together for another 2 years. The contracts were signed today.
21 Oct 2011, 21:34 | Turkmenistan opens a new hockey arena
Although Turkmenistan is a country of deserts and the temperatures during summers are facing 50°C (122°F), although Turkmenistan never taken part in the Winter Olympic Games, there was opened a new winter sport center in Ashgabat. The winter complex includes a hockey-arena for 10,000 spectators or a boarding-school with 350 beds and cost US$185 million. The ribbon was cut by Gurbanguli Berdymukhamedov, the current Turkmenistan president.
21 Oct 2011, 12:52 | Kristiansen to HV71
HV71 of Elitserien loans Sparta Sarpsborg's forward Tommy Kristiansen until the national team break (November 8).
21 Oct 2011, 02:33 | Bracken makes NHL debut at 30
Kearns Bracken stepped into his very first NHL game today. The Florida player made his debut in the game against the Buffalo Sabers at the age of 30. Until now Bracken played in AHL for San Antonio Rampage (2011-12: 3p.(3+0) and 2PIM in 3 games). Bracken is the 12th player to debut at an age over 30 since 2000-01.
20 Oct 2011, 06:30 | AHL suspends McMillan
The American Hockey League has suspended Houston Aeros forward Carson McMillan for four games as a consequence of an illegal check to the head of an opponent in a game against San Antonio Rampage on October 15.
20 Oct 2011, 00:54 | ZSC Lions secures promising forwards
ZSC Lions announces team extended until 2013-14 contracts of forwards Luca Cunti and Ronalds Kenins. Cunti,22, debuted last saturday after been recovered from an injury during the pre-season. Twenty years old Swiss-Latvian Kenins already played 15 games in this season for Lions after three season in farm club GCK Lions.
20 Oct 2011, 00:46 | Russia U18 will play in Saratov
Russia U18 national team will play a friendly match in Saratov against local Kristall of VHL on november 1st, as preparation for World Challenge Cup in Canada from 07 to 13 November
19 Oct 2011, 19:49 | Surgery for Söderberg
Linköping's star center Carl Söderberg has to undergo finger surgery and is expected to return to the ice mid-November.
19 Oct 2011, 17:48 | Dan Fritsche out for 4-6 weeks
Dan Fritsche of Genève-Servette in NLA suffered a shoulder injury in Tuesday's game against Biel and will be out of play for 4-6 weeks.
18 Oct 2011, 06:54 | Hyvönen suspended three games
Färjestad's Hannes Hyvönen has been suspended three games and fined 14 000 SEK after a elbow tackle against the head of Timrå's Per Hallin who suffered a concussion. This is one of many suspensions for tackles to the the head already so far in Elitserien this season.
17 Oct 2011, 17:38 | Finland and Russia will play open air
Russian Hockey Federation announced Sweden Hockey Games match between Finland and Russia will be played at Helsinki Olympic Stadium, with a capacity of 35.000 spectators. Game is scheduled for february 9. Sweden Hockey Games is part of Euro Hockey Tour series
17 Oct 2011, 15:59 | Mikhail Shtalenkov in Magnitogorsk staff
Mikhail Shtalenkov was appointed as Metallurg Magnitogorsk goalies' coach. Former NHLer held the same function in Dynamo Moscow, his former club, during last two seasons
17 Oct 2011, 13:00 | Mlada Boleslav fires coach Jerabek
BK Mlada Boleslav, bottom team of Czech Extraliga, fired coach Vladimir Jerabek after eight losses from their 11 opening games of the season. The club sits bottom of the league with nine points. Current sports manager Milan Hnilicka takes over the charge of the first team with assistant coach Vladimir Hiadlovsky remaining in his position. Mlada Boleslav has finished last in all of their three Extraliga seasons so far, but saved themselves in relegation round every time.
16 Oct 2011, 13:48 | Triple success for High1
South Korean High1 played the Asia League leaders Nikko Icebucks three times this weekend and won all three; 6-2, 6-5 and 6-3.
Nikko is still in the lead of the league and High1 advanced to third place.
15 Oct 2011, 17:59 | Justin Kurz suspended six games
Black Wings Linza canadian defender Justin Kurz was suspended for six games by EBEL disciplinary commission for a checking on VSV Villach Derek Damon. Decision was taken after the examination of TV video
14 Oct 2011, 09:04 | EBEL overrules Zagreb victory
EBEL Senate assigned Klagenfurter AC a 5-0 victory over KHL Medvescak Zagreb in their game on Sunday, 9th October (originally 5-4 win for Zagreb). The reason for this decision was the start of goalkeeper Kresimir Tomljenovic who was still unavailable to play. Austrian Ice Hockey Federation states that it did not receive all mandatory documents in time. KAC thus once again becomes a league leader.
14 Oct 2011, 03:41 | Andrei Martemiyanov is new Avtomobilist Assistant coach
Former Rubin Tyumen assistant coach Andrei Martemiyanov was appointed as new Avtomobilist Ekaterinburg coach, replacing Sergei Gomolyako, resigned and get in Metallurg Magnitogorsk staff.
Martemiyanov, 48, already worked in Avtomobilist as assistant coach from 2007 to 2009
13 Oct 2011, 16:41 | Heins suspended eight games
Swiss Nationale League disciplinary commission suspended Fribourg Gotteron defender Shawn Heins for eight games and fined him for 2,000 francs for a head-check on Ambri-Piotta Julian Walker last Saturday. The check was considered intentional and dangerous. The commission suspended also Rapperswil defender Marco Maurer for two games after his rough charge on Biel´s Mathieu Tschantré.
13 Oct 2011, 13:25 | Luleå Rebels bankrupt
Luleå Rebels HC in Swedish Division 1A are bankrupt. Luleå Rebels HC's games are removed from the standings and statistics. The players are free to move to other clubs.
13 Oct 2011, 07:28 | 0-4 to 5-4
Lugano came back from 0-4 after 24 minutes to beat Ambri-Piotta 5-4 after overtime and shootout in Wednesday's only NLA game.
13 Oct 2011, 03:03 | Platina Chisinau withdrew from Romanian League
Romanian Ice Hockey Federation decided to throw out Moldovan team Platina Chisinau from Romanian League, after the team didn't appear in last two scheduled games against Progym Gheorgheni. The team has a tiny roster and already missed games when a player was suspended.
12 Oct 2011, 16:55 | Seukand back in Ukraine
Aleksandr Seukand quickly found a new job just 24 hours after having left Kapitan Stupino bench due the poor results of club in MHL. Former Ukraine national team and Sokil Kyiv coach is the new Companion-Neftogaz Kyiv headcoach. Current coach Ivan Benevelsky will work as Seukand assistant
12 Oct 2011, 10:35 | The Avalanches "retires" no. 21
Before the NHL 2011-12 season opener in Colorado, a great honour was given to Peter Forsberg. The former player's jersey with number 21 was sent to the rafters of Pepsi Center. It is the fourth retired number for the Colorado Avalanche organization after former retirements of Sakic's, Burqoue's and Roy's shirts.
10 Oct 2011, 20:38 | Simon Bertilsson suspended four games
Brynäs' Simon Bertilsson has been suspended four games and has been fined 15 000 SEK (around €1600) for a tackle against the head of Jonas Berglund (Luleå) who suffered a concussion.
10 Oct 2011, 09:36 | Young star of the month - EBEL
Anze Ropret of HDD Olimpija Ljubljana was voted young star of the month in Erste bank Liga. The 21 year old Slovenian scored one goal and added two assists in nine games playing for this season's good surprise Olimpija. Gergo Nagy of Hungarian Sapa Fehervar was voted second and Mario Fischer of Vienna capitals was voted third.
09 Oct 2011, 19:59 | The first Australian player ever to play in Czech Extraliga
Nathan Walker, 17, played the first Czech Extraliga game of his career. His Vítkovice beat Mladá Boleslav 8-4 and Walker from Sydney, Australia scored one assist. Nathan is the first Australian player to play in a European elite league.
08 Oct 2011, 05:33 | Yakovenko player of the month in Ukraine
New Ukraine Professional Hockey League (PHL) awarded its first ever Player of the Month. First honour goes to 32 years old Sokil Kyiv forward Aleksandr Yakovenko for 12 points (5+7) recorded in september
08 Oct 2011, 05:08 | Foreign referees debut in KHL
Two foreign referees, Slovakian Vladimír Baluška and Finnish Jyri Rönn, will debut on october 08 in KHL, as part of an agreement sign by Russian league with five top european referees. Balushka will be in Minsk for Dinamo - Metallurg Novokuznetsk, Rönn will officiate Avangard Omsk - Dynamo Moscow. Baluška officiated 2010 World Championship final between Russia and Czech Republic, while Jyri Rönn was referee in 2009 final Russia - Canada
07 Oct 2011, 07:55 | Jaromir Jagr reaches his 1600th point in NHL
After three years in Russia, Jaromir Jagr celebrates his return in NHL serving an assist for Claude Giroux goal in 2-1 Philadelphia victory against Stanley Cup holders Boston Bruins. The point is 1600th in NHL for Czech star while the Flyers, knocked off from playoffs by Boston last season, have won their season opener in three consecutive seasons, all on the road.
06 Oct 2011, 22:05 | Evgeny Mukhin new coach at Nizhny Tagil
Evgeny Mukhin is the new head coach of VHL Sputnik Nizhny Tagil. He will be assisted by current head-coach Aleksei Fetisov. Last season Mukhin coached Automobilist Ekaterinburg in KHL
06 Oct 2011, 00:01 | Milan Jancuska resigned
Head coach of KH Sanok, Milan Jančuška, resigned from his function.
Sanok management is searching for a new coach, temporarly team will be headed by assistant coach Marek Ziętara
05 Oct 2011, 20:09 | Titan Klin fires coach
Czech Jan Zahrla was fired as Titan Klin (VHL) head coach. Unfortunately, coach Zahrla failed as coach of our club - explained club president Vyacheslav Belov - Under his leadership, the team began the season with poor results.
New coach is former long-time assistant Andrei Amelin, with Aleksandr Dmitriev as new assistant
04 Oct 2011, 21:52 | New coach in Lørenskog
Yesterday, Lørenskog in the Norwegian league fired head coach Knut Stubdal.
Today David Livingston was announced as new coach. Livingston started the season in Manglerud Star, who now is looking for a new coach to replace him.
04 Oct 2011, 16:55 | Mario Scalzo at SC Bern for three games
Recently released by EHC Biel, Italo-Canadian defender Mario Scalzo will play three next games with SC Bern, to replace injured Travis Roche
04 Oct 2011, 13:43 | Change of coach for Znojmo
Karel Soudek is no longer the head coach of Czech side Orli Znojmo. After a few games into their maiden season in EBEL, the Czech club relieved Soudek of his duties and promoted assistant coach Martin Stloukal to the head coach position. Znojmo sits 10th in the table with four straight losses.
03 Oct 2011, 23:46 | Big riot in Romanian League will cost another forfeit for Platina Chisinau
A big riot on ice at 58:40 during the Romanian League match between Miercurea Ciuc Farm team and Moldovan Platina Chisinau, won 9-2 by Platina, resulted in 369 total minutes of major penalties, 190 for Platina and 179 for Miercurea Ciuc. All players involved will be suspended, this means Platina won't have enough players for next game and will loose by forfeit its second game for same reason. For not have a minimum number of players Platina dressed its bus driver Iurie Belogortev in last game
03 Oct 2011, 21:01 | Skellefteå's coach in traffic accident
Skellefteå's head coach Anders Forsberg was hit by a car when he was on a bicycle in a roundabout in Skellefteå. Forsberg wore a helmet and luckily he managed to avoid fractures or any other major injuries but was heavily bruised. He might miss the game versus Djurgården tomorrow due to his injuries.
03 Oct 2011, 20:41 | EBEL; Markus Peintner returns to Villach
30 years old forward rejoins his old club after serving two years in Graz. Peintner already played for VSV during 2005 - 2009, when he had 139 points to his account, including 54 goals. He also won EBEL league with VSV in 2005/2006 competition. Peintner won the league with Linz and Vienna before that, and is full of experiences. 1'81m, 83kg player hopes he'll help EC Rekord Fenster VSV improve their poor performances during this year's start of the season. His contract expires at the end of 2011/12 season.
03 Oct 2011, 19:25 | VHL awarded Players of the Month for September
The best goalkeeper is Rubin Tyumen Aleksandr Sudnitsin after his brilliant performance: four victories in last four games, with two shout-out and 98.40% of saves.
Evgeny Krutov, from leader Neftyanik Almetievsk, was recognized as best defender, with an amazing 1+8 during the month.
League top scorer, Lada Togliatti Alexei Akifiev is the forward of the month, for his three goals and ten assists in last seven games.
Finally, Toros Neftekamsk forward Sergei Emelin was awarded as "hope of the league" as best young player, thanks to his six goals and two assists in six games played
03 Oct 2011, 07:34 | Platina Chisinau loss by forfeit
Moldovan team Platina Chisinau lost 5-0 by forfeit second match of Romanian league against Miercurea Ciuc farm team due to lack of minimum number of players at the beginning of the match.
In the first match Platina easily won 9-4
02 Oct 2011, 06:44 | Kalev-Välk Tartu will face White caps for Continental Cup qualification
The team promoted to next Continental Cup round will be the winner of Kalev Tartu - White Caps Turhout game, scheduled for sunday night in Ankara. Saturday Estonian comfortably win host Baskent Yildizlari 11-2. Forwards Ilja Iljin and Anatoli Jakovlev were the stars with 3 goals each.
01 Oct 2011, 22:25 | Somma beats Pinguine
Sergio Somma scored all three home goals when Augsburger Panther beat Krefeld Pinguine 3-2 in overtime in one of today's six DEL games.
30 Sep 2011, 20:52 | White Caps hammered Baskent Yildizlari in Continental Cup open game
Game without problems for White Caps Turnhout in Continental Cup debut in Ankara, Turkey, against home team Baskent Yildizlari. Belgian champion won game 16-1. Latvian Valerijs Filimonovs, American Tommy Lange and Canadian Tyler Ruel scored 3 goals each.
Tomorrow Turkish team will face Estonian Kalev-Valk Tartu, while White Caps will be back on ice sunday for decisive game against Kalev. HC Metulla (ISR), originally fourth team in the group, withdrew in July
30 Sep 2011, 20:19 | Dinamo Riga - Metallurg Magnitogorsk in Liepaja
Kontinental Hockey League announced that regular season match between Dinamo Riga and Metallurg Magnitogorsk will be played at Liepaja's SIA Ledus Halle on November 2
30 Sep 2011, 17:34 | New coach for Molot
A day after coach Yuri Novikov resignation, Molot Perm has a new head coach: former player Aleksandr Gulyavtsev, retired from active hockey during the summer and currently in Oktan Perm coaching staff
30 Sep 2011, 14:35 | IIHF establishes the World Girl's Hockey Day
International Ice Hockey Federation established the official day of girl's Hockey. Sunday Oct 2 2011 should become a day girls of all ages can try ice hockey. They could be introduced to basic skills in hockey in a positive, fun and safe environment, learn about opportunities in ice hockey in their community, learn about fair play, sportsmanship, and teamwork and meet new friends and have a chance to fall in love with a new sport.
30 Sep 2011, 12:39 | Trenčín to rename local ice rink to Pavol Demitra
The City of Trenčín, Slovakia, decided to rename the local ice rink for the victim of the Yaroslavl plane crash, Trenčín-native Pavol Demitra. Demitra's wife Maria allows the using of her dead husband's name for the Ice rink of Trenčín.
30 Sep 2011, 08:44 | Söderström suspended three games
Skellefteå's forward Christian Söderström has been suspended three games after a tackle to the head of HV71's Adam Almqvist. Almqvist suffered a concussion and Söderström was reported to the disciplinary board despite that he wasn't penalized during the game.
29 Sep 2011, 22:14 | Beat Gerber retires from national team
SC Bern defender Beat Gerber announces his retirement from national team at 29 years old, after 89 caps and five World Championships
29 Sep 2011, 03:32 | Kudashov reaches 150 points
Serving two assists in Dynamo Moscow 4-1 victory against Dinamo Riga, team captain Aleksei Kudashov reaches a milestone: 150 points (60 goals, 90 assists), all with Dynamo jersey
29 Sep 2011, 03:02 | Coaches' change in Angarsk and Balashikha
Ermak Angarsk (VHL) head coach Victor Laukhin resigned today for health's reasons. Assistant coach Aleksei Zhdakhin was promoted as new head coach.
In MHL MVD Balashikha (Dynamo Moscow junior team)decided to fire coach Nikolai Varyanov due to team's poor results. MVD is penultimate in MHL Center Division with two victories in eight games. Assistant coach Sergei Oreshkin will be the new head coach, assisted by Andrei Kapranov, last season Russian champion with Dynamo Moscow '95
28 Sep 2011, 00:12 | A loss that hurts
Vitebsk was down 7-3 to Metalurgs Liepaja a few minutes into the third period of the Belarus league game, but still was able to score 4 goals and tie the game at 7 seven minutes before the end. The heroic effort was still in vain as Juris Upitis scored to restore Liepaja's lead at 57:24 and the game was lost 8-7.
27 Sep 2011, 23:18 | Another 3 goals by Sprunger
Julien Sprunger scored three goals when HC Fribourg-Gottéron beat EHC Biel 4-1 today.
Sprunger who has scored 10 goals in 8 games leads Swiss NLA in goal scoring.
27 Sep 2011, 13:09 | Draisaitl to lead Ice Tigers
Thomas Sabo Ice Tigers (Nürnberg) hired Peter Draisaitl as new head coach after Andreas Brockmann who was fired after the club's weak start of DEL.
24 Sep 2011, 19:14 | Ice Tigers fire coach
Andreas Brockmann was fired as head coach of Nürnberg Ice Tigers today. Ice Tigers has lost the first three DEL league games.
Until the club finds a new coach it will be lead by former assistant coach Derek Mayer.
23 Sep 2011, 17:25 | Arlan reconfirms Bondarev
Unlike the first information, Arlan Kokshetau denied dismissal of coach Dmitri Bondarev. Head coach will be regularly on the bench in next game against Kazzinc Torpedo-2
23 Sep 2011, 17:11 | Val Pusteria wins Italian Super-Cup
Val Pusteria Wolves wins Italian opening season trophy Super-Cup, playing between last season champion Asiago and National Cup winner. Game was also a replay of playoffs finals. Asiago opens the score with newcomer Stefano Marchetti but Val Pusteria recovers and reversed score with goals by David Ling, Max Oberrauch and Joe Jensen, winning its first ever Super-Cup
22 Sep 2011, 05:47 | Arlan fires coach and players
Six points in six games aren't enough for an ambitous club like Arlan Kokshetau: after the last game - a 0-6 defeat against Ertis Pavlodar - club decided to fire coach Dmitri Bondarev and three players: defenders Sergei Kagaikin, Aleksandr Kuklin and Evgeny Moshkarev. Bondarev arrived this summer in kokshetau after been coached Pervaya Liga Kristall Berdsk for two season
22 Sep 2011, 00:48 | After 21 years and 1374 points Mike Modano announces retirement
The icon of Dallas Stars Mike Modano officially announced his retirement at 41 years old with a post on his Facebook page: "I've come to the decision that it's time to retire as a player from the NHL".
Modano,recently declined a tryout with the Vancouver Canucks,is the NHL's all-time points leader among U.S.-born players with 1374 points in 1499 games career almost played for Dallas Stars where he stayed from 1992, when franchise was relocated from Minnesota, to 2009. Last season Modano signed with Detroit but a wrist injury allowed him to play just 40 games (4 goals, 11 assists).
Modano told ESPN he'd like to work for the Stars' organization.
21 Sep 2011, 18:15 | ECHL approved San Francisco membership for 2012
The ECHL announced that the board has approved the Expansion Membership application of the San Francisco Bulls for admission to the ECHL.
San Francisco is scheduled to begin play in October 2012 and its home arena will be historic Cow Palace, former San Josè Sharks arena
21 Sep 2011, 17:52 | Ukranian Professional League elects chairman and change playoffs rules
During the first meeting of PHL board, Bilyy Bars Brovary president Vitali Fedyanin was elected League chairman.
It was decided also to adjust playoofs rules. Now teams finishing from 1st to 4th places will fight for title in playoffs semifinals (best of four), teams from 5th to 8th place will compete in "small playoffs" series to determine final position. All series will be played best-of-three. In original format all teams would play playoffs for the title
20 Sep 2011, 22:54 | New League, old habits
After just two rounds of new Ukranian Professional League, two teams fired coach: champion Donbas Donets'k replaced Sergei Petrov and his assistant Nicholas Maiko with former Dinamo Minsk and Belarus U20 coach Oleg Mikulchik and Igor Andryushchenko as assistant, while Kharkivs'ki Akuly Kharkiv sacked Oleg Panasenko, temporarly replaced by Evgeny Gladchenko. "Analyzing the begin of the season, we understand young coach hasn't the qualification to lead the team at such high level as Ukraine League. Club managment set ambitious goals and we can't rely on young, inexperienced coach." was the comment of Kharkiv president Valery Seredenko
20 Sep 2011, 22:46 | NLA game stopped will be replayed in January
The game between ZSC Lions and EHC Biel in Swiss NLA that stopped after 27 minutes because of fog in the arena will be replayed on January 24 at 19:45. The sScore was 0-0 when the game was stopped.
20 Sep 2011, 18:51 | JYP sacks coach after two games
Finnish SM-Liiga side JYP Jyväskylä suprisingly sacked their coach Risto Dufva after losing the first two games of the season. Assistant coach Jyrki Aho will temporarily replace Dufva as head coach.
19 Sep 2011, 14:55 | Charles Franzen leaves HSC Csíkszereda
Swedish coach Charles Franzen left the HSC Csíkszereda bench before the home debut match against Ferencváros in MOL Liga. On the Csíkszereda website, the club president explained that Franzen was unsatisfied with the decision to not hiring a Swedish assistant coach as requested, but his departure was totally unexpected: "we waited for him for the dinner at the hotel but he didn't appear, he simply packed his bag and gone away." Former assistant coach Bela Nagy and former player Levente Hozo lead the team in a 4-0 victory against Ferencváros. Last season Frenzen won MOL Liga, Romanian League and Cup with Csíkszereda.
18 Sep 2011, 19:25 | Kristall Saratov fired coach
After four consecutive defeats and the last humiliating 1-9 against HK Ryazan, Kristall Saratov decided to fire coach Oleg Leontiev and replace him with assistant coach Sergei Vorsunov.
Kristall is currently last in VHL West Division
18 Sep 2011, 08:01 | Zug leads NLA
Esa Pirnes and Damien Brunner both scored three goals when EV Zug beat Geneve 7-3 in Swiss NLA.
Zug leads the league one point ahead of Bern.
18 Sep 2011, 04:15 | Sabres hire Teppo Numminen as coach
Buffalo Sabres announced the sign of former defender Teppo Numminen as head coach Lindy Ruff's assistant
Numminen retired in 2009 after 1.372 career games holding the record for most games played by a European player and worked as scout for Finland national team
17 Sep 2011, 21:45 | NLA game stopped because of fog in the arena
Today's game between ZSC Lions and EHC Biel in Swiss NLA had to be stopped after 27 minutes because of fog in the arena. The score was then still 0-0.
17 Sep 2011, 13:37 | Asia League 2011-2012
The new season of Asia League started today. Nippon Paper Cranes only scored once but that was enough to take an early lead of the league standings as they were the only team to win 3 points. The results: Free Blades-Paper Cranes 0-1, Anyang Halla-High1 4-3 (OT), Eagles-Icebucks 3-4 (SO).
16 Sep 2011, 23:06 | No Super-Six in St. Petersburg?
According to Swiss newspaper Südostschweiz, Super-Six tournament, scheduled in January was cancelled due to decline of HIFK Helsinki and Färjestad BK to partecipate. The tournament should replace Champions' League and former Super-Six but isn't organized by IIHF. Besides Scandinavian teams, also Swiss HC Davos, Czech Trinec, German Eisbären Berlin and Russian Salavat Ufa were invited
16 Sep 2011, 22:58 | Vityaz has new director
Leonid Reshetnikov is the new director of KHL team Vityaz Chekhov. He worked at Vityaz from 2000, as manager and chief of financial area
16 Sep 2011, 22:05 | Mozyakin successful
Sergei Mozyakin scored three goals when Metallurg Magnitogorsk beat Traktor Chelyabinsk 5-1.
16 Sep 2011, 09:12 | EBEL - 20 missing minutes played
HDD Tilia Olimpija Ljubljana and Moser Medical Graz 99ers finished Sunday's second round EBEL match only last night in Ljubljana, Slovenia. The game on Sunday was cancelled after two periods (Graz leading 1-0) due to problems with ice. The temperature inside the Tivoli ice-hockey hall on sunday was 28 degrees Celsius. Last night both teams stepped on the ice once again and they finished the game. Olimpija came back from trailing one to winning 2-1 and this win surely gave the Dragons boost for tonight's eternal Slovenian classic: Olimpija against Jesenice.
16 Sep 2011, 06:27 | Josh Holden suspended for eight games
NLA disciplinary commission suspended EV Zug forward Josh Holden for eight games (and 2000 francs fee) after the check against Fribourg forward Christian Dubè's head. Checking the videos and the referee report, the commission considered the charge deliberate and not accidental. Holden was suspended for the same infraction last season.
14 Sep 2011, 20:23 | MHL game delayed in Astana
Today the MHL scheduled match Snezhnye Barsy Astana - Tatranski Vlci was delayed due to an intestinal virus that affected almost half the Slovak roster. The game was postponed for tomorrow afternoon.
14 Sep 2011, 19:50 | A new league created in Moscow
Moscow hosted the founding conference of the new amateur hockey league in Moscow, which will start in 2011/12 season, called United Moscow Hockey League (OMHL according to Russiam acronym)
OMHL was created merging the three major amateur leagues of the capital - Non-Professional Hockey League (NPHL), Russian Amateur Hockey League (RLHL), both actived in last seven years, andMoscow Hockey Federation League, created last season (FHM).
The new league, divided in Mater and Debutant groups, will count with about 100 teams
14 Sep 2011, 07:32 | Titan Klin will be penalized
Not really a good debut for VHL newcomer Titan Klin. In their first game against VMF St. Petersburg the club alligned three not registered players: Dmitri Samarin, Igor Knyazev and Dmitri Demchenko. After examining the referee report, VHL has decided to cancel the result of the match, to count Titan as forfeited and consequently to penalize the club. On the ice Titan won the game 4-3 at overtime. Samarin scored a goal and served an assist
13 Sep 2011, 21:51 | Frölunda wins Elitserien opener
Both goalies played well when Frölunda defeated Växjö Lakers 2-0. Martin Gerber made 36 saves, but was beaten once by a blueline shot by Christian Bäckman. Frölunda also added a late empty net goal and Dane Frederik Andersen saved 20 shots for a shutout in his first Elitserien appearance.
13 Sep 2011, 12:59 | Antipov celebrates 200
When Vladimir Antipov scored 1-0 for Traktor against Novokuznetsk he scored his 200th goal in the highest Russian league. Only six active players have scored more goals: Maxim Sushinsky, Alexei Morozov, Sergei Mozyakin, Danis Zaripov, Alexei Kalyuzhny and Andrei Subbotin.
12 Sep 2011, 19:52 | Latvian League added a team
Latvian Federation informed upcoming Virsliga will count with a team more, besides nine already confirmed: HK Juniors, HK Riga farm team, playing also in new MHL-B. Request was submitted by Juniors coach Aigars Cipruss to allow team playing more games.
12 Sep 2011, 13:30 | HockeyAllsvenskan hires ref
The Swedish second league, HockeyAllsvenskan, has hired a professional referee from USA; Shane Warschaw.
12 Sep 2011, 11:50 | Galimov dies
Aleksander Galimov, 26, the only Lokomotiv Yaroslavl player who survived the plane crash on Sep 7, died in Moscow, Russia, just five days after the disaster. Regarding words of Dr. Kubyshkin the fourth day is the most critical in the cases of burns. Only one survivor remains now, the flight engineer Aleksander Sizov.
12 Sep 2011, 10:29 | Start of Czech Extraliga postponed
Originally, Tipsport Extraliga would start this Friday, Sep 16, with seven games. Because of Yaroslavl jet crash all the first round games are postponed. "Jan Marek, Karel Rachůnek and Josef Vašíček were friends of many Czech Extraliga players. Their friends would be unable to attend Jan Marek's funeral if we will make them play hockey on Friday," Czech Extraliga head commisioner Stanislav Šulc said. New dates for the games is unknown, the clubs will arrange date of their 1st round games themselves.
The Czech top-level ice hockey competition will start on Sunday, Sep 18, with games of the second round.
11 Sep 2011, 19:41 | Polish League starts
Today the first game of the Polish league was played. ComArch Cracovia Kraków beat MMKS Podhale Nowy Targ 5-4.
11 Sep 2011, 16:24 | Grenoble grabbed French opening season trophy
Grenoble clearly defeated champion Rouen 6-1 winning 2011 Match des Champions, Jacques Lacarrière trophy, the first trophy of the season played between national champion and League Cup winner. Defender Alexander Rouleau, 1 goals and 3 assists, was the star of the game, played at Chambery Métropole Arena in front of 1050 spectator
11 Sep 2011, 14:38 | VHL starts
VHL, the league below KHL, started today. Rubin Tyumen won the opening game against Neftyanik Almetievsk 4-1.
09 Sep 2011, 01:02 | Atlantic City to Host 2012 AHL All-Star
American Hockey League President David Andrews announced that the 2012 AHL All-Star will be held at Boardwalk Hall in Atlantic City, N.J., on January 29 and 30, 2012.
This will be the first ever AHL All-Star event held outside an AHL city
07 Sep 2011, 23:12 | Belarus league starts
The Belarus Open League opened today with the games HK Brest - HK Lida 2-3, HK Gomel - Metalurgs Liepaja 1-2 (SO), HK Mogilev - HC Vitebsk 7-6 (SO) and Shakhtar Soligorsk - Khimik SKA Novopolotsk 5-1. Game between Yunost Minsk and Neman Grodno, replay of last season finals, was cancelled and will be rescheduled to respect the memorial ceremony held in Minsk for victims of Yaroslavl  plane crash
07 Sep 2011, 17:18 | Aleksandr Medvedev: "Hockey will survive in Yaroslavl"
KHL president Aleksandr Medvedev declared at Russian television: 'I want to reassure you that we will do everything possible to make sure hockey of the highest level continues in Yaroslavl, and that Lokomotiv remains one of the KHL's strongest clubs'
Russian President Dmitry Medvedev expressed his condolences to the families of those killed in plane crash and all the fans of Lokomotiv.
The President instructed the Government to undertake all necessary arrangements, and instructed the Investigation Committee and government agencies to conduct all necessary steps to investigate the incident.
07 Sep 2011, 16:19 | Salavat Yulaev and Atlant interrupted game
The KHL Opening Cup game between the Salavat Yulaev and Atlant was interrupted in the 15th minute because of the tragedy in Yaroslavl.

The head of the KHL Alexander Medvedev addressed the fans in the stands asking them to honor the players and coaches of Lokomotiv with a minute's silence. Then he took the teams to the dressing rooms for consultations on whether the match should be continued.

After 20 minutes, Medvedev addressed the fans again, saying the players had asked him to cancel the game. The public in Ufa stadium applauded and the match was cancelled
07 Sep 2011, 15:36 | Jan Platil signs one-month contract with Znojmo
Few days before the start of the Erste Bank Eishockey League, newcomer Znojmo signed experienced defender Jan Platil. After spending summer camp at his native Kladno, Platil didn't reach an agreement with team and was released. He signed one-month contract with Znojmo waiting for offers in more competitive leagues. Last season Platil played for Kladno, Poprad in Slovak Extraliga and Nürnberg Ice Tigers in DEL
07 Sep 2011, 00:53 | Paul Holmgren hospitalized for a bike crash
Philadelphia Flyers general manager Paul Holmgren has been hospitalized with multiple fractures and cuts following a bike crash while riding in Avalon, New Jersey. He was declared in stable conditions
06 Sep 2011, 21:52 | First round to Hungary
Sapa Fehérvár AV19 won the opening game of MOL Liga against HSC Csíkszereda.
Adrian Toth scored the 4-3 winner in the shootout. Zsolt Molnar scored twice in regulation.
05 Sep 2011, 15:29 | Kevin Dallman will not play for Kazakhstan
In an interview for club official site, Barys Astana president Nurlan Orazbayev declared defender Kevin Dallman won't play for Kazakhstan national team as rumoured: "Dallman will not play for Kazakhstan, because we don't have dual citizenship. Canada has dual citizenship, and he wants to play, but here in our country it's impossible, so he will not play in our team. In order to play for us, he must renounce to Canadian citizenship, but this is a private matter.
05 Sep 2011, 13:14 | CSKA champion of Moscow
CSKA won Mayor's Cup, the unofficial Moscow championship last weekend. They won all three games. 3-2 against Atlant, 4-2 against Spartak and 2-1 against Dynamo.
04 Sep 2011, 21:14 | Mannheim drown their chance in penalties
Adler Mannheim missed out on their chance of making European Trophy finals as they lost their final group game 3-5 against Slavia Praha. Mannheim needed a win to climb over Linköping to second place of South division, but conceded three goals in the 2nd period in a nervous game with 270 penalty minutes (133 to Mannheim, 137 to Slavia).
04 Sep 2011, 16:26 | U17 Finnkampen
Finland U17 and Sweden U17 played three games in Finland this weekend. On Friday Sweden won 6-2 in Lempäälä. Finland won Saturday's game 4-0 in Valkeakoski. Today's game was won by Sweden 4-3 in Hämeenlinna. Jacob de la Rose scored the winner five minutes before the end.
04 Sep 2011, 14:23 | AAHL Suspends Operations for 2011-2012 Season
The All American Hockey League (AAHL) announces that the league will suspend operations for the 2011-2012 season.
The All American Hockey League was formed in the summer of 2008 as the All American Hockey Association when the Battle Creek Revolution and South Shore Shooters (later the Chi-Town Shooters) of the Mid-Atlantic Hockey league (MAHL) banded together with the Evansville Icemen and Motor City Gamblers (later the Detroit Dragons) of the Midwest Hockey league (MWHL).
The All American Hockey League saw three seasons between 2008-2011 and three different Champions: Chi-Town Shooters, Evansville IceMen and Battle Creek Revolution
04 Sep 2011, 08:46 | EIHL starts
The British Elite Ice Hockey League (EIHL) started yesterday with two games. David-Alexandre Beauregard scored a hat trick when Nottingham Panthers beat Cardiff Devils 6-1. Mark Ramsey and Steve Birnstill both scored in the shootout to secure the 2-1 win for Sheffield Steelers against Belfast Giants.
04 Sep 2011, 01:10 | Sary Arka captain becomes team's new coach
Few days after finishing Kazakhstan Cup as runner up, Sary Arka lost its coach Sergey Voykin, resigning to come back to coach junior team debuting in MHL. Managment decided to replace him with captain Ramil Saifullin. Player hangs up the skates to fully dedicate himself at coach career
04 Sep 2011, 00:29 | Wallin to hospital
Luleå's Niclas Wallin was taken to hospital after a hard tackle from behind by Liberec' Jaroslav Kudrna in today's European Trophy game. Kudrna was sent of the ice with a game misconduct. At the hospital Wallin was diagnosed with a concussion.
03 Sep 2011, 22:18 | Two more teams to the Red Bulls Salute
Frölunda Indians and Jokerit booked their tickets to the Red Bull Salute on Saturday as they won their respective games.
Frölunda beat KalPa 5-2 and Jokerit beat Slovan Bratislava 7-2.
03 Sep 2011, 13:34 | 2011 AIHL final teams decided
Melbourne Ice and Newcastle North Stars qualified for tomorrow's AIHL final.
Melbourne beat Adelaide Adrenaline 8-3 in the first semi final and then Newcastle beat Sydney Ice Dogs 5-2.
03 Sep 2011, 13:24 | Avangard wins Stone Flower
Avangard Omsk won the Stone Flower cup in Ekaterinburg after beating Sibir Novosibirsk 5-2 in the final.
Barys Astana beat Metallurg Novokuznetsk 5-2 for the third place and Automobilist finished 5th after beating Amur Khabarovsk 5-1.
02 Sep 2011, 21:58 | Toros has a new manager
The VHL team Toros Neftekamsk hired a new manager for the upcoming season: Valeri Nurgutdinov was appointed as director of the club. Nurgutdinov, 42, was director of the Department of Administrative and Social Welfare of the state company "Bashneft".
02 Sep 2011, 20:20 | U20 games in Podolsk
Today Russia beat Finland 11-4 and Sweden beat Czech Republic 7-2 in a four nations tournament for U20 teams in Podolsk, Russia. Yesterday Sweden beat Finland 5-4 And Russia won 2-1 against the Chechs. The winner in tomorrow's game between Russia and Sweden wins the tournament.
02 Sep 2011, 05:12 | Kazakhstan Cup Awards
Kazakhstan Hockey Federation announced individual awards for Kazakhstan Cup.
Best Goalie was nominated Artem Stoletov from champion Arystan, Best Defender trophy went to veteran Sary Arka Sergei Yakovenko, while his teammate Vyacheslav Tokarev won the title as Best Forward.
Vasili Gorbovoy from debutant HK Astana was the top scorer.
01 Sep 2011, 21:10 | Stephan Lundh is the new coach of Dunaújváros
Hungarian team Dunaújvárosi Acélbikák signed experienced Swedish coach Stephan Lundh to face its first season in Austrian Nationalliga. Lundh - 52 -  coached Djurgården, Malmö and Frolunda where he won Elitserien in 2004/2005 along with Coach of the Year Award. He also coached Sweden national team between 1998 and 2000 and Sweden U18, crowning World Champion in 2010
01 Sep 2011, 16:41 | Jon Kynaston new England Head Technical Coach
English Ice Hockey Association announces the appointment of Jon Kynaston into the new role as Head Technical Coach of England. Kynaston will join the recently formed National Teams Committee overseeing the future development of all the England Teams and staff.
Kynaston previously worked at Peterborough Phantoms as Director of Hockey and with Elite League club Hull Stingrays as Head of Community and Commercial Development
01 Sep 2011, 15:38 | Plzen first to European Trophy finals
HC Plzen 1929 is the first club to ensure its participation at Red Bull Salute, the final tournament of this year's European Trophy. Czech team beat Slavia Praha 5-3 in their penultimate group game and currently sits top of East Division. European Trophy continues with another flurry of games today, follow them here on Eurohockey.com.
01 Sep 2011, 07:41 | Rare win for Sweden
When Sweden's women's team beat Canada 6-4 in Finland yesterday it was only the second time that Sweden managed to win against Canada. Kim Marin made 48 saves as Canada outshot Sweden 52-27.
31 Aug 2011, 23:20 | Rio Grande Valley announces affiliation
The Rio Grande Valley Killer Bees of the Central Hockey League (CHL) announces the first affiliation in team history.
For the 2011-12 season, the Killer Bees will be affiliated with the Florida Panthers of the National Hockey League (NHL) and San Antonio Rampage of the American Hockey League (AHL).
31 Aug 2011, 21:43 | End of career for Newcastle top players
Newcastle North Stars imports Peter Cartwright, current season scond top scorer, and defender Robert Starke, along with head coach Don Champagne, have announced that they will be retiring at the end of the 2011 AIHL Finals starting next saturday
31 Aug 2011, 18:55 | Tyutin signs six-years extension with Blue Jackets
The Columbus Blue Jackets have signed top defenseman Fedor Tyutin to a six-year contract extension.
Picked by New York Rangers in the 2001 draft, he landed in Columbus three years ago. He had seven goals and 20 assists in 80 games last season.
29 Aug 2011, 20:37 | Slovak 1.liga
There will be only 13 teams in the Slovak 1.liga for the 2011-12 season. Club Dolny Kubin will not play the upcoming season due to financial problems.. The schedule includes HK Orange U20, the National Junior Team which also plays in Slovak Tipsport Extraliga, playing once against each team. Schedule here.
29 Aug 2011, 18:37 | Vityaz has a new farm club
Vityaz Chekhov signed a new farm team agreement with the VHL club Ryazan. The agreement is valid until April 30.
28 Aug 2011, 21:16 | AIHL semi final draw
The AIHL regular season ended today.
The semi finals pairings will be: Melbourne Ice v Adelaide Adrenaline and Newcastle North Stars v Sydney Ice Dogs.
27 Aug 2011, 17:33 | Holst reaches 300
Sweden's Erika Holst played her 300 international game when Sweden defeated Japan 8-2 in Finland. Holst has played most international games of all female ice hockey players in the world.
27 Aug 2011, 15:59 | Navarenko suspended seven games
Shakhtar Soligorsk Ukranian defender Yuri Navarenko was suspended for seven games by the Belarusian Federation Discipline Committee. During the Belarus Cup game against Yunost Minsk on August 20, Navarenko severely and repeatedly insulted the referee after some controversial decisions.
Navarenko will miss the rest of Belarus Cup and four Belarus Open League matches.
26 Aug 2011, 21:13 | Tre Kronor to Örnsköldsvik
The Swedish Ice Hockey Association has announced that Sweden will play the Czech Republic in Örnsköldsvik November 10 2011. The game is a part of Karjala Tournament in Euro Hockey Tour. This will be the first time that Tre Kronor will play in Fjällräven Center.
25 Aug 2011, 13:01 | Romazan results
In the first games of the Romazan tournament in Magnitogorsk Salavat beat Vityaz 11-4 and the home team Metallurg beat Yugra 3-1.
24 Aug 2011, 22:14 | Women's national team games in Finland
Thee results of today's games in the Women's IIHF Twelve Nations Invitational Tournament in Vierumäki, Finland:
Canada-Switzerland 16-0, Finland-Japan 7-0, USA-Russia 12-0 and Sweden-Slovakia 4-1.
23 Aug 2011, 21:12 | Russia and Belarus wins on the Sergeja Žoltoka piemiņas opening day
The Latvian U20 team hosts a tournament to the memory of Sergejs Zoltoks. Norway and Belarus participates with their U20 teams while Russia is there with the U18 team.
In the first game Russia beat Norway 7-1 with three goals scored by Vyacheslav Osnovin. Latvia lost its first game 5-2 to Belarus.
22 Aug 2011, 20:13 | Another loss for Tappara
Tappara lost in the shootout to Pardubice in today's only game in European Trophy and is still without a win. Martin Bartek scored the game-winning 6-5 goal.
22 Aug 2011, 18:58 | New player to TPS
TPS signed a new forward today, Ryan Stone. 26 year old Canadian center arrives tomorrow to Finland
21 Aug 2011, 17:08 | Jokerit releases players
Jokerit's try-out players Niko Tuhkanen and William Wallén were released after four games in European Trophy and won't continue with the team.
20 Aug 2011, 09:17 | New Zealand-Australia in the final
New Zealand beat China 6-1 in the semi final to qualify for the final of the New Zealand Winter Games against Australia.
18 Aug 2011, 21:39 | Atlant hires new goalie coach
Atlant Moscow Oblast appointed Finnish Jari Kaarela as their new goalie coach. The 53-years old Tampere native worked last season at Lokomotiv Yaroslavl and previously with the Finnish national team in six World Championships and at the Nagano Olympics.
18 Aug 2011, 11:20 | Nylander to Philadelphia?
The Flyers announced that NHL veteran center Michael Nylander will attend this year's Flyers Training Camp on a Pro Try-Out.
18 Aug 2011, 09:15 | Basel Summer Ice Hockey 2011 Day 1
Basel Summer Ice Hockey started yesterday with two games. Finnish JYP Jyväskylä beat Barys Astana from Kazakhstan 5-3 and SKA St. Petersburg beat the host EHC Basel Sharks 7-0.
The tournament is played with six teams divided into two groups. In Gruppe Urs Dieter Jud the teams are Barys Astana, JYP Jyväskylä and SC Bern and in the Gruppe René Nebel we find SKA St. Petersburg, Krefeld Pinguine and EHC Basel Sharks. The two first teams of each group qualify for the semi finals.
17 Aug 2011, 20:30 | Phoenix signs ECHL new affiliation
Phoenix Coyotes announced that the Coyotes have signed a one-year affiliation agreement with the Gwinnett Gladiators of the ECHL.
17 Aug 2011, 00:06 | Belarus Cup started
Today Belarus Cup started in Gomel, where the local team defeated the Dinamo Minsk farm team Dinamo-Shinnik 3-1. All Belarus teams including newly formed HK Lida, with addition of Dinamo-Shinnik and Yunost Minsk's MHL team participate in tournament. The teams play a single round robin divided in two groups of six. The winner of each group will play the final September 3 at Minsk Arena. Yunost Minsk won the last two consecutive editions. Follow all the results on Eurohockey.com here!
16 Aug 2011, 19:06 | Jets statement regarding passing of Rick Rypien
True North Sports & Entertainment and the Winnipeg Jets Hockey Club would like to issue the following statement in regards to the passing of Rick Rypien:
'We are deeply saddened to confirm Rick's passing. As many people are aware, he had strong ties to True North Sports & Entertainment, the Winnipeg Jets Hockey Club, the former Manitoba Moose Hockey Club and the Vancouver Canucks. We would like to express our sincere sympathies to the Rypien family as well as Rick's friends. We also appreciate all of the support that has come pouring in from Rick's fans. Rick was a talented player with an extremely bright future. His hunger for the game made him a valued team member both on and off the ice. This loss has impacted us as more than just a hockey team.'
16 Aug 2011, 18:11 | Russia will face Finland in St. Petersburg
Russian Federation informed that the match against Finland in Czech Hockey Games - the fourth stage of Euro Hockey Tour - will be held in St. Petersburg on April 26, 2012. All the other games will be played in Czech Republic as usual.
15 Aug 2011, 20:53 | HC LEV going to use own aircraft
At today's press conference in Poprad, Marcel Binek, HC LEV Poprad Sales Director, said that the club has a strong new partner - HOLIDAYS Czech Airlines. The cooperation with HOLIDAYS Czech Airlines will be very beneficial to HC LEV, as the club will be able to use Boeing 737-400 aircraft throughout the season. "The plane will be painted in the team's colors and will also carry the lion from our club logo. We will be the only KHL team using a Boeing 737-400." Marcel Binek said.
15 Aug 2011, 19:20 | Four goals by Glazachev
Konstantin Glazachev scored all 4 goals when Metallurg Magnitogorsk beat the host Traktor Chelyabinsk 4-3 in overtime on the first day of the Chalyabinsk Tournament.
In the other game Neftekhimik Nizhnekamsk beat Avangard Omsk 4-3.
15 Aug 2011, 18:43 | Don Granato new US U17 coach
Don Granato, has been named head coach at USA Hockey's National Team Development Program. Granato, as one of two head coaches at the NTDP, will guide the U.S. National Under-17 Team during the 2011-12 season.
Granato spent last season as a scout for the National Hockey League's Vancouver Canucks, previously he was assistant coach for St. Louis Blues and head coach of AHL Worcester IceCats and Chicago Wolves. In 2001 he won the Louis A.R. Pieri Memorial Award as the AHL coach of the year.
15 Aug 2011, 18:30 | Real Torino quits Serie A2
Real Torino announced team will not partecipate in next Italian Serie A2 for economic reasons. Real will focus resources on women and juniors department. Last season U18 team won Italian title.
Serie A2 will count with 8 teams, after promotion of Vipiteno and new entry Pergine
15 Aug 2011, 10:13 | Ice on top
Melbourne Ice has secured the Regular season win in Australian AIHL.
14 Aug 2011, 08:42 | USA wins Under-17 Five Nations Tournament
USA won an Under-17 Five Nations Tournament in Ann Arbor, Michigan after wins against Czech Republic, Germany, Slovakia and Switzerland.
On the last day the Americans beat Switzerland 5-1 and Czech Republic beat Slovakia 6-4.
13 Aug 2011, 00:24 | U20 and U18 wins for Sweden against Finland
In the Ivan Hlinka Memorial the Swedish U18 team beat Finland 4-3 in overtime to qualify for the final against Canada.
In an U20 tournament in Lake Placid the Swedish and Finnish U20 teams played each other tonight. The game ended with a 8-4 win for the Swedes.
12 Aug 2011, 23:59 | Plzen wins against MOUNTFIELD
Tomas Vlasak scored the winner when Plzen beat MOUNTFIELD 3-2 in overtime in the only game of the European Trophy today.
Tomorrow there are nine games to be played including the Helsinki encounter HIFK-Jokerit.
10 Aug 2011, 22:25 | Nijmegen drops out
Nijmegen Devils dropped out of the Dutch top league after deciding not to participate this season due to financial restraints. Instead the team will play in the second league (Eerste divisie). For just the second time in the past four decades, Nijmegen does not have a team active in the nation's top league. In 2009, Nijmegen had won the Dutch Cup while a year later the team was crowned league champions. Last season the team was elimited in the playoff semi finals. Team management has stated that their aim is to play for the top positions in the Eerste Divisie this season and ensure the club can make a financial healthy return to the top level for the 2012-13 season.
10 Aug 2011, 06:54 | National Junior Team tournaments in USA
Sweden U20 beats Finland U20 7-1 in Lake Placid.
In the U17 tournament in Ann Arbor, Michigan Germany beat Slovakia 4-2 and USA beat Czech Republic 5-1.
09 Aug 2011, 14:04 | Unrest in Jesenice, six players leave
After only a couple of days on ice, there are problems reported from HK Acroni Jesenice camp. Five Canadian import players - Dylan Hunter, Shay Stephenson, Logan Stephenson, Tyler Donati and Justin Donati - had their contracts terminated after a disagreement over the quality of accomodation provided by the club. The club has further announced that defenseman Doug Nolan is also set to leave the club due to unspecified reasons.
05 Aug 2011, 20:49 | Michael Peca is new Sabres Junior's GM
Michael Peca, 37, former Buffalo Sabres captain, was hired as the new Buffalo Junior Sabres general manager
Another former Sabres player, Grant Ledyard, is the coach of the club.
Sabres Junior affiliate club plays in Canadian Ontario Junior Hockey League
04 Aug 2011, 14:09 | Benda back in Germany
The 39-year-old center Jan Benda with 175 games for Team Germany returns to German club hockey. It was 16 years since he last played for a German club.
Benda signed a try-out contract with Thomas Sabo Ice Tigers of the DEL.
03 Aug 2011, 21:33 | Svartvadet injured
Former Atlanta Thrashers forward Per Svartvadet of Modo in Swedish Elitserien will not play any games before Christmas. A stomach disease stops him.
03 Aug 2011, 21:11 | Pre-season update
Spartak Moskva, SKA St. Petersburg, Yunost Minsk, HC Plzen 1929, Kazzinc Torpedo Ust-Kamenogorsk and Shakhtar Soligorsk all win today.
Follow the pre-season here.
03 Aug 2011, 12:57 | Kazakhstan Cup
The draw of the Kazakhstan Cup that starts August 20 has been held. HK Astana, Arlan, Kazzinc-Torpedo-2, Gornyak and Sary Arka will play in Group A. Groub B will consist of Barys-2, Almaty, Beybarys, Arystan and Ertis Pavlodar.
01 Aug 2011, 20:47 | Pre-season games
Kometa Brno beat SKA St. Petersburg 3-1. Find this and more pre-season games here!
30 Jul 2011, 17:30 | Botany Swarm qualifies for the finals in New Zealand
With a 6-5 win over Dunedin Thunder Botany Swarm have secured a home final in the NZIHL.
Southern Stampede and Canterbury Red Devils are chasing the other final spot in Auckland at the end of August.
Six games remain until the regular season ends August 7.
30 Jul 2011, 13:57 | New arena in Riga
Dinamo Riga plans to build a new arena close to the airport. The new arena may allow up to 15,000 fans and will be ready in 2017.
27 Jul 2011, 08:30 | Another World Champion retires
July, 26, 2011 can be written in the hockey chronicles as a day of two World Champions retirement. Just a few hours after Kris Draper announced his retirement, a similar statement was made by another IIHF World Championship gold medalist. Martin Prusek, 36, a former goaltender of the Ottawa Senators and the Columbus Blue Jackets in NHL accepted an offer from HC Vítkovice Steel to become their goaltender coach.
26 Jul 2011, 18:05 | Hossa to Spartak
The Slovak national team player and former NHL'er Marcel Hossa signed a one-year contract with Spartak Moscow (KHL). Hossa was the leading goal scorer of the KHL 2009/10.
26 Jul 2011, 12:26 | Kris Draper to announce retirement
The fourty-year old legend of the Detroit Red Wings(NHL), forward Kris Draper scheduled a press conference on Tuseday, July 27 at 11.00 a.m. EDT. It is awaited that he will announce his decision to retire from professional hockey.
22 Jul 2011, 01:20 | Rink trouble for Bregenzerwald
EHC Bregenzerwald of the Austrian Nationalliga (2nd league) are without a home rink since their home arena Eisarena Alberschwende will be closed. The muncipilaty has decided to close the outdoor arena. There are plans for a new indoor rink but that can open earliest to the 2012/2013 season. The club hopes they can find a solution so they can still play at the Eisarena Alberschwende for the 2011/2012 season.
20 Jul 2011, 19:44 | Celio new Swiss U20 coach
The Swiss Ice Hockey Federation has announced that Manuele Celio is the new coach of the U20 national team. He has coahed the Swiss team at the last three U18 World Championships.
18 Jul 2011, 00:19 | SKA rebuilds team
The KHL club SKA St. Petersburg today announced that they release several players among them Aleksei Yashin who doesn't get a new contract. According to SKA's website this is done to make the roster younger. The clubs also wants to trade team captain Maksim Sushinsky to another club as he has still has one year left on his contract.
15 Jul 2011, 11:28 | Písek buys a spot in Czech 1.liga
IHC Písek was the worst team in the last season of the Czech 1.liga with a 7-4-1-18 record. The club was relegated from 1.liga, but not for long. The owner of HC Vrchlabí Petr Dědek announced that his team's 1.liga license was for sale. Písek bought it and will return to play in the 1.liga next season. HC Vrchlabí will change their name to HC Stadion and play only in regional competition.
13 Jul 2011, 23:53 | Two young Swedes sign NHL contracts
On his 18th birthday Jonas Brodin (10th overall in 2011 draft) signed with the Minnesota Wild, however he will stay for one more year with his Swedish club Färjestad. The sixth overall pick Mika Zibanejad also signed with his club, the Ottawa Senators. He will attend Ottawa's training camp to try to earn a spot on Ottawa's NHL roster. If he doesn't make the roster he will return to Sweden to play for Djurgården.
12 Jul 2011, 19:37 | Gerber to Sweden
The Swiss goalie Martin Gerber (Oklahoma City Barons/Edmonton Oilers) signed a one-year contract  with the newcomer in Swedish Elitserien Växjö Lakers.
12 Jul 2011, 10:07 | Game cancelled due to poor ice
The AIHL have deemed that the Gold Coast Blue Tongues have forfeited Sunday's game against the Sydney Ice Dogs. The Ice Dogs will be awarded 3 points.
10 Jul 2011, 17:15 | U.S. college hockey will have a new conference
Six Directors of Athletics from six U.S. colleges (Colorado College, University of Denver, Miami University, University of Minnesota Duluth, University of Nebraska Omaha and University of North Dakota) announced that from 2013-14 they'll become founding members of a newly-formed hockey conference. More information will be known after a press conference this Wednesday, July 13.
10 Jul 2011, 10:00 | Follow us on Twitter and Facebook
Don't forget that you can follow eurohockey.com both on Twitter and Facebook.
07 Jul 2011, 23:37 | NHL/KHL player movement regulation agreement signed
NHL Deputy commissioner Bill Daly and KHL president Alexander Medvedeev signed a one-year long Memorandum of Understanding, an agreement that respects the professional contracts of players from both leagues and avoids conflicts between the sides during the process of player movement across the Atlantic Ocean.
06 Jul 2011, 17:32 | 2018 Olympic Hockey in PyeongChang
The 2018 Winter Olympics will be held in PyeongChang, Korea. It is the first time Korea will host a major ice hockey event.
06 Jul 2011, 15:55 | Sergei Zubov - new coach of SKA
Prominent Russian hockey player, Olympic gold medalist and two-time Stanley Cup winner Sergei Zubov, who has retired from his playing career, has been appointed the new head coach of SKA St. Petersburg.
04 Jul 2011, 20:53 | New KHL team signs five players
New Slovakian KHL team HC LEV Poprad today announced the signing of five players. The players, all of Czech nationality, are defenceman Tomas Kloucek and forwards Vaclav Nedorost, Tomas Netik, Jaroslav Kristek and Martin Chabada.
04 Jul 2011, 12:26 | Nugent-Hopkins signs with the Oilers
Ryan Nugent-Hopkins, this year's first pick at the NHL Entry Draft, signed three-year entry-level contract with the Edmonton Oilers. The Oilers' GM Tambellini announced that young center Nugent-Hopkins will appear Oilers Development Camp.
01 Jul 2011, 19:38 | Jaromir Jagr to Philadelphia Flyers
When Jaromir Jagr left the New York Rangers in 2008, not many thought that he would return to NHL. But after three seasons with Avangard Omsk in the KHL, the Philadelphia Flyers today announced on Twitter that they have signed a contract with one of the greatest Czech players in history.
01 Jul 2011, 16:05 | New York Rangers to visit EV Zug
New York Rangers will play an exhibition game against EV Zug at Bossard Arena on Monday, October 3.
27 Jun 2011, 11:44 | Collins to Nürnberg
The Thomas Sabo Ice Tigers of the German DEL filled its last forward spot with Chris Collins from the Wilkes-Barre/Scranton Penguins of the AHL. The 27-year-old American has earlier played two seasons for Augsburger Panther.
26 Jun 2011, 06:50 | Winnipeg Jets return
It\\\'s now official: Winnipeg\\\'s returning NHL team will be called the Winnipeg Jets, as announced by True North chairman Mark Chipman. \\\"We listened to a lot of people,\\\" he declared to Winnipeg Free Press, \\\"Certainly the fans, that was obvious. Although I was overwhelmed by the number of unsolicited suggestions, a lot of them very good and thought we had to go in a different direction. But we talked to our scouts and the kids that were interviewed this year all wanted to know what the name of the team was going to be. And there was a strong preference for Jets.\\\"
Despite the rebirth of the name, it is expected the team will use a logo different from the one used by the previous Winnipeg Jets before the franchise moved to Phoenix in 1996.
23 Jun 2011, 19:32 | Glen Hanlon appointed as assistant coach in WHL
The Vancouver Giants of the WHL announced that Glen Hanlon has been appointed as the club's new assistant coach. The former Belarus and Slovakia coach signed a multi-year deal with the organization.
At the club level, Hanlon has coached the AHL Portland Pirates, the Washington Capitals, Finnish Jokerit and Belarusian Dinamo Minsk.
"Junior hockey is the one level I have never coached at. I am excited to get the chance to work with young players and to learn and work with Don Hay, who I believe is the best junior coach in Canada," said Hanlon.
21 Jun 2011, 14:58 | Spengler Cup announces participants
Europe's oldest hockey tournament announced the definitive participants today. Once again there will be six teams: host HC Davos and traditional participant Team Canada will face Kloten Flyers, Dinamo Riga, Grizzly Adams Wolfsburg and HC Vitkovice. For Dinamo Riga and Wolfsburg, it will be the first ever Spengler. The 85th edition of the Spengler Cup will, as usual, be played in Davos from December 26 to 31.
21 Jun 2011, 03:43 | Chilliwack Bruins relocate to Victoria to become Victoria Royals
After the league announced the relocation of the Chilliwack Bruins to the British Columbia capital Victoria, the Western Hockey League (WHL) announce that the team has selected the nickname Royals for the franchise.
The logo that will represent the team is a lion holding a hockey stick perched on top of the word "Royals". The lion has a maple leaf on one of his forelegs to represent the team's Canadian roots, and the serif coming off of the letter "R" in the word Royals creates the letter "V" that stands for Victoria.
The colours for the Royals will be royal blue, black, white, red and silver. The jerseys are blue, white and black, and are the same design used by the National Hockey League's Tampa Bay Lightning for their third jersey.
21 Jun 2011, 03:29 | Ilya Byakin named new coach of Avtomobilist Ekaterinburg
Former Edmonton and San Jose defender Ilya Byakin is the new coach of Avtomobilist Ekaterinburg. Byakin, an Ekaterinburg native, played 109 games for Soviet Union/Russia and was inducted into the Russian and Soviet Hockey Hall of Fame in 1988. As coach we worked for Krylya Sovetov, CSKA and HC MVD
20 Jun 2011, 08:08 | German national team player moves to Sweden
Alexander Barta of the German World Championship team has signed a one-year contract with Malmö in the Swedish second league HockeyAllsvenskan.
Barta has played the last six seasons for Hamburg Freezers in DEL and before that for Eisbären Berlin.
Malmö will be a the top contender for promotion to Elitserien this season.
19 Jun 2011, 17:12 | Jagr best Czech player for the tenth time
Jaromir Jagr won for the tenth time the Golden Stick, prize awarded annually to the best Czech player.
Avangard Omsk forward preceded Montreal Canadians Tomas Plekanec and his teammate at Avangard Roman Cervenka.
Jagr already won the title in 1995,1996,1999,2000 and four years straight from 2005 to 2008, being the most successfull winner. Another legendary player, Dominik Hasek, has 5 titles. Last season winner, Florida Panthers goalie Tomas Vokoun, finished eighth.
Simona Studentová was elected best woman player, Slavia Praha forward Dmitrij Jaskin won the best young player award
17 Jun 2011, 17:34 | Dallas promotes Gulutzan as head coach
Dallas Stars General Manager Joe Nieuwendyk announced that the club has hired Glen Gulutzan as the 21st head coach in franchise history. Gulutzan has signed a two-year contract with a club option for a third season.
Gulutzan, 39, has served as head coach of the Texas Stars, Dallas' primary development affiliate in the American Hockey League (AHL), for the past two seasons.
16 Jun 2011, 08:50 | Boston Stanley Cup Champions
For the first in 39 years the Boston Bruins are Stanley Cup champions after defeating Vancouver 4-0 in the seventh final game. After the game it was a riot  when disappointed Canucks fans went beserk on the streets of Vancouver.
16 Jun 2011, 08:41 | Fasth stays, Lindström leaves
Last year's rookie sensation in Sweden the goalkeeper Viktor Fasth has announced that he won't move to NHL and that he will stay for another year with AIK. Fasth who made a very good World Championship had interest from several NHL clubs. Elitserien's top scorer will however make the move across the pond, Skellefteå's Joakim Lindström has signed with the Colorado Avalanche.
16 Jun 2011, 01:34 | Montreal Juniors relocated to Boisbriand?
Quebec Major Junior Hockey League announced that a group of local businessmen led by former National Hockey League and QMJHL player Joël Bouchard has acquired the Montreal-based franchise. Financial details were not disclosed.
"League members voted in favour of the sale of the Montreal Juniors franchise to a group led by Joël Bouchard," said the Commissioner Gilles Courteau. "Moreover, the members voted in favour of relocating the franchise to Boisbriand where the team will play its games at the Centre d'Excellence Sports"
Despite this decision current owner Farrel Miller decided to exercise his right of veto to relocate team and keep it in current location of Verdun. "For now Juniors remains in Verdun" he said
15 Jun 2011, 16:35 | A new club in Kazakhstan
A new team was created in Kazakhstan's capital Astana: HK Astana
Team already confirmed its participation in the next Kazakhstan league and will be coached by former Torpedo Kazzinc coach Vladimir Belyaev, last season on the Torpedo second team bench.
14 Jun 2011, 15:41 | Dynamo will test Juraj Kolnik
Dynamo Moscow signs a pre-season try out contract with Slovak forward Juraj Kolnik.
Kolnik, 31, missed almost last season due to injury, playing just 8 games, so Dynamo staff will evaluate player's physical condition during pre season and then will decide if sign a regular contract
14 Jun 2011, 05:46 | Riverkings migrates to SPHL
The Southern Professional Hockey League (SPHL)announced the league's Board of Governors has unanimously approved the Mississippi RiverKings to begin play for 2011-2012 season.
"We are excited to welcome the RiverKings into the SPHL," said league president Jim Combs. "We believe they follow our league's tradition of being deeply involved in the local community while bringing affordable family entertainment in the form of professional ice hockey to the region."
"The SPHL is a better regional fit for the RiverKings," said Dave Mattice, Director of Business Operations for the team. "It will create rivalries with teams within driving distance of Desoto County."
The move ends a 19-year affiliation with the Central Hockey League (CHL), in which the RiverKings were one of three remaining original members
13 Jun 2011, 18:38 | Pasi Nurminen and Timo Jutila fined
The Finnish federation fined the leaders of the national team Pasi Nurminen and Timo Jutila for the behavior when the World Champions returned to Finland.
Millions of people have seen the clip on Youtube where the heavily intoxicated Nurminen falls on the red carpet.
The amount of the fine is unknown.
12 Jun 2011, 23:49 | Hockey Milano and KHL: agreement was signed
Hockey Milano Rossoblu announces that on 8 June 2011, the collaboration and development agreement between the club and the Kontinental Hockey League, represented by the president Alexander Medvedev, was officially signed.

The club also confirmed that the sponsorship deal will begin with the 2011-2012 sport season and that the KHL logo will be displayed on the official uniforms of the first team.
11 Jun 2011, 00:35 | Moose leaves Manitoba for Newfoundland
American Hockey League announced today that the league's Board of Governors has unanimously approved the relocation of the Manitoba Moose AHL franchise from Winnipeg to St. John's, Newfoundland, to begin play there with the 2011-12 season.
The St. John's club will be the top development affiliate of the National Hockey League's new Winnipeg entry.
The city of St. John's hosted AHL hockey for 14 seasons from 1991-2005 as home of the St. John's Maple Leafs.
10 Jun 2011, 05:15 | Lane Lambert promoted in Nashville
Nashville Predators announced that Lane Lambert, formerly the head coach of the Milwaukee Admirals in last four seasons, will join the Nashville coaching staff as an assistant for the 2011-12 season.
09 Jun 2011, 08:11 | Binghamton Senators wins Calder Cup
Binghamton Senators, farm team of Ottawa Senators, won the AHL playoffs, Calder Cup, after beating Houston Aeros 4-2 in the final series.
Binghamton's Swedish goalie Robin Lehner was named Calder Cup MVP.
08 Jun 2011, 21:56 | Rod Brind'Amour back in Carolina as assistant coach, Guerin will work with Penguins
Rod Brind'Amour, the captain of Carolina's only Stanley Cup in 2006, was named assistant coach and development coach.
Hurricanes also named former Detroit Red Wings and Boston Bruins head coach Dave Lewis to their coaching staff as assistant coach and director of defencemen development
Bill Guerin has been hired by the Pittsburgh Penguins as a player development coach. He'll work with players in the minor leagues along with junior and college hockey.
07 Jun 2011, 21:30 | Tellqvist back in Elitserien
Mikael Tellqvist returns to Swedish Elitserien after 10 seasons abroad. He signed a contract with Modo.
Last seaaon the former NHL and national team goalie played for Dinamo Riga in KHL.
05 Jun 2011, 11:12 | New CEO at Khimik Novopolotsk
Sergei Protsko was appointed new CEO of Belarus Open League Khimik Novopolotsk.
Former defunct Dvina Novopolotsk player during the '80s, Protsko headed the Novopolotsk Department of Physical Education, Sport and Tourism and from 2009 he was Executive Director of Naftan football club.
04 Jun 2011, 12:23 | Eremeev awarded by media covering KHL
Barys Astana goalie Vitaly Eremeev, 35, was chosen as best Kazakh player by journalists covering KHL. He preceded two teammates, defender Kevin Dallman and forward Talgat Zhaylauov.
Last year prize went to Metallurg Novokuznetsk forward Dmitri Dudarev
03 Jun 2011, 19:03 | Rulík to take over HC LEV
HC Lev Poprad already knows the name of its very first head coach in the club's history. It will be Radim Rulík, 46, a man who never played ice-hockey with a professional contract, but with may years of coaching experiences. "I hope we will compile a team with chances for playoffs composed mainly from Czech and Slovak players," Rulík said. More info will be available after club's press conference in mid-June.
03 Jun 2011, 18:54 | No additional penalization for Burrows
We informed you earlier that Vancouver player Alex Burrows bit a Boston forward Patrice Bergeron during the first game of 2011 Stanley Cup Finals. NHL's disciplinary council made a verdict that it is impossible to prove Burrows's intent to bite Bergeron and no additional penalization was brought up.
03 Jun 2011, 07:36 | Shanahan new head of NHL's disciplinary council
Former left-winger of NHL teams New York Rangers, Detroit Red Wings, Hartford Whalers, St. Louis Blues and New Jersey Devils, Brendan Shanahan took over the position as head of NHL's disciplinary council after Colinu Campbell. The member of Team Canada U20 '87, that together with the U20 Team Soviet Union was disqualified from the 1987 WJC for a reciprocal team fight that came into the history as the biggest hockey fight ever, will now be the man who will be co-responsible for penalization of similar unsportsmanlike behaviour of present NHL players.
The first case for Shanahan is Burrows's nip on Bergeron from the Stanley Cup Finals game one between Vancouver and Boston.
02 Jun 2011, 13:32 | Burrows hungry for victory. Bit Bergeron
The result of the Stanley cup Finals game one is clear: Vancouver won. Now, after the game is interesting another topic: TV record of NBC channel broadcast shows, that Canucks forward Alexandre Burrows probably bit his opponent Bergeron in the finger. Although Burrows is defending himself, that he didn't bite Bergeron, but Bergeron put the fingers into his mouth, an additional penalization of Burrows is awaited.
01 Jun 2011, 22:20 | Kevin Dineen named new Panthers' coach
Florida Panthers Executive Vice President and General Manager Dale Tallon announced today that Kevin Dineen has been named the 11th head coach in the club's history. As per club policy, terms of the contract were not disclosed.
47 years old Dineen has spent the last six seasons as the head coach of Portland Pirates (AHL)
01 Jun 2011, 14:47 | 2012 KHL All-Star Game in Riga
KHL announced today that the 2011/12 All-Star game will be played January 21 in Riga.
01 Jun 2011, 02:27 | Orli Znojmo will play in EBEL
Austrian elite league continues to expand: Czech 1 Liga team Orli Znojmo was allowed to play in next EBEL. Team signed a contract for three years and will continue to play also in homeland.
'Today we reached a final agreement and signed the contract' - said manager Stanislav Hahn - 'All details will be announced at Thursday's press conference'
'The players are enjoying the new challenge. EBEL is better than the Czech 1 Liga' - said team captain Radek Haman.
EBEL now counts with teams from five countries: Austria, Slovenia, Hungary, Croatia and Czech Republic
01 Jun 2011, 01:43 | Henrik and Daniel Sedin are Swedish athletes of the year
Vancouver's Canuck forwards Henrik and Daniel Sedin are the winners of 2011 Victoriastipendiet - Athlete of the Year.
Victoriastipendiet is awarded a Swedish athlete every year since 1979 on Öland 14 July, the birthday of Victoria, Crown Princess of Sweden.
Only two hockey players received a similar trophy - Stefan Persson in 1980, and Peter Forsberg in 1994.
01 Jun 2011, 01:11 | Colorado Eagles leaves CHL and joins ECHL
The Central Hockey League announced that the Colorado Eagles hockey club have exercised their right to leave the league pursuant to a settlement agreement.
The decision follows previous litigation between the CHL and the Eagles in 2007, which allowed in the constructed settlement agreement, for the team to negate their license agreement following the 2010-11 season.
Colorado has been a member of the Central Hockey League since the 2003-04 season
As a result of the Eagles' decision, all Colorado players are immediately declared unrestricted free agents within the CHL.
The Eagles organization followed with the announcement that they will join an expansion team in Chicago as one of the two newest members of the ECHL.
31 May 2011, 12:13 | Tied in the Calder Cup finals
The AHL finals, Calder Cup, between Houston Aeros and Binghamton Senators are tied at 1. There are three European players in the finals, all of them playing for Binghamton. The goalie Robin Lehner (Sweden) and the forwards Roman Wick (Switzerland) and Kaspars Daugavins (Latvia).
28 May 2011, 12:01 | Bruins join Canucks in Stanley cup finals
Nathan Horton scored the only goal of 7th Eastern Conference final to send Boston Bruins to the Stanley Cup final series against Vancouver Canucks. Bruins won the series against Tampa Bay Lightning 4-3, while Canucks already overcame San Jose Sharks 4-1. The final series starts on 1st June at Vancouver's Rogers Arena.
27 May 2011, 07:37 | Don Hay to coach Canada in World Juniors
Hockey Canada, in partnership with the Canadian Hockey League, announced Friday that Don Hay, head coach of the WHL's Vancouver Giants, will be head coach of Canada's National Junior Team for the 2012 IIHF World Junior Championship, scheduled for December 26, 2011 to January 5, 2012 in Calgary and Edmonton, Alta.
26 May 2011, 16:19 | Bykov released
Vyacheslav Bykov has been released from his job as Head Coach of Team Russia. The Assistant Coach Igor Zakharkin also had to go.
26 May 2011, 13:40 | Former NHLer Barry Potomski suddenly dies
Former Los Angeles Kings and San Jose Sharks right winger Barry Potomski died on 24 may in Windsor, after collapsing at a fitness centre, at 38.
Potomski played 68 games in NHL before to retire in 2001 and recently was appointed as assistant coach for the coming season at LaSalle Vipers of Greater Ontario Junior Hockey League.
Current Pittsburgh assistant coach Tony Granato, a Potomski former teammate said in a brief statement: "The hockey family is like a brotherhood and when you lose someone that young it stings a lot of people.
I have great memories of him. He was a real nice, solid kid.
He was a fun kid and very respectful of the veteran players. He knew how to be a pro and he wanted to fit in and be a part of it. He knew he was going to be a fringe player because he wasn't overly talented, everything he got was through heart and work ethic."
25 May 2011, 17:24 | Dmitri Isaenko named best Ukranian player
Champion Donbass Donetsk's 23 year old forward Dmitri Isaenko was named Best Ukranian Player by the Ukranian Hockey Federation. In his first season with the Donetsk club, Isaenko scored 12 goals and served 19 assists in 23 games, earning a spot in the national team roster for IHWC Division I played in Ukraine.
21 May 2011, 13:33 | The season just started - in New Zealand
Today were the first games of NZIHL 2011 played in New Zealand. Dunedin Thunder beat West Auckland Admirals 6-1 and Canterbury Red Devils beat Botany Swarn 4-3 in a shooutout game.
20 May 2011, 17:31 | Eduard Zankovets resigns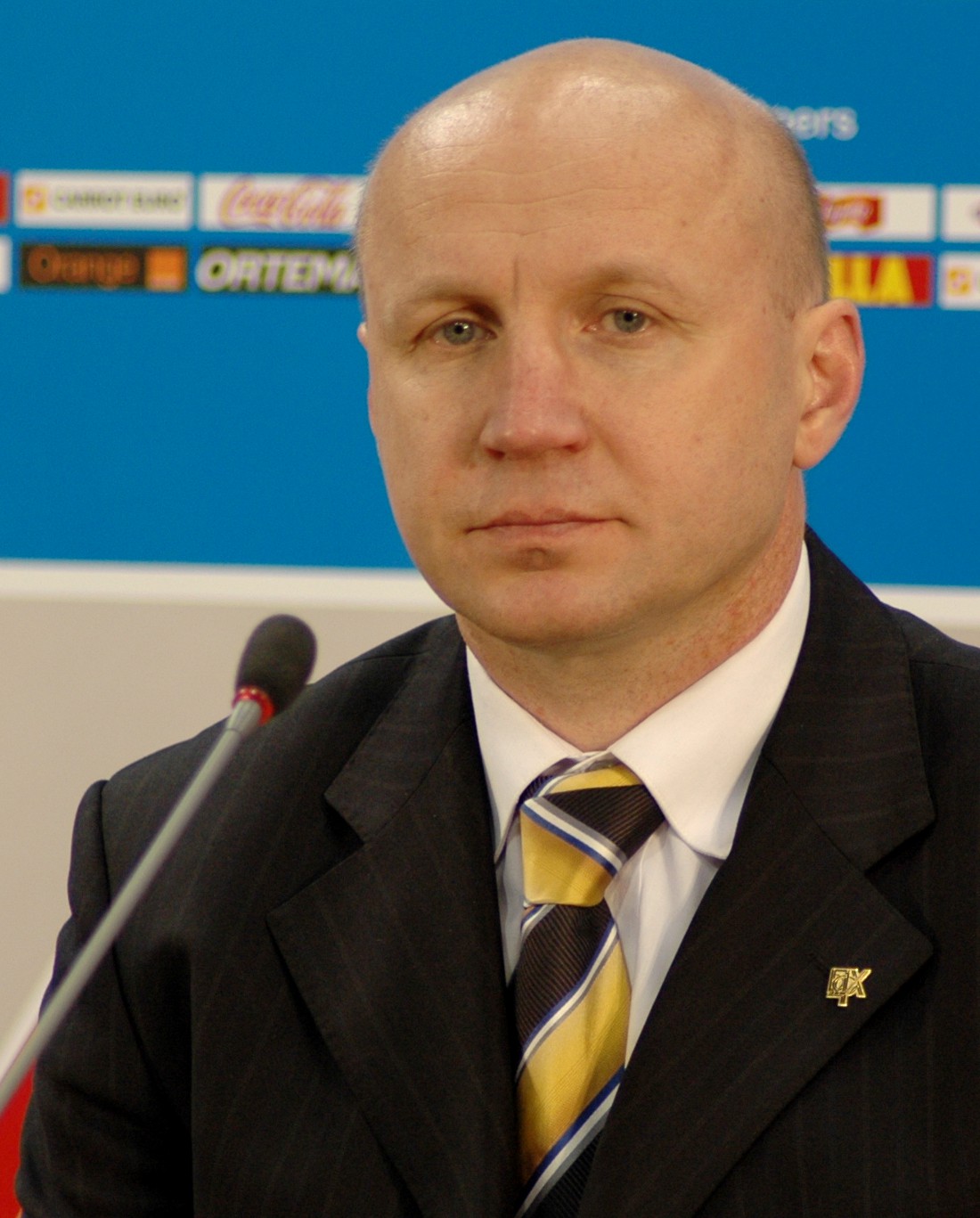 Eduard Zankovets leaves his job as head coach of the Belarusian national team.
In the World Championship Belarus finsihed in 14th place and avoided relegation but the result was below all expectations.
18 May 2011, 15:56 | The Czechs will apply for U18 in 2012
The Czech Ice Hockey Union (CIHA) announced that it will apply for hosting the U18 World IIHF Ice Hockey championship for 2012. The championship was supposed to be in Switzerland, but the Swiss asked to postpone it for two years to finish the new ice hockey complex in Winterthur. Another applicant for U18 WC in 2012 is Denmark. The Czech Republic will host U18 WC in women`s cathegory next year.
18 May 2011, 15:52 | Hanlon fired
The coach of the Slovak national team Glen Hanlon was fired. It was announced after a meeting of Slovak Ice Hockey Association in Bratislava. Hanlon had a contract until the Olympic Games in Sochi in 2014. Slovakia will now search for a new coach, who will probably have a Slovakian passport.
17 May 2011, 23:39 | Another statistics from IIHF WC 2011
All the games have seen 406 704 of spectators (cca 290 thousands in Bratislava, 115 thousands in Košice). There was sold the total ammount of 316 859 tickets. The most of tickets were sold in Slovakia, Czech republic takes the second spot and Finland the third. An interesting fact is that 20 of tickets were sold to Swaziland.

All the games has been on air in 114 countries in the world, thanks to 70 TV companies. The games has been broadcasting also to Iran, Andorra and Zimbabwe. Until today it is still not sure if all the tournament ended in profit or forfeit. It should be known in app. 14 days.
17 May 2011, 00:07 | Teppo Kivelä is the new Val Pusteria head coach
Italian silver medalist Val Pusteria appointed Finnish Teppo Kivelä as new head coach. Kivelä, 43 years old, was Val Pusteria coach Stefan Mair's assistant in the last two seasons, working also in the junior department coaching staff. His assistant will be 44 years old former HPK player Marko Allen.
16 May 2011, 23:32 | Robb Ross died in a car accident
White Caps Turnhout American forward Robb Ross, 28, died last Friday in a car accident. He joined White Caps last season from Liege Bulldogs and was crucial to the team's success: Belgian Cup, when he was awarded as MVP, and Belgian League, scoring 4 goals and serving 3 assists in final series versus Herentals.
15 May 2011, 14:20 | Lötscher injured in car crash
Kevin Lötscher who played for Switzerland in the World Championship is in intensive care after a car accident. Lötscher's car was hit by another car who was driven by an intoxicated driver. Lötscher suffered head injuries and are held in a coma at the hospital.
14 May 2011, 08:25 | Herlev signs new coach
Herlev of the Danish AL-Bankligaen signed the former SM-Liiga and Elitserien top scorer Juha Riihijärvi to a 1-year contract as their new Head Coach.
11 May 2011, 19:58 | Glen Hanlon will continue as a coach of the Slovak national team
Glen Hanlon has contract until the Olympics 2014 in Sochi. Hanlon announced that after a meeting with Juraj Siroky, the president of the Slovakian ice hockey association.
11 May 2011, 19:44 | Belarus 2014?
European parliament appealed to the International Ice Hockey Federation on Wednesday not to allow Belarus to arrange the 2014 IIHF World Ice Hockey Championship due to the infringement of human rights in the country and the fact that all the polical prisoners there are still not freed. "Belarus is disqualified for hosting such a great event like that," said Jerzy Buzek, the chief of the European parliament.
11 May 2011, 19:36 | Suhonen to coach in Slovakia
The Finnish coach Alpo Suhonen signed a contract with HC Banska Bystrica of the Slovak Slovnaft Extraliga. Suhonen has been General Manager of Kloten in Swiss Nationalliga A the last two seasons.
10 May 2011, 09:10 | Elitserien 2011/12
The 2011/2012 schedule of Swedish Elitserien is now available on Eurohockey.com.
09 May 2011, 22:59 | Viktor Fasth wins Guldpucken
The Swedish goalie Viktor Fasth wins the prestigeous award Guldpucken as the best player of Elitserien.
09 May 2011, 12:01 | No more NHL'ers to the Swedish team
Sweden decided not to wait for more NHL players from the Stanley Cup playoffs. Anders Nilsson, David Rundblad and Andreas Jämtin was added to the roster today.
08 May 2011, 21:59 | HC Lev Poprad will play in the KHL
It will be announced on Monday`s press conference in Crowne Hotel in Bratislava. Alexander Medvedev, René Fasel, Poprad`s owner Roman Slavcev and General manager Tibor Turan will be present. The press conference is held by the KHL. Another press conference will take place in Poprad on Thursday.
08 May 2011, 14:05 | USA adds van Riemsdyk
The Philadelphia Flyers winger James van Riemsdyk will join arrive in Slovakia today to join the Team USA roster for the World Championship.
06 May 2011, 23:09 | Ovechkin comes
Alexander Ovechkin will join the Russian World Championship team on Saturday.
04 May 2011, 10:22 | Peltonen MVP
Ville Peltonen, HIFK's captain, was voted SM-Liiga MVP by the players. He got 1056 points. The runner-up Janne Lahti of Jokerit got 342. Jari Levonen was named Best referee.
03 May 2011, 20:36 | Hockey beats soccer in the Czech Republic
Czech public TV CT4 Sport had to solve collision between two important sporting events at the same time - a World championship game in ice hockey Slovakia - Russia and Champions League in soccer Real Madrid - FC Barcelona. Eventually, the TV decided to broadcast live the game Slovakia - Russia and the match Real - Barcelona will be shown afterwards from the record.
03 May 2011, 09:40 | NZIHL schedule available on Eurohockey.com
The schedule for the New Zealand Ice Hockey League is now available. The league starts May 21.
02 May 2011, 20:38 | Ulf Samuelsson to coach in Elitserien
Ulf Samuelsson returns to Sweden to become new Head Coach of Modo. Samuelsson spent the last five years as Assistant Coach of Phoenix Coyotes in NHL and has now signed a 2-year contract with Modo for his first Head Coach job.
As a player Samuelsson played 15 seasons in NHL and won Stanley Cup 1991 and 1992.
02 May 2011, 14:00 | DEL's top scorer to Eisbären
This season's outstanding top scorer in the German DEL, Darin Olver, moves from Augsburger Panther to Eisbären Berlin. So does also Barry Tallackson who was 4th in scoring.
01 May 2011, 16:05 | Kulda suspended three games
Latvian defender Arturs Kulda was suspended for three game by IIHF disciplinary commission after tough hit against Czech Radek Martinek.
"The video showed Arturs Kulda jumping into the situation, hitting Martinek's head and neck area," said Chairman of the Disciplinary Panel Jan-Ake Edvinsson.
01 May 2011, 13:49 | Martinek will not continue
"The life of Czech defenseman Radek Martinek was in jeopardy. He will not continue at the championship. He is OK now but stays in hopital in Bratislava," said Czech team doctor Radomir Holibka. Martinek was attacked by Arturs Kulda in the 15th minute of the game Czech Republic - Latvia. Kulda received a three-game suspension.
01 May 2011, 08:07 | More NHL'ers come the Worlds
Marian Hossa and Michal Handzus will join the Slovak team for Sunday's game against Germany.
Czech Republic will get Tomas Plekanec and Zbynek Michalek for the game versus Norway on Monday..
29 Apr 2011, 19:16 | Canada adds five players
Team Canada added five players to the World Championship roster today.
Goaltender Jonathan Bernier (Laval, Que./Los Angeles Kings, NHL), defencemen Carlo Colaiacovo (Toronto, Ont./St. Louis Blues, NHL), Marc-André Gragnani (Île-Bizard, Que./Buffalo Sabres, NHL) and Mario Scalzo (Montreal, Que./Mannheim Eagles, DEL) and forward James Neal (Whitby, Ont./Pittsburgh Penguins, NHL).
29 Apr 2011, 17:39 | Donbass Donetsk applies for VHL
After having discarded option to play in Belarus League, today Ukranian champion Donbass Donetsk applied to join 2011-12 VHL
29 Apr 2011, 17:31 | Mikko Koivu named captain
Minnesota Wild forward Mikko Koivu was named Finland team captain. 'This tournament has many favourites, we have to concentrate ourself on every single game. If all in the team work with application, results will come" declares Koivu
29 Apr 2011, 05:32 | Sokil leaves the Belarus League, Donbass says no thanks
Sokil Kyiv managment informed that the club will not participate in next Belarus League after three consecutive seasons, for economic reasons. The club suffered a long standing economic crisis and its future is in doubt. Current Ukraininan champion Donbass Donetsk denies the possibility to enter the BOL. "I can say for 100% that Donbass will take part in the Ukraine League and the Continental Cup - said coach Aleksandr Kulikov - but certainly will not play in Belarus Open League because of distances and too many trips."
29 Apr 2011, 05:06 | Czech and Belarus rosters changes
Czech Republic give up forward Salavat forward Jakub Klepis due to a thigh injury, but coach Gadamcik should gain Pittsburgh Penguins defender Zbynek Michalek and Montreal Canadiens forward Tomas Plekanec after playoffs elimination of their teams.
Awful scenario for Belarus: two key players - captain Aleksei Kalyuzhny and goalie Vitaly Koval are out. Kalyuzhny has a unknown virus while Koval still suffered for an old injury. Montreal elimination set Andrei Kostitsyn free to join team, probably not soon enough for debut against Canada. New captain will be Mikhail Grabovski
28 Apr 2011, 20:44 | Hart trophy will determine NHL MVP
Anaheim's Corey Perry, NHL leader in goals (50), Vancouver's Daniel Sedin and Tampa Bay's Martin St. Louis, winner of same trophy in 2004, have been named the finalists for Hart Trophy, awarded to the "player adjudged to be the most valuable to his team."
Daniel Sedin could keep trophy in the family since his twin brother, Henrik, won the award last season
27 Apr 2011, 23:08 | The North American teams win the last preparation games
Canada beat Czech Republic 4-2 and USA came back from 0-2 in the first period to beat Austria 3-2 in the last games before the World Championship that starts on Friday. Find the scorers of the games here.
27 Apr 2011, 20:34 | Huttwil Falcons won't play in NLB
Swiss Ice Hockey Association rejected Huttwil Falcons's appeal and the club, winner of Switzerland Liga 1, won't be promoted to NLB. The federation refused the first Huttwil application some months ago alleging club hasn't the necessary economic guarantees, essential to get in the professional levels of Swiss hockey.
27 Apr 2011, 20:13 | Selke Trophy finalists
Frank J. Selke Trophy, presented annually "to the forward who best excels in the defensive aspects of the game.", has its finalists: Jonathan Toews of the Chicago Blackhawks, Ryan Kesler of the Vancouver Canucks and Pavel Datsyuk of the Detroit Red Wings.
Toews is a first time finalist, but Datsyuk and Kessler are regular members of club: Datsyuk has won the trophy the past three seasons and Kessler is a Selke finalist for the third consecutive year
27 Apr 2011, 07:35 | Team USA adds three players
Cam Fowler (Anaheim Ducks), Ryan McDonagh (New York Rangers), and Derek Stepan (New York Rangers) have been added to the American World Championship roster.
27 Apr 2011, 07:18 | Denmark beats France
Denmark beat France 3-2 (2-1, 0-0, 1-1) in Vojens in the last game before the World Championship for the two teams. Find stats from the game here.
27 Apr 2011, 07:10 | New Belarus club signs coach
Belarus U18 National Team head coach Eduard Valiullin was appointed first ever coach of newly created club HK Lida that will participate in next Belarus Open League.
Lida Chairman Aleksandr Kryskin explains: "We believe in Valiullin and give him a chance. The team is already formed at 30% and the interest in the city is really high. Our goal for first season is to enter the playoffs".
27 Apr 2011, 06:55 | Danish Rookie of the Year
Thomas Spelling of Herning Blue Fox was named Rookie of the Year in the Danish top league AL-Bankligaen.
27 Apr 2011, 05:03 | NHL nominated Bill Masterton Trophy finalists
The 2010-11 finalists for the Bill Masterton Memorial Trophy, which is awarded "to the player who best exemplifies the qualities of perseverance, sportsmanship and dedication to hockey," were announced today by National Hockey League: goalie Ray Emery of the Anaheim Ducks, forward Daymond Langkow of the Calgary Flames and forward Ian Laperriere of the Philadelphia Flyers
26 Apr 2011, 21:50 | No Henrik Lundqvist in the World Championship
Henrik Lundqvist, keeper of New York Rangers that recently was knocked out of the Stanley Cup playoffs says no thanks to the World Championship. Sweden will come with three goalies: Erik Ersberg, Viktor Fasth and Anders Nilsson.
26 Apr 2011, 21:35 | Ville Peltonen injured
Ville Peltonen was injured during the Finnish finals and will miss the World Championship. Jesse Joensuu of New York Islanders will replace him.
26 Apr 2011, 10:51 | Nabokov given all clear for Worlds
Goalkeeper Evgeny Nabokov was given permission to join the Russian team ahead of World Championships in Slovakia, after his agent reached agreement with New York Islanders over moving Nabokov's contract to the next season. Nabokov earlier refused to play for the NHL team, resulting in a decision not to allow him to play at WCH by Garth Snow, GM of Islanders.
26 Apr 2011, 10:48 | Prospal pulls out of WCH
Vaclav Prospal of New York Rangers has decided not to participate in this year's World Championships. He announced the decision to Czech national team head coach Alois Hadamczik, citing lack of form as the reason behind his withdrawal. Prospal has endured a mixed season in the NHL, hampered by a long-term injury.
26 Apr 2011, 10:31 | Denmark boosted by Bødker's addition
Danish squad for the upcoming World Championships in Slovakia was strengthened by the addition of Mikkel Bødker of NHL's Phoenix Coyotes. "It is always an honor to represent my country," said the 22-year old forward. Coach Per Bäckman is still watching the outcome of NHL play offs in hopes of adding either Lars Eller (Montreal) or Jannick Hansen (Vancouver) to his team.
26 Apr 2011, 03:05 | Norris Memorial Trophy finalists are known
Boston Bruins captain Zdeno Chara, Detroit's veteran Nicklas Lidstrom and Nashville's Shea Weber were named finalists for the Norris Memorial Trophy, awarded to the league's best defenseman.
While Weber is finalist for the first time in his career, Lidstrom is candidate for the 11th time and is a six-time Norris winner and Chara won the award in 2009 and is a finalist for the third time in the past four seasons. The winner will be announced June 22 during the NHL awards ceremony in Las Vegas.
25 Apr 2011, 17:33 | Rubin Tyumen will remain in VHL
After the victory in VHL, Tyumen region Director of the Department of Sport and Youth Policy, Dmitri Gramotin clarified the future of the team:
"For next season the team will continue to act in VHL, but we plan to apply for entering in KHL in two years. It's the challenge for the leadership of the club and the coaching staff. But today Tyumen doesn't have an ice arena fulfilling the requirements of the KHL, so we have to wait for the completion of the new multifunctional Tyumen Arena."
25 Apr 2011, 02:55 | Additions to the Czech roster
In the upcoming World Championship, Czech coach Alois Hadamchik can count on New Jersey Devils forward Patrik Elias and Minnesota Wild defender Marek Zidlicky. Both joined the team on Sunday and will participate in a friendly match against Canada next Wednesday in Prague. Due to Martin Skoula's physical problems after the EHT game versus Russia, Hadamcik called the Färjestad defender Martin Sevc as a replacement.
24 Apr 2011, 23:17 | Finland adds three players
Three players from the SM-Liiga final series joins the Finnish team for the World Championship; Ville Peltonen and Mikael Granlund from HIFK and the surprise Jani Lajunen from Blues.
Preliminary Finnish WC roster here!
24 Apr 2011, 17:46 | Todd Stephenson completes 150 games in AIHL
23 years old forward Todd Stephenson completed 150 AIHL games in Sunday's match of his Sydney Ice Dogs against the expansion team the Mustangs. In the final 6-3 win for Sydney, the team's first seasonal victory, Stephenson celebrates with a goal. Follow AIHL season on eurohockey.com!
24 Apr 2011, 12:39 | Canada and USA in Women's final
As expected USA and Canada will play in the final of Women's World Championship while Russia and Finland will play for bronze. USA beat Russia 5-1 while Canada won 4-1 against Finland in the semi finals.
23 Apr 2011, 00:05 | Veteran Oleg Antonenko retires
After 3 Olympics (Nagano, Salt Lake and Vancouver) and 11 World Championships, 40 years old forward Oleg Antonenko announced his retirement. Played last season at Gomel, Antonenko had a long career in Russia with several teams: Severstal Cherepovets, Ak Bars Kazan, Neftekhimik Nizhnekamsk, HK MVD, Torpedo Nizhny-Novgorod and Avtomobilist Ekaterinburg besides Dynamo Minsk. He played a total of 145 games for national team, with 51 goals and 50 assists
22 Apr 2011, 20:06 | NHL announced Vezina Trophy finalists
NHL announced Vancouver's Roberto Luongo, Nashville's Pekka Rinne and Boston's Tim Thomas are the three finalists for Vezina Trophy.
The Trophy is awarded annually to the National Hockey League's goaltender who was the most valuable to his team during the regular season. The winner will be announced at the NHL awards ceremony June 22 in Las Vegas. Tim Thomas already won the trophy in 2008-09
22 Apr 2011, 05:56 | Rubin Tyumen won VHL
Sweeping Neftyanik Almetyevsk 4-0 in playoffs final series, Rubin Tyumen become the Vysshaya Russian League new format first champion. Rubin goalkeeper Aleksandr Sudnitsin was named playoffs MVP
21 Apr 2011, 22:43 | Ravensburg Towerstars 2. Bundesliga champion
Ravensburg Towerstars beat Schwenninger Wild Wings in three straight games of the 2. Bundesliga finals to secure the title. Tonight's game was won 2-1 (0-1, 0-0, 2-0).
21 Apr 2011, 20:38 | Lady Byng Trophy Finalists announced
National Hockey League announced today the three finalists for the 2010-11 Lady Byng Memorial Trophy, which is awarded "to the player adjudged to have exhibited the best type of sportsmanship and gentlemanly conduct combined with a high standard of playing ability.": Dallas Stars left wing Loui Eriksson, Detroit Red Wings defenseman Nicklas Lidstrom and Tampa Bay Lightning right wing Martin St. Louis. The winner will be announced Wednesday, June 22, during the 2011 NHL Awards in Las Vegas
21 Apr 2011, 18:56 | Czech Republic and Belarus named captains
31 years old Metallurg Magnitogorsk forward Tomas Rolinek was appointed as Czech Republic captain for upcoming World Championship. Avangard Omsk forward Aleksei Kalyuzhny, 33, will lead Belarus team
20 Apr 2011, 20:10 | Peter Forsberg joins MoDo staff
Peter Forsberg,retired in February, has been appointed as assistant general manager of MoDo, his hometown club.
Forsberg, joining his long-time friend Markus Naslund, who is Modo's general manager, will work as an adviser for the club in sports issues, helping with marketing and scouting for talent.
20 Apr 2011, 15:20 | Mike Ellis confirmed as coach of Valpellice
38 years old British-Canadian Mike Ellis was confirmed as Valpellice Bulldogs head coach for next season. Appointed as assistant coach along with Julio Francella in late january to replace fired Barry Martinelli, Ellis lead Valpellice in an historic playoffs campaign until semifinals. Last season Ellis won Serie A2 with Appiano Pirates but was fired in dicember and immediately contracted by Valpellice. Francella will remain as GM
20 Apr 2011, 12:51 | Falk retires after 16 seasons
Nichlas Falk played 751 league games and 115 playoff games for Djurgården spread over 16 seasons. But now is the long and successful career over.
"Time takes its course. Now it's about time to find soething else to do," says Falk to www.difhockey.se.
20 Apr 2011, 12:45 | Former goalie in the parliament
Sinuhe Wallinheimo, the former SM-Liiga, Elitserien, DEL and AHL goalie was elected to the Finnish parliament for Samlingspartiet.
18 Apr 2011, 21:55 | Sergei Zubov quits at 41
After a twenty years career at top level, SKA St. Petersburg defender Sergei Zubov announced his retirement.
"Health doesn't allow me to continue career - said Zubov to Sport Express newspaper - I have to undergo a surgery on the hip joint. I need to change the entire hip joint. I do not know yet where I'll do the intervention, maybe in America, maybe in Europe. I haven't yet thought what I would do next. I would like to stay in Russia and working in hockey world"
Zubov won an Olympic gold in Albertville 1992 and two Stanley Cup with New York Rangers (1994) and Dallas Stars (1999)
18 Apr 2011, 19:32 | Nikolai Myshagin will be new Izhstal coach
56 years old Kazakh Nikolai Myshagin sign a contract with Izhstal Izhevsk of Russiand Vysshaya League to coach team next season. After having coached Kazakhstan giants Torpedo Ust Kamenogorsk and Barys Astana, from 2009 Myshagin was coach of Primorye Ussuriysk in Russian Pervaya League
17 Apr 2011, 22:21 | Swiss upsets Finns at Women's WC
After losing to Canada 0-12 on opening day the Swiss Women's team suprisingly won 2-1 after OT against Finland. Stefanie Marty scored the game winner at 1:50. Other results today USA-Slovakia 5-0, Sweden-Russia 7-1, Kazakhstan-Canada 0-7.
17 Apr 2011, 21:00 | Mlada Boleslav wins battle for Extraliga
Mlada Boleslav won the decisive seventh game of Tipsport extraliga relegation series 4-1 and beat Usti nad Labem 4-3 in the series. Boleslav has won its third relegation series in a row, once again preventing the winner of 1. liga from promotion to the top division.
16 Apr 2011, 06:50 | Gennady Tsygurov new coach of Lada
Fired by Sary Arka Karaganda two weeks ago, Gennady Tsygurov was appointed as new coach of Lada Togliatti. Tsygurov, 69, already worked in Togliatti in 1999-2000 season
15 Apr 2011, 21:50 | Friday's international friendlies
Denmark beat Belarus in a shoot-out. Slovakia outstanding against Sweden. Czech Republic wins one-goal game against Switzerland.
Game stats here.
15 Apr 2011, 21:06 | Battle for Extraliga goes down to seventh game
The qualification series for a place in next season's Tipsport extraliga will be decided in the last seventh game on Sunday. Mlada Boleslav squandered a 3-1 lead in the series and after today's game, which 1. liga champion Usti nad Labem won 3-2, the series is tied after six games.
15 Apr 2011, 21:01 | Vokoun pulls out of World Championship
Tomas Vokoun, expected to feature as number one goalkeeper for Czech Republic in the upcoming World Championship, has pulled out of national team squad citing personal reasons. Vokoun, who helped Czechs win gold medals at 2010 championship, is out of contract with Florida Panthers and reportedly wants to focus on solving out his NHL future.
14 Apr 2011, 11:13 | The 2011 IIHF World U18 Championship starts today
The 2011 IIHF World U18 Championship in Dresden and Crimmitschau starts today with four games. Follow the tournament here on Eurohockey.com.
13 Apr 2011, 23:05 | 16 USA players named for the World Championship
See the preliminary American roster here.
13 Apr 2011, 22:59 | International games
Sweden beat Slovakia 5-2 and Austria beat Latvia 5-4 (shoot-out).
Game stats here.
13 Apr 2011, 21:49 | Dallas Stars fired Marc Crawford
Dallas Stars failed to qualify for the post-season for the second straight year and General Manager Joe Nieuwendyk announced that head coach Marc Crawford has been removed from his charge, despite having a year left on his contract.
13 Apr 2011, 20:25 | Two foreign coaches left KHL
2011-12 KHL won't count anymore with Vaclav Sykora and Kai Sukkanen.
Czech coach left Ska St. Petersburg and signed a two years contract with KLH Chomutov, along with his assistant on Russian bench Jan Votruba. Sykora is back on his homeland after the title won in 2009-10 with Pardubice when he was elected best coach of the year.
Also Finnish Kai Sukkanen, fired in december by Lokomotiv Yaroslavl, after having won the title last season with TPS, will be on a domestic bench: he signed with Pelicans Lahti replacing Pasi Räsänen, not confirmed after last place in regular season
12 Apr 2011, 21:00 | A historic league title in Czech Rep. for Třinec
HC Oceláři Třinec won its first ever league title in the club's 80-years long history. Today the Dragons won the game 5 against Vítkovice 5-1 and all the series 4-1.
12 Apr 2011, 16:31 | Thoresen suspended 20 games
Vålerenga's Steffen Thoresen has been suspended 20 games by the Norwegian Federation after an ugly cross checking in a playoff game. Five games of the suspension will however only be effective if Thoresen gets another match penalty next season.
11 Apr 2011, 20:02 | Also Minnesota fired coach
After Florida and Ottawa, also Minnesota Wild, failed to qualify for postseason, fired its coach, 44 years old Todd Richards.
Richards, signed in 2009, missed the playoffs in each of his two seasons, while Minnesota has missed the postseason three straight times, the longest streak in the franchise's history.
11 Apr 2011, 18:46 | Daniel Sedin wins Art Ross Trophy
Vancouver Canucks Swedish forward Daniel Sedin is the winner of 2010-11 Art Ross Trophy, the prize awarded by NHL to regular season top scorer: Sedin amassed 104 points (41 goals and 63 assists) in 82 games.
Last season same trophy was captured by his twin brother Henrik. His teammates Roberto Luongo and Cory Schneider earned the William Jennings Trophy as the goaltenders on the club allowing the fewest goals.
11 Apr 2011, 17:38 | Kari Jalonen will coach Torpedo Nizhny Novgorod
Current HIFK Helsinki coach Kari Jalonen will be on the Torpedo Nizhny Novgorod bench for next two years. After being start as assistant at TPS Turku, Jalonen, 51, won three SM-Liiga titles with Karpat Oulu (2005,2007,2008) before to monve to HIFK, currently playing SM-Liiga finals series.
In 2005 Jalonen won "Best finnish coach" award
11 Apr 2011, 03:31 | Donbass Donetsk champion of Ukraine
Beating 3-2 Sokil Kyiv in front of a sell out arena, Donbass Donetsk won 2-0 final series and is crowned Ukranian Champion for the first time. Donbass has a lot of former Sokil players in its roster, having moved to Donetsk before or during the season due the economic difficulties of most traditional Ukranian club. It's the first time a club outside Kyiv won the title. Companion-Neftogaz Kyiv captured bronze medal winning 2-1 series against HK Kharkiv. During the season the newly created ambitious Podil Kyiv withdrew from competition after bankruptcy
11 Apr 2011, 00:24 | Cory Clouston fired by Senators
After Florida Panthers, also Ottawa Senators fired head coach after the team failed to qualify for the playoffs.
Cory Clouston and assistant coaches Greg Carvel and Brad Lauer were fired after Ottawa lost 3-1 to the Boston Bruins in its regular-season final game.
Clouston was Senators' head coach since February 2009.
10 Apr 2011, 21:29 | Sunday's national team results
Switzerland beat Russia 5-4 in overtime. Italy beat France 4-1. Find game stats here.
10 Apr 2011, 17:53 | Florida Panthers fired Peter DeBoer
With a brief statement, Florida Panthers General Manager Dale Tallon informed team fired head coach Peter DeBoer after three years. "We need to go in a new direction with a fresh approach and philosophy." said Tallon.
Panthers finished last in the Eastern Conference despite last victory over the Washington Capitals
10 Apr 2011, 17:40 | Final time in VHL
Neftyanik Almetievsk beat Dizel Penza 5-1 to win the VHL semi final series 4-3. In the final Neftyanik will play Rubin Tyumen who beat Toros Neftekamsk 4-1 in the other semi final.
10 Apr 2011, 17:21 | University of Minnesota-Duluth 2011 NCAA Champions
The University of Minnesota-Duluth Bulldogs are NCAA Men's Hockey National Champions. Minnesota-Duluth beat Michigan 3-2 in the final. Kyle Schmidt scored the winning goal.
09 Apr 2011, 04:40 | Růžička rejected an Omsk offer: Slavia is not prepared for my leaving, he said
Vladimír Růžička has rejected an offer from the club Avangard Omsk, this season's KHL regular season winner. As he said, a future of his current club, where he is already acting as the club's general manager and co-owner, is on the first place to him. "I had a stomach-ache for three days when I was thinking over Omsk's offer," Růžička said, "but it's better now. If all the thinking was about money, I would already be sitting on a plane."
"But the situation isn't about money at all. There was a contract with a stamp already prepared for me in Omsk, but I cannot sign it. Slavia is on my very first place and the club isn't prepared for my leaving now," the former Czech national-team player told.
09 Apr 2011, 00:41 | Lausanne signs Gerd Zenhäusern as assistant coach
HC Lausanne announces the sign of Gerd Zenhäusern as new assistant coach with an annual contract. Zenhäusern played 5 seasons in Lausanne and replaces Alex Stein
08 Apr 2011, 23:40 | HC LEV to play in Bobrov Division of KHL
The official website of the new hockey club HC LEV Poprad (Slovakia), that will joinKHL from the next season, has released information that the first KHL team ever from the Middle-Europe will probably be seeded into the Bobrov Division, the division of three Muscovite teams, SKA St. Petersburgh and Dinamo Riga.
07 Apr 2011, 21:41 | Juuso Puustinen scores 3
Juuso Puustinen scored 3 goals when Finland beat Latvia 5-0 in Riga today. Norway beat Denmark 4-1 in Rødovre.
Find the game stats here.
07 Apr 2011, 16:11 | Canada names U18 roster
Canada has named the roster for the upcoming U18 World Championship.
Find the roster here in our tournament page.
06 Apr 2011, 22:38 | Sweden beat Germany
Sweden beat Germany 2-1 in Halmstad.
Find game stats from this game and other national team games here!
06 Apr 2011, 07:03 | Donbass won finals game one
A single goal scored by Igor Shamansky at 48:04 was enough to give Donbass Donetsk the away victory in game one of Ukranian League finals against powerful Sokil Kyiv. Donbass roster alligns a lot of former Sokil players. In bronze medal game one, HK Kharkiv won 6-3 at home against Companion-Neftogaz
06 Apr 2011, 05:22 | Changes in Swiss and Russian rosters for WC
After first two test match against Danmark, coach Sean Simpson decided to release Noah Schneeberger and Reto Berra while Fabian Schnyder - hand injury - and Hnat Domenichelli - knee - won't travel to Slovakia because not healthy. After the elimination from playoffs, players from Bern joined training camp and will be on roster in two friendlies against Russia: Philippe Furrer, Beat Gerber, Thomas Déruns, Ryan Gardner, Martin Plüss and Ivo Rüthemann, and so Rapperswil goalie Daniel Manzato.
Russia lost forward Sergei Kalinin, injured during a training session, so coach Vyacheslav Bykov called Evgeny Artyukhin (SKA St. Petersburgh) and Alexander Galimov (Lokomotiv Moscow)
05 Apr 2011, 22:43 | Poland takes revenge
In second friendly match between Italy and Poland in Pergine, visiting team takes revenge after yesterday 4-2 loss and wins 2-0. Italian coach Rick Cornacchia made a massive turn-over including first ever cap for Milano Rossoblu captain Edoardo Caletti. Jaroslaw Rzeszutko at 14.26 and Mikolaj Lupuski (empty net) at 59.48 were the scorer
05 Apr 2011, 22:35 | Herning Blue Fox has 2-1 in Danish finals
After winning game three 3-0, Herning Blue Fox now leads the Danish playoff final 2-1 over Frederikshavn Whitehawks.
05 Apr 2011, 22:19 | Tsygurov resigned from Sary Arka Karaganda
Despite another year of contract, Russian coach Gennady Tsygurov resigned from Sary Arka Karaganda after elimination in Kazakhstan League playoffs semifinals by Barys-2 Astana. There are rumours about a possible new sign with Lada Togliatti.
05 Apr 2011, 19:59 | No vuvuzelas and drums during WC in Slovakia
Organizers of the 2011 World Championship in Slovakia released a note to ban vuvuzelas, rattles and drums from Bratislava and Kosice arenas. "Rules from IIHF ban every object can create noise from international competitions" said a spokesman. Also food and umbrellas will not be admitted
05 Apr 2011, 17:49 | New board members at Dinamo Minsk
Aleksei Torbin was appointed as new CEO of Dinamo Minsk. Aleksandr Mushta, former chairman's advisor, is the new General Director for Club Development plans
04 Apr 2011, 20:40 | Italy won first test match with Poland
Italy opened its IHWC campaign winning first friendly match in a deserted Odegar against Poland 4-2. Second period was the most dynamic: Poland scored double advantage with Slabon and Lopuski, but Italy quickly equalized - Scandella and Lutz the scorers - before to close the game in third period at minute 44, with two goals by Traversa (44.27) and Iannone (44.55)
Italy and Poland will play another game today (04.04) at Pergine
Italy - Poland 4:2 (0:0, 2:2, 2:0)
0-1 21.00 Słaboń (Bagiński,Dronia)
0-2 28.41 Łopuski Słaboń) SH
1-2 32.12 Scandella (Gruber,Fontanive)
2-2 38.49 Lutz(Insam,Felicetti)PP
3-2 44.27 Traversa
4-2 44.55 Iannone(Pittis,Iori)
04 Apr 2011, 00:47 | Ruslan Salei won't be in Slovakia, Koval still uncertain
Belarus head coach Eduard Zankovets confirmed Detroit Red Wings defender Ruslan Salei won't play next World Championship in Slovakia. "He had a daughter, needs to stay with his family" said Zankovets. Still uncertain goalie Vitali Koval's situation. "He has not yet recovered from his injury. He tried to play last days but he again felt pain, we hope to have him in the roster"
03 Apr 2011, 18:45 | Troubled waters in Lustenau
Future of Nationalliga club EHC Lustenau is very uncertain: Finnish coach Kari Eloranta terminated his contract, originally valid also for next season, due to uncertain club financial situation and chairman Werner Alfare resigned after 10 years at the helm of club. Lustenau has 3 weeks to find a new managment and sponsorship, until annual general meeting where the club could be declared bankrupt
02 Apr 2011, 23:55 | Iginla reached 1.000 points
Scoring his second goal of the game in the Flames' 3-2 comeback victory over the St. Louis Blues on Friday night Jerome Iginla marked his 1,000th career point. "When I started, I never would have thought of that and it wasn't something I was thinking about year in and year out or anything like that until maybe the last few," Iginla said to ESPN "It just makes me reminisce and how much fun it's been and how fortunate I've been to play as long as I have."
Iginla became the 77th player in NHL history to reach 1,000 points.
02 Apr 2011, 06:50 | Defenseman kicked out a neighbor's door
A defender of HC EATON Pardubice, Branislav Mezei, was drowning the season's end after the relegation by Vítkovice from the Czech Extraliga semi finals in a pub and after leaving home he kicked out a flat door. To his own surprise he realized that he mixed up the floors and the door was the neighbor's. He didn't panic, went one floor down, kicked out his own door and went to bed, when he was waken up by the police later he apologized to an aggrieved family and promised compensation of the damage.
02 Apr 2011, 04:39 | A Russian club in the next Belarus Open League?
After the EIHC game against Russia, in a press conference, Belarussian Hockey Federation president Evgeny Vorsin invited Russian club Slavutich Smolensk to participate in next Belarussian Open League. Slavutich, estabilished in 2010, played its inaugural season in Pervaya League.
02 Apr 2011, 02:08 | Val Pusteria lost 0-5 game #5
24 hours after winning 7-2 on ice game #5 of playoffs finals, Val Pusteria received a sanction by Federation and game lost 0-5 by forfeit apparently for a childish mistake having recorded two foreign goalies (Mikko Stromberg and Tommi Nikkilä)in official gameshhet and not an Italian one as rule reads. So now series is 3-2 for Asiago that tomorrow can recapture title
01 Apr 2011, 20:59 | The second finalists in Czech Extraliga is Třinec
HC Vítkovice Steel, the first finalist that has ended its semi final series with Pardubice after 5 games, will in league finals challenge the team of Třinec. Třinec won the game no.7 against Slavia 5-2 and is advancing into the second finals in the club's history. We will bring more info later.
01 Apr 2011, 07:21 | Get-Ligaen finals start
In front of 3.000 spectators regular season champion Sparta Sarpsborg won first game of Norwegian League final series beating 6-1 Stavanger Oilers
01 Apr 2011, 06:57 | Val Pusteria earns first match-ball
With an amazing first period Val Pusteria annihilated Asiago and get the first match point in final series. Matt Kelly (2 goals) and Joe Cullen (1 goal and 4 assists) were the stars of the night in final 7-2. Probably Asiago is tired after 7 games with Bolzano and two taut games to recover initial 0-2 gap
01 Apr 2011, 06:19 | Mongolia withdraws from World Champions
Mongolian Hockey Federation secretary Choijiljav Baasandavaa announced they have to withdraw their men's and U18 national teams from the respective Division III tournaments, in Cape Town (South Africa) and Tapei City (Taipei) due to lack of money and of hockey equipment. The games originally scheduled to be played by the Mongolian teams will technically remain in the respective game schedule and all games including Mongolia will end with a 5-0 forfeit for the opposing team.
Mongolia is the third country to withdraw from IHWC after Japan and DPR Korea
31 Mar 2011, 23:47 | Germany beats Austria 7-0
Germany beat Austria 7-0 in the Euro Hockey Challenge, preparing for the World Championship. Adrian Grygiel scored three of the goals. the others were scored by Tobias Wörle, Thomas Oppenheimer, Martin Schymainsky and Kevin Lavallee.
31 Mar 2011, 23:17 | Belgium is relegated to the World U18 Championship Div III
With one day remaining of the World U18 Championship Div II in Ukraine it is already decided that Belgium is relegated to the 2012 IIHF World U18 Championship Div III. Belgium has lost all four games and even a win against their neighbours from The Netherlands in the last game can't help them from finishing last.
Who will win the promotion? In the last game the hosts from Ukraine will play Lithuania to decide a winner. Follow the tournament here!
31 Mar 2011, 15:29 | USA names U18 roster
USA Hockey today announced the 22-player roster for the 2011 U.S. Men's National Under-18 Team that will compete at the International Ice Hockey Federation World Men's U18 Championship from April 14-24, in Crimmitschau and Dresden, Germany.
View the roster here
31 Mar 2011, 06:29 | Barys-2 is second finalist in Kazakh League
Barys-2 Astana won 3-0 decisive game against champion Sary arka Karaganda and advances to Kazakhstan League finals versus Beybarys Atyrau. Series between Sary Arka and Barys-2 needed eight games to determine winner, after the federation determined to cancel result of game #5, won 3-2 by Barys-2, because Barys-2 alligned a suspended player, Konstantin Pushkarev. Replay was played on march 29 and won 4-3 at shootouts by Barys
31 Mar 2011, 04:53 | Vipiteno won Serie A2
Winning  4-3 game #6 of final series over regular season winner Gherdeina, Vipiteno Broncos is 2010-11 Serie A2 champion. Now Broncos have right to apply for next Serie A. Last summer Vipiteno request was rejected by Italian Federation due lack of rights
30 Mar 2011, 22:54 | HC Košice wins final 1
Košice beat Poprad 3-1 in the first Slovak final.
30 Mar 2011, 21:51 | Sweden beats Latvia
Sweden won comfortable at home to Latvia. The game finished 4-1 after goals by Petrasek, Lander, Zackrisson and Thörnberg for Sweden and Saulietis for Lativa. Both teams are missing some of their top players but will play eachother again on Friday as preparation for the upcoming World Championships.
30 Mar 2011, 19:10 | Asiago ties series
Asiago showed in playoffs final game à4 why is the current champion: playing two great periods and showing a strong mental character won 6-3 over Val Pusteria and tied a series Asiago was loosing 0-2. Once again Henrich brothers and goalie Daniel Bellissimo were the backbone of team. Thursday key game 5 in Brunico
29 Mar 2011, 23:50 | JYP wins Finnish junior championship
JYP's junior team won the Finnish Junior Championship after beating Blues 4-3 in the deciding fifth final game.
HPK won the Finnish women's championship finals against Ilves.
29 Mar 2011, 16:31 | Japan withdraws from three WC's
Following the disasters in Japan, the Japanese Federation decided to withdraw from the
-World Championship Div. I Group A (in Budapest, Hungary)
-World U18 Championship Div. I Group A (in Riga, Latvia)
-World Women's Championship Div. I (in Ravensburg, Germany)
29 Mar 2011, 07:00 | Czech semi finals will continue tomorrow
Because of HC Oceláři Třinec 6-1 win on its home ice yesterday, the semi final series against HC Slavia Prague has to continue with a sixth game and HC Vítkovice Steel has to wait one more game at least for its final rival on the way to the Czech league title. We will bring you more information about the yesterday's game later.
29 Mar 2011, 04:38 | Anze Kopitar out indefinitely
After playing a club record 330th consecutive game Los Angeles Kings leading scorer Anze Kopitar fractured his right ankle Saturday afternoon against Colorado and he will need corrective surgery on the injury,
Kings coach Terry Murray said Kopitar would need a minimum of six weeks to recover, but after a medical report Kopitar is now listed as being out indefinitely.
The surgery will be performed Wednesday.
29 Mar 2011, 01:47 | Friendlies for MHL teams
HK Riga will play two friendlies agains Spain in Barcelona from 07 to 10 April as part of Spain national team preparation for first ever IHWC Division I in Budapest.
A selection of best MHL players will face Poland on april 09 and 10 at Krynica, where Poland is preparing IHWC Division I in Kyiv
29 Mar 2011, 01:21 | Alleghe announces contract extensions
Serie A Alleghe announced first extensions for next season: coach Steve McKenna and goalie Adam Dennis will play again for "civette". This season Alleghe was eliminated in playoffs quarter-finals by regular season winner Val Pusteria
28 Mar 2011, 21:17 | Dudik's goal in overtime keeps Neman in the finals
Dmitri Dudik scored the game-winning goal in overtime of the 4th game in the Belarus Championship finals when Neman Grodno beat Yunost Minsk 4-3.
Yunost leads the series 3-1.
28 Mar 2011, 20:59 | Magnus Johansson will miss the WC
Sweden's defenseman Magnus Johansson is injured and will miss the World Championship in Sl