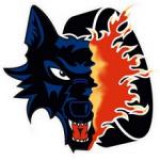 Grenoble Brûleurs de Loups
Did you find any incorrect or incomplete information? Please, let us know.
Season 2014-2015
Current roster
season 2014-2015
* no longer in the club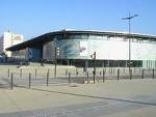 Adress: Patinoire d'agglomération Polesud
Avenue d'innsbruck
38100 Grenoble
Phone: +33 04 76 392 500
Email: polesud_accueil@lametro.fr
Capacity: 3496
Opened in: 2001
The name comes from an event recorded by Cardinal LeCamus in 1672 at St Christophe en Oisans, see the book from Thomas Pfeiffer, Le Brûleur de loups, Lyon, 2004, and Sur les traces des brûleurs de loups, Paris, 2009. According to the Cardinal, members of his parish became fed up with wolves plaguing and harassing their livestock. One night, peasants cornered a pack into a small section of forest and burned them alive. The story still circulates in Grenoble popular folkloreNotable players:

from 1963 to 1966: Grenoble Hockey Club
from 1966 to 1968: H.C. Grenoble-Villard-de-Lans Ours Dauphinois
from 1968 to 1992: Grenoble Hockey Club
from 1992 to present: Grenoble Brûleurs de Loups
France Championship: 1981, 1982, 1991, 1998, 2007,2009Vice-champion : 1968, 1977, 1983, 1990 et 2004.Coupe de France: 1994, 2008,2009Coupe de la Ligue: 2007,2009Champions' Trophy: 2008, 2009
League winners:
from 2011 to present: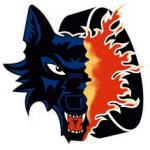 Coupe de la ligue first round completed
The coupe de la ligue first round is now completed. In groups A (Angers, Rouen) & C (Grenoble, Briançon), the top favorites emerged and advanced to the quarter finals. In groups B and D, it was a 3 team fight to get to the next level. The big surprise was finally in group B with qualifications of Epinal and Strasbourg while the top favorite Amiens is eliminated. In group C, Dijon ended up first while Chamonix and Morzine were tied for 2nd. Chamonix finally advance thanks to a better goal difference. The quarter final match-ups will be the following : Strasbourg - Angers ; Rouen - Épinal ; Briançon - Dijon ; Grenoble - Chamonix
(16 Oct 2013)
French League Cup semifinals determined
Rouen, Grenoble, Angers and holders Briançon are the French Coupe de la Ligue Semifinalists. SemifinalsRouen - Grenoble and Briançon - Angers are scheduled for 27 November and 04 December. Follow Coupe de la Ligue with complete boxscores here
(15 Nov 2012)
Alexandre Rouleau suddenly retires
French-Canadian defender Alexandre Rouleau suddenly announces his retirement from active hockey to become General Manager of QMJHL Val d'Or Foreurs, the team where he spent four seasons before to play in France for five seasons, one in Briançon and four in Grenoble. Last april he signed a two-years contract with Allsvenska's Vasteras but he didn't appeared at training camp. Vasteras management is considering to sue Rouleau.
(10 Aug 2012)
Rouen wins Ligue Magnus
Rouen Les Dragons wins its 13th Franch title, the third consecutive, by beating 0-4 Grenoble in Ligue Magnus finals game #6. Captain Carl Mallette scored twice and served an assist, fan favourite Marc-André Thinel and Loic Lamperier on empty net were the other scorers.
Last January Rouen won also Continental Cup
(07 Apr 2012)
French finals start tonight
In the first of seven games in the French finals Rouen beat Grenoble 4-3. Julien Desrosiers scored the winning goal at 1:32 of the overtime period.
(27 Mar 2012)
Grenoble grabbed French opening season trophy
Grenoble clearly defeated champion Rouen 6-1 winning 2011 Match des Champions, Jacques Lacarrière trophy, the first trophy of the season played between national champion and League Cup winner. Defender Alexander Rouleau, 1 goals and 3 assists, was the star of the game, played at Chambery Métropole Arena in front of 1050 spectator
(11 Sep 2011)
Historic rosters:
Historic statistics:
Past results:
League standings:
Fast facts
season 2014-2015
EHC Visp beat HC Davos in 2nd round of Cup and advance to quarterfinals. Read more»
Today Swedish head coach Pär Mårts named the preliminary roster for Karjala Tournament November 6-9. Read more»