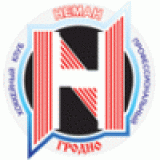 Neman Grodno
Name in original language: Неман Гродно
Year of foundation: 1988
Colours: white, red, black
Club status: active
Address: ul. Kommunalya 3a
Grodno, Belarus, 230 029
Phone: +375 0152 48-25-08
Email: hcneman@tut.by
WWW: Neman Grodno
Did you find any incorrect or incomplete information? Please, let us know.
Season 2012-2013
Current roster
season 2012-2013
* no longer in the club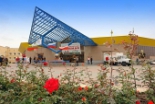 Adress: ul. Kommunalya 3a
Grodno, Belarus, 230 029
Phone: +375 152 75-32-36
Email: info@icepalace.by
Capacity: 3000
Opened in: 1989
from 1900 to present: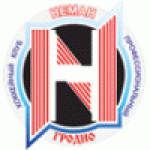 Awards in Belarus
Belarus Federation announces the winners of awards after the last season:
Best Goalkeeper - Dmitri Milchakov (Metalurg Zhlobin)
Best Defender - Andrei Antonov (Neman Grodno)
Best Forward - Andrei Makrov (Neman Grodno)
Best Defensive Forward - Artem Senkevich (Gomel)
Best Young Player - Evgeny Lisovets (Neman Grodno)
(24 Apr 2013)
Set for finals in Belarus
Neman Grodno and Metallurg Zhlobin have qualified for the finals of the Belarus league. Neman beat Shakhtar Soligorsk in the semis while Zhlobin knocked out Junior Minsk.
(18 Mar 2013)
Neman sets a new record in Belarus
Winning 5-2 against Lida in last Belarus Open League round, Neman Grodno extended his winning streak to 19 matches and surpassed the record of Yunost Minsk in the season 2009/10
(11 Jan 2013)
Belarus Open League starts with Zhlobin win
The Belarusian league stared today today with the game Metallurg Zhlobin - Neman Grodno. The home team won 6-5 after five points by Konstantin Baranov and four by Dmitri Igoshin.
(05 Sep 2012)
Metallurg Zhlobin leads the Belarus finals
Metallurg Zhlobin beat Neman Grodno 5-2 today to take a 2-1 lead in the Belarus League finals.
(27 Mar 2012)
Metallurg and Neman to the finals in Belarus
Metallurg Zhlobin beat Shakhter Soligorsk 5-3 and Neman Grodno beat Gomel 1-0 (OT) in game 5 of the semi finals to advance to the Belarus League finals.
(21 Mar 2012)
Tied in the Belarus semis
After todays games, Shakhter-Zhlobin 1-2 and Gomel-Neman 4-2, both Belarusian semi final series are tied 2-2.
(19 Mar 2012)
Four home wins on the first day of the Belarus playoffs
In all four quarter finals of the Belarus playoffs the higher ranked home team won the opening home game. Metallurg Zhlobin beat Mogilev 4-1, Neman Grodno beat Metalurgs Liepaja 3-0, Gomel beat Lida 4-1 and Yunost got away with a 2-1 win against Shakhter Soligorsk.
(05 Mar 2012)
Historic rosters:
Historic statistics:
Past results:
League standings:
Fast facts
season 2012-2013
According to Companion Kyiv President, the project of a new multi-national league is already aborted Read more»
IIHF allocated 28 tournaments for 2014, from Iceland to Korea. First ever participation for Hong Kong, Mexico's women and Polish women's U18. Read more»