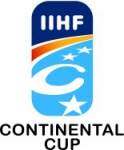 Continental Cup
League status: Active
Administered by: International Ice Hockey Federation
Head manager: Rob van Rijswijk
Year of start: 1997
WWW: http://www.iihf.com/
Did you find any incorrect or incomplete information? Please, let us know.
Qualifying group stages and then a Super Final round robin with four teams.
The Continental Cup started in 1997 and was intended for countries without participating teams in European Hockey League (EHL).
Tallinn Viking Sport suspended in the Continental Cup
IIHF announced the Estonian champion Vikiing Sport Tallinn received a 20.000 Swiss francs (about 16,000 euros) fee and was banned for a year from Continental Cup. In September last year the club won the first round of the Continental Cup in Belgrade, but wasn't able to partecipate in Second Round because almost all imports haven't British visas.
(21 Jun 2014)
Rubin Tyumen represent Russia in Continental Cup
VHL finalist Rubin Tyumen will represent Russia in next Continental Cup.
" VHL informed that our club will represent Russia in the Continental Cup as the best Russian club in VHL. We are ready for this" said Rubin Director Igor Efremenko.
VHL champion is Kazakh team Sary Arka Karaganda, but country will be represented by domestic champion Ertis Pavlodar
(08 May 2014)
Dinamo loans 5 players to Neman Grodno for Continental Cup
Dinamo Minsk announced club will loan five players - goalie Yan Shelepnyov, defenders Ivan Usenko and Evgeny Lisovets and forwards Alexander Pavlovich and Anatoly Protasenya - to farm team Neman Grodno to play Continental Cup semifinals on November 22-24. "A Successful performance of Neman in the Continental Cup is one of the priorities of Dinamo Minsk this season", said in a statement the club
(12 Nov 2013)
IIHF forbid Neman to use players from other teams in Continental Cup
IIHF has forbidden Neman Grodno to claim players from other teams during Continental Cup semifinals, threatening forfeited all the games played.
Thus, Grodno can only allign players from its structure, including farm, as well as heading team Dinamo Minsk players. The final application of Neman for the tournament will be submit in mid-November. Last season Metallurg Zhlobin called Alexei Efimenko from Shakhtar Soligorsk during Continental Cup
(07 Nov 2013)
Unexpected loss for CSKA
CSKA Sofia unexpectedly lost 5-3 (1-0,1-1,3-2) the second game of Continental Cup First Round against host Partizan Beograd and have now to win against Tallinn Viiking Sport in last game of tournament to advance
(29 Sep 2013)
Viiking Sport keeps perfect record
Tallinn Viiking Sport keeps perfect record in Continental Cup First Round by beating 5-2 (2-1,3-1,0-0) and eliminating Spanish Bipolo Vitoria. Tonight CSKA Sofia and Partizan close the second day of competition
(28 Sep 2013)
Tallinn Viiking Sport crushed Partizan
Estonian champion Tallinn Viiking Sport successfully debut in Continental Cup first round crushing host Partizan Beograd 8-3 (4-1,0-1,4-1). Tomorrow Viiking will face spanish Bipolo Vitoria, while Partizan play against CSKA Sofia
(27 Sep 2013)
CSKA Sofia won Continental Cup opening game
CSKA Sofia earned first points in Continental Cup Group A playing in Beograd by winning 4-1 (2-1,2-0,0-0) Spanish champion Bipolo Vitoria. Tonight host Partizan Beograd will face Estonian Vikiing Tallinn
(27 Sep 2013)
No continental cup for Latvian champion
Latvian champion SMScredit.lv announced won't partecipate in Continental Cup, transferring the rights for silver medallist HK Juniors Riga. Club didn't specified the reason of the quitclaim
(02 Jun 2013)
Continental Cup suspensions against Beibarys
The IIHF Disciplinary Panel decided to hand out suspensions against player Tomas Horna and assistant coach Mikhail Zvyagin of Kazakh club Beibarys Atyrau for incidents in the game against Vaasan Sport from Finland in the last round of the Continental Cup.
Horna was already suspended one game during the tournament and will be suspended for three additional games at the upcoming Continental Cup event in Stavanger, Norway. Zvyagin was already suspended for one game and will be suspended for an additional game.
(19 Nov 2012)
Past league results:
League standings:
Historic statistic:
Individuals records:
Swiss hockey mourns one of most prolific player Read more»
Teams from the English Premier League and National Ice Hockey League will face each other next season in a revamped English Challenge Cup competition. Read more»