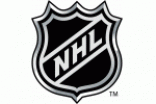 NHL
League status: Active
Administered by: National Hockey League
Head manager: Gary Bettman
Year of start: 1917
WWW: http://www.nhl.com/
Did you find any incorrect or incomplete information? Please, let us know.
GROUP: Eastern
GROUP: Western
Last updated: 21 May 2013, 18:22
30 teams are split into two Conferences, each conference into three divisions. Western Conference has Central, Northwest and Pacific divisions, while Eastern Conference has Atlantic, Northeast and Southeast divisions. Each conference has separate standings. All teams play 82 games in regular season, with top eight teams from each conference advancing to the playoffs. Top three spots in the conference standings are reserved for division winners. Playoffs are played as a best-of-seven series. Winners of both conferences meet in the Stanley Cup finals.
The league is closed, there is no promotion or relegation.
The league was organized on November 22, 1917 in Montreal during World War I, when the preceding NHA was suspended. Started with four teams (Montreal Canadiens, Montreal Wanderers, Ottawa Senators and Quebec Bulldogs), had a number of expansions and team relocations. Currently consists of 30 teams. Had a one-year lockout during 2004-05 season during negotiations between the players association and club owners about a collective agreement over rules governing player salaries.
Carolina lost Pitkanen for rest of the season
Carolina Hurricanes defenseman Joni Pitkanen will miss the rest of the season with a broken heel.
Pitkanen was hurt with 1:57 left in the second period of a 5-3 loss to Washington. He raced down the ice while trying to beat an icing call and went hard into the boards
(03 Apr 2013)
Tampa Bay Lightning fired coach Guy Boucher
The Tampa Bay Lightning fired coach Guy Boucher, with the team in next to last place in the Eastern Conference and on its way to missing the playoffs for a second straight year.
Assistants Martin Raymond and Dan Lacroix are to share the coaching temporarly
(24 Mar 2013)
Sabres fire coach Lindy Ruff
The Buffalo Sabres have fired coach Lindy Ruff. The announcement was made on the team's Twitter account and confirmed by Sabres spokesman Michael Gilbert.
(20 Feb 2013)
Erik Karlsson finishes season
Ottawa Senators defenseman Erik Karlsson had season-ending injury and a surgery to repair his left Achilles after the tendon was cut by a skate blade during a game against the Pittsburgh Penguins
(16 Feb 2013)
Lightning-Bruins game rescheduled in April
The snowed-out game between the Tampa Bay Lightning and Boston Bruins, originally to be played on Saturday, has been rescheduled for Thursday, April 25.
(12 Feb 2013)
Islanders suspend Lubomir Visnovsky
New York Islanders announced that club has officially suspended defenseman Lubomir Visnovsky after he has not arrived for training camp. Visnovsky has tried to remain with his European club, Slovan Bratislava, despite a rule prohibiting that. The NHL and KHL have an agreement that any player with an NHL contract must return to his club once the lockout is lifted. The KHL is complying and won't let Visnovsky play in Russia now that the lockout has ended.
(18 Jan 2013)
KHL cancels Višňovský's contract with Slovan Bratislava
As a new NHL Collective Bargaining Agreement has been ratified by both the clubs and NHLPA, all the players with a valid NHL contract are obliged to join their teams in pre-season training camps. A Slovak defender Ľubomír Višňovský did not like the idea at all and stated he wish to finish the 2012/13 season in the KHL team of Slovan Bratislava due to personal reasons. But his NHL employer, the New York Islanders, do not want to accept that and called Višňovský to arm repeatedly. As the 36-year old player was not willing to travel across the Atlantic Ocean anyway, the Islanders asked the KHL Board to cancel Višňovský's contract with Slovan and they succeeded. KHL commented the decision the league wants to follow the NHL - KHL Memorandum about respecting of players' contracts, but will keep negotiating with the Islanders about possible compromise.
(15 Jan 2013)
Maple Leafs fired GM Brian Burke
Brian Burke has been fired as the president and general manager of the Toronto Maple Leafs.
Maple Leaf Sports and Entertainment president Tom Anselmi made the move official during a news conference at the Air Canada Centre in Toronto on Wednesday, and also named Dave Nonis the team's new general manager.
"We've decided to make a leadership change and move in a different direction for the general manager role," Anselmi said.
Anselmi also confirmed that Burke will serve as a senior adviser to the team.
(11 Jan 2013)
Derrick Brassard left Salzburg
Despite a lock-out contract still valid, Canadian forward Derrick Brassard left Red Bulls Salzburg
Austrian club has already requested the IIHF requesting an assessment of the situation.
Previously another two NHLers - forward David Clarkson and defender Tobias Enstrom - left the club
Brassard agent Allan Walsh called out the cause of his client departure the unprofessional management and one of the players who left the Austrian team said that the Red Bull are "a parody of an hockey club".
(25 Dec 2012)
Maxime Talbot will play Spengler with Gotteron
Philadelphia Flyers forward Maxime Talbot, currently at Ilves Tampere with a lock-out contract, will play Spengler Cup with Swiss Fribourg Gotteron
(11 Dec 2012)
Past league results:
League standings:
Historic statistic:
Individuals records:
Fast facts
season 2012-2013
According to Companion Kyiv President, the project of a new multi-national league is already aborted Read more»
On the 22nd of May the KHL staged the Closing Ceremony for 2012-13 season. During this celebration the heroes of the fifth Kontinental Hockey League season were presented with awards covering 23 different categories. ... Read more»